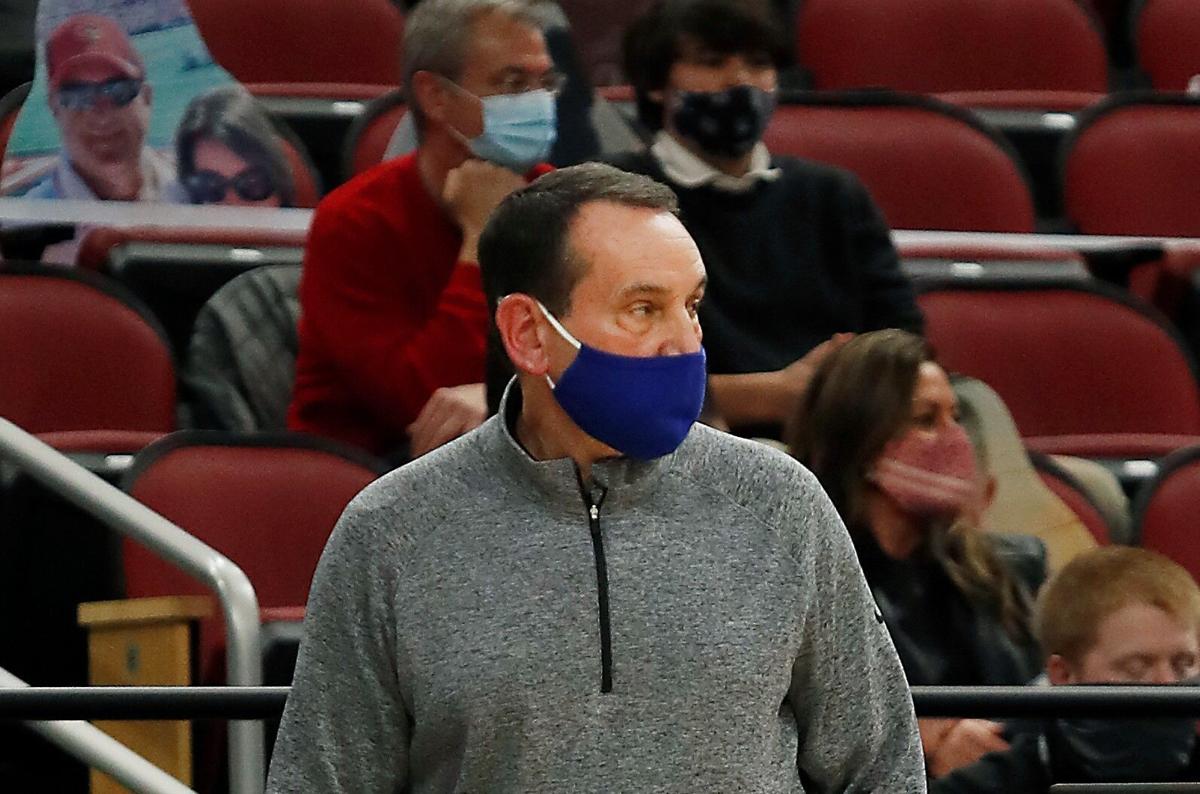 Updates at 1 p.m. Monday:
Duke basketball coach Mike Krzyzewski has apologized to Jake C. Piazza, a Duke Chronicle journalist, after his response to a question from Piazza after the Blue Devils' loss to Louisville on Saturday.
"My phone rang and Coach K was on the other end of the line," Piazza wrote. "Our call was short, but the sincerity in his apology was genuine. And in the end, I appreciated the call." 
---
Duke basketball coach Mike Krzyzewski issued a strong rebuke this month against the insurrectionists who overran the U.S. Capitol on Jan. 6.
After his team's third consecutive loss, at Louisville on Saturday, Krzyzewski sounded off again, but this time the target was an inquiring student journalist at the Duke Chronicle.
Krzyzewski, the sport's winningest coach who has led the program to five NCAA championships, also suggested the student journalist, Jake C. Piazza, should have empathy for his team, which dropped to 5-5 overall.
Piazza, during a postgame video conference that included professional journalists, sought a comment from Krzyzewski about what should happen next for the team, which fell in the final seconds against the Cardinals and will host Georgia Tech on Tuesday night and Clemson on Saturday.
Duke basketball coach Mike Krzyzewski, after his team defeated Wake Forest on Saturday in Durham, didn't mince words about the attack on the U.S. Capitol this week.
"I'm just curious as to what the next step forward here is for the team as you guys move into another week of basketball," Piazza said.
Krzyzewski snapped back immediately and began questioning Piazza.
"Why don't we just evaluate this game? I'm not into what our next step forward is right now. We just finished a hard-fought game," Krzyzewski said.
Then Krzyzewski asked Piazza what his major or most difficult class was, to which Piazza replied economics. 
"Say you just had the toughest econ test in the world," Krzyzewski said. "And when you walked out, somebody asked you, 'What's your next step?' You see what I mean? Do you have some empathy?"
To be clear, it's not the role of a student journalist to empathize with a basketball coach after a loss. Nor is that the mission of The Chronicle, an independent media organization at Duke that is run by students. The Chronicle's web site says it has arrangements with Duke for office space and distribution rights but that it does not accept student fees in an effort to be considered independent.
Also to be clear, journalists on occasion also pose questions that might not be the strongest or are off point and sometimes even ask a coach to "talk about" a topic instead of asking an actual question. Krzyzewski has fielded more than a few of those during his 46-year career. In this case, Piazza's line of thinking seemed reasonable.
"Just give us time to evaluate this game," Krzyzewski continued, "and then we'll figure out, just like we always try to do, what the next step will be. The next step, obviously, is to prepare for Georgia Tech. How we prepare for them; that's what we're going to have to figure out."
Duke's five wins have come against Coppin State (5-9), Bellarmine (7-5) and the three teams occupying the last three spots in the ACC standings – Notre Dame, Wake Forest and Boston College – who have a combined 3-17 league record.
But the Blue Devils, who are 3-3 in the ACC, have opportunity, too. Seven of their next 10 games, including a rematch with Louisville, will be in Durham; they play No. 13 Virginia (6-0 ACC) just once but at home; and their only matchup against second-place Florida State was postponed and has not been rescheduled.