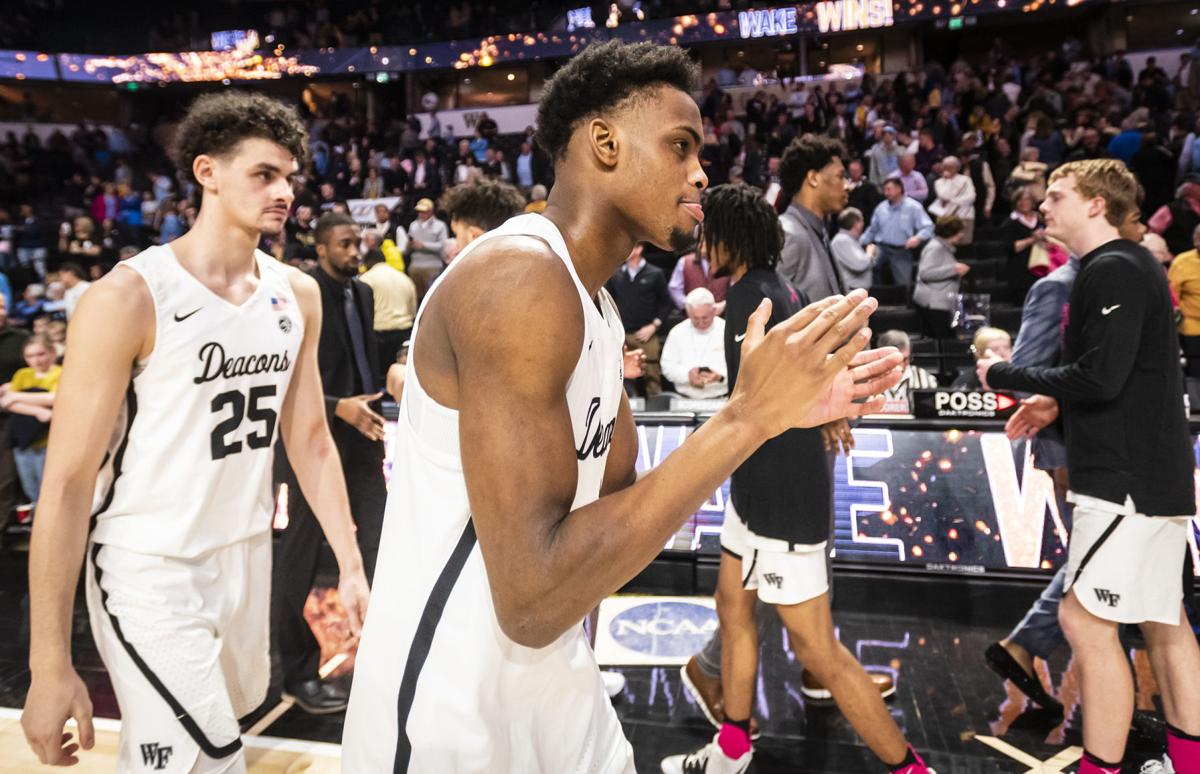 One in a series of previews for the 2020-21 college basketball season:
Coach
Stever Forbes, first season at Wake Forest, 130-43 overall in NCAA Division I, 130-34 as a junior college coach
Last season
6-14 ACC, 13-18 overall; lost in the first round of the ACC Tournament
Preseason prediction
15th in the league; voting by journalists
Key losses
• PG Brandon Childress (15.6 points, 4.6 assists)
• C Olivier Sarr (13.7 points, 9.0 rebounds, All-ACC third team)
• Chaundee Brown (12.1 points, 6.5 rebounds)
Key returnees
• F Isaiah Mucius (7.3 points, 4.7 rebounds)
• G Jahcobi Neath (5.3 points, 2.2 assists)
• F Ismael Massoud (4.8 points, 39.8 three-point percentage)
Key additions
• G Jalen Johnson (3.5 points in 31 appearances at Tennessee)
• G Jonah Antonio (6.9 points and 2.4 rebounds at UNLV)
• G Ian DuBose (19 points, 7.3 rebounds at Houston Baptist)
The outlook
The Deacons' season at least starts with excitement. Forbes is coming off a five-year tenure at East Tennessee State, where he established a fun brand of basketball. He looks to bring the same execution to Wake Forest, which will try to start making its pivot out of the ACC cellar in the next couple of seasons.
Strengths
With so many new faces – five transfers – it's hard to understand the team's full personality yet. But Wake Forest will have many rotating pieces in its backcourt that will allow for the defensive intensity and ball movement that Forbes likes.
Concerns
The Deacons don't have many true post players, which might not be needed in the way Forbes wants to play. But Ody Oguama will be relied on in the post often on defense, probably getting help at the four and five positions by Isaiah Muscius and Ismael Massoud.
Player to watch
Ian DuBose, who led the Southland Conference in scoring 19 points per game. Forbes has spoken highly of him since the Deacons got on campus, and he'll bring a steady presence of leadership as a grad transfer.
Circle the dates
Dec. 16, Virginia: Welcome to the ACC, Steve Forbes. The ACC favorite comes to Winston-Salem for the first game of Wake Forest's conference schedule.
Jan. 9, at Duke: The Deacons head to Cameron Indoor Stadium for a game in the hometown of Ian DuBose, fellow grad transfer Jalen Johnson and walk-on Blake Buchanan. The Blue Devils come to Winston-Salem on Feb. 17.
Feb. 20, N.C. State: The second of two games against N.C. State, pitting a smaller Deacons lineup against the big bodies of D.J. Funderburk and Manny Bates.
Worst-case scenario
The Deacons and their fan base have seen the worst. The excitement of a new coach will make a rock-bottom scenario hard to avoid. But growing pains could be exacerbated by the length of time it takes players to adjust to the new systems.
Best-case scenario
Wake Forest plays a fun brand of basketball and surprises a few teams in the ACC. Isaiah Mucius, who by all accounts has taken the biggest leadership role on the team, turns in a strong season that garners postseason accolades.