PINEHURST – There's not a lot of mystery to the bounce in Webb Simpson's step and smile on his face.
Promoting this month's U.S. Junior Amateur at the Country Club of North Carolina, Simpson was in his element. He grew up in Raleigh, but his family played golf at CCNC and the memories for the 35-year-old PGA Tour star come flooding back.
He loves it so much at CCNC that he and his wife, Dowd, and their five children have a second house on the property, which has two 18-hole championship courses.
"I love this place," said Simpson, a former Wake Forest star who lives most of the year in Charlotte. "I've played so much golf here and it's where I learned the game and it's where I learned to love the game."
Simpson won the 2007 Southern Amateur on his home course at CCNC and is thrilled that the USGA is playing one of its biggest junior tournaments here.
Flanking Simpson, the winner of the 2012 U.S. Open, during the promotional event this week was his oldest son, James, who is 10 and is getting into golf.
"He's got a pretty good swing," said the proud father.
Simpson was relaxing before gearing up for the homestretch of his busy season. He'll play in the Open Championship July 15-18 at Royal St. George's in England then take two weeks off before playing five tournaments in a row, including the Wyndham Championship at Sedgefield Country Club Aug. 12-15.
During his two weeks off after the Open, he'll be at CCNC watching the U.S. Junior Amateur.
"Those two weeks off will be important before playing five in a row," Simpson said. "This season has gone fast, but it's been good."
Simpson is 13th in Ryder Cup points, with the top six qualifying and six captain's picks being added by Steve Stricker after the Tour Championship. The Ryder Cup is scheduled for Sept. 24-26 at Whistling Straits in Kohler, Wis.
He took time to answer 10 questions about what's ahead:
Your next tournament will be the British Open at Royal St. George's, but it's not exactly a normal major. The golfers will have strict protocols because of COVID-19 concerns. What's your take on all of that?
"The family can't go, but they haven't gone for a while. We took James when he was like 6 months old, but if they went this year they would have to quarantine 10 days. The players won't have to do that, so it's a lot different. We can go to the course and go back to our house and hotel and that's it."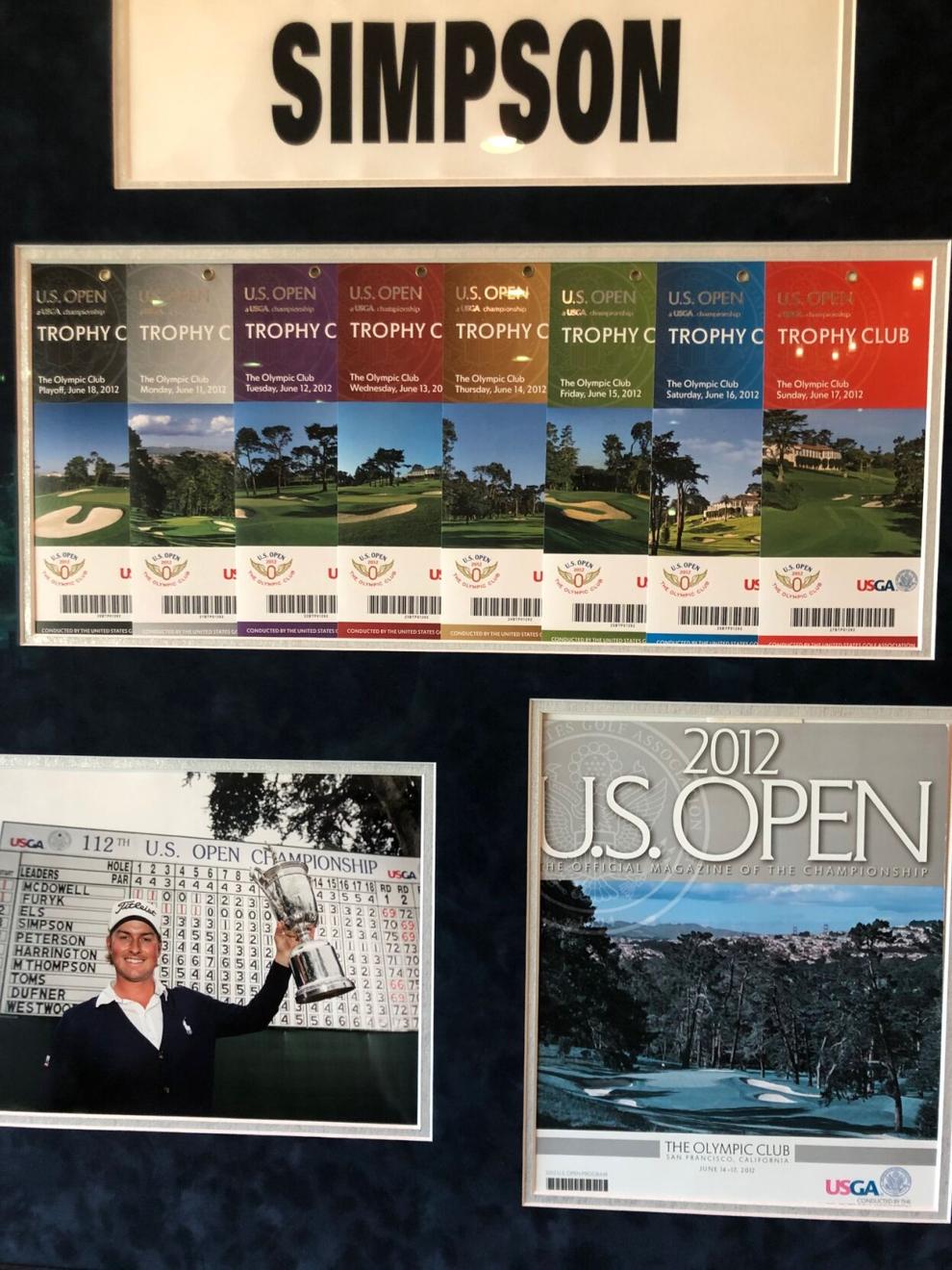 What's your mindset going into that last stretch after the British Open when you will play five straight tournaments?
"You know, every year it's a challenge. Having Atlanta be the last one always gives me the kind of energy and focus and momentum because we're obviously trying to get into that field (the top 30). I'm on the outside looking in right now (at No. 50 on the FedEx Cup points list) so I've got a lot of work to do."
You won your first PGA Tour tournament in 2011 at the Wyndham Championship and later you and your wife, Dowd, named one of your daughters Wyndham. There's also a little more to that name, correct?
"Yes, there is. We liked the name Wyndham but my dad (Sam) also knew Winnie Palmer (Arnold Palmer's wife) really well. So we call her Winnie, but it's kind of for two reasons."
What makes the Wyndham Championship so special? You have to feel like you are due for your second win at Sedgefield because in the last four years you've finished third, tied for second, second and tied for third.
"I love everything about it. I love Greensboro and my brother lives there and my sister lives in Winston. Obviously all the history, you know, being from Raleigh and, even though I live in Charlotte, it feels like I have two home tournaments. But I love the golf course, and I've always loved the golf course because we don't play many courses like Sedgefield (a Donald Ross design) that are short and have fast greens…. I feel really comfortable out there and even when I come in and I haven't been playing great, I feel like I can always compete there."
You had a slight neck injury this season, stopping your momentum a little bit. How's the neck injury now?
"It bothered me a little bit heading into the Wells Fargo and I hated to withdraw because that's my home course and we live right there. I had a little pain at the PGA but it's been good since so I'm ready to go."
You are the honorary chairman of the U.S. Junior Amateur, and it's one of the biggest junior golf tournaments in the country. Did you help land the tournament as it was pitched to the USGA?
"I didn't have to do anything to help them get it here. I love that I get to be a part of it. When I first got the call a couple years ago to be honorary chairman I was excited because we just bought our house here right but it just fits with my history with USGA and winning the Southern Am right here with my dad (Sam, who died in November 2017 after battling Parkinson's Disease) caddying. So those memories are all right there."
How do you think landing the U.S. Junior Am will benefit the Country Club of North Carolina?
"It's the biggest tournament in junior golf. And so it shows a lot about the club and that the USGA would want to come here means a lot. It's such a great golf course, for the format with stroke and match play. I think you have a great membership who are so excited about golf in general."
As a member here and as a junior player you won the Southern Am at CCNC, and one of the favorites is Jackson Van Paris, whose family is also a member. Do you think there's extra pressure on Van Paris?
"I felt it here in the Southern Am, and anytime you're trying to win on your home course, or in your hometown, there is more pressure. But sometimes it can help because you are more focused and can block things out a little bit."
You and Dowd have a large family with James, who is 10 and also four daughters who are ages 8, 7, 5 and 2. What's the hardest part of being a professional golfer with a large family?
"Just saying goodbye. You know, it happens so often because I have to leave and I hate leaving. But they understand that I'm on the road a lot so it's really hard. I love competing and it's what I do but it can be really hard and lonely when I'm on the road so much."
You and your caddie, Paul Tesori, have a great caddie-friendship and are a great team. But not only were you hurt this season, but he's had back issues. How is he doing?
"He's somewhat healthy, and his back is hopefully getting better. He might have to have surgery this fall so we're trying to figure it out. It's funny, but he and I aren't getting any younger."