DURHAM – Ninth-ranked Duke got a last-second dunk from Mark Williams that carried it past Wake Forest 76-74 at Cameron Indoor Stadium on Tuesday night.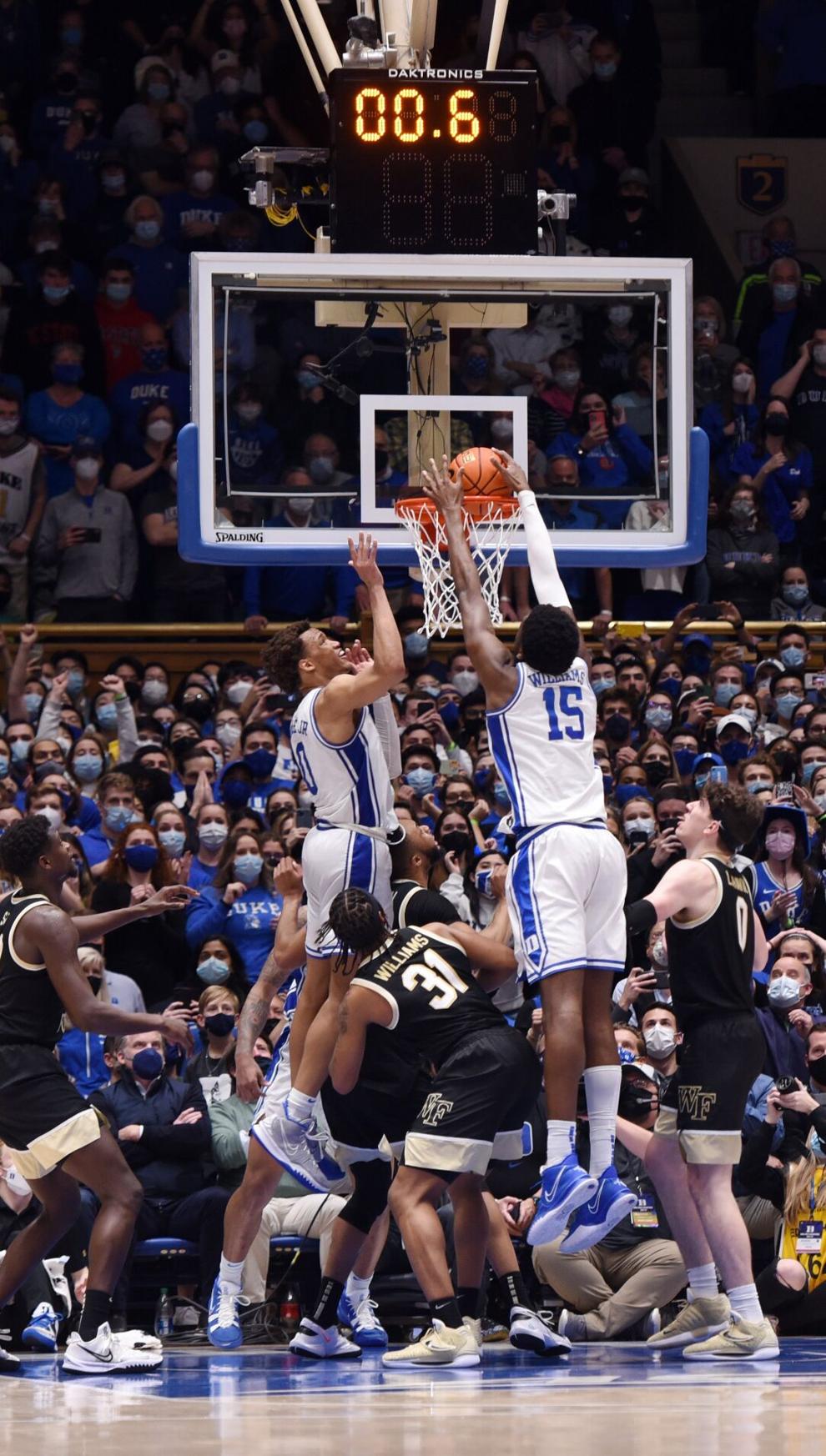 Three observations
1. Duke coach Mike Krzyzewski didn't take the floor for the second half after walking gingerly to the locker room at intermission. Krzyzewski's wife, Mickie, who sat in the family's traditional seats in the first half, also was missing when the second half resumed. Coach-in-waiting Jon Scheyer took over, and the Blue Devils went up by 13 early in the second half. Scheyer also coached the Blue Devils when they played in Winston-Salem because Krzyzewski was in COVID-19 protocol.
2. The Deacons were languishing midway through the second half when Jake LaRavia started getting busy and nearly brought them all the way back. He helped erase a 13-point deficit, and the Deacons trailed by two with six minutes to go. But the Blue Devils slowed down, ran their halfcourt offense better and never let the Deacons get over the hump.
3. The Deacons won't win many games with Alondes Williams on the bench in foul trouble. Williams got three fouls in the first half and sat for a long time. When he picked up his third foul with 5:33 left in the first half, the Blue Devils led by eight. Williams played just over seven minutes in the first half and had one 3-point field goal. The Blue Devils led 42-33 at halftime.
Stars
Jake LaRavia: 19 points, 10 rebounds and an assist.
Alondes Williams: 18 points, four rebounds and four assists.
Dallas Walton: 17 points, three rebounds and three assists.
Duke
A.J. Griffin: 12 points, six rebounds.
Paolo Banchero: 13 points, six assists, two steals.
Wendell Moore Jr.: 16 points, six rebounds, five assists.
Mark Williams: 16 points, six 10 rebounds and a dunk with .4 seconds left.
What they're saying
• "I thought the shot was good, but probably not here." – Wake Forest coach Steve Forbes of Damari Monsanto's long heave at the buzzer that bounced off the backboard and rimmed out.
• "I'm not sure what I was thinking, but I saw the miss and I knew we had the win." – Duke associate coach Jon Scheyer, who took over for the second half.
• "This was my first time playing in Cameron, so I think these kind of atmospheres are the best. There are a lot of students supporting the team and it gets real loud and there's chirping on the court, but I enjoyed it." – LaRavia.
• "It was really unusual circumstances and we are concerned with coach and his health. Coach is doing better and got some rest and he needs some rest. He's doing better and especially since we got the win." – Scheyer.
• "We had a hard time stopping them coming out of halftime. We had to get stops and once we did and got into transition, I knew we'd be OK. We just finally were able to get it on the court." – Forbes.
• "When Jon stood up a couple of times. I guess at the 16-minute mark.... I just finally looked at Chris (Carrawell) and I just wanted to make sure he was OK. They kind of gave me the OK sign. I guess he didn't want to take pictures with me. He missed our game over in Winston; you guys know I have a ton of respect for him, so I just hope he's doing OK." – Forbes on noticing Krzyzewski's absence.
Notable
• Wake Forest's LaRavia, Isaiah Mucius and Alondes Williams all have shots to reach 1,000 career points. Daivien Williams already has scored 1,000 career points.
• Before Tuesday's game, Krzyzewski had 1,118 wins since taking over at Duke in 1980. Duke's other head coaches combined for 1,117 wins.
• Duke now has a 23-game home win streak, its longest active, over Wake Forest. The Demon Deacons last won in Cameron in 1997 during Tim Duncan's senior season.
• Gary Strickland, 70, witnessed his 52nd Wake Forest-Duke game at Cameron. He's been the scorekeeper for Wake Forest basketball games for 41 years. His first game at Cameron came when he was 8. "We had friends from Durham who took us to games every year here," Strickland said. "And I first started keeping score for Wake Forest games in Coach K's second season (in 1981-82)."
Records
Wake Forest: 10-6 ACC, 20-7 overall.
Up next
Wake Forest: Notre Dame, 1 p.m. Saturday (Bally Sports South)
Duke: Florida State, 6 p.m. Saturday (ESPN)