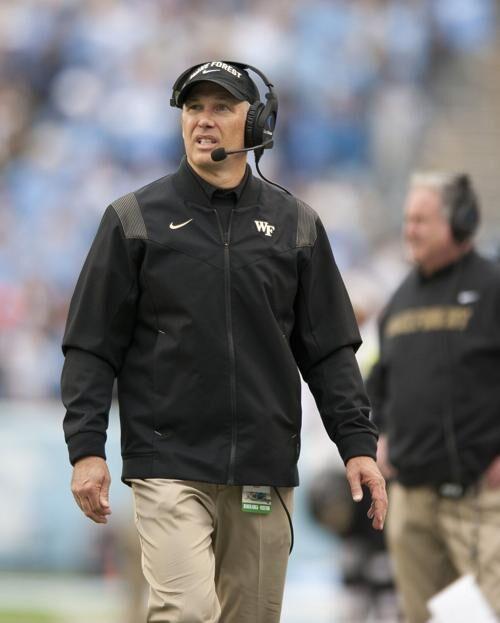 Running back Christian Beal-Smith, who went through senior day festivities at Wake Forest, decided to enter the transfer portal last month instead of declaring for the NFL Draft.
This week, the East Forsyth graduate from Winston-Salem committed to South Carolina, posting his intentions on Twitter.
(tncms-inline)1480707613956489220[0](/tncms-inline)
Beal-Smith led the Deacons with 732 yards rushing in 2020. He rushed for 604 yards in 2021 but battled injuries late in the season.
Ahmani Marshall, also a running back and East Forsyth graduate, also entered the transfer portal and has moved to Appalachian State.
The others in the portal, according to 247sports, are cornerback Kenneth Dicks III, linebacker D.J. Taylor and defensive lineman James Ash. According to 247 Sports, Ash has committed to South Florida.
More depth coming this spring
Wake Forest's football program this week announced that four freshmen and a transfer from Richmond have enrolled for the new semester and will go through spring practice.
The biggest addition is defensive lineman Kobie Turner, a three-time All-America for the Spiders who is 6 feet 3 and 290 pounds. In 37 games over three years, he made 158 tackles and 15 sacks and forced three fumbles.
Quarterback Brett Griffis, younger brother of current quarterback Mitch Griffis. Brett, who is 6 feet and 187 pounds and is from Ashburn, Va., had a 17-4 record over the last two years as a starter for Broad Run High School. As a senior he threw for 3,053 yards with 32 touchdowns with three interceptions. He also ran for 1,117 yards on 158 carries with 20 touchdowns.
Defensive lineman Elijah Hall; 6-3, 262 pounds; Boiling Springs Crest High. Hall is rated as a four-star recruit by Rivals and is the highest-ranked defensive recruit in the last eight years, according to 247Sports.
Offensive lineman Derrell Johnson; 6-3, 272 pounds; Jacksonville, Fla.
Defensive lineman Jalen Swindell; 6-2, 316 pounds; Charlotte Chambers.
Notable
Coach Dave Clawson has been elected to the American Football Coaches Associated Board of Trustees.
Wake Forest basketball legend Tim Duncan and former football player Robert Grant will receive NCAA awards Jan. 19. Duncan, a member of the Naismith Memorial Basketball Hall of Fame, has been selected for the Silver Anniversary Award. Grant, one of three Black players to join the football team under Coach Bill Tate in 1964, will get the Inspiration Award.