It was Chris' night to be inducted into the Wake Forest Hall of Fame and nobody was going to miss it. The two brothers had their wives, their kids and their mom (Robin) and dad (Charles) dressed to the nines for the occasion.
"This is special, man," Chris, 36, said Friday night before the festivities began.
The first family of Winston-Salem and Lewisville was going to enjoy the night because Chris, who played two seasons for the late Skip Prosser from 2003 to 2005, had reached a place where he never thought he'd be.
"When I first got to Wake, this was the furthest thing from my mind," Paul said of reaching the school's Hall of Fame. "I mean, I just wanted to play ball, get a great education and try and win a national championship."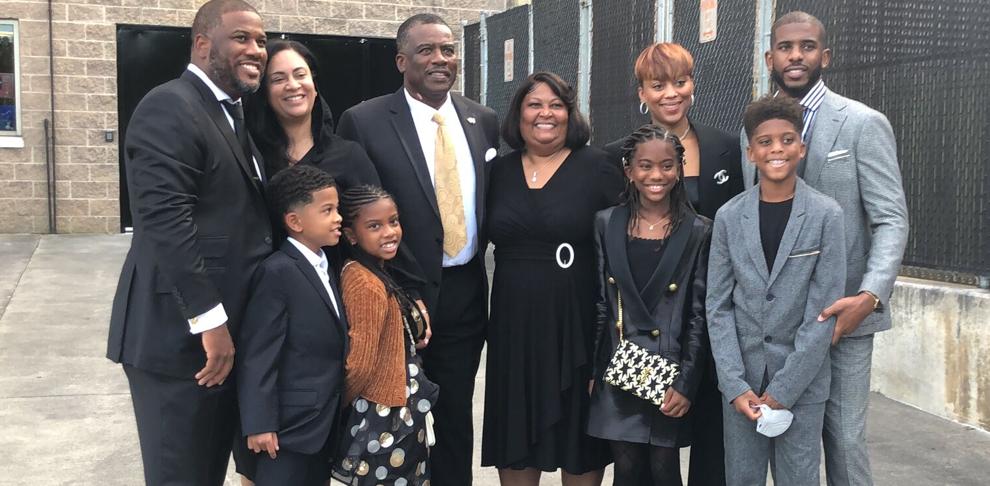 Paul left after his sophomore season as a top-five pick in the NBA and will start his 17th season next month when training camp opens with the Phoenix Suns. He guided the Suns to his first NBA Finals last season, a loss in six games to Milwaukee.
He found it hard to believe that it's been 16 years since he left Wake Forest, but despite his world-wide fame, extreme wealth and being recognized as one of the best basketball players on the planet, he loves being home and being around family.
"I mean, how could I not share this with my family because they mean everything to me," Paul said. "And especially to have my two kids here to sort of take this all in is a big deal."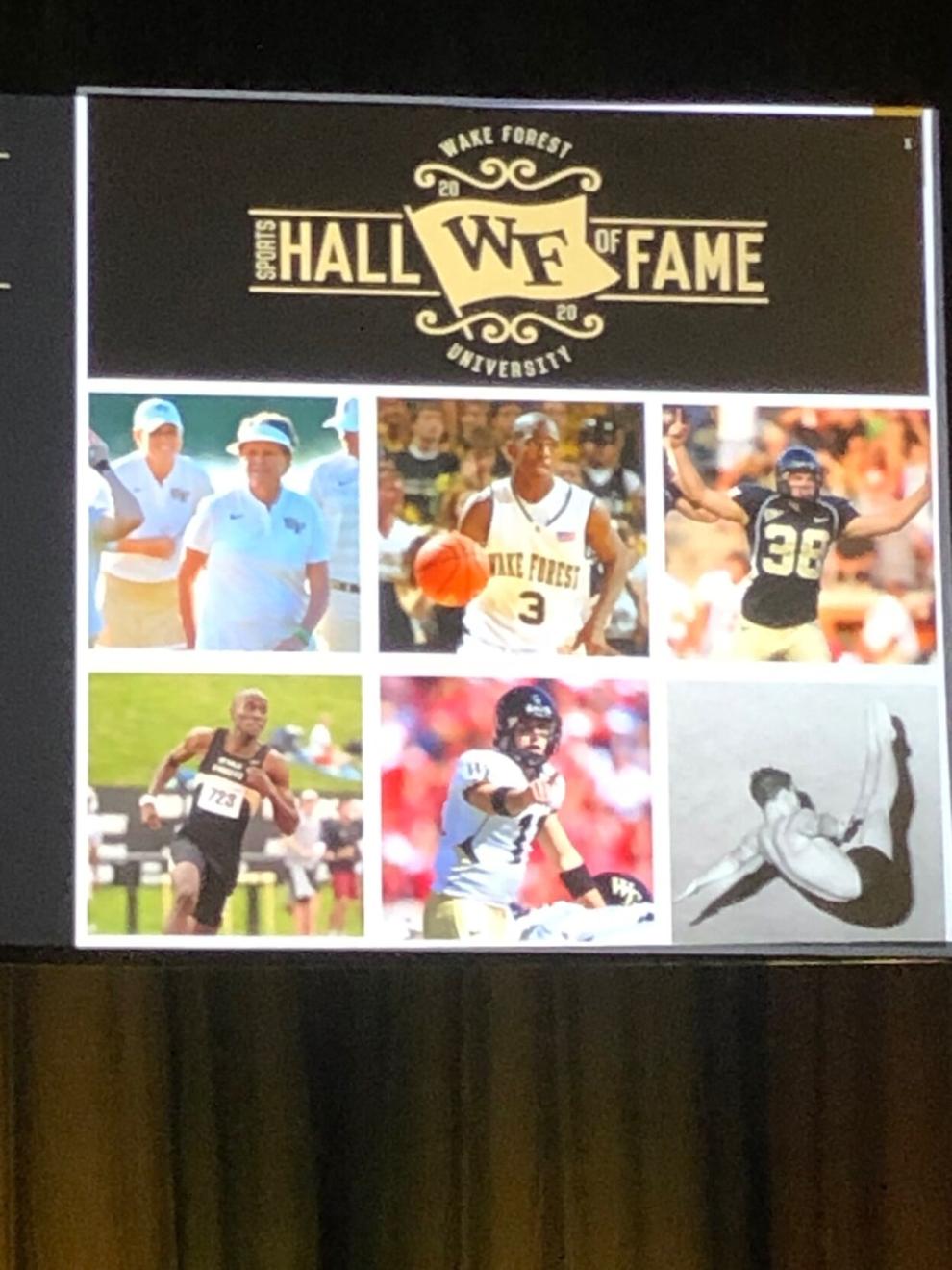 Others from Paul's extended family were also on hand, with about 35 members there at Joel Coliseum to see him achieve yet another honor. He'll eventually be inducted in the Naismith Memorial Basketball Hall of Fame, but his college years were also memorable and meaningful for his development.
"We are just so blessed as a family and to see Chris get this honor and it's something we are proud about," said Charles, who has loved having both of his sons and their families in town this weekend. "We've got a full house and it's been great."
In his speech, Chris talked about the affinity he had for his hometown and how during his high school career at West Forsyth he got to play several times at Joel Coliseum. He also had his high school graduation at Joel Coliseum in spring of 2003 where he was the class president.
"This is home," Paul said.
In his senior season at West Forsyth his grandfather, Nathanial Jones, was murdered in Winston-Salem. And it was at the funeral that Paul realized he had chosen the right school and the right coach to play for.
"We are at the funeral and who comes in but the entire team and the coaching staff," Paul said, "and that's when I knew how special this place was."
Paul, who is the president of the NBA Players Association, could likely one day run for office thanks to his people skills and his ability to listen to others. The 11-time All-Star signed a four-year contract extension with the Suns that will pay him $120 million, so any talk about a career after his playing days will have to wait.
His desire to win an NBA championship is as strong as ever.
As for getting into the Wake Forest Hall of Fame, he credits Josh Howard and Prosser with helping him get there.
It was when Paul was growing up that he saw Howard, who is five years older, stay in his hometown and have great success for the Deacons. That helped Paul decide where he was going to college.
"I've told Josh this before, but he stayed right here in Winston and I saw that and I wanted to do the same thing," Paul said.
Prosser died at the age of 56 of a heart attack in Paul's second season in the NBA in 2007.
"Man, I just wish Coach was here tonight," Paul said. "I think that's probably the toughest part about this, is that he's not here to see this."
Because Paul left after his sophomore season, he hasn't been able to earn his degree yet, but is working toward that. He's taking classes at Winston-Salem State in his limited spare time and, according to his mother, he has 30 hours to go.
"I'm still working toward it and I'll get there," Paul said.
It's a promise that Paul made to his mother that he would eventually graduate.
"We got this," Robin said about her son closing in on his college degree.
High school glory, Olympic gold, NBA stardom: Chris Paul's top 9 moments
9. All-Star game MVP
Paul put on a show in the 2013 NBA All-Star game in Houston. He scored 20 points and dished 15 assists in a 163-158 Western Conference win.
8. A playoff game winner in 2015
Paul scored a game-winner against the San Antonio Spurs in 2015, a Game 7 victory for the Clippers to move to the second round of the NBA Playoffs.
The point guard turned past Danny Green at the top of the key, tossing up a floater over fellow Wake Forest alum Tim Duncan just outside the paint. The shot fell in with one second remaining in the game.
7. His move to 'Lob City'
The 2011 trade that sent Paul from the New Orleans Hornets to the Los Angeles Clippers brought together the "Lob City" as we all know it.
Paul paired with big men Blake Griffin and DeAndre Jordan for a high-flying show. The trio led the Clippers to 50-plus wins in the last five of Paul's six seasons with the franchise.
6. A coast-to-coast winner at NC State
Paul made the inbound pass, got the ball back and went all the way down the court for a runner at the buzzer. Wake Forest won, 55-53, in the 2005 game. During the same game, a low blow from Paul to Julius Hodge almost contributed to an upset for a Deacons team fighting for a No. 1 seed in the NCAA Tournament.
5. His first Olympic gold medal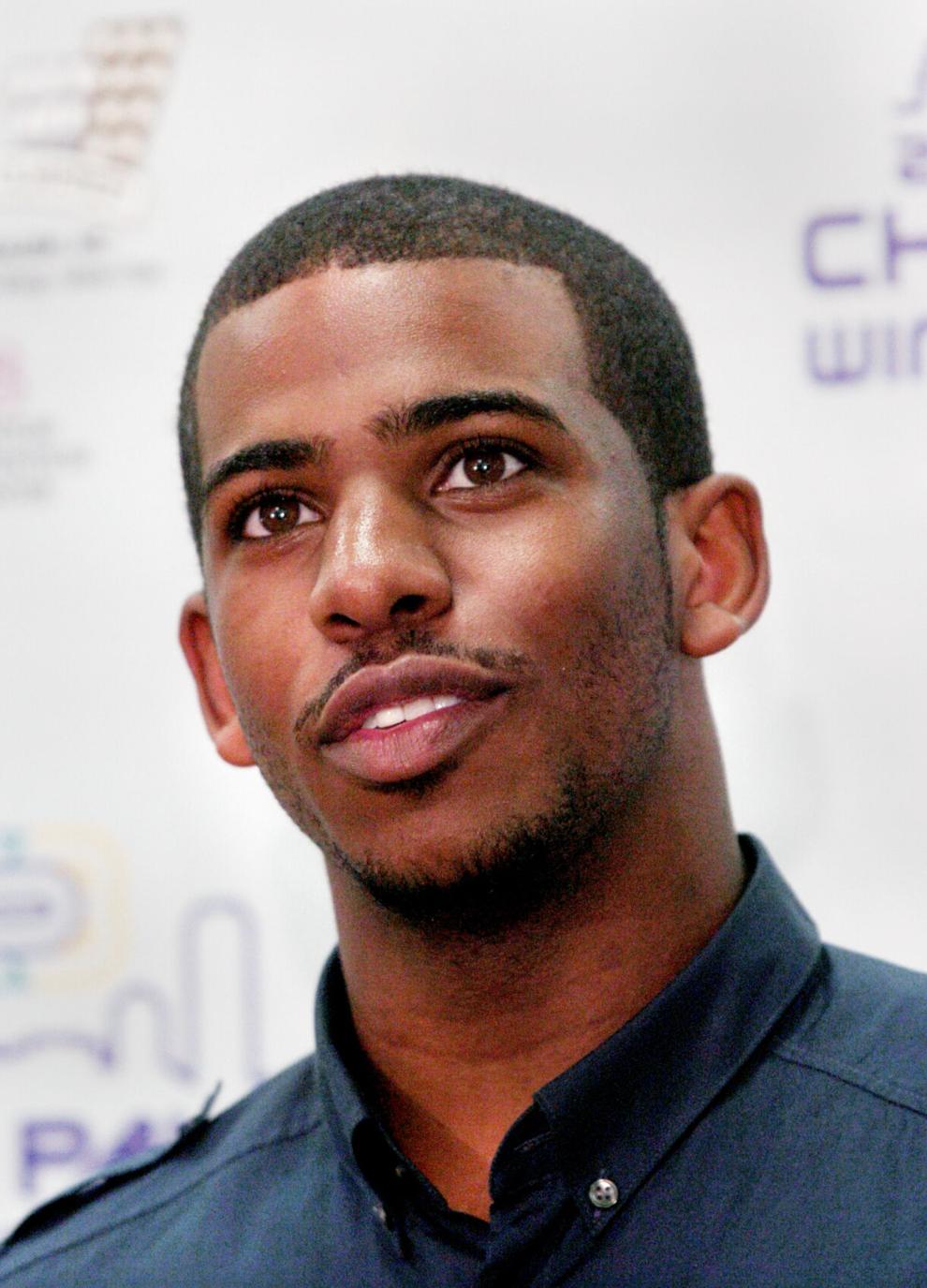 As a member of the squad called "The Redeem Team," Team USA won in the Beijing Olympics in 2008. In the next summer Olympics, Paul started at point guard for another gold medal in London.
4. Stands as the NBA Players Association president
Paul has served as president of the NBA Players Association since 2013, and he's played a significant role in the league's moments of tension throughout the years.
In 2014, he became a key voice against Donald Sterling, the former Los Angeles Clippers owner. Sterling made racist statements that later became public — and earned him a lifetime ban from the NBA and a $2.5-million fine. Paul pushed the conversation that led to Sterling's ultimate selling of the Clippers.
And in 2020, he helped navigate a hiatus in the bubble after the Milwaukee Bucks chose not to play in a first-round playoff game to protest the shooting of Jacob Blake in Wisconsin. The league resumed two days later while also unveiling multiple social justice initiatives to help the communities around NBA teams and their home cities.
3. Outdueling UNC's Raymond Felton in 2005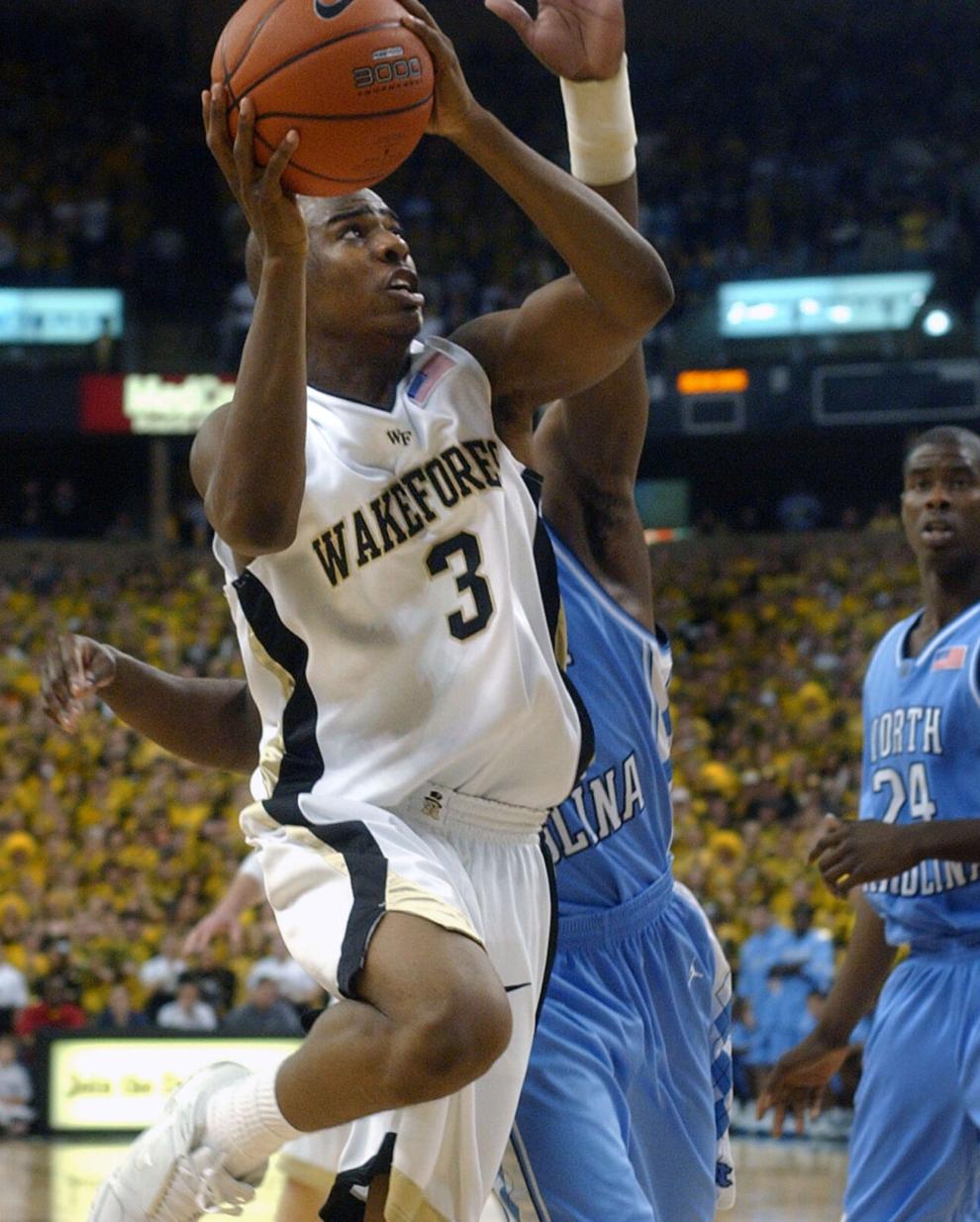 Chris Paul's showdown with fellow point guard Raymond Felton allowed the Wake Forest star to show that he was the best in the ACC.
In the first top-five matchup between the two programs, Paul's 26 points, eight assists, six rebounds and five steals sent the Deacons to a 95-82 victory.
"I've said before and I'll say it again, he's one of the most selfless players I've ever coached," Wake Forest coach Skip Prosser said after the game. "And for that, he's also one of the most popular among his teammates."
2. Winning NBA Rookie of the Year in 2006, all-star arrival the next season
Paul went from 2005 lottery draft pick to 2006 NBA Rookie of the Year, then arrived as a bonafide superstar two seasons later.
That year, he averaged 21.1 points and led the league in assists (11.6) and steals (2.7) to earn his first All-Star nod, leading the Hornets to a franchise record 56 wins that still stands today.
1. The 61-point game in high school
Perhaps the most enduring memory of Paul for local fans, he scored 61 points for West Forsyth in their 2002 season opener.
The game came just after the murder of his grandfather, Nathaniel Jones. Paul scored a point for every year his grandfather lived, missing a free throw intentionally and subbing out of the fourth quarter early to turn his stat line into a memorial.
WATCH NOW: Chris Paul, from West Forsyth to the NBA