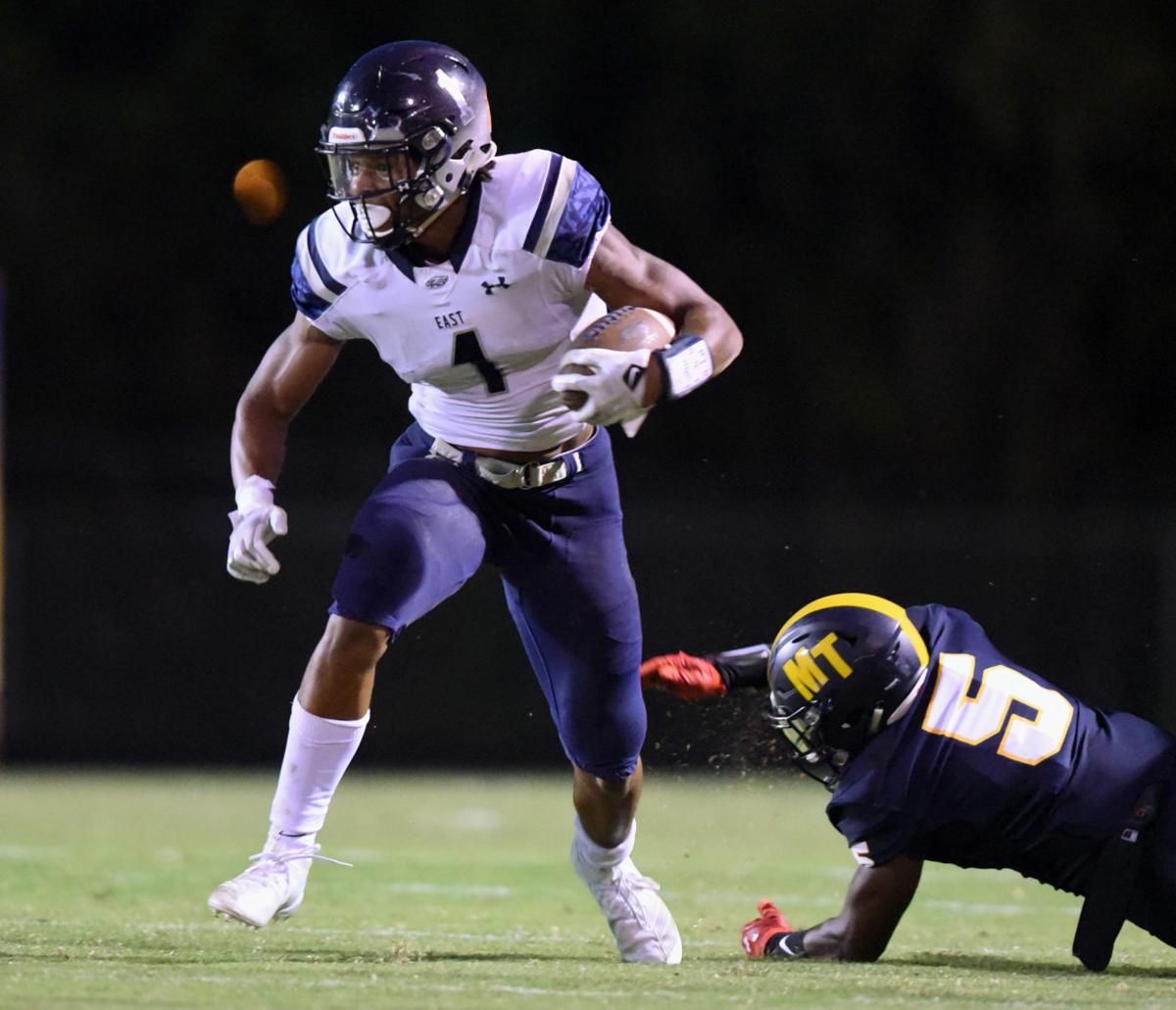 GREENSBORO — East Forsyth's football team is undefeated, but senior running back Ahmani Marshall knows there are lessons to be learned each week.
Marshall, a 6-foot-1, 205-pounder who verbally committed to Wake Forest in June, had 79 total yards and a touchdown as the Eagles narrowly escaped Friday night's battle of unbeaten teams with a 21-20 win at Greensboro Grimsley.
"We had a lot of mistakes tonight, man. We missed a lot of opportunities we could have capitalized on," Marshall said Friday night. "But all we can do is get better off of this week. I feel like we learned a lot from this game, and it can only get better from here."
Improvement for East Forsyth (6-0) could come in the form of larger victory margins.
The defending NCHSAA Class 4-A champions and owners of a 21-game winning streak surged to a 21-0 lead against the Whirlies less than one minute into the second quarter.
From there, it was a matter of hanging on against an onslaught from Grimsley (6-1), which successfully played keep-away from East Forsyth's vaunted offense for the rest of the game. It was a win only made possible because of a blocked extra point by Javon McAllister and a defensive stand in the final minutes after the Whirlies recovered an onside kick.
"A lot of teams try to keep us off the field and try to get us out of our rhythm, and I think in the second half we only had four possessions. Think we might have only had eight all night," Coach Todd Willert said. "We're used to that, so sometimes it's hard to get going.
"But, hey, a win's a win. A team win is great, and I'm glad (Marshall) is on our team."
Marshall scored on a 1-yard run on the first possession of the game, his fifth straight game with a touchdown. He broke loose for carries of 17 and 18 yards, but wound up with 58 yards on 10 carries and 21 yards on two catches.
Marshall, who plans to enroll early at Wake Forest, has 728 total yards on 89 offensive touches this season — using a blend of speed and power that's perhaps appreciated most by his offensive line.
"I mean, after you block somebody good, maybe even pancake them, to see him run somebody over, it's amazing," said Jaden Lindsay, a junior offensive lineman. "It's just like, 'Oh, man, he's doing that, what can he do if we block for him?' You know what I mean?"
As a change of pace of sorts, one way for the Eagles to mix things up offensively was on display Friday night.
In a few short-yardage situations, Marshall lined up for direct snaps with fellow running back Robbin Smith — brother of current Wake Forest running back Christian Beal-Smith — next to him.
It was effective at times, as Marshall muscled his way to a 10-yard gain from the formation early in the fourth quarter.
It's something that feels natural to Marshall, taking him back in time.
"Oh, I love it, I love it. I grew up playing that in Pop Warner. It feels good to get a direct snap," Marshall said.
Just don't expect him to sling the ball around any time soon.
"I have an arm, a little bit. I'm just running the ball," Marshall said. "We've got Ty Lyles as our quarterback. So I'm just here to run the ball."
That's what he's at East Forsyth to do, for now. In about three months, it'll be what he's at Wake Forest to do.
Be the first to know
Get local news delivered to your inbox!