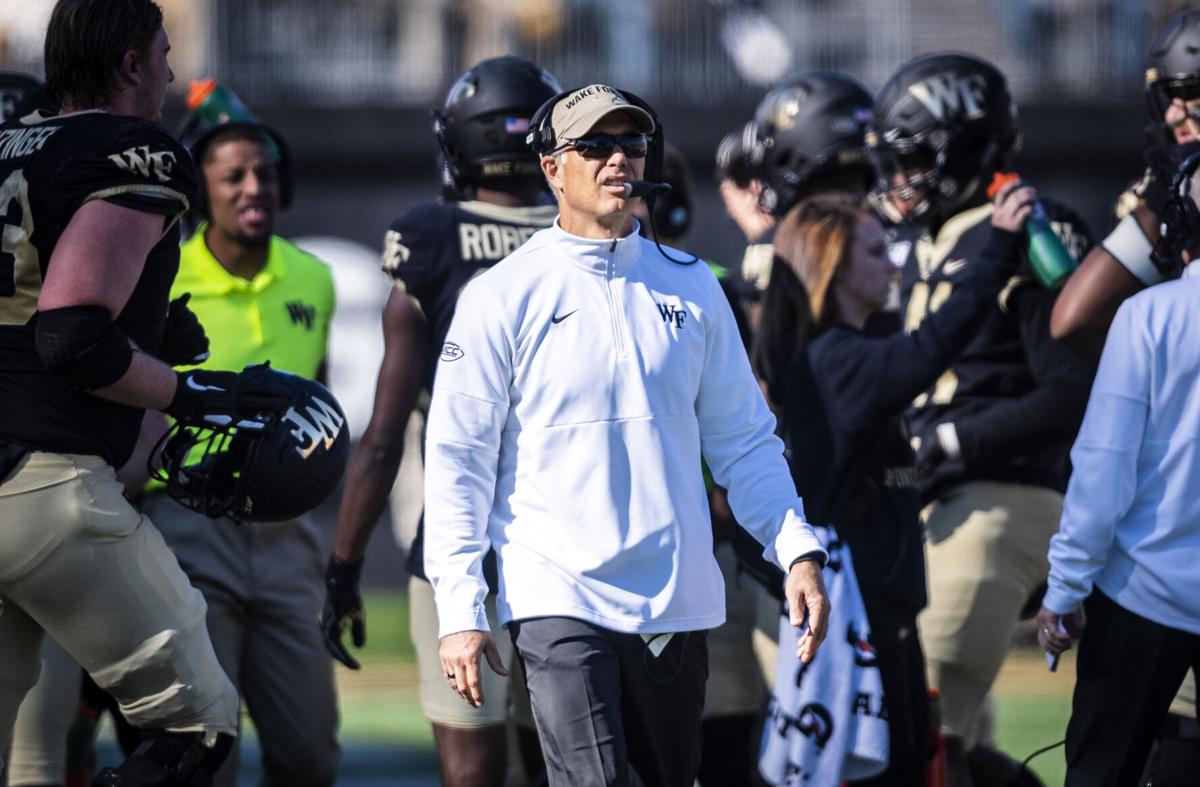 The nature of the last few months in college football has turned every day into a rollercoaster of emotions, Wake Forest senior safety Luke Masterson said last month — and again last week.
The Deacons had their full team together by mid-July — that was a high point of optimism. The Big Ten and Pac-12 announced delays of their seasons — low point.
Now that Wake Forest has reached game day — with ESPN's "College GameDay" in town, no less – the Deacons can exhale.
They've made it. There's football to be played. Never mind who the opponent is.
Well, not so fast on that last part.
"I feel like we understand who's coming to town, we understand who they are, we understand what has happened to us in the past two years," senior linebacker Ja'Cquez Williams said. "We acknowledge it because if you don't acknowledge it, then you're ignoring the truth.
"But at the end of the day we get to play ball again and it doesn't matter if it's Clemson, the Cleveland Browns or a Pee-Wee team here in Winston-Salem."
Wake Forest opens not with a rebuilding Conference USA team, but with the juggernaut of the ACC for the past five seasons. Clemson supplanted Florida State five years ago and has put a stranglehold on the league — the top-ranked Tigers haven't lost an ACC game since 2017 and have won the last three ACC championship games by a combined 112 points.
Coach Dave Clawson pointed out a couple of times in the past month that ironically, Wake Forest played Clemson tougher in the lean first couple of years of Clawson's tenure than it has in recent seasons. In the Deacons' first four matchups against Clemson under Clawson, the average margin of defeat was 17.5.
In the last two seasons, the Tigers have outscored Wake Forest 115-6.
"Dabo (Swinney) has built them into arguably the best football program in the country," Clawson said. "They've had double-digit wins for nine straight years now. The skill level and schemes are just excellent across the board.
"I think we've gone into this game maybe a little uptight and it got away from us early. By the time we settled down, it was impossible to come back."
Turning on game film from the last two seasons doesn't offer much in terms of silver lining — the Deacons were down by halftime scores of 31-3 last year and 28-0 the year before.
Maybe not a silver lining, and those game films might seem like horror flicks — but there's encouragement to be found.
"It's definitely hard to watch," Masterson said. "But I think it's just more motivation that we haven't played anywhere near our capability the last two years and I think that's encouraging, that if we play to our ability, it'll be fun to see what happens."
No matter how much players have tried to shut out social media in the past few months, riding the rollercoaster news cycle was unavoidable at times.
"When the Big Ten and Pac-12 and those conferences looked like it was over with, you see — as much as you try and stay off social media and read into things too much — it was hard not to," quarterback Sam Hartman said. "Everybody is sending you, 'Hey are you playing? There's no way,' everybody's got their own opinions.
"To have the opportunity this Saturday after everything that's been going on in the world with college football, it's pretty awesome."
There's a relief to be felt that the ACC and Big 12 are kicking off this weekend, to be followed by the SEC in two weeks.
And once that feeling fades, there's the issue of trying to win games — in Wake Forest's case, trying to pull off a shocking upset.
Concerned about COVID-19?
Sign up now to get the most recent coronavirus headlines and other important local and national news sent to your email inbox daily.