This one isn't like Utah State, Tulane, Presbyterian or — you know, it's easier to just say this opening game for Wake Forest is unlike any other it's played.
The Deacons' recalibrated schedule for the COVID-19 pandemic made Clemson, a team that's 69-5 across the past five seasons and has two national championships in that span, Wake Forest's first opponent of the season.
Dread it, run from it — Clemson has been on Wake Forest's schedule every season as members of the ACC's Atlantic Division, and the game against the Tigers arrives no matter their dominance.
Here are five things to know about Clemson:
1. No. 1, again
Clemson opens the season ranked No. 1 in the Associated Press' Top 25 for the second straight year. The Tigers are coming off a 14-1 season in which the only defeat was a 42-25 loss to LSU in the national championship game.
The Tigers' five-year run has established them as one of the top programs in college football — and they've put a stranglehold on the ACC in the process.
In the past five seasons, Clemson has won as many ACC games by 45 (10) as it's lost or won by single digits.
2. Travis Etienne, again
The two-time reigning ACC Player of the Year chose to return to Clemson for his senior season, a bit of a surprise given the short careers of NFL running backs.
Etienne has a combined 3,782 total yards and 49 touchdowns in the past two seasons, and the Deacons have struggled to contain him. In three games against Wake Forest, Etienne has 355 rushing yards and five touchdowns.
"I was a little surprised," Wake Forest linebacker Ja'Cquez Williams said of Etienne's return to Clemson. "I was also eager at another opportunity to get back and just get another chance to play against the guy. He's a great player, we acknowledge who he is and it's just another great opportunity."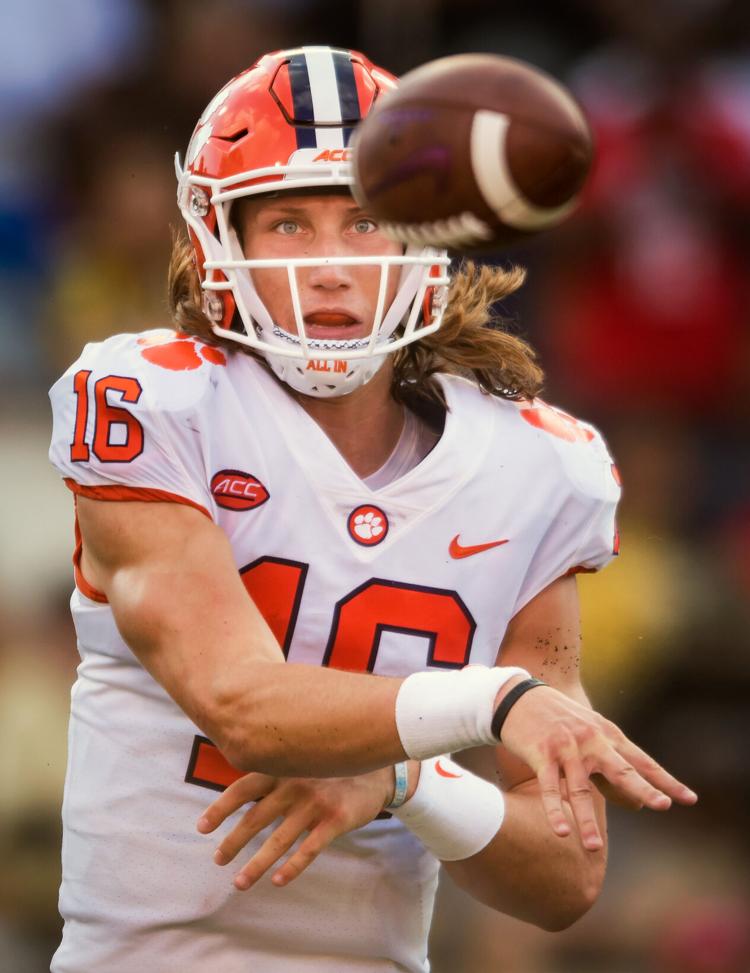 3. Likely No. 1
Trevor Lawrence is 25-1 as a starting quarterback and will likely be the No. 1 pick in the NFL Draft in April — unless he pulls the same shocking decision that Etienne did after last season.
Lawrence was used more in the running game last season, best evidenced by his 107 yards on 16 carries in the College Football Playoff semifinal win over Ohio State.
His interception issues were well documented early last season, but he didn't throw an interception in Clemson's final eight games.
4. Reloading offense
Outside of Etienne and Lawrence, the Tigers don't have the same name recognition on offense as in previous seasons.
The offensive line returns one starter, tackle Jackson Carman. Etienne and Amari Rodgers are the only two returners from Clemson's top five receivers last season.
Still, Clemson has had three straight top-10 recruiting classes, per 247sports.com. It's not like they're devoid of talent.
5. Who they're missing
This won't truly be answered until kickoff, but there are a couple of standouts the Tigers will be missing for most or all of this season.
On offense, it's wide receiver Justyn Ross. He lit up Alabama in the national championship game as a freshman and had 66 catches for 865 yards and eight touchdowns last season, but suffered what the team thought was a stinger in the final spring practice. It was later revealed by X-rays to be a congenital fusion in his spine, which he unknowingly had since birth, and will keep him from playing this season.
On defense, it's defensive end Xavier Thomas. Also a junior, Thomas was a third-team All-ACC pick last season. Clemson announced about a month ago that Thomas will sit out most or all of the season because of bouts with COVID-19 and strep throat.