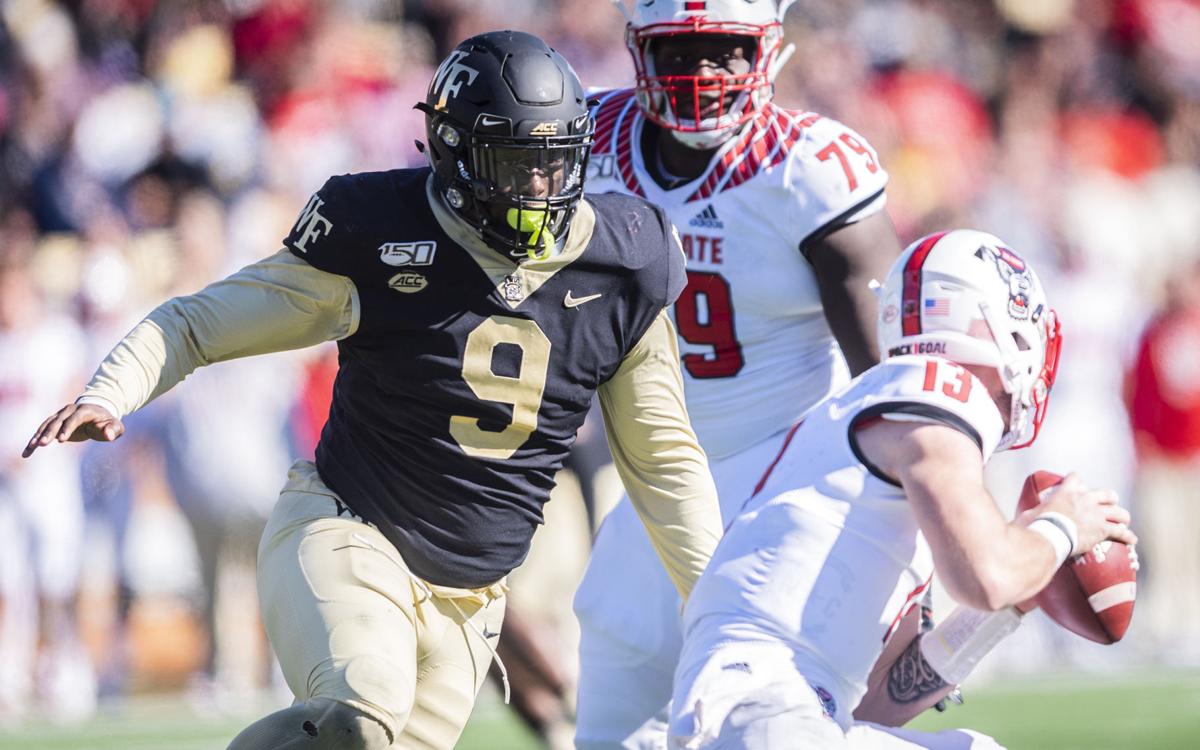 Wake Forest's football team will begin fall camp practices Thursday.
The Deacons' date and opponent for the season opener is under to-be-determined designation until Thursday morning, the ACC announced. And we'll wait until next week to hear from Coach Dave Clawson on the logistics and protocols in place for the Deacons to practice.
But, at least there's some clarity to the start of the season — since the last time Wake Forest's football team practiced in an official capacity was March 5.
So here's a refresher of five things to know as the Deacons begin fall camp:
1. Building depth
After the 2018 season, Clawson's offseason priority was to make the Deacons a healthier team through a revamped practice model and using
There was a similar goal in the spring that likely extends to fall camp.
The goal in the spring was to reach specific numbers on offense and defense of playable players to ensure depth. The gross number for the offense was 25, and for the defense it was 27.
"There's no question we're extremely disappointed that we didn't have a 10-, 11-win season last year," Clawson said in the spring. "As much as we're proud of the bowl … we had an opportunity last year to have a special year (and) we didn't because when we got hurt, we did not have the depth.
"For us to take the next step as a program, that has to start happening."
2. Experienced defense
It's the time of year, however abnormal, to discuss returning starters.
Wake Forest has lot more of them on the defensive side of the ball, which gives way to the notion that the Deacons' defense could be the stronger unit for the first time since 2016.
Boogie Basham had 11 sacks last season, second-most in school history, and his return means the Deacons boast one of the premier pass-rushers in the ACC, if not the country.
He's one of eight returning starters on defense, and one of five fifth-year seniors — others are Luke Masterson, Traveon Redd, Sulaiman Kamara and Ja'Cquez Williams — who will be counted on to lead a defense that's struggled at times in the last three seasons.
3. Sam Hartman at QB
The reins to Wake Forest's offense are Hartman's again.
The redshirt sophomore won the starting quarterback job two years ago as a freshman and threw for nearly 2,000 yards and 16 touchdowns in nine games, but a broken bone in his foot ended his season — and led to Jamie Newman's emergence.
Newman transferred to Georgia after last season, leading to Hartman assuming the role of starting QB again in the spring — though, not without cameos last season as he maintained a redshirt.
Hartman did what he could amid the pandemic to reassert himself as a leader in the program.
"I've really just been telling the guys that no matter what's happening, you've gotta keep in mind that the season is still on and there's going to be a game played at some point, even though we don't know when," Hartman said in April.
4. Three returning All-ACC players
Basham is one of three returning first-team All-ACC players, joined by wide receiver Sage Surratt and kicker Nick Sciba.
Basham and Surratt, a redshirt junior, announced on the same day in December that they would be returning this season. Surratt had 66 catches for 1,001 yards and 11 touchdowns in nine games, missing the last four because of a season-ending shoulder injury. He was the first player in the country to reach 1,000 receiving yards last season.
Sciba etched his name into the NCAA record book last season by making 34 straight field goals, a streak that started in 2018. In two seasons at Wake Forest, Sciba has made 43 of 47 field goals and all 97 PATs he's attempted.
5. Gelling offensive line
Wake Forest has graduated three starters from its offensive line in each of the last two seasons, creating something of a rebuilding situation for the Beef Boys.
Zach Tom is the unit's most-experienced player, and in the spring he was working to transition from center — where he started every game last season — to left tackle. The Deacons brought in grad transfer Terrance Davis from Maryland and he's expected to start at one of the guard spots, but he didn't practice in the spring because of a knee injury.
Sean Maginn and Loic Ngassam Nya rotated at one guard position last season — and those four are the only offensive linemen on the roster with significant playing time in college. The abbreviated spring session coupled with limited availability because of injuries means it's paramount for this unit to come together quickly in the next month.