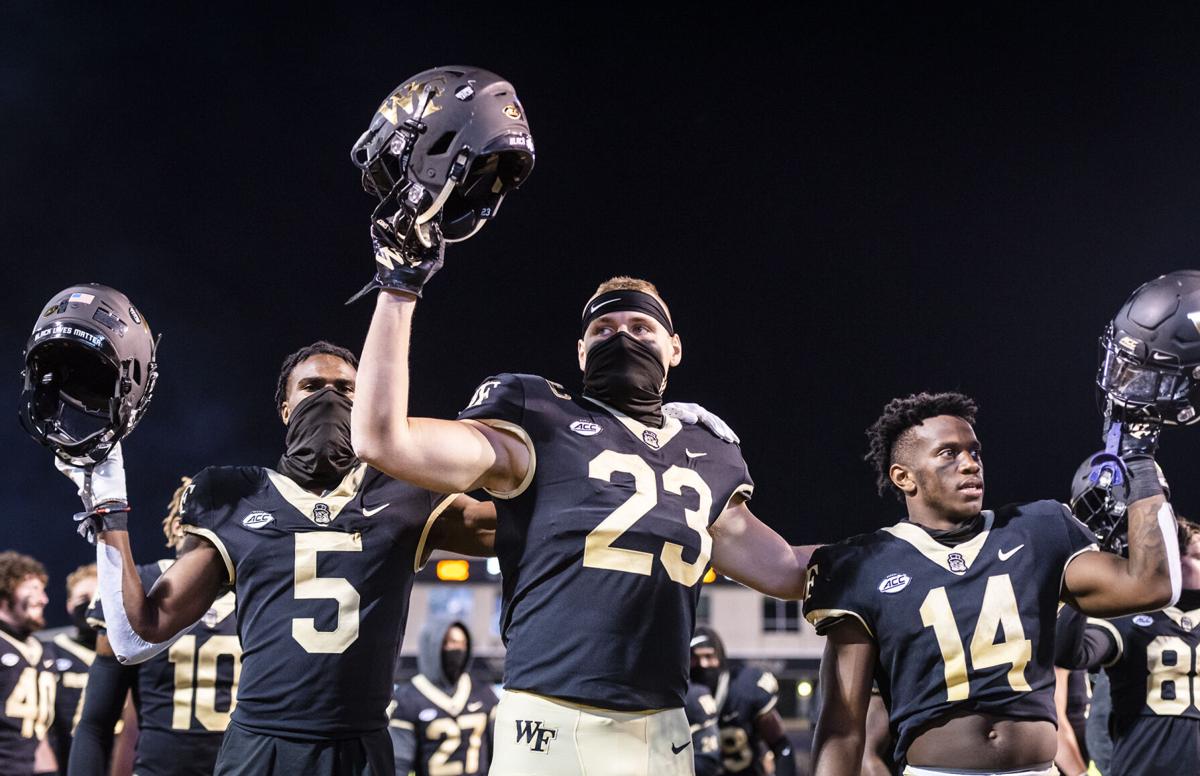 Wake Forest's football team will see how far its momentum can travel.
The Deacons will take their three-game win streak to upstate New York, the first road game outside North Carolina, to take on the reeling Syracuse Orange, which is 1-5 with a three-game losing streak.
What has some of the Deacons excited is getting out of Winston-Salem for a couple of days. The team has been in its pandemic bubble on campus since July.
"I feel like the guys want to get away from Winston-Salem so it will be good," wide receiver Jaquarii Roberson said. "We need to get a way for a bit."
The Deacons had everything working last week in a 23-16 win over 19th-ranked Virginia Tech. Offense, defense and special teams were all on point.
Deacons coach Dave Clawson said keeping all three facets of their game going in the right direction is always the objective.
"(Syracuse) throws a lot of looks at you, and it's a lot to prepare for in a week," Clawson said. "We have to focus on Wake Forest and try to get better, but Syracuse is always a tough test."
Here are five things to know heading into Saturday's game.
1. Defensive line upgraded
The return of Deacons end Rondell Bothroyd has come at the right time. He was lost last season in the Deacons' final regular-season game against Syracuse to an undisclosed injury that required surgery. He got in a few plays against Virginia, but he played a full game for the first time in nearly a year against Virginia Tech.
"It feels great, especially the win and to contribute to that and it makes me feel that all the hard work was worth it," said Bothroyd, a redshirt sophomore. "I helped the team in a good way and as a defense we carried out the game plan perfectly."
The defensive line will be needed again but for a different reason than against run-focused Virginia Tech. Syracuse likes to throw the ball.
"The momentum part of it is we have to build on these practices and take what we did wrong and improve it and keep the momentum going," Bothroyd said.
2. Adjusting to Syracuse's passing game
Clawson loves adjusting from game to game, depending on the opponent. After seeing the Hokies' running game, the secondary will now have to contend with quarterback Rex Culpepper. He was 10-for-26 passing in last week's loss to Clemson but threw 40 times in a loss to Liberty.
"We have to make sure we hold them on third down," said defensive tackle Ja'Corey Johns.
"It's all part of football and you just have to adjust," Johns said.
3. Another empty stadium
While crowds are slowly getting back into the stands in college football, that's not the case in New York. No fans will be allowed Saturday.
Clawson said his team would be quarantined once it got to its hotel Friday. He said he wouldn't be able to get in his morning run Saturday.
Clawson, who was born and raised in Youngstown, N.Y., is just grateful the game is being played.
"We appreciate we are allowed into the state," Clawson said. "We appreciate they are a letting us play the game but, once again, this is college football in 2020 and there's nothing normal about it."
4. Wake's special teams rolling
One of the real bright spots for the Deacons during their three-game win streak has been special teams, from kicker Nick Sciba, who made three field goals including a 46-yarder against Virginia Tech, to punter Ivan Mora. Also, graduate transfer Jack Crane has been doing an outstanding job on kickoffs.
In Saturday's win, Mora pinned the Hokies to their 2-yard line late in the game. On the punt, Ke'Shawn Williams caught the punt on the fly at the 2.
"We feel really good right now," Sciba said about special teams. "I feel really good about the operation and (Zach Murphy) has been holding well, (Jacob Zuhr) has been snapping a lot better. Jack's been doing a great job on kick-offs."
5. Last season's loss to Syracuse
It's not hard for the Deacons to remember last year's heart-breaking 39-30 overtime loss to Syracuse at the Carrier Dome. The Orange has beaten the Deacons two times in a row.
"We are looking forward to this game this year because of what happened to us last year," Johns said. "We are looking forward to it this year and coming out with a win."