It's the oddity of the pandemic ACC schedule that Wake Forest's football team gets another crack at 19th-ranked Virginia Tech on Saturday at Truist Field.
Last fall in Blacksburg, Va., the Hokies beat Wake 37-16, and the ACC's schedule formula meant it would be a while until the Deacons would play them again. But this fall's schedule was blown up because of COVID-19 issues, and the Deacons will play both Virginia schools in consecutive weeks, including the Hokies this week.
"Last year we felt like a unit we could have executed better for sure," Deacons guard Maginn said of last year's loss to Virginia Tech. "And pretty much their whole defense is back. We've been working on it and we know what we need to fix and if we don't have missed assignments, we can win the game."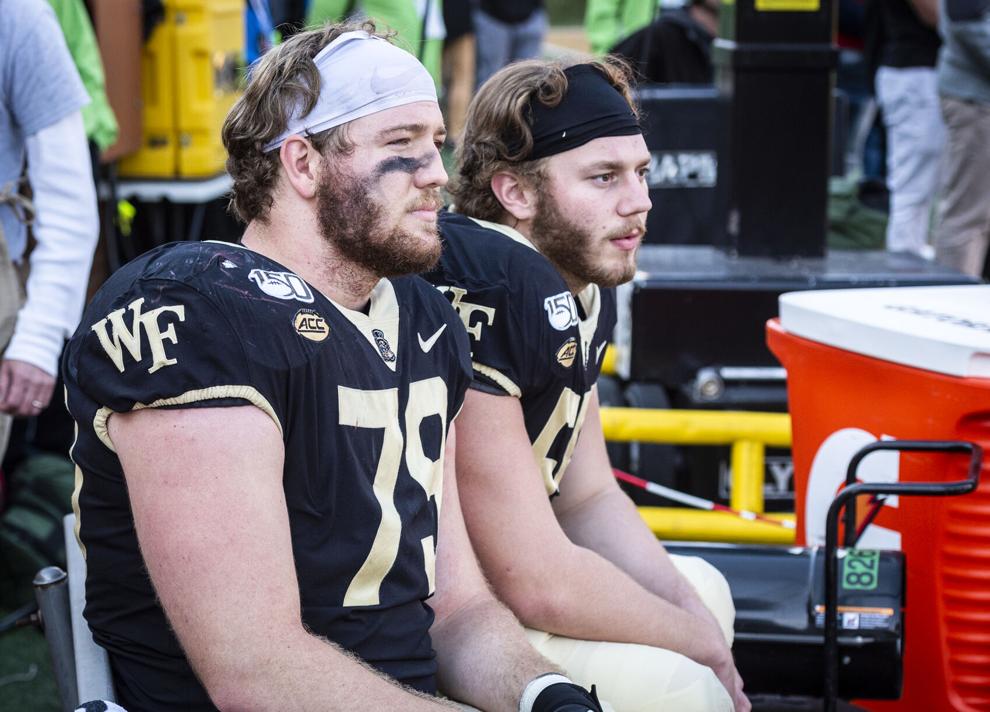 Deacons coach Dave Clawson is looking forward to the rhythm of his team playing seven games over the next eight weeks. That's a far cry from playing four games in the previous seven weeks.
"Other than N.C. State, we've had so much time to get ready for a game so it's good to get into a rhythm," Clawson said.
Another layer to this game will be the absence of Wake Forest students. Because of an increase in COVID-19 cases on campus, students, who would have numbered about 750 among the 2,200 allowed in, will not be permitted to attend.
A crowd that is 7% of capacity, which was the case for the Campbell and Virginia home games, is still expected.
Five things to watch for:
1. Little ol' Wake Forest
It's a timeless claim that the Deacons don't get much respect from bigger ACC schools.
Maginn talked about the mindset the Deacons have when it comes to competing in the ACC.
"Speaking for myself, I was a two-star recruit and none of these ACC schools even looked at me," Maginn said. "And I think it's like that for a lot of guys, and every time we play one of these ACC schools they don't respect us. They think we are little ol' Wake Forest and we are going to roll over."
2. Run defense must be on point
There might not be a better running team in the country than Virginia Tech. When you average 312 yards per game on the ground and don't run the option or the veer, it's impressive.
The Deacons haven't been that strong against the run, allowing 198 yards per game to rank No. 62 among 77 Division I teams to have played this season.
"Going against a team that averages some pretty high numbers on the ground like that is a challenge," said walk-on freshman cornerback Nick Anderson. "We have a game plan in place, and going back to Campbell they had a running quarterback but we'll be ready to go."
3. Wake linebackers need to improve
Clawson didn't sugarcoat it when asked about his linebackers. They will be counted on heavily against a running offense with mobile quarterback Hendon Hooker.
"We're not going to have a shot against Virginia Tech if we are not more productive at linebacker this week," Clawson said.
JaCquez Williams, Ryan Smenda and Traveon Redd have been the starters.
"At a certain point at linebacker you just got to be able to cut it loose and be instinctive and rip through a gap and make a play and make a tackle," Clawson said.
4. Wake offense in high gear
Other than the Clemson game, Wake Forest's offense has been impressive, averaging 49 points in the last three games.
Quarterback Sam Hartman has four touchdown passes against no interceptions in four games. The Deacons' running game has also been impressive thanks to Kenneth Walker III (seven touchdowns) and Christian Beal-Smith.
"Our offensive line continued to get better (in the Virginia game)," Clawson said. "And (Sam) played extremely well. We didn't run the ball consistent early but popped one late. On offense we played pretty clean."
It will need to be clean again against the Hokies.
Wake Forest, Air Force and Florida Atlantic are the only three FBS schools who have yet to throw an interception this season.
5. Good turnover ratio
The Deacons have forced nine turnovers (six interceptions and recovered three fumbles) though four games.
"Our defensive staff and players did one of the best jobs here in the last couple of years in making adjustments at halftime," Clawson said of the Virginia game in which Wake allowed just three points in the second half.