What's the best way to sum up Saturday night?
A football game featuring 87 points, two instances of back-and-forth interceptions, turnovers that led to touchdowns, a 100-yard special-teams score and some one-handed catches in more than four hours of fun?
Maybe Traveon Redd, a starting safety for Wake Forest, did it best unintentionally, when he described his experience on the field after the Demon Deacons' 45-42 victory against N.C. State.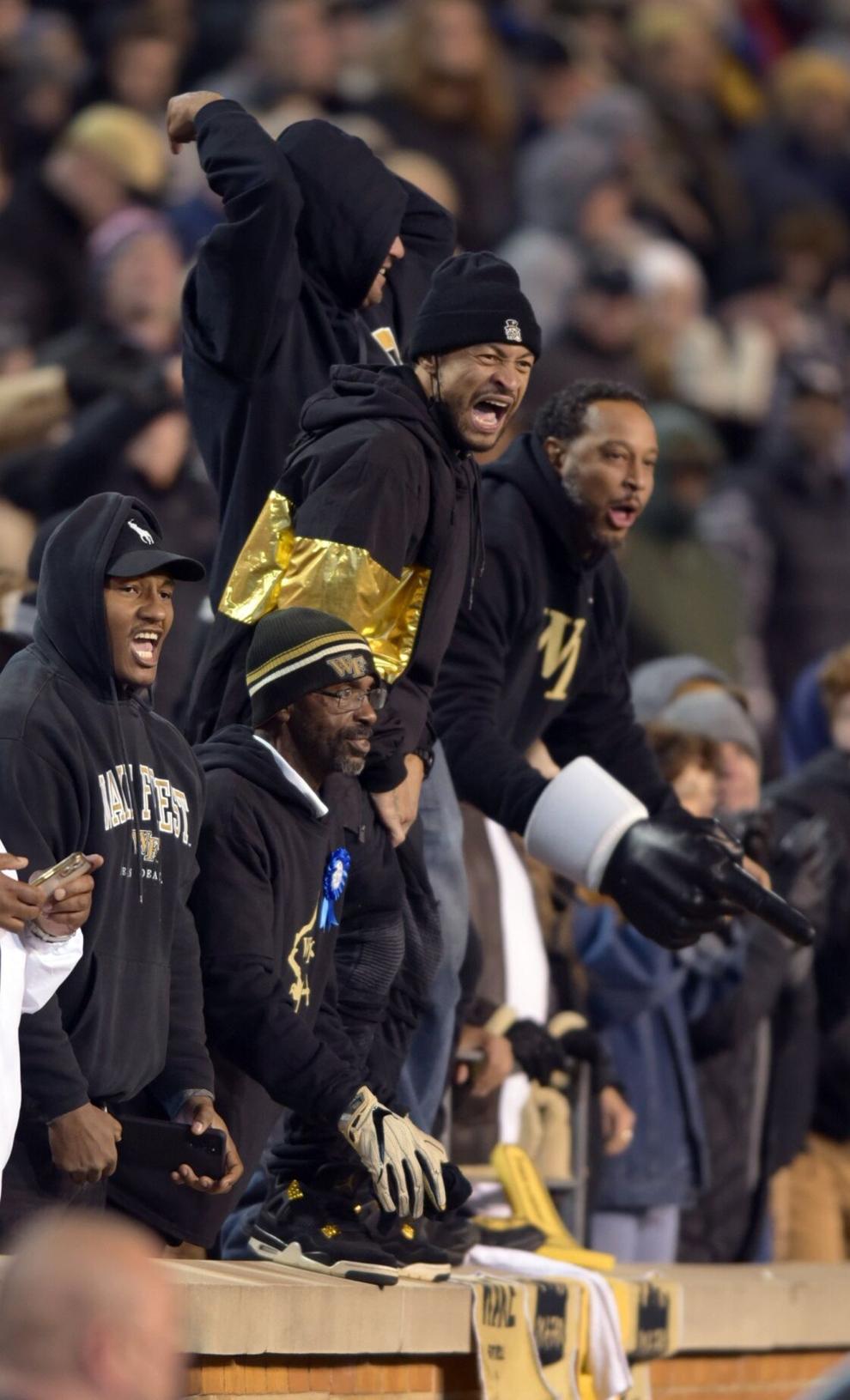 "I just had a flood of emotions in it," Redd said. "And it was almost like I didn't know what to do, honestly. Yell, run around, congratulate my teammates, congratulate the coaches or the people that were on a field, congratulate them. I'm just out there, just running around smiling, laughing and screaming."
Simply put, parsing through the beautiful chaos of the game, Wake Forest (6-0 ACC, 9-1 overall) now has a hand on its future and a clear path to the ACC championship game Dec. 4 in Charlotte. The Deacons, who are No. 12 in the College Football Playoff rankings and No. 13 in the Associated Press poll, need to win one of their final two — which are at Clemson at noon Saturday (ESPN) and at Boston College on Nov. 27 — to lock up the Atlantic Division.
That achievement started with an upending in Chapel Hill last week — a non-conference game, but a rattling result nonetheless — and a prompt to tighten down. Against N.C. State, the playoff rankings' No. 16 team, the Deacons maintained composure even with Saturday's kitchen sink of events.
Wake Forest's 15-point lead dwindled to one in the final two minutes of the first half. The Wolfpack scored a touchdown from quarterback Devin Leary to Emeka Emezie after Bam Knight took a kickoff return back 72 yards. The N.C. State defense held off Wake Forest's attempt to run out the clock with a timeout and a third-down sack, then scored again.
Now brace for this onslaught.
Knight took the opening kickoff of the second half for a 100-yard touchdown return.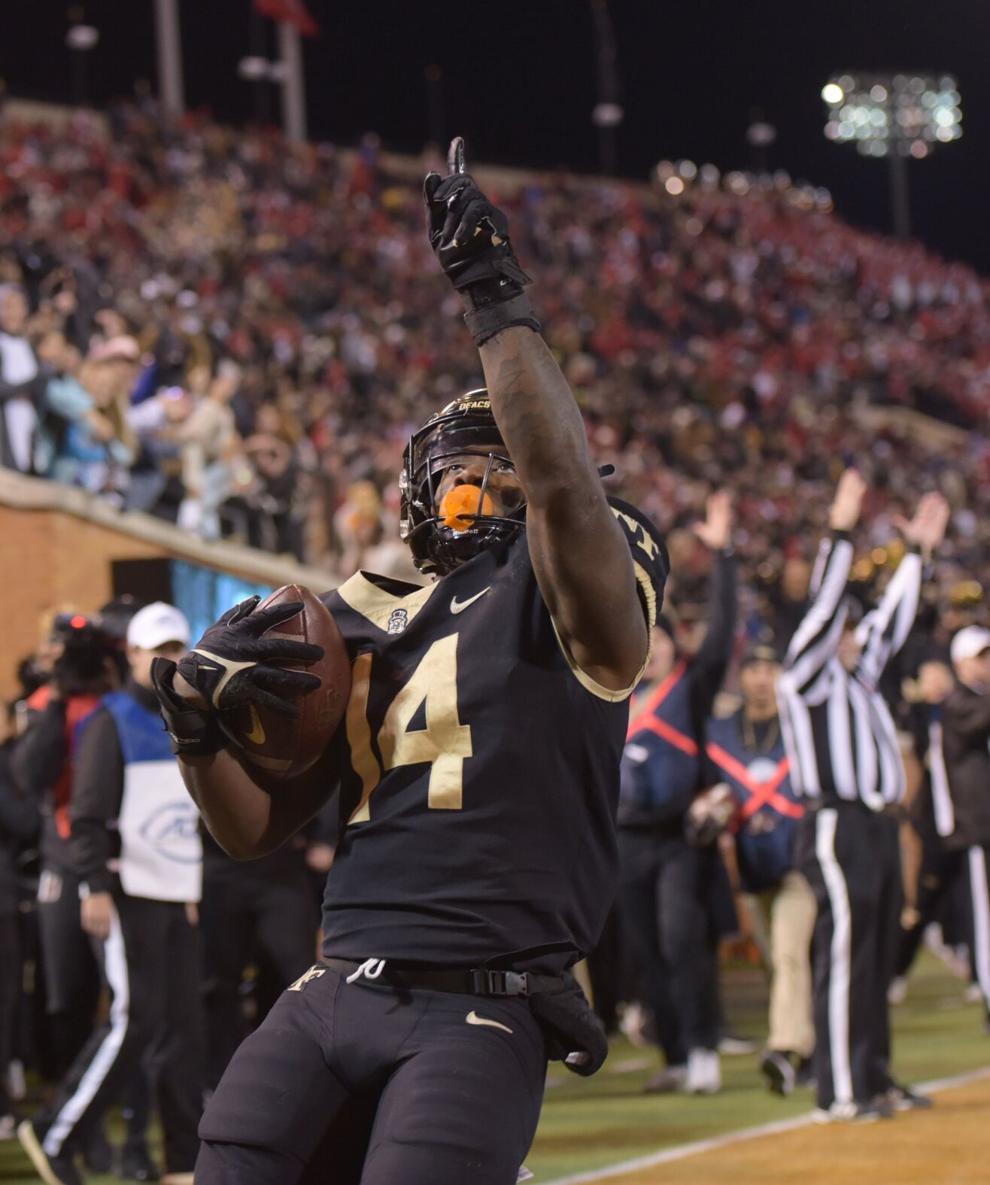 The teams traded interceptions twice, in the second and third quarters. They traded touchdowns in the fourth.
Both the Deacons' scores in the final 15 minutes came from running back Justice Ellison. The freshman caught one and ran for another, filling in for more reps and responsibilities due to an injury to leader and senior running back Christian Beal-Smith.
"He battled all game," Wake Forest quarterback Sam Hartman said of Ellison. "Things weren't going great for any of us early, and I think he just stuck to the plan, stuck to the coaching and really just battled hard. And that's what everyone did."
Emezie made a leaping catch in the back left side of the end zone with 8:07 remaining, following it with a one-handed catch for a two-point conversion to cut Wake Forest's lead to 38-35.
Wake's response? A 13-play drive that went for more than six minutes and put the Wolfpack away. Wake Forest coach Dave Clawson said the offense's tempo shifted throughout that drive to produce a sustainable score.
"If you don't score and they score, you want to have time to come back," Clawson said. "And then once we got it inside of four minutes, at that point, we started bleeding the clock. And we are pretty much going to say that we are either going to win it or lose it on that drive."
Hartman threw 47 times and accounted for four touchdowns. Leary threw it 60 and for three scores. Hartman made two poor throws that turned into interceptions. A third was tipped in the end zone and corraled by N.C. State's Derrick Pitts Jr.
Leary saw a pass snagged by Wake Forest's J.J. Roberts and another by Nick Andersen. A completed Leary pass turned into a fumble, forced by Roberts and returned by Redd, to set up Hartman's lone rushing touchdown of the night.
Understanding the sequence doesn't matter as much as knowing how chockful the challenge was for the Deacons.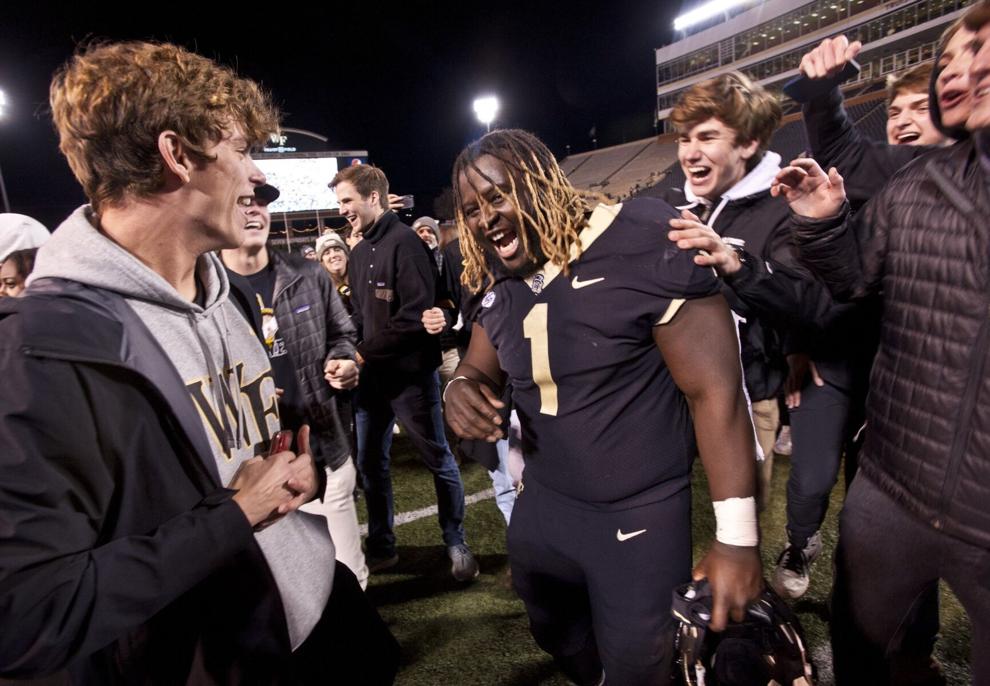 When North Carolina beat Wake Forest, 58-55, last week, UNC fans flooded the field. On Saturday, Truist Field became covered in players and students, celebrating and dancing together. Twice over the public address system, players were prompted to return to the locker room. When they finally did, fans stayed and danced.
The Deacons are dancing, too, and it's to their own tune. The victory was sweetened by senior night for wide receiver Donald Stewart. He lingered for as long as he could while midnight approached for an explosive matchup of the ACC's best.
"I was out there until they forced me off the field," Banks said. "This is my last time at home. This is my home, so they had to kick me out.
"... This is my last time on the field, so I gave it everything I had for this last game. And I'm so glad we got the win, big team win, for the Deacs man. Go Deacs, baby. Let's go."