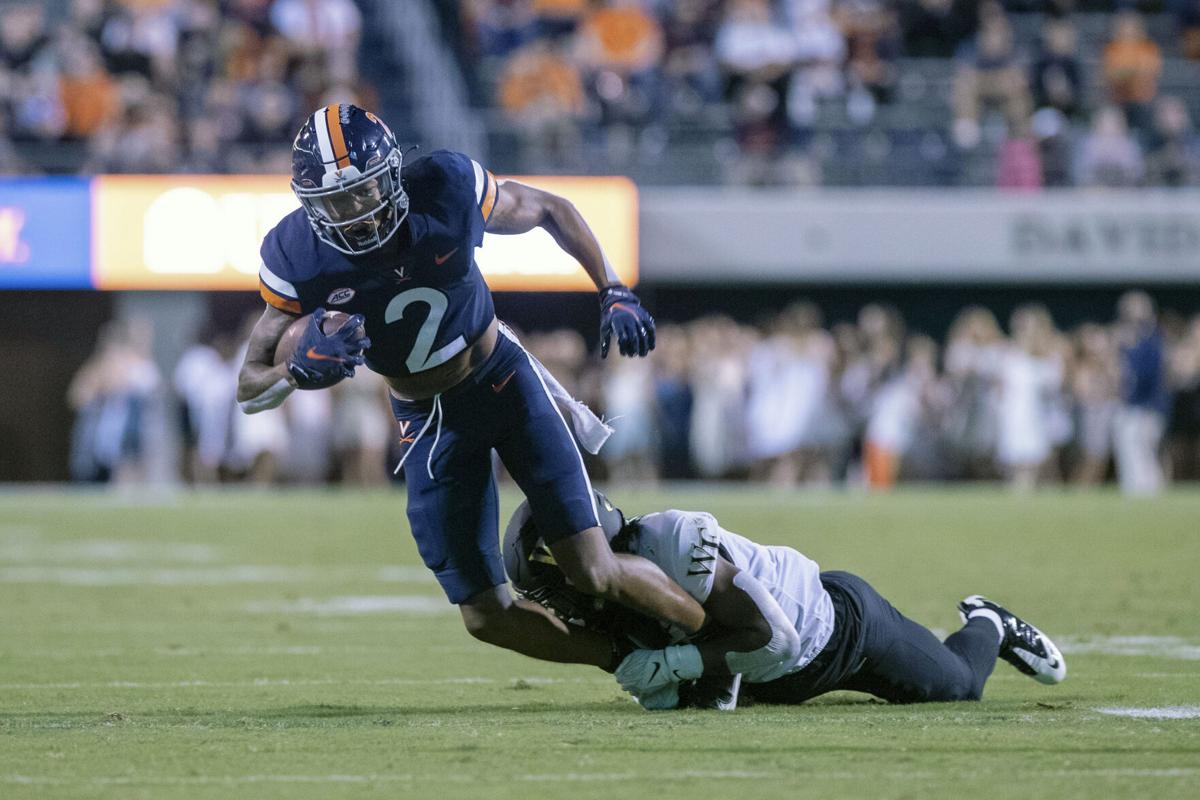 CHARLOTTESVILLE, Va. — Game well in hand, the Wake Forest defense wanted and needed to bow up a final time.
Trailing by 20, Virginia pushed down once more for a late touchdown. The Cavaliers converted a first down at the Wake Forest 7-yard line and looked set up for their final shot at points and pride.
First down, an incompletion. Second down went the same. And the third, a scramble by Brennan Armstrong was snuffed out as the final buzzer called.
"We didn't want to give them any easy points," said Wake Forest defensive end JaCorey Johns. "So we just had to key in our entire game for the finish."
Wake Forest's defense ended with a shutdown in a 37-17 victory. The unit started the game with a massive fourth-and-goal stop. Those two plays sat as bookends to a well-rounded night, validation of the defense's ability against a high-rolling offense.
The bend-but-don't-break mantra is one that's pointed to throughout college football. That phrase was used by Wake Forest coach Dave Clawson and a couple of players after the game, the Deacons' fourth without a loss in 2021. Whatever the label, the Deacons authored a performance that showed just how balanced this team can be.
As the offense scored often — it registered points on its first seven drives — the defense made impacts, held strong and saw out the victory.
It started early, too. After Wake Forest went up thanks to a touchdown on their opening drive, Virginia stormed right at them. A drive that ultimately went 15 plays kept plowing forward. But the Deacons prevailed, forcing a turnover on downs at their own 5-yard line.
"We gave up yards. We gave up first downs. They're a really talented football team," Clawson said of Virginia. "But that was a huge stop.
"You know, earlier in the game, how much does it mean? I don't know, but you certainly like to play with a lead, and then the rest of the game, it became a two-score lead."
Wake Forest's defensive task focused on Armstrong, the most prolific offensive player in the league. In his first three games, he threw for 1,298 yards and 11 touchdowns. The Cavaliers entered the matchup second in the nation in passing offense (438.3 yards per game).
The Deacons held him off as best they could — he threw for 407 on 59 pass attempts, his second-highest output of the season — but the points didn't come in the same droves as the yards did. And they pressured him constantly, notching six sacks.
Virginia didn't score its first touchdown until the third quarter, when Wake Forest had a 17-point lead.
Wake Forest defensive back Traveon Redd said the Deacons keyed on trying to prevent the explosive plays that help Virginia in a firefight.
All told, Virginia registered 16 explosive plays (passes of 15 or more yards and runs of 10 or more). But 13 came in the second half when Wake Forest held a healthy advantage or had made the shift into prevent defense.
"We knew we were going to give up passing yards," Redd said. "He's a great quarterback. He's going to find the holes, the windows.
"Basically it was pretty simple to us. Tackle the ball up, and make them be very methodical up the field."
The complete performance by the Deacons keeps them on an ideal track. Two home games against Old Dominion and Norfolk State, followed by a thumping of Florida State in the teams' ACC opener, were easy wins.
Beating Virginia handily starts to validate what Clawson hoped this team could be in the start of fall camp: a team returning experience at every position and looking like it all over the field.
Friday night was nothing but a positive step in what Sam Hartman hopes is many more.
"You win an ACC football game on the road, it's a big win," the Wake Forest quarterback said. "You know, I've been here for a while, been through the losses and the wins all throughout my career. Road wins are huge. ACC wins a huge. We got to take our 24 (hours) to celebrate.
"We were happy in the locker room, but I think there's a veteran side of this team that knows that that was not it."