Gale Sayers needed only a short career to turn himself into an NFL legend.
But the Pro Football Hall of Fame member is also revered for his relationship with, and will be indelibly linked to, former Wake Forest football star Brian Piccolo.
Sayers loved Brian Piccolo, and we loved him for it. 
Sayers' death at age 77 was announced Wednesday. Relatives have said he was diagnosed with dementia, according to the Associated Press, and in March 2017 his wife, Ardythe, said she partly blamed his football career.
Sayers played seven seasons, rushing for 4,956 yards and earning All-NFL five times and berths in the Pro Bowl four times. Sayers suffered a knee injury during the 1968 season, and injuries to both knees prompted him to retire just before the 1972 season.
He was a blur to NFL defenses, ghosting would-be tacklers or zooming by them like few running backs or kick returners before or since, the Associated Press wrote. He became a stockbroker, sports administrator, businessman and philanthropist for several inner-city Chicago youth initiatives after his pro football career was cut short.
"I had a style all my own," Sayers once said, according to the Hall of Fame. "The way I ran, lurchy, herky-jerky, I kept people off-guard so if I didn't have that much power when I hit a man, hell, he was off-balance and I could knock him down."
Bears founder George Halas in 1977, when he presented Sayers for Hall of Fame enshrinement, knew what perfection looked like for a running back.
"You had best get ahold of a film of Gale Sayers," Halas said, according to the Chicago Tribune. "He was poetry in motion. His like will never be seen again."
Piccolo's relationship with Sayers and his fight against a rare form of cancer would be captured in the 1971 television movie "Brian's Song," which starred Billy Dee Williams, who was 34 at the time, and James Caan, who was 31, and which won five Primetime Emmy Awards.
My heart is broken over the loss of my dear friend, Gale Sayers.
Portraying Gale in Brian's Song was a true honor and one of the nightlights of my career. He was an extraordinary human being with the the kindest heart.
My sincerest condolences to his family 💔#RIPGaleSayers pic.twitter.com/OyQRlwuznU

— Billy Dee Williams (@realbdw) September 23, 2020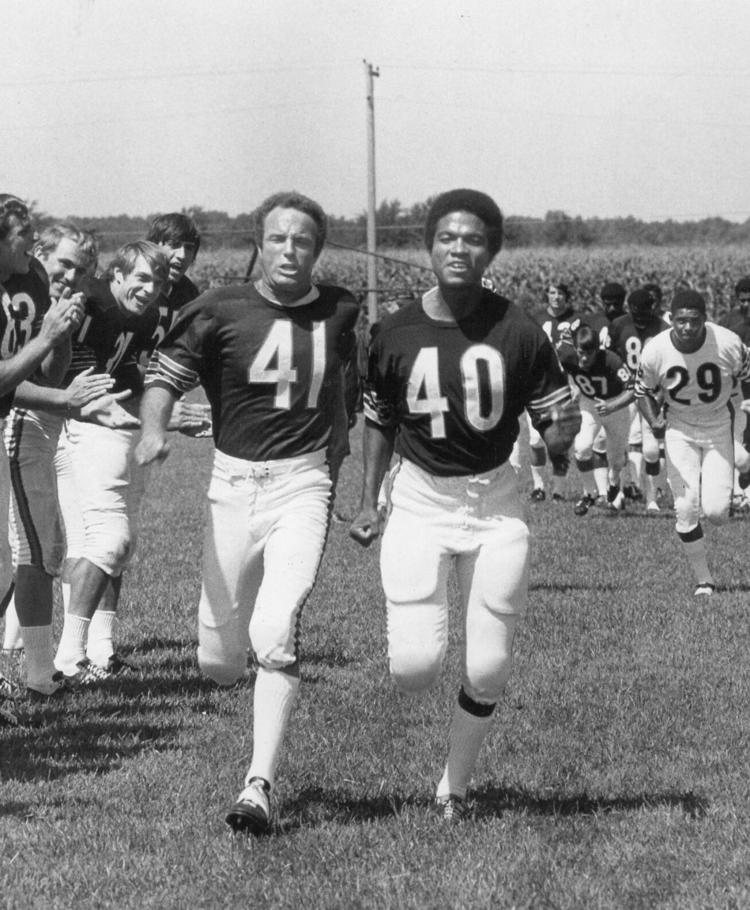 Piccolo earned ACC player of the year at Wake Forest in 1964 and finished 10th in Heisman Trophy voting, actually ahead of Sayers, but was not selected in the NFL or AFL drafts. Piccolo signed a free agent contract with the Bears, and the two became not only close friends but the NFL's first interracial roommates in 1967, when racial protests were taking place across the country.
Sayers, helped during his injury rehabilitation by Piccolo, led the NFL in rushing in 1969 with 1,032 yards and eight touchdowns on 236 carries. But Piccolo developed embryonal cell carcinoma, and Sayers told his Bears teammates about Piccolo's condition before a game late that season.
Sayers was presented the George S. Halas Award as the NFL's most courageous player during a ceremony in New York in May 1970. But Sayers famously turned the spotlight that night onto his friend, moments captured so poignantly then and that can still bring a tear today to those who saw the movie almost a half-century ago. 
"You flatter me by giving me this award," Sayers said. "But I tell you here and now that I accept it for Brian Piccolo. Brian Piccolo is the man of courage who should receive the award. It is mine tonight. It is Brian Piccolo's tomorrow.
"I love Brian Piccolo, and I'd like all of you to love him. When you hit your knees to pray tonight, please ask God to love him, too.
"He has the mental attitude that makes me proud to have a friend who spells out the word 'courage' 24 hours a day every day of his life."
Piccolo died on June 16, 1970. He was part of the first class of Wake Forest University Sports Hall of Fame members, inducted posthumously on Oct. 17, 1970. The ACC has presented the Brian Piccolo Award annually since 1970 to the league's most courageous football player.
Sayers' condition began to starkly deteriorate shortly into the 2010s. He was diagnosed with dementia in 2013, the Chicago Tribune reported.
Sayers' brain health worsened to the point he could barely speak by the Bears100 Celebration in 2019, the Tribune reported.
Be the first to know
Get local news delivered to your inbox!