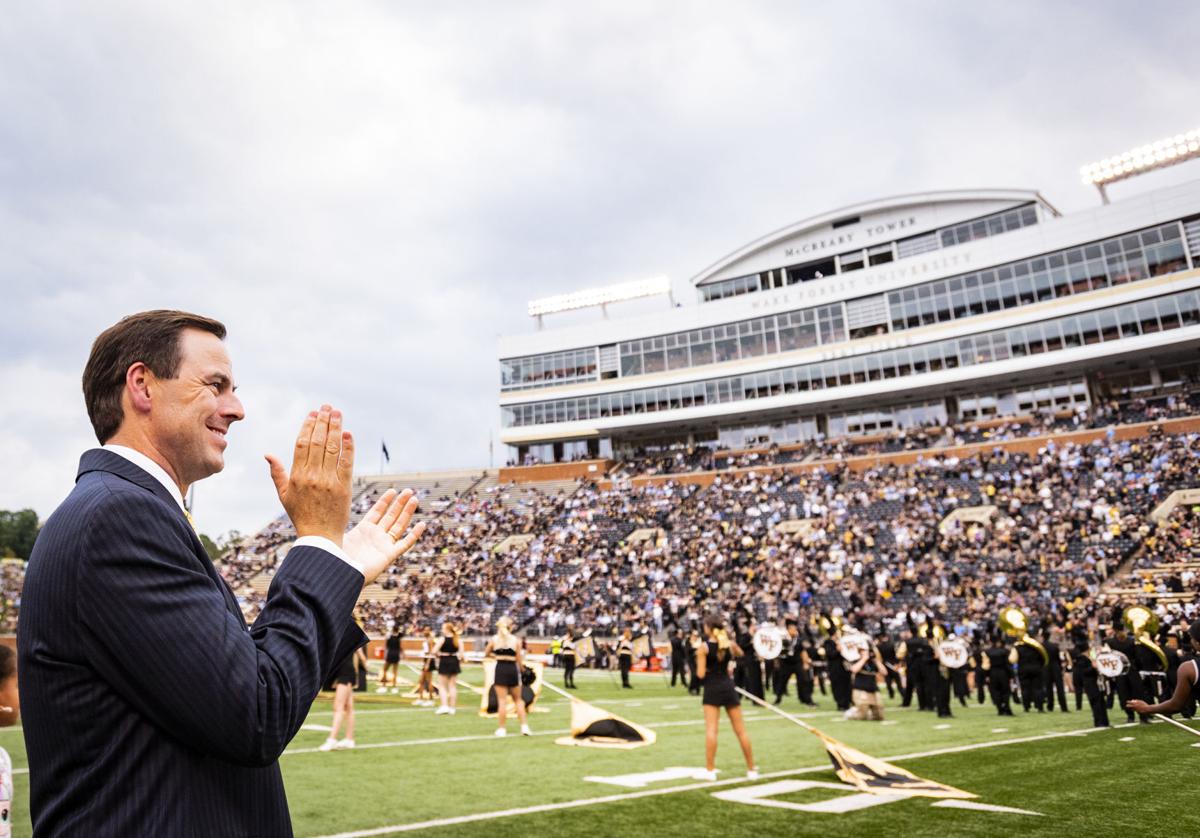 As name, image and likeness sprung into the college athletics structure on Thursday, the morning became even busier for John Currie.
The Wake Forest athletics director had meetings with his head coaches at 8 and an 11:30 call with the student-athlete advisory committee of about 30 Deacons. Sandwiched between those were a weekly conference call for ACC ADs and a welcome reception for new Wake Forest president, Dr. Susan R. Wente, who was on her first day of the job.
Just a day earlier, the NCAA decided that student-athletes could pursue monetary compensation without losing eligibility. The news became part of Currie's morning conversations, but Wake Forest, like many other schools, was prepared to react.
"We really started some time ago," Currie said. "Certainly from a national perspective, we welcome, and I welcome, the enhancement of opportunities for student-athletes, and that's what I've worked on really my entire career."
The athletics department partnered with Opendorse, a company that was on the forefront of NIL preparation for student-athletes, as well as the announcement of Wake Forest's "STRIDE" program, an effort to streamline both education and compliance as student-athletes navigate their outside ventures. The latter program will use a company named Spry, which was create by soccer alumnus Lyle Adams.
But now, with a new norm set in college athletics, the rest of the system is starting to shake out. North Carolina is one of the states without approved legislation. Currie said he doesn't feel like that puts schools at a disadvantage. However, he does feel a need for uniformity, to avoid situations where multiple states' NIL jurisdictions are brought into play about what is and isn't allowed for student-athletes.
"The best way to create the fairest model for the most student-athletes and ensure that we can continue to sustain the college athletics enterprise, which provides $3.5 billion in scholarship assistance every year to student-athletes, we need a national standard," Currie said. "We need a national law, and hopefully the commerce committee will, at some point, in the U.S. Senate will have consensus on a law that would provide some across-the-board consistency and protect opportunities for student-athletes."
Athletics department will also have to figure out the potential shift of advertising money from schools to student-athletes. Currie said that's not necessarily an issue either, and that doesn't make up the bulk of revenue generated, but it will require more creativity as athletics departments continue funding the elements that make up some of the student-athlete experience.
More than anything, though, Currie this move for NIL makes sense. He pointed toward women's golfer Emilia Migliaccio as a clear example. A senior on the team this season, Migliaccio wrote a novel in 2018 called "Just an Illusion." But she couldn't profit from the work she put into that book until Thursday.
"Obviously that doesn't make a whole lot of sense," Currie said. "And as of today, Emilia, who is obviously an elite golfer and elite student and a tremendous leader, she can profit from the sale of her novel and that's a good thing.
"It is now legal, ostensibly, to use their athletic knowledge and athletic reputation and visibility and their name, image and likeness to offer basketball lessons or golf lessons and market themselves as a college student athlete that's available to do those things."