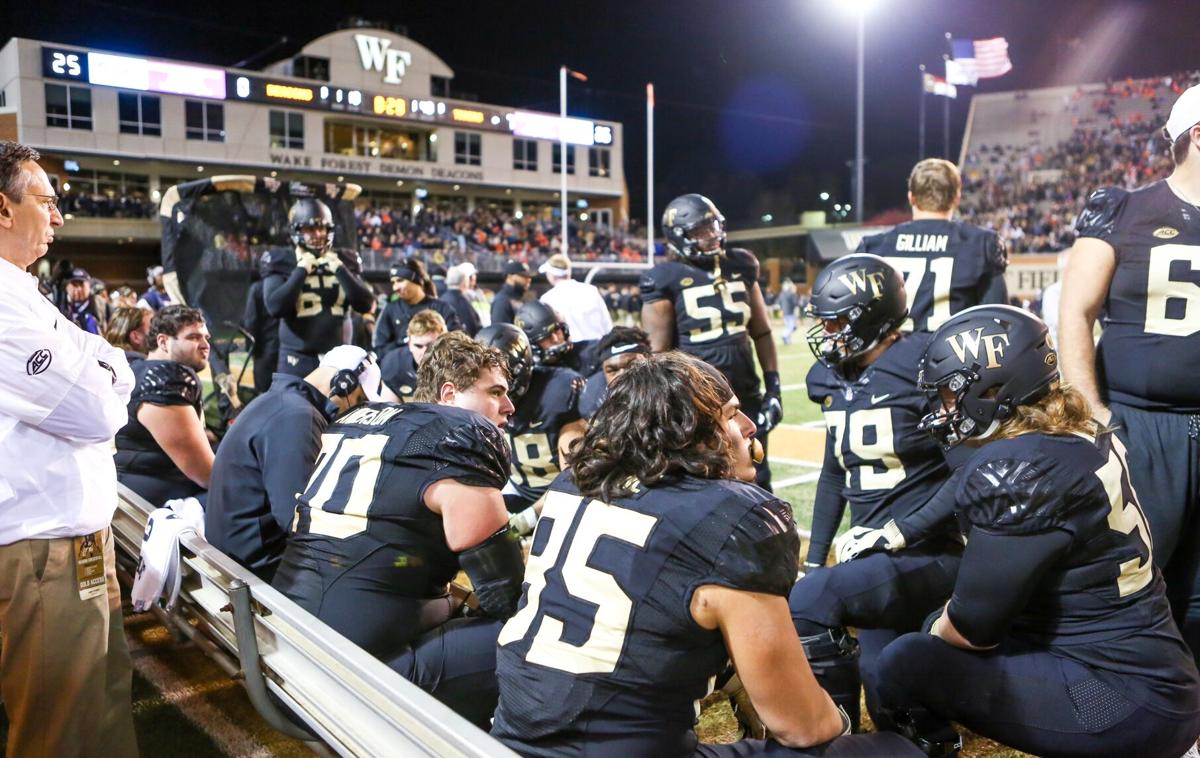 Plenty of alumni love Wake Forest. Plenty of alumni also would do anything for the university because of what it did for them.
And then … there's Johnny Foster.
Foster, 65, won't show up in any of the Wake Forest football records, nor will there be highlights about him and his time in Winston-Salem in the mid-1970s. But a movie could be made about how he fell in love not only with Wake Forest but with the football program that helped safeguard his college career.
With the Demon Deacons in the midst of their best season in history at 8-0 and sitting at No. 9 in the College Football Playoff rankings, Foster has worked at every game as a volunteer assistant equipment manager, spending his own money to get to games, flying from just outside of Baltimore.
Foster, a 1978 graduate, went to Wake Forest from Davidson County after graduating from Ledford High School with a dream of getting a degree and seeing what he could do in the world.
His story, however, took a turn in 1974, his freshman year, when his father got laid off from his job in the furniture business. Foster nearly had to leave school because of financial hardship.
"We were lower middle class, but I didn't know that then," Foster said by phone this week.
But Chuck Mills, the Wake Forest football coach, stepped in to help the 18-year-old Foster. Johnny Stewart, one of Foster's high school teammates who was on scholarship, helped facilitate the move that would allow Foster to stay in college.
Mills set Foster up rent-free in a small closet in the Huffman football dorm and got Foster on the players' meal plan. The only thing Mills asked in return was for Foster to continue to help with the program as student equipment manager.
Mills wanted Foster to do his job well, and he did.
"I was there for 3½ years," Foster said of living space large enough for a bed, dresser and TV. "It didn't have any windows, and it was next to the boiler room, but to me, that's all I needed."
It's safe to say that the NCAA won't be banging on Wake Forest's door asking about improper benefits to an equipment manager. Had the NCAA come calling, it's not like championships could have been taken away. In Foster's four years, the Deacons managed nine victories.
"We lost Coach Mills last year, and I have some of his ashes sitting here on my desk," Foster said of the team's coach from 1973 through 1977. "In his will, he wanted to make sure that I got some of the ashes, so we will eventually spread those on the field. But that sort of shows you what I meant to him and what he meant to me. If Chuck Mills doesn't help me out, there's no way I would have been able to stay at Wake."
Not just any equipment guy
Foster learned everything he could from David "Sarge" Tinga. By Foster's junior year, he had an internship working with the Philadelphia Eagles and Coach Dick Vermeil.
After his graduation, Foster got a job with the Baltimore Colts, thanks to Vermeil's recommendation.
Foster worked with the Colts for several years before the team moved to Indianapolis in 1984, and Baltimore is where he decided to follow his passion of aviation. He is president of Skytech Inc., a private airplane company based outside of Baltimore that has clients in nine states.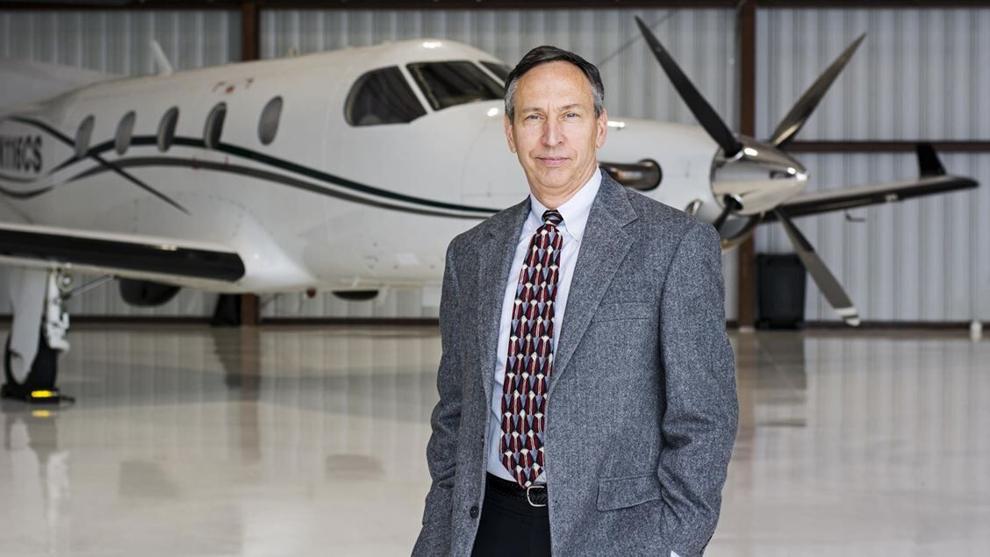 For the last 20 years Foster has been the unofficial "Alumni Captain" of the football program, flying head coaches Jim Caldwell, Jim Grobe and Dave Clawson on recruiting visits when needed. He also has attended nearly every game, home and away, in those 20 years and received the 2020 Gene Hooks Award at Wake Forest, given to an athlete, manager, coach or administrator for integrity, charity and leadership.
"I love Johnny," Clawson said this week. "He's just the best. He really is."
After every game, Foster thanks Clawson for the chance to help the program. He helps inside the locker room and on the sidelines, making sure players have everything they need.
"You're thanking me; look what you do for us," Clawson says he tells Foster. "He just epitomizes us, and he's unselfish and he just loves Wake Forest football and he's got such great friends. He's like one of those people like a Bill Faircloth."
The football program benefits from donors such as Bob McCreary and Ben Sutton, but Clawson finds Foster invaluable.
"Guys like him don't just pop up," Clawson said. "He loves Wake Forest University. He loves Wake Forest football, and he's just a wonderful human being and we are so fortunate to have him in our program."
The 1970s friends from football
Foster doesn't sugar coat the football program's performance while he was a student, but he is quick to acknowledge what those players accomplished off the field. Players graduated and became doctors, lawyers, business leaders, broadcasters and teachers.
"That's because of Wake Forest and what football sort of teaches everybody, that if you get knocked down, you get back up," Foster said. "And they got knocked down a lot."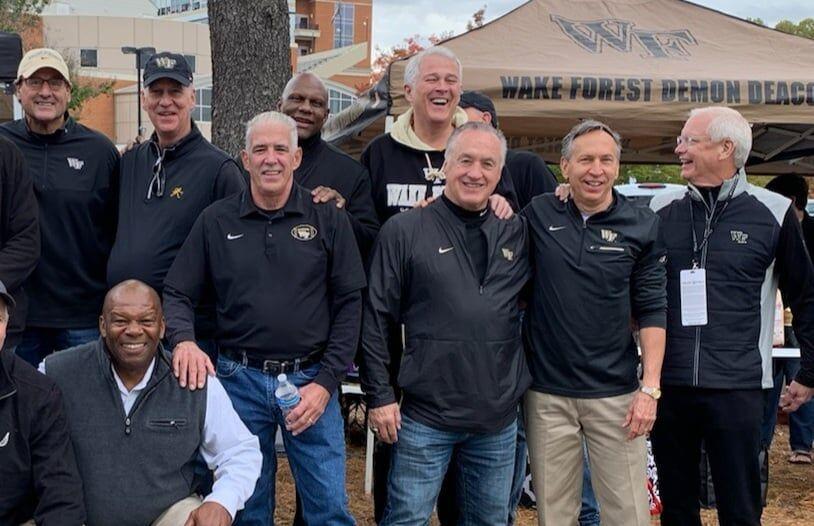 People Foster came in contact with while living in that makeshift dorm room turned into lifelong friends, including Lou Tilley, an 11-time Emmy-winning broadcaster who lives in Philadelphia.
Tilley, a linebacker on those teams and 1978 graduate, said Foster was beloved then and now.
"He was sort of like our unofficial R.A. because we'd get back from a night out or whatever and he'd be there letting us know that we had practice the next day and a game on Saturday," Tilley said.
Tilley, however, said the love Foster has for Wake Forest is something that doesn't just happen.
"He's done very well for himself, obviously, but he always thinks about Wake Forest first," Tilley said.
About 45 players from the mid-1970s teams got together last weekend at Campus Gas during homecoming to honor John Dowdell, a federal judge in Oklahoma's Northern District who is now retired.
"It all weaves together, and much of it is through 'Captain' Johnny Foster," Tilley said about putting together the reunion.
Those players and coaches share something special that endures more than 40 years later.
"Being around those guys again is always great," Foster said. "It's a special group, and it says a lot about what Wake Forest did for all of us. What I really like about college football that can't be underestimated are the lessons you learn and how they carry over to after college.
"There's trust, there's being dependable, and we are all like that even today."
The current Deacons
Foster finds it amusing that North Carolina is a three-point favorite for Saturday's game in Chapel Hill. Even after going 8-0, Foster says, the Deacons remain underdogs.
"We've always been under the radar, so why would that have changed?" Foster asked.
He will be in Chapel Hill, working as usual on the sidelines and in the visitors locker room, doing what he loves to do.
And it just so happens that this season is shaping up like no other.
"They are sleeping on the Deacons because they are not paying attention," Foster said.
Chances are Foster has used one of his airplanes to fly a Wake Forest assistant or Clawson to recruit a lot of the current players. Clawson said Foster's work is important in the cut-throat world of recruiting high school players.
"We've got to go to parts unknown, and he'll arrange a charter flight so that I can do two or three home visits in a day," Clawson said. "So he's also extremely generous with his time and with his money. I mean, he's all in...."