Justin Herron, a former Wake Forest football offensive lineman, is being hailed as a good Samaritan by police in Tempe, Ariz., for his role in stopping an assault.
Tempe police have presented Herron, who was a team captain as a Demon Deacons senior, and Murry Rogers with outstanding service awards for their valor.
"There are so many heroes that go unnoticed on a daily basis," Herron said at a news conference Wednesday. "I was just doing what anyone else would do in that moment."
His actions also caught the attention of his former college coach, Wake Forest's Dave Clawson.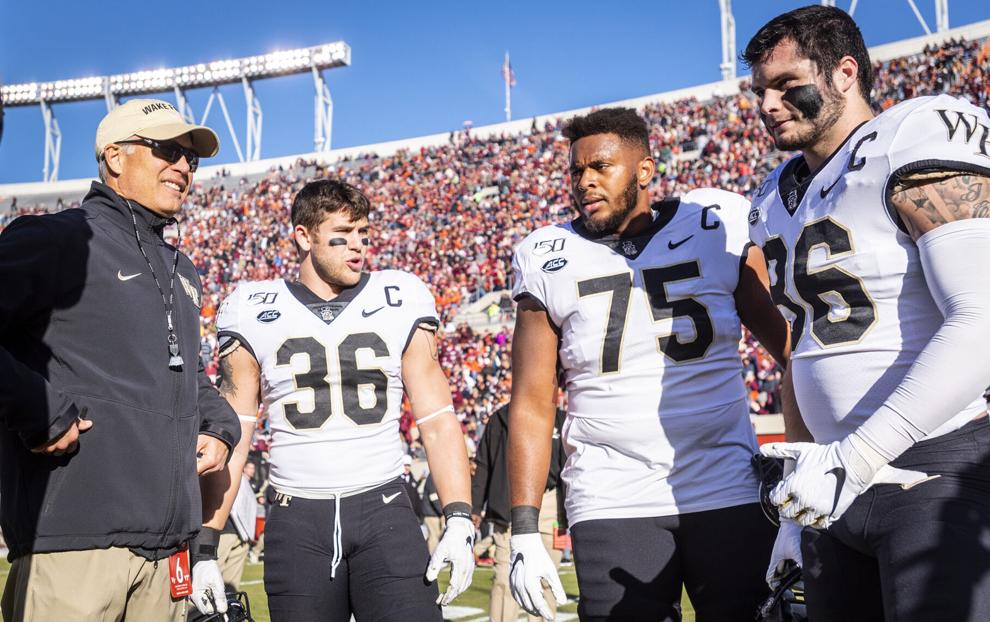 "Wake Forest and our entire football program are proud of Justin and his recent heroic effort," Clawson said. "He's a good football player and an even better man as evidence by this news. Justin is a role model for our current student-athletes and everyone in our community."
A woman, 71, was attacked in a park in Tempe on Saturday. Herron, a tackle for the New England Patriots, heard her screams and found an assailant on the woman, threatening sexual assault.
"At that moment, I was in shock," Herron said during a news conference. "It was 11 a.m., middle of the day, in a very open field and the fact that it happened there at that time was just very shocking. I wish I could tell you what I was thinking, but I could just tell someone needed help. All I could do was rush myself over there to make sure I could help the victim and I could comfort her and be the best person I can be."
Herron, who is 6 feet 5 and weighs 305 pounds, pulled the assailant off the woman, and Rogers also assisted, helping make sure the assailant didn't leave before police could arrive.
"And I told him to sit down and wait until the cops come," Herron said.
The woman suffered minor injuries, police said. Kevin Caballero, 30, faces charges of kidnapping and attempt to commit sexual assault and was being held on a $500,000 bond.
Herron and Rogers have been able to meet the woman, who called them "her angels."
"I never thought in a thousand years that I would see her ever again, and a part of me was a little bit upset that didn't ask for a name just so I could just know the name," Herron said. "It was heartwarming to see her, but also gut-wrenching to see how she responded to the trauma and how she's dealing with it. No one should go through that. No one. She has a great support system, and I'm glad that she has that support system. It was emotional for me. It was emotional for everybody in the room to see her."
Herron, who is from Silver Spring, Md., arrived at Wake Forest for the 2014 season and redshirted. He suffered a torn anterior cruciate ligament during the 2018 season and returned in 2019 as a graduate student.
Herron made the ACC's all-academic team that year for a second time. He also was a third-team All-ACC pick who was invited to play in the Senior Bowl and in the East-West Shrine Game.
He credited his parents, Reggie and Brigitte Herron, for his upbringing.
"My parents always talk to me about and just say like, 'If there's someone in need, make sure you can help them. Be the best you can be, and if someone needs your help, go help them,'" Herron said. "I never thought this would happen. I don't want it to happen again. I don't want to have to save someone else's life again, but I'm glad that I was able to save someone like on Saturday."