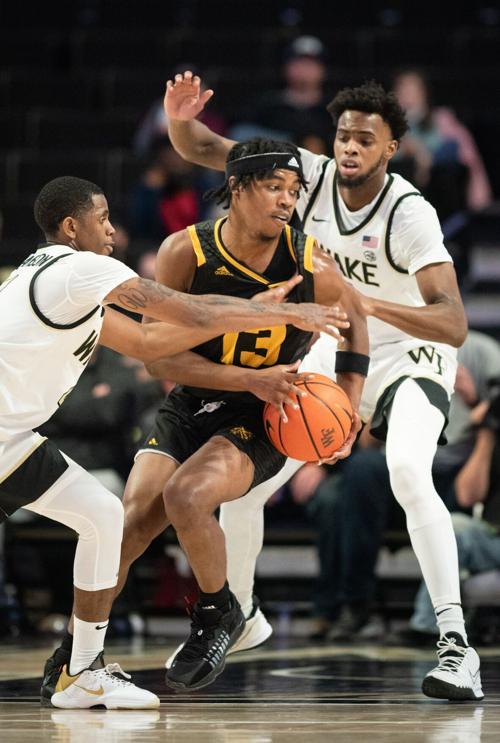 Wake Forest completed the early season portion of its mid-major schedule with another lopsided victory on Tuesday night.
The Deacons dominated all areas of play from start to finish as they overwhelmed Kennesaw State 92-61 at Joel Coliseum.
Wake Forest has outscored its five opponents by an average of 24 points and the Deacons are one of only three unbeaten ACC teams. The other two are No. 5 Duke and Virginia Tech. The Deacons open their ACC schedule against the Hokies on Dec. 4 in Blacksburg, Va.
Why the Deacons won
Wake Forest featured a balanced attack with five double-figure scorers: Jake LaRavia (19), Isaiah Mucius (15), Alondes Williams (14), Khadim Sy (12) and reserve Cameron Hildreth (11).
The Deacons also had another outstanding shooting night against an outmanned opponent. Wake was 32-of-57 (56 percent) from the field, 10-of-25 (40 percent) from long range and 18-of-24 from the foul line (75 percent).
Stars
Mucius, who scored 16-first half points on Saturday against N.C. A&T, scored Wake's first four field goals, all 3-pointers.
After a slow start, LaRavia dominated play on the inside, hitting 6-of-9 from the field and 6-of-7 from the foul line. LaRavia and teammate Dallas Walton led all rebounders with seven each.
Williams picked up two quick fouls and played less than three minutes in the first half but was 6-of-9 from the field in the final 20 minutes.
Notables
It was a tough shooting night for Daivien Williamson, the former Winston-Salem Prep star. He was 2-of-8 from the field and made one long-range shot in seven attempts.
Wake Forest's largest lead was its final 31-point margin. The Deacons ended the game on a 19-5 run.
Hildreth didn't miss a shot. He was 3-of-3 from the field (1-of-1 from long range) and made all four of his foul shots.
The Deacons continue to get solid performances from their bench. In the first half, 22 of Wake's 45 points came from players who didn't start the game.
Rebounding hasn't been a strong suit for the Deacons this season, even against smaller teams, but they dominated the Owls 42-26 on the boards.
Coach Steve Forbes said he was pleased with how well the Deacons shared the ball in Saturday's win against A&T. That was another strength for Wake on Tuesday night with 19 assists on 32 field goals.
Records
Up next
Kennesaw State: Charleston Southern, Sunday, 4 p.m.
Wake Forest: Oregon State, Emerald Coast Classic, Niceville, Fla, Friday, 9:30 p.m.