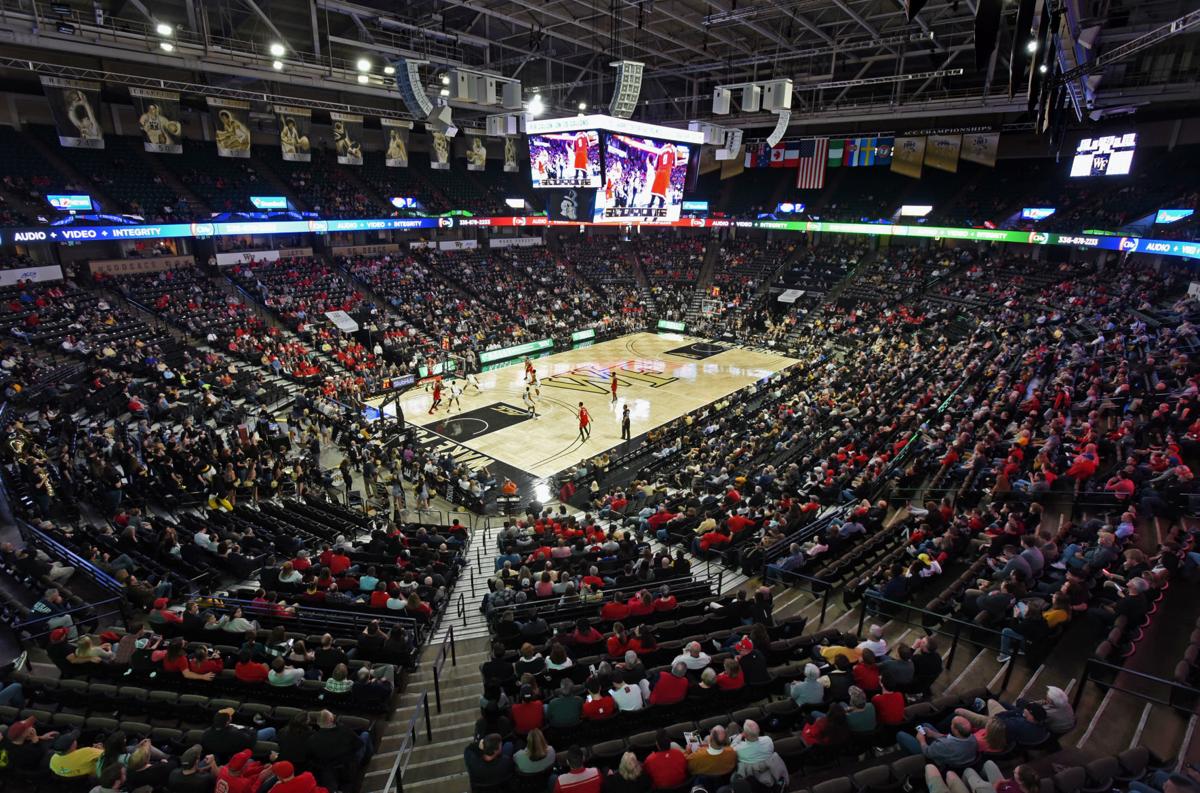 Joel Coliseum was loud Tuesday night, and it wasn't just because college basketball fans wanted free chicken sandwiches.
This was one of those explosions of sound that, when it happens, you know you'll have a headache and your ears will still be ringing a few hours after you've left the arena. And that matters little, all things considered, because you were either part of the sound machine or you just soaked it all in. A truly, if only briefly, deafening sound.
Or maybe it just felt that way because these times happen so infrequently now — seemingly once every three years for a full game.
It gets pretty rowdy in the final eight minutes of every game, regardless of the opponent and score, because of a promotion for vouchers for chicken sandwiches from Chick-fil-A.
So, at least there's that.
Attendance numbers for Wake Forest's men's basketball games are in a nosedive — a hasty decline that comes on the heels of what's been nearly a decade of heavy losses on the court. The four-year tenure of Jeff Bzdelik as coach featured billboards calling for his firing; the six-year tenure of Danny Manning is becoming characterized by a half-empty arena. 
Joel Coliseum has been Wake Forest's home court since 1989 and holds 14,665 people. This 31st season of Wake Forest home games at the Joel will be the 14th, and the 10th straight, with an average attendance under 10,000 — and it's a lock to be the lowest ever.
With only Saturday's game against Notre Dame left on the home schedule, Wake Forest's average attendance this season is 6,752. The Deacons would have to draw 10,217 to avoid the first season in the Joel's history with an average of fewer than 7,000 fans per game.
"Even if we were a .500 team or battling it out on the bubble, I'm not necessarily sure I'd go to four or five games a year as long as the students don't show up and the fan base is as quiet and apathetic as they are now and in arenas as quiet as the Joel is," said Chris King, a 1992 graduate who lives in the Charlotte area. 
"We've lost, arguably, a generation of kids in Winston-Salem to grow up to be Wake fans now. It's a tough spot for (athletics director) John Currie and everybody else to be in."
By the numbers
It's difficult to glean just how much of a financial toll this decade has taken on Wake Forest, particularly involving ticket revenue. Because Wake Forest is a private university, the school's financial records are unavailable through public requests.
Currie and Barry Faircloth, the university's senior associate AD for development and sales, both declined to be interviewed for this story.
Requests for information about Manning's contract, and the parameters of it, have consistently been met with the same refusal. Wake Forest announced an extension for Manning in November 2017, eight months after the program's cameo in the NCAA Tournament. The deal reportedly runs through the 2024-25 season and has a guaranteed $18 million buyout, per Jeff Goodman of Stadium. 
Manning's teams are 29-78 in the ACC, and the Deacons are 1-5 in the ACC Tournament in his tenure. 
"I've gone through my challenges. ... I understand what a challenge is," Manning told the (Raleigh) News & Observer this season. "And that's what every job is — you have your challenges. And you have to find a way to fight the good fight, to bring the energy to uplift people day in and day out." 
In Bzdelik's four seasons and Manning's six, Wake Forest has gone 128-184 overall and 46-129 in ACC games. The Deacons are 12-15 and 5-12 this season after Tuesday night's 113-101 double overtime win over No. 7 Duke and would need to win their last three regular-season games and one game in the ACC Tournament to finish with a .500 record. Otherwise, this will be the eighth season in the last 10 with a losing record and could still be the fifth season of the last six with at least 19 losses.
Wake Forest has hosted two five-digit crowds in 13 home games this season — for both of the blue-clad visitors from the Triangle. There were 10,894 on hand for Wake Forest's 17-point win over North Carolina, and then 11,681 watched the Deacons' double-overtime shocker against No. 7 Duke on Tuesday night.
But both times, the crowd was made up of at least half of the visiting team's fans. Otherwise, the largest home crowd of the season was 7,752 for the Jan. 26 overtime loss to 2019 national champion Virginia.
Slightly behind that was the 7,562 on hand for a recent game against Georgia Tech, when Coach Dave Odom was honored with a banner in a pregame ceremony and his 1994-95 ACC champion team was honored at halftime.
On a night that Deacons luminaries — Tim Duncan, Rodney Rogers, Charlie Davis and Skip Brown among them — were seemingly everywhere, the Joel was 51.6% full.
Who's still going?
While crowds are lighter, the building isn't empty.
Don Wingate is a 2002 graduate of Wake Forest and comes from a family of Deacons fans and graduates. He lives in Winston-Salem and, while disappointed with results, continues going to games.
"I go because I love Wake Forest. I support the university from a fundraising standpoint, from an academic standpoint and also through the Deacon Club," Wingate said. "And I support the players on the team, too. ... Am I frustrated by what is our flagship program, historically speaking, having the worst 10-year stretch in the last 40 years? Absolutely.
"But I live in Winston, I enjoy going to the games."
Wingate said he's been encouraged by the way Wake Forest has enhanced the fan experience since purchasing the building from the city of Winston-Salem in 2013. Most recently and notably, the school added a new video board that hangs over the court, four corner boards for statistics, a ribbon board along the facing of the second level and five new scorer's tables.
It's just, as attendance figures show, not the shared stance.
"I know Wake grads who live in Winston who have been long-time season-ticket holders that don't buy tickets anymore because they're so frustrated with the direction of the basketball program," Wingate said. "They buy tickets to football, they go to baseball games."
Joe Gann settled into his seat near the top of the lower level before Wake Forest's victory against North Carolina this month. A class of 1965 graduate, Gann witnessed the school's first two ACC championship seasons in 1961 and '62 and lived across the hall from Brian Piccolo.
Gann, 78, said he makes the one-hour, 45-minute drive from Rocky Mount, Va., for every home basketball and football game and some baseball games. Two years ago, he made 32 trips to Wake Forest.
"I just am passionate about Wake Forest sports, academics, whatever," Gann said. "When I was here and in past experiences, it really shaped my life. Made great friends, we're still in touch."
There's frustration with results — "absolutely," he said — but there's a dedication that Gann can't shake.
And it means that, in spite of his frustrations, he can't see a scenario in which he stops making that trip.
"Sometimes I sit anywhere I want to. That's a problem," Gann said. "I would say, win and they will come. … When Coach Manning came, I thought, 'Hey, this is fantastic.'
"I think he's a fine fella, but for whatever reason, we haven't got where we need to be."
Wake Forest has lost more home games in the past 10 seasons than it did in the first 21 of playing at the Joel. The Deacons' home record from 1989 to 2010, under coaches Odom, Skip Prosser and Dino Gaudio, was 269-58; the home record in the tenures of Bzdelik and Manning is 92-69.
"It's fun to go to the games to see each other, but I'm not just going to continue to support the team or support the university's basketball program … because it's expensive," Wingate said. "We're hopeful that there's going to be some changes made that will have a positive impact on where we're at."
Effect on area businesses
The impact of losing on businesses near Joel Coliseum isn't being felt quite as deeply as inside the arena. 
Between Putters Patio and Grill, the Best Western Plus and Smith Reynolds Airport, the only real effect of Wake Forest's meager attendance numbers any of their staff will recognize is that the Best Western's bar has "probably slowed down."
And the hotel's general manager, Matthew Meany, surmises it's probably because the ACC doesn't have the same volume of NCAA Tournament teams as in years past.
Meany said that last season's Duke game had the hotel on University Parkway "almost full" — the Zion Williamson influence — and the North Carolina game was a plus. 
But football games are more of a boon for the hotel, he said, with an entire weekend of events playing the biggest factor.
At Putters, a server said ACC basketball games have brought the same level of packed building as past seasons, while also noting the turnout for non-conference games was smaller because both of Wake Forest's December non-conference games were played after the fall semester ended
Mark Davidson, the airport director at Smith Reynolds Airport for about about nine years, said football games offer more impact for bringing private flights through his airport, particularly for visits such as Notre Dame's a couple of years ago. Parents weekend and graduation create the airport's biggest weekends, he said.
Where to go from here
King, the Charlotte-area resident and alumnus, became a season-ticket holder during the last season of Gaudio's tenure. His son was a ball boy for two years, and his daughter followed suit for another two years. He kept his season tickets after his daughter's run as a ball girl ended for a year or two, he said, and then it wasn't worth traveling to games anymore.
For King, Joel Coliseum comes up short — because of how large it is — in delivering a consistently adequate atmosphere for college basketball.
"If you win, it solves all problems in terms of attendance, or certainly a lot of problems. But to me, the Joel is just not a fun atmosphere," King said. "I'm not sure it ever can be again, setting aside the … being a perennial top-10 team for a couple of years. To me, it's never really been adequate.
"It's three times too big an arena for a school like Wake Forest. There's no way any school, I don't care how good your basketball tradition, should have a coliseum that's three times as large as your undergraduate enrollment.
Indeed, Wake Forest's undergraduate enrollment is 5,287, the smallest enrollment for any school in the NCAA's top conferences.
Among the many other factors King dislikes is the roughly 1.3 miles separating the school's main campus and the arena.
"Today with every basketball game being played on TV, even when you're as bad a team as Wake is this year, you need something to entice particularly the students to get out and come to these games," King said. "It's kinda the same way in football, too.
"When the stadium and the arena are a mile, mile and a half from campus, that's not ideal."
The solution to both issues would be to build a new arena — the school recently purchased the land of First Assembly of God on University Parkway. A bandbox of an arena that would seat about 6,000 fans, King said, would be ideal — but he also noted how easy it is for him to submit decisions from afar that would cost somewhere in the neighborhood of $100 million.
As King notes, winning solves most of what ails any professional or college team.
A generation of local fans who have grown up in Forsyth County and the surrounding area have seen Wake Forest lose home games to the likes of Houston Baptist, Georgia Southern, Liberty, Richmond (twice), Winthrop, Presbyterian, Wofford, Iona, Delaware State, Gardner-Webb and, going all the way back to Bzdelik's first game, Stetson.
"Now it's really just a morgue. You've got a completely apathetic fan base obviously — that is what it is, so that's largely due to the win-loss record," King said. "Wake is never going to have a huge population of townies that have been Wake fans growing up, especially when you've had as bad a decade in basketball as we have."