We'll get to the film review of Clemson-Wake Forest. But first:
Have you ever noticed that everybody who posts on social media thinks their dog is the best dog and thought to yourself, if only for a second, "Well that's nice but your dog can't actually be *the best* dog because my dog is the best dog."
But it's something that came to mind this week. Because I've certainly had that thought, that so-and-so's dog can't be the best because my big, fuzzy, lovable goofball King is the best dog.
I was wrong. King isn't — wasn't — the best dog. But he was the best dog for me. A perfect fit.
Five years ago I adopted a golden retriever with a lot of other stuff in him — it's been suggested to me he's got everything from chow to husky — and immediately bonded to him. The description from Triad Golden Retriever Rescue was, "will chase a tennis ball until he falls over," and that was 100% true.
He was my guy and I was his — that didn't stop Friday afternoon when I had to have King put to sleep.
I'm not sure if King was much of a Wake Forest fan. After all, most of the time I spent away from him was because of Wake Forest and for a dog who was attached to my hip when I was home, time away was #NotGoodDino. Then again, when I lived alone in Burlington, a diehard Wake Forest fan and friend, Liz Hill, took care of King when I had long days. She might have planted Deacons fandom in him before I even got the job here.
The only time I can honestly say I was frustrated with him was the first Thanksgiving we were together and King decided an apple cake my mom brought was on his menu for dinner. The only thing left was the plate.
Frustration might have lasted 10 seconds. My family still laughs about references to that, a fair tradeoff.
The last couple of months were rough for King. It'd been weeks since he last stood on his own. Stairs were never his friend, but at some point he stopped even trying to go down them. I've actually taken solace in working from home for almost all of the last six months, as it gave me so much more time with him.
You know, no matter how many times you tell yourself or others tell you you're doing the right thing, it's still gut-wrenching.
One of the ways that he's still amused me, though, is in his sleep. Sitting on a Zoom and half-listening to whatever Zoom interview is going on, there's immeasurable joy that comes with looking down and seeing King asleep, his legs gyrating and kicking and twitching.
I can only imagine how fast he was running in his dreams. Just like I can only imagine where he is now, hopefully with all of the tennis balls he could ever ask for.
And apple cake. That would be perfect.
Here's what I saw while re-watching Clemson-Wake Forest:
• I don't know who needs to hear this, but: Stop falling for Florida State.
• I missed that Boogie Basham came out of the gate holding a "Black Lives Matter" flag. I didn't see a picture until I got home after the game, and the picture that Journal photo editor Walt Unks snapped is a good one.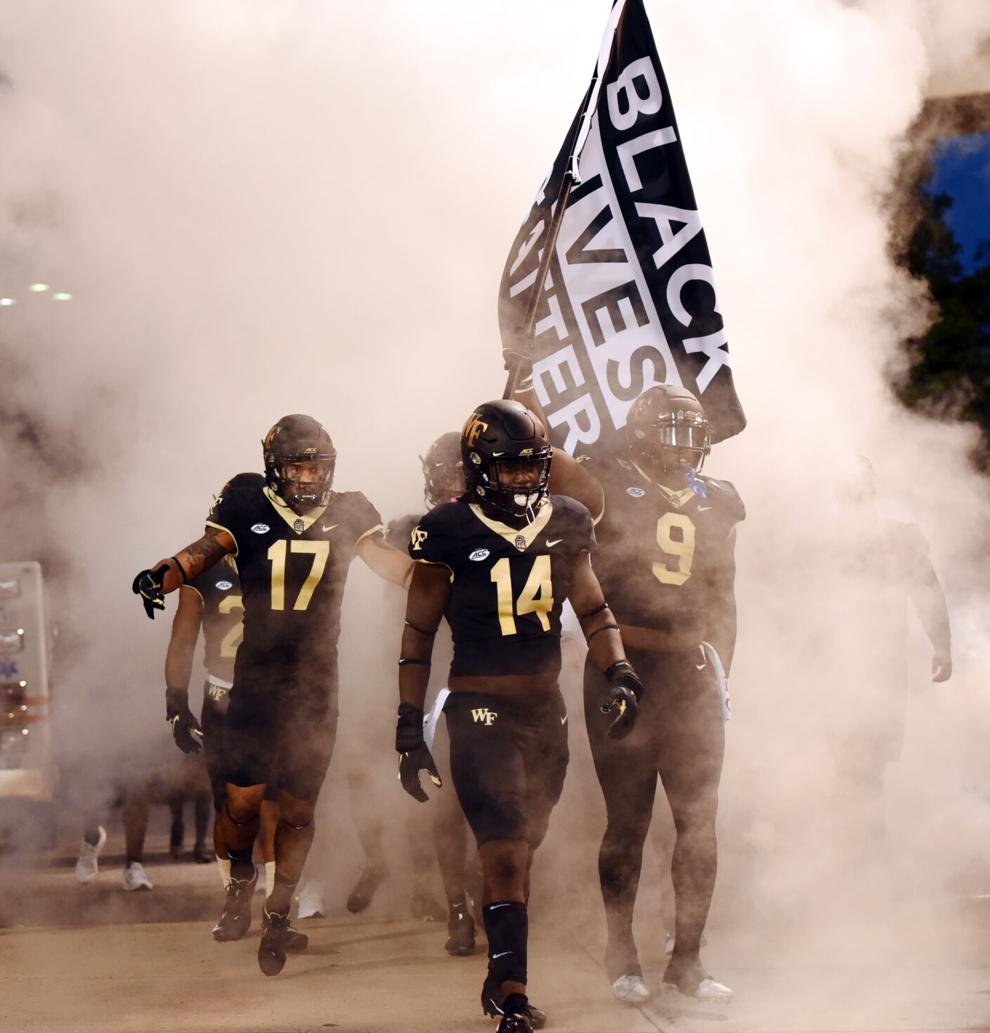 Now I understand a little better why I missed it when it happened: More than half of the team had already come onto the field. I wish I hadn't missed it, but it's not like he was leading the team onto the field with it.
• So let's get this out of the way now: If that makes you uncomfortable, I'd recommend finding a new team. The helmet stickers with clenched fists weren't just there for one game (to my understanding). The "BLACK LIVES MATTER" across the back of helmets isn't going to be erased. If that drives you to renounce your fandom — which, btw, stealing this from OGB/Facebook, "it's not like an airport, you don't have to announce your departure" — it's probably time to go shopping at WalMart for some team gear.
Oklahoma State's coach probably espouses the same values you hold near and dear.
Also, miss me with your "keep politics out of sports" nonsense. Human rights battles aren't political. It's not political to ask why the cops who killed Breonna Taylor still haven't been arrested. Sports and politics have always been entwined, that's not changing.
• Now, finally, on to football.
• Jack Crane might have had the cleanest debut of a Wake Forest transfer in quite some time. If he's able to consistently kick touchbacks, he'll be a welcomed addition.
• Ha! Forgot Trevor Lawrence's first throw was an incompletion because Amari Rodgers slipped coming out of a break.
• Coverage sack on the third play, along with an incredible closing burst by Basham.
• Hell of a first two plays by K.J. Henry: tackle East Forsyth rival Christian Beal-Smith on Wake Forest's first play, and sack Sam Hartman on second one.
• Beautiful throw and catch on third-and-18 for 28 yards to Donavon Greene. Sharp throw, quick release, Greene got separation.
Man, a few things happened in this game in the first two minutes that never happened for the rest of the meaningful minutes of this game.
• Ooh, the deep shot to Jaquarii Roberson down the seam was 100% pass interference. I didn't realize it was that blatant at game. That has to be what Dave Clawson was referring to here:
"I thought there was another one that perhaps we should've had a P.I. that we didn't get, but that's going to happen," Clawson said.
• Hartman simply cannot take a sack here. Third-and-6 from the 33 is where you always Wake Forest content with picking up 2-4 yards and going for it on fourth down — I'm actually surprised it wasn't a delayed handoff.
• Also: Wake Forest won't have to worry about Lawrence or Travis Etienne ever again … but the Deacons will need to figure out how to block Bryan Bresee and Myles Murphy for at least two more games.
• Really good first career punt for Ivan Mora. Feel like other than one 25-yarder, he had a solid night.
• Lawrence's first completion of the game is his first "he might be one of five QBs in the country who can make this throw" moments. Traveon Redd isn't blanketed on Rodgers, but Lawrence puts it over his shoulder where it almost looks like Rodgers is wide open.
• Our first look at Nasir Greer playing cornerback … ever, for me. He's been on campus since January 2018. On his second play there he misses a tackle on a bubble screen.
So to recap: Greer missed the Pinstripe Bowl and Essang Bassey had to play safety in his absence; now Bassey and Amari Henderson are in the NFL and Wake Forest was missing three of its four freshman DBs, so Greer had to play cornerback in their absence.
• Zion Keith's first of his game-high 12 tackles on a first-down run by Etienne.
Feels like Keith would've been the subject of a fall camp feature under normal circumstances.
• Looks like DJ Taylor is the No. 2 MIKE linebacker, though Jaylen Hudson was unavailable. As noted on Twitter, this was Taylor's first game since the Birmingham Bowl — he spent a lot of time in the pit.
• Ja'Cquez Williams has to get Etienne on the ground before he breaks to the outside on a 13-yard run.
• Really nice play by Taylor to track down Rodgers.
• Clemson goes hurry-up before Lawrence's touchdown jog. Wake Forest's defense seemed to be slow to get aligned — which is as much of a peak into how seldom they've gone "team-fast" in practices compared to normal years.
• Nine-play, 92-yard drive that was on Wake's side of the 50 in two plays. The only third down was third-and-1, picked up pretty easily by Etienne.
• Two carries, 13 yards for Christian Beal-Smith to start Wake's second drive. I stand by this:
One of those where I wish yall could see Christian in practices.

I maintain CBS is a really, really good ACC running back and yall just haven't gotten to see it yet. https://t.co/U81X9ARgkf

— Conor O'Neill (@ConorONeillWSJ) September 12, 2020
• I like the third-and-7 play call to get a swing screen to Taylor Morin, and he's got room and blockers to pick up yards. But this is where Clemson is just going to be different than almost every other team on Wake Forest's schedule.
That's a conversion against every team left on the schedule except Notre Dame and maybe the Virginia teams.
• First play of Clemson's drive, 25-yard pass to the tight end. The linebackers get sucked up because of a fake toss to Etienne, there's nobody within 10 yards of Braden Galloway.
• Next play is a 6-yard pass to Cornell Powell with Ja'Sir Taylor lined up 9 yards off the line.
If you don't play press coverage, you're going to give that up all season. Second straight drive that it takes Clemson two passes to cross the 50.
• Gary Blackledge with an excellent point about Etienne and how physical of a runner he is.
• Great play by Royce Francis and Ryan Smenda Jr. to bottle him up on the next play.
• Sulaiman Kamara and Miles Fox both with hands on their hips and barely lined up when Clemson snaps the ball.
So this is your reminder that Wake Forest was missing at least three defensive tackles, Rondell Bothroyd, Tyler Williams and Justin Williams, who would've played, plus Mike Allen and James Ash.
• What a PBU by Rodgers by himself in the end zone.
Masterson is the safety who leaves Rodgers to cover an intermediate route. I asked Masterson and Clawson after the game what they thought the problems were in coverage breakdowns, and qualified it with, "I know you'll have a better answer for this after watching film," and both of them still reverted to some version of, we need to watch the film.
Which, in its own way, is telling that they didn't have a sense for it in the aftermath.
Also, as I said during game: The biggest lie we were told in the last month was that Wake Forest was mentally further ahead than they've ever been.
• You get a gift of a dropped pass in the end zone … and then Etienne breaks a 29-yarder on third-and-10. Fox gets upfield too quickly and Ja'Cquez Williams loses Etienne going against the grain. Also doesn't help A.J. Williams immediately drops into deep coverage.
• Timeout-play-timeout. Yikes.
• Back-to-back nice plays by Smenda on tackles of Etienne at the goal line.
• Good to see Will Smart on the field for goal line snaps. His high school film jumped out to me for how hard he plays, but he's been limited by injuries in his first two years at Wake.
• JaCorey Johns bit way too hard on Lawrence's third-down keeper for Clemson's second TD.
• This is a massive third-and-long and a massive catch by Greene for 39 yards. If last season's appetizer wasn't enough, this should be proof you need that he can be a No. 1 receiver (not that there were many in that camp to begin with).
• The first down is a missed read by Hartman.
He hands off to Beal-Smith for an outside right run. Clemson was struggling to get lined up when Deacons snapped it. To the left, Hartman has Roberson available for a quick screen and Blake Whiteheart and Greene blocking in front of him. They're even engaged on blocks to start the play. That's an easy quick throw for a chunk of yardage, maybe more.
Instead, it's second-and-7.
• And there's the ruled-fumble, incomplete pass on a bubble screen. Always was going to be incomplete.
• Beal-Smith gets 6 yards on third-and-7. To this point in the game, he's got seven carries for 30 yards and hasn't been tackled for a loss. You haven't run the ball with success against Clemson traditionally, but you're getting a decent-enough push that you've been going forward each time.
It's mind-boggling to kick here on fourth-and-1. There's no other way to put it.
• First play of the second quarter is a snuffed-out screen by Basham, really good play. And if I'm not mistaken, it's the last time we really hear his name all night.
• Man, third-and-1 and Lawrence runs around a stutter-stepping Ja'Sir Taylor. He just needed to go after Lawrence, Etienne wasn't picking it up on the dive.
• We as a society have *got* to stop acting surprised when tall, white QBs are gifted athletes. Just like we as a society have *got* to stop acting like every Black QB is a scrambler.
• Fox with a nice tackle on Darien Rencher — Deacons actually got a little bit of a reprieve that they didn't see Lyn-J Dixon, who was cautiously held out.
• Lawrence with another "maybe five QBs in the country can consistently make this throw" moment, 19 yards to Galloway.
• Hello, Zion Keith. Closes fast on Etienne for a tackle on a 3-yard run.
Keith had 12 tackles in this game. He had eight for his entire career (17 games in the last two seasons).
• Really superb play by Dion Bergan Jr. for a TFL on Etienne, 4-yard loss.
• There's a Nasir Greer hit we're used to. Still not great to give up 13 yards on third-and-16 … but at least it's a stop. Clemson had converted three straight third downs with relative ease before this.
• I'm old enough to remember when kicker was an issue for Clemson. (technically last year, or was that five years ago?)
• Greene with one of his only mistakes of the night, a drop on the first play that would've been about a 20-yard gain.
• I don't know what play they ran on this second-down sack. Hartman drops to throw, Nolan Groulx runs kind of a slant, Morin is run-block, Kenneth Walker III is 5 yards downfield blocking … I mean, I'd love to know what was actually called. I doubt everybody was on the same page here.
• Good throw to Morin but it's 11 yards on third-and-12. Another fourth-and-1, punt. Walker's first snaps of the season and he's a non-factor.
• Not a tackle for Keith, but a forced incompletion by shoving Galloway out of bounds along the sideline. He really was good in this game.
• Nice little first career TFL for Isaiah Chaney.
• There's the third-down incompletion where Basham gets tackled from behind.
Yeah, uh, that's holding.
• Kind of interesting on Clemson's punt — Wake Forest lined up in "punt safe" but still almost got a block. Deacons were spread in a not-so-normal punt return look, which is typical when a team is punting from your side of the 50, but still almost got home. That's a good look.
• The quick-sneak was my favorite play from Wake's offense in the first half. Clemson's D-line isn't looking at Hartman, who acts like he's changing something at the line, and takes a snap and picks up 3 yards on third-and-1.
• Yeah they just didn't call holding in this game, did they?
• There's a play you haven't seen since 2017 — QB RPO rollout, where the pass is a receiver bubble screen.
It … uh … how to put this delicately … it did not develop the same way it did when John Wolford and Greg Dortch ran it.
• A.T. Perry just has to be better than that. It's a touchdown if he catches a perfectly thrown ball by Hartman. And it's 17-7 with 5½ minutes left until halftime, which keeps the score at least somewhat competitive at halftime.
The margin for error against Clemson in this era is always going to be razor thin. The Tigers weren't exactly sharp in this one — but Wake Forest in too many areas to pass it off as rust from not having adequate time to prepare.
• Excellent punt by Mora — and Clemson is about put up its second 90-plus-yard drive of the half.
• Redd is a good fit as rover in Hemphill's defense — he needed to be better when matched up on Rodgers in this game.
• There's the first decent play by Nick Andersen, a freshman walk-on safety. Eliminated space quickly on Etienne — so that tells you why he's in there as a freshman walk-on.
• All due respect to Brannon Specter but Clemson found a way to clone Hunter Renfrow.
• Wasn't entirely sure if substitution was cause of Wake's first two timeouts being used, but I'm 100% sure on third one. Chase Jones comes in for Ja'Cquez Williams and Williams didn't make it to the hashmark before Clemson was snapping the ball.
• Joseph Ngata and Frank Ladson are going to be household names in college football by season's end.
• Third-and-7 from the 12, Ja'Cquez Williams just had a good tackle for no gain … and Williams and Greer miscommunicate, both letting go of the tight end in the short corner of the end zone.
Lawrence is good enough – he doesn't need all the help that Wake's secondary miscommunications gave him.
• I mean, Lawrence's head never even moves. It's not like they were drifting off of coverages trying to read his eyes.
• When Clemson has three timeouts in its pocket and you start a possession with 1:21 left in the half … I don't know that I'd recommend running on first down.
• Loic Ngassam Nya gets blown up on second-and-long, so there's an incompletion.
• Screen to Morin for 8 yards on third-and-13, that's kind of the best you can ask for there. It was going to take a blown play by Clemson to get a first down, seems like.
• I'd say this was Mora's first "pressure" punt, with a minute left in the first half and you need to give Clemson as long of a field to work with as possible … a 36-yarder isn't quite what you need there.
• Wake's second sack of the first half and it's another coverage sack. Goes to Fox, who as I mentioned during game, hadn't played since early in the 2018 season with Old Dominion. Awesome to see him finally get on the field.
• Etienne turns a dump-off into a 26-yard gain, makes both of Wake's top linebackers (Smenda and Williams) miss in the process.
• Blackledge takes the L here saying Clemson only has time to throw the ball to the end zone with 6 seconds left.
• Geez, I didn't realize how solidly Potter drilled this 52-yarder.
• Halftime. Going to try to expedite this thing in the second half.
• A couple of incompletions to start the second half – this Roberson 55-yard catch-and-run was sorely needed for a few reasons: it kept Wake Forest engaged, led to first points and got Roberson going after his lone first-half catch went for no gain.
Also what a block from Greene to spring him down the sideline.
• Third-and-12 from Clemson's 22 is a slow-developing handoff … the Deaclones should've started booing here.
• "Clemson didn't lose anybody to opt out, Alabama didn't lose anybody."
Being in the CFP every year is a strong deterrent from working out with a personal trainer for the next six months, or from playing the Bad Boy Mowers Gasparilla Bowl.
• First real example of a working theory I've had since Lawrence's freshman season: He throws better moving to his left than to the side of his throwing arm.
• Wake Forest brings a corner blitz on the next play and Lawrence throws to where Ja'Sir Taylor came from — at least the defensive play-calling was aggressive there.
• Nine catches for 93 yards for Morin – four for 41 on this possession after Clemson went up 34-3. He's got a knack for finding open spaces and you just feel like something good is going to happen every time the ball is in his hands.
• Hartman sacked and hey, look, it's exactly why Kenneth Walker III didn't play until the fourth possession and only had six carries.
Walker whiffs on a blitzing linebacker, who has a clear shot on Hartman. He doesn't even get the sack, but wraps up Hartman, who then tries to run and gets crushed by half of the defense. You can't be a poor pass blocker and be Wake's featured running back. The more-concerning part of this is it's an area he wasn't strong in last year. It's one game, it's one play and it's Clemson, so there's no need to rush to judgment here … but Walker will never be the player he should be if he can't pass block.
• Michael Kern's first throw is a strike to Morin on a slant. Strong, strong throw.
• Third-and-2 run had no chance, and then Hartman gets crushed while trying to make something out of nothing. Tough break.
Will be interested to see if Hartman has any lingering effects from this hit.
• More interested to see if the secondary breakdowns continue this week. We're a long way from putting the blame on Jay Sawvel for those.
• Chase Jones with a nice tackle on the goal line.
• Lawrence's second bad play of the night, bungled snap and A.J. Williams there to clean it up.
• Kern enters and the encouraging thing to see on the sideline, not only is Hartman upright and watching, he's positioned next to freshman QB Mitch Griffis.
I still remember John Wolford telling me in 2017 that in the Deacons' trip to Clemson that year, he sat out with an injury and made sure Jamie Newman was next to him for every offensive possession so they could discuss and he could point things out. That's a valuable experience for Griffis.
• Valuable lesson for Kern: Drilling the umpire with a pass isn't going to help you get calls.
• I'm going to start typing "Uiagalelei" on a weekly basis to get the spelling down, because this is Clemson's post-Trevor Lawrence future.
• Will Smart draws a holding penalty. I realize Clemson's second-team offense is in, but he might've played his way higher into the DT rotation.
• This announcing crew gets an A+ from me (whatever that means) and what puts it over the top is Sean McDonough making a bunch of jokes about how loaded Clemson is.
They're just on another level not only compared to the rest of the ACC, but compared to almost everybody else in the country. At this point it feels like the only thing that could knock them off their perch is a scandal or Swinney leaving for another job.
• Kern with a good enough ball fake on a zone read that faked out the camera operator until he was tackled – nice job.
• Walker whiffs on another blitzer and Kern gets crushed as he delivers completion to Perry (good to see him get a catch).
• I forgot Griffis' first throw was a long one off an RPO to Morin. If he led him, they would've shared their first collegiate touchdown about 10 minutes earlier than they did.
• That's the more-concerning miss for Sciba. A 31-yarder has been automatic for him and he clanged it off the right upright from the right hash — it's good that he ends on a make, but it'll be worth seeing if the misses affect him going forward.
• RPO and Kern fires a strike to Roberson for a long catch-and-run.
I've been a tad skeptical of Kern because I don't think you can learn much from playing garbage-time snaps against Elon, and it's not like this wasn't garbage time either, but … he's sharp. He throws a really accurate ball.
• Wake's kickoff after Sciba makes a 42-yarder and it's the first-team kickoff unit. I think that tells you how valuable the coaching staff wanted to make the last several minutes of this game, in that they're willing to put a bunch of first-team defensive players on a kickoff cover in a decided game.
• Excellent read by A.J. Williams on the interception.
• Justice Ellison with a great play to make something out of nothing on a bobbled snap – lots of speed shown there.
• Snapping seems to be an issue here late.
• I'm surprised Donald Stewart didn't get a chance to play before the fourth quarter of this game.
• Griffis looks natural as a QB. I know that probably comes as a given, but he's got some free-flowing movements to him as a QB that I don't think are taught skills.
• I didn't realize how difficult of a throw Griffis' touchdown to Morin was. He was absorbing a hit while he released. No matter against Clemson's backups' backups or not, impressive throw and catch.
This is where I cut this off.