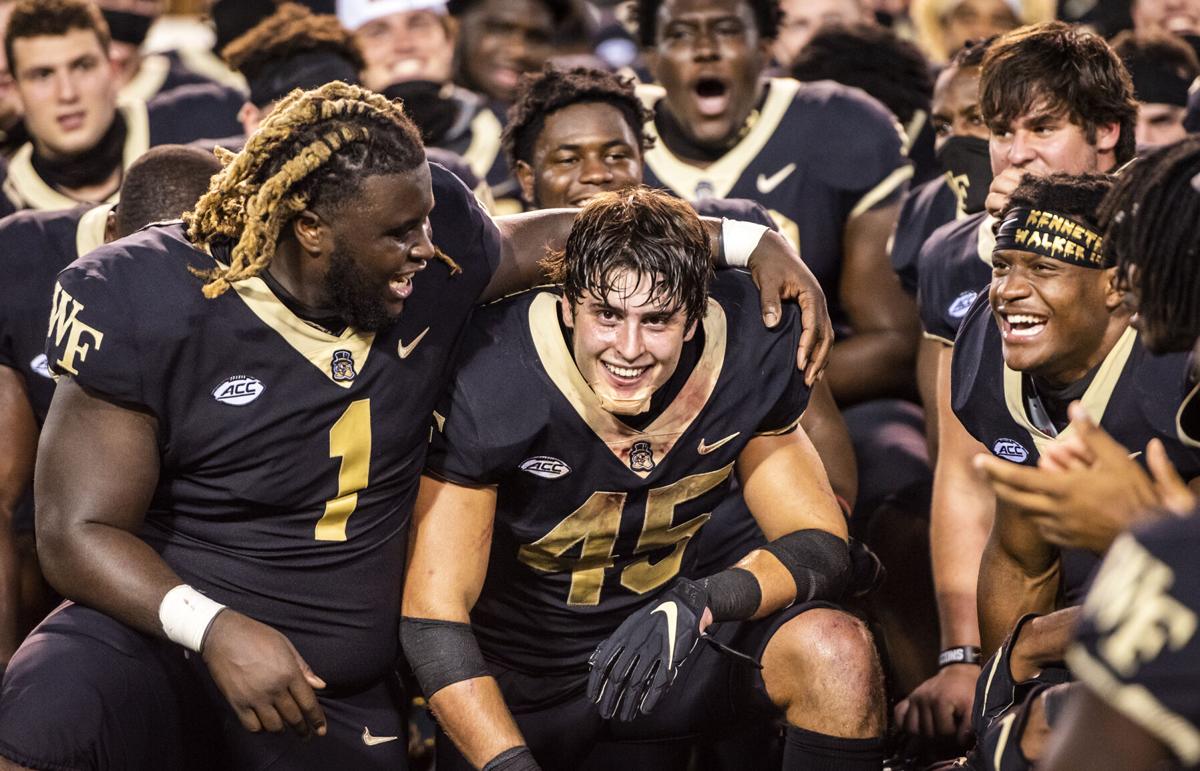 Out of uniform there's not much to indicate that Nick Andersen is a rough-and-tough football player.
A few biscuits shy of 185 pounds, the 18-year-old freshman is listed as 5 feet 11 by Wake Forest. Put a uniform on Andersen, a walk-on defensive back, and you can't help but notice how naturally he plays the game.
Andersen, who intercepted three passes and made 11 tackles in Wake Forest's 23-16 win over Virginia Tech on Saturday, earned a shot to perform in preseason camp, and he didn't shy away from it.
In fact, most of his teammates had no idea he was a preferred walk-on because all he did was keep making plays to jump up the depth chart. He's second on the team in tackles with 33 after five games.
Because he has continued to make plays, Coach Dave Clawson announced in front of the team after Saturday's win that Andersen would be on scholarship soon.
"We'll be taking care of that next semester," Clawson said.
One of the lasting images of the celebration was Andersen's teammates lifting him on their shoulders at midfield, chanting, "Scholly! Scholly!"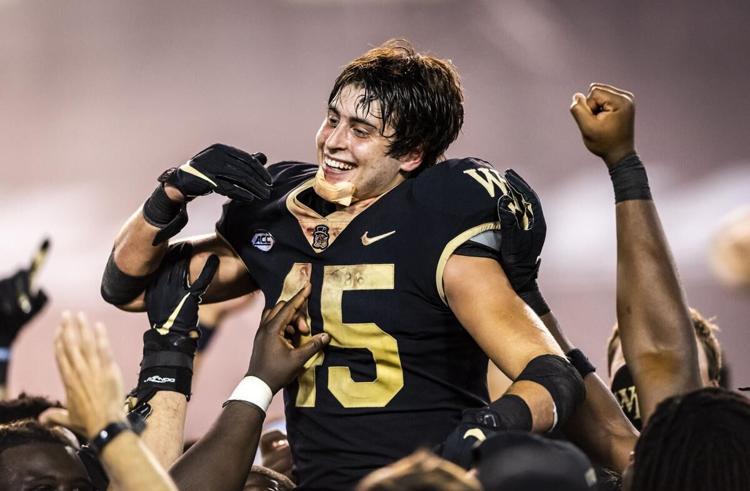 Andersen has made 20 tackles in victories over Virginia and Virginia Tech. The fact that he is from Clifton, Va., and was a multi-sport star at Centreville High School only adds to his compelling story.
"It's in the back of my head, and I'll kind of keep it there," Andersen said of not being recruited by any school in his home state, "but I'm kind of glad they didn't because I found my home."
He had three offers in high school – Butler, New Hampshire and Columbia – but after going to a high school camp at Wake Forest, the coaches noticed. The recruiting process began, but a scholarship offer never came.
Instead, Andersen kept in contact mostly with assistant Greg Jones, and when an offer was made to be a preferred walk-on, Andersen took it without hesitation.
"I came to the UNC game (last fall), and once I saw that I knew this was the place for me," Andersen said about the Deacons win at Truist Field in 2019.
Pandemic practices helped
Since the team arrived on campus in July, practices, team meetings and everything about being together had to change because of social distancing requirements.
In the end, that might have helped Andersen get noticed.
"We did these split practices at the beginning of the year for COVID reasons to really get those guys more reps," Clawson said. "And I don't know in a normal camp if we would have discovered him. It was almost because we split the practices and give him starting reps, he just made plays. He picked up the defense and was really vocal with the checks."
Injuries to Nazir Greer and Luke Masterson and the move of another safety, Cody Davis, to cornerback opened the door for Andersen.
"The first thing you do when you lose starters, your first option is to put somebody in who knows what they are doing," Clawson said. "…At some point in camp (defensive coordinator Lyle Hemphill) said this guy is going to help us this year regardless of what our injury situation is."
Another benefit for Clawson and the Deacons is the NCAA changed the eligibility rules because of COVID-19 with no players losing a year. So Andersen could conceivably play five full seasons for the Deacons.
Team-first attitude
Andersen doesn't like to talk about himself, and in every interview this season he mentions older players showing him the way. It's a testament to his attitude about being a team player.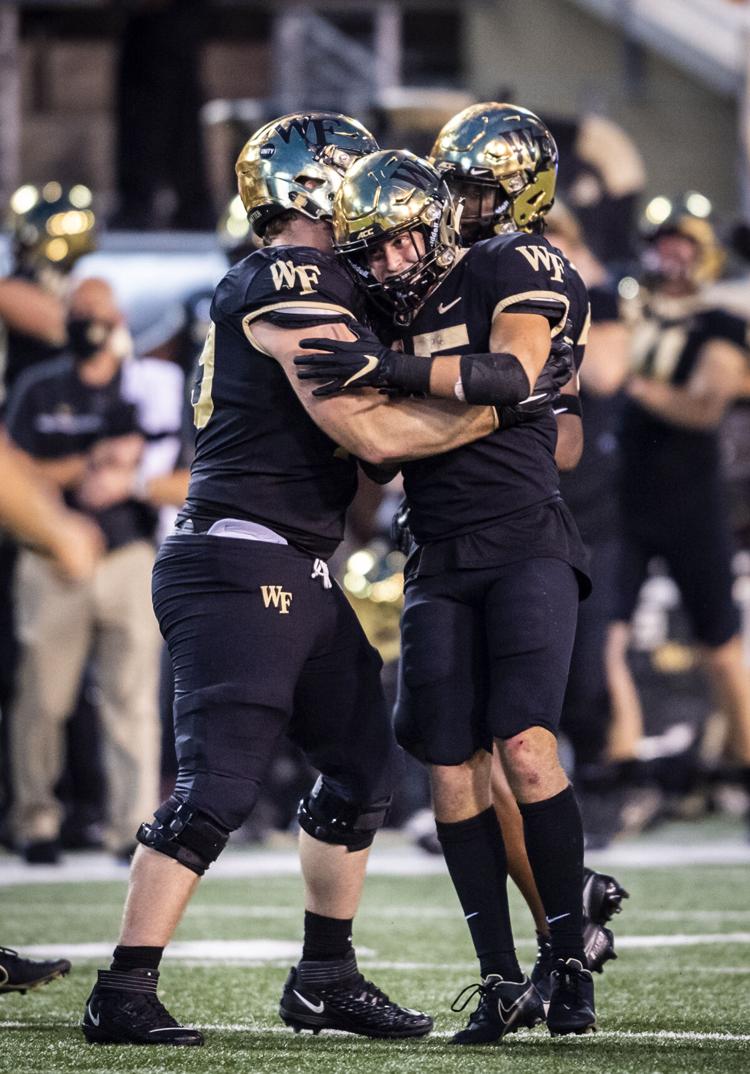 After his three interceptions, the first three of his career, he praised the assistant coaches for preparing him. He didn't much care that the last time a Wake Forest player had three interceptions was in 1987 by A.J. Greene.
"That's just an interesting fact," Andersen said.
But here is another interesting fact: Andersen is the first freshman and just the fourth Wake Forest player to intercept three or more passes in a game.
Need one more? Andersen is the first ACC player to make three interceptions in a game since Louisville's Gerod Holliman in 2014.
As for his outlook when he arrived on campus in July, Andersen believed in himself, and his work ethic in the film room and in practice impressed teammates.
"For me, no different than anything that I've been doing my whole life and the whole basis of hard work. Why just come in and be a guy that sits on the sidelines?" Andersen said. "Why not compete and help the team? So that was my mentality."
Soccer was his first love
Andersen decided football would be his sport, over soccer, at the start of his sophomore year in high school. He loved soccer and being in the midfield as he organized teammates. But he also took those skills, not to mention the footwork, to the football field, where he has made one of the most significant impacts of any Wake Forest walk-on in the last 20 years.
Boogie Basham, a senior defensive end, said he could hear Andersen making calls early in camp.
"I've just kind of always been a vocal player," Andersen said.
And knew he would make an impact. But there hasn't been a singular moment when that became clear to him.
"Just working through camp and working my way from the younger group then to the threes, then the twos, and once I felt I could play nothing was going to hold me back," Andersen said.
Multisport star in high school
Jon Shields, who coached Andersen for his senior season at 6-A Centreville High School, isn't surprised that he has made his mark already.
Shields, who also coached Taylor Morin at Westfield High School in Virginia, says if you want to fool around at practice or take plays off, then Anderson will chew you out.
"He's legit," Shields said. "He's just one of those special kids who is a tremendous athlete who doesn't know how to coast in anything. Sure, he has that sort of quiet demeanor when you talk to him and you'd want him to date your daughter, but when he's on the field he's a monster. There's a reason he was nicknamed 'Nando' around here."
Andersen's high school is in northern Virginia, just off I-66 about 15 minutes south of Dulles International Airport and a little more than 25 miles southwest of the Washington Monument.
After Andersen put away his soccer cleats at Centreville, he also played basketball, competed in track and field and said he was a good tennis player, as well. He made all-region as a defensive back and a punter and qualified for track and field regionals in the high jump.
He showed his leadership skills on the basketball court last winter in a big way.
"Our basketball team through the years has had so much talent and after football season ended, I didn't put any thought into basketball," Andersen said. "Then I was sitting in the stands and two of our starting point guards got hurt and saw it as an opportunity."
He joined the basketball team after the rash of injuries and was the sixth man, doing anything it took to win games.
"I'll admit I wasn't a scorer," Andersen said.
All the team did was win a state 6-A championship.
"He's intense and wants to win," Shields said, "so that's exactly what happened in hoops."
A lesson about humility
Andersen's name didn't make many recruiting lists in high school, but he said he never got down about it. With social media and the various lists, it can be hard on high school players when they don't see many stars by their names.
But he wasn't going to get distracted about playing Division I football.
"Honestly, I just believe in myself and I didn't get discouraged and kept my head down," said. "I didn't really pay attention to any of that (recruiting lists) and wherever I went I wanted to make an impact."
He says part of the reason he's had success at Wake Forest is that coaches don't treat the scholarship players any differently than the walk-ons.
"When I was first talking to Wake, that was the first thing they said to me: Whether you are a first-round draft pick or last on the depth chart, everybody is treated the same," Andersen said. "And it shows up on game day. ... That's why we win games here."