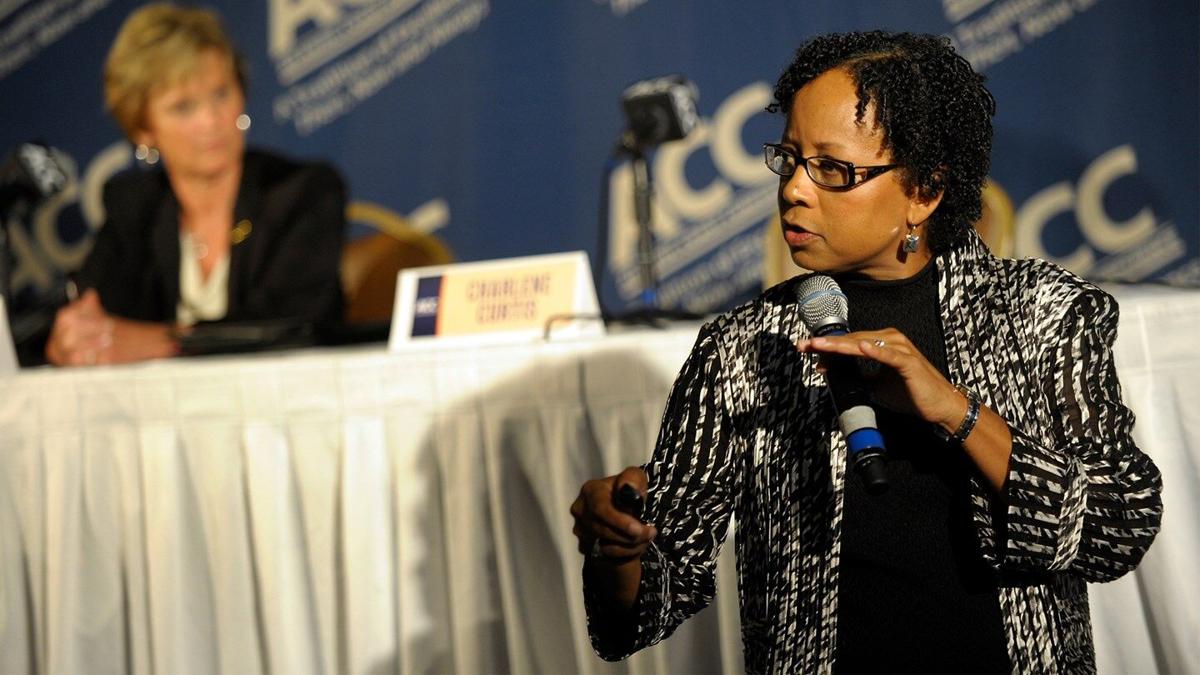 Charlene Curtis doesn't feel like a pioneer in ACC women's basketball history, but that's what she's become.
Curtis, 65, was the first Black women's head coach in conference history when Wake Forest hired her in 1997. Not much was made of it then, and after seven seasons on the bench for the Demon Deacons, it wasn't mentioned when her contract wasn't renewed by then-athletics director Ron Wellman.
Now, nearly a quarter-century later, Curtis will be recognized on Thursday at Wake Forest's women's game against fourth-ranked N.C. State.
"For me, it wasn't a big deal," Curtis said this week about her time at Wake Forest. "Other people sort of pointed it out to me but I was aware of it. I guess because I was also the first African American women's head coach at Radford (her alma mater) as well it wasn't on my mind as much."
Wellman hired Curtis, who was an assistant coach for Geno Auriemma at powerhouse Connecticut, and her goal was simple.
"I just wanted to do the best that I could and do as much as I could for the kids I recruited because that's the goal for any head coach," Curtis said.
There weren't a lot of wins in her time at Wake Forest as the Deacons compiled a 67-129 record in seven seasons and were 21-91 in the ACC. During her span in the ACC, however, Curtis battled outstanding coaches nightly such as Debbie Ryan (Virginia), Kay Yow (N.C. State), Chris Weller (Maryland), Jim Davis (Clemson) and Sylvia Hatchell (North Carolina).
One of her highlights was beating North Carolina at Joel Coliseum in four of her last five seasons. In her final season in 2003-04 the Deacons beat the 10th-ranked Tar Heels at home in a season they finished 12-17 and 4-12 in the ACC. Her best season in the ACC was a seventh-place finish in 2001-02 when the Deacons were 5-11.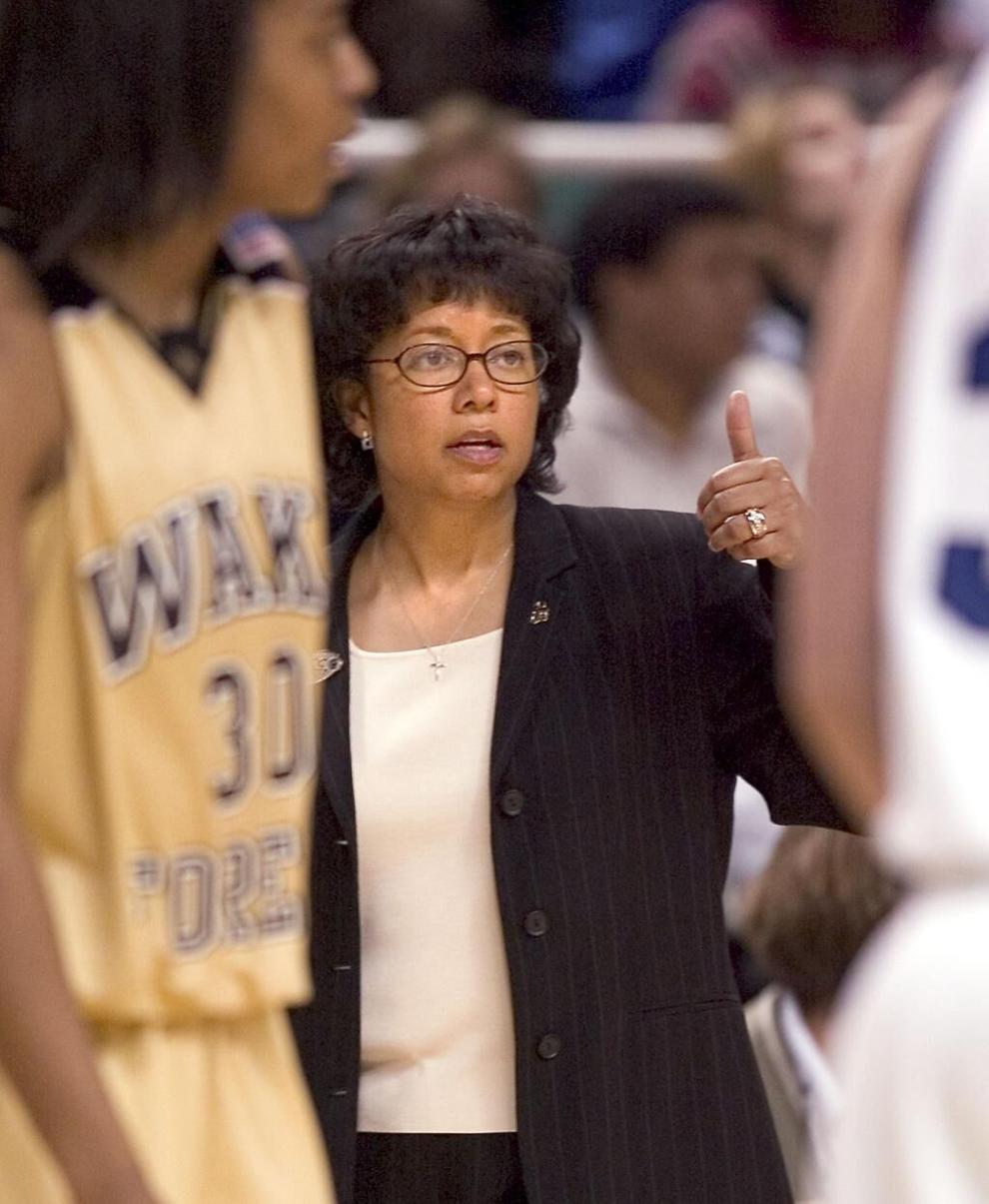 While it might not have been that big of a deal to some to be the conference's first Black head coach, it was to LaChina Robinson.
Robinson, a women's college basketball analyst for ESPN, can remember vividly when Curtis came to her house on a recruiting visit.
"I think we definitely noticed in the recruiting process and it wasn't lost on me or my mother that there was an African American coach and I would get the chance to play for her," said Robinson, a 2002 Wake Forest graduate. "And seeing a Black woman in a leadership role and how she mentored me as I made the transition from high school to college was so important."
Robinson, 40, said she looks back on her time playing for Curtis and has great memories even if there weren't a lot of victories.
As for why it wasn't that big of a deal nationally as Curtis came into the ACC as a pioneer, Robinson said it was a different time.
"In general the race issue was kind of taboo and that's unfortunate even though it wasn't that long ago," Robinson said. "And to acknowledge it now is very important and I think because of what happened this past year (with racial inequality coming to the forefront) it's even more important to show how important Coach Curtis was to so many of us. It's a great gesture for Wake to bring this to the forefront now."
Curtis is proud of the fact that she had 100 percent graduation rate of all the players who stayed four years in her program. She's also proud of how many of her former players went on to do great things thanks to the Wake Forest degree they earned.
Adell Harris, who is from High Point, is the chief of staff for men's basketball at Vanderbilt, and Brenda Mock Kirkpatrick was recently the head coach for the women's program at UNC Asheville before resigning last April. Porsche Jones, a Carver High School graduate, has created her own brand for training athletes and has opened a center in Winston-Salem called BOND (Building on New Development) where she's honored her grandparents Robert A. Scales and Dr. Manderline Scales.
"There are so many of my players who have excelled in life and that's the most gratifying," Curtis said.
After being let go at Wake Forest, the determined Curtis reinvented herself twice. She first landed in TV as a top women's basketball analyst then worked 11 years at the ACC as the supervisor of women's basketball officials.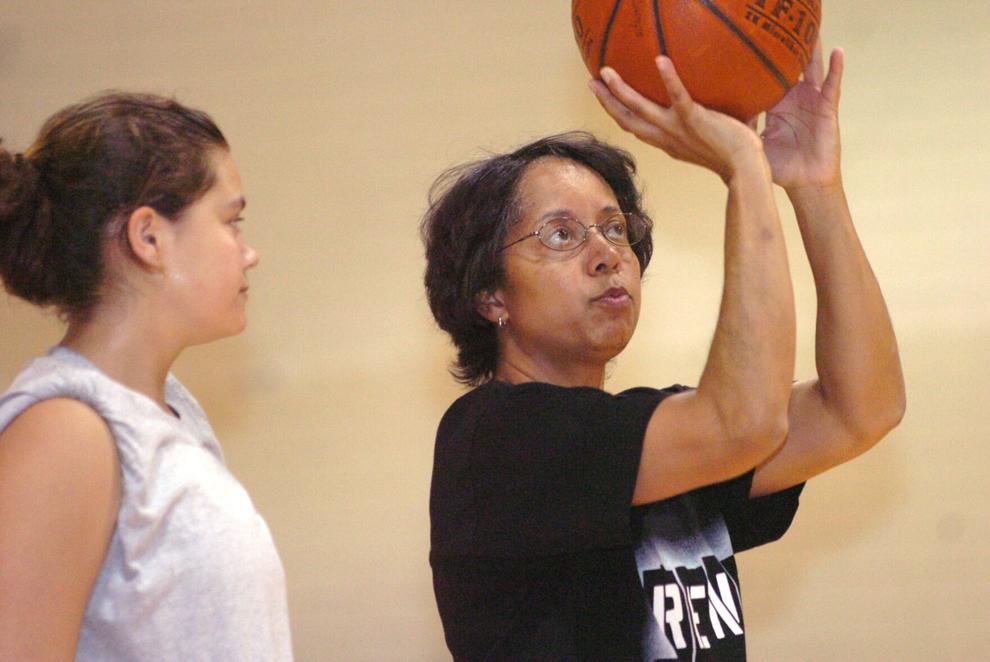 In 2014 she had her biggest battle, however, and that was with cancer.
"It was stage 4 endometrial cancer and it ended up spreading to my lungs eventually," Curtis said. "I had to go through two surgeries but I've been in remission and there have been no signs of it coming back."
Curtis said that the ACC couldn't have been more understanding during that long process while she was undergoing treatments and undergoing surgery.
"I can't say enough about how the ACC and how Nora Lynn Finch allowed me to continue to work when I was healthy enough," Curtis said.
Curtis said she's flattered that Wake Forest is recognizing her achievement. While Curtis was the only ACC Black head women's coach for a long time, now there are three: Kara Lawson (Duke), Tina Thompson (Virginia) and Niele Ivey (Notre Dame).
"That's progress," Curtis said.