A few days after Wake Forest's final football game of 2020, a 42-28 loss to Wisconsin in Charlotte in the Duke's Mayo Bowl, Coach Dave Clawson talked about a wide range of topics.
He's had several days to unwind with his family, but he also started to peek ahead to spring football and to this fall.
Clawson, who will be in his eighth season at Wake Forest, didn't like how the season ended with a three straight losses and a 4-5 record.
Here's a question-and-answer session with Clawson discussing his program, which has gone to a bowl game for five straight seasons.
How do you look back on the season, and is it more relief than anything that it's finally all wrapped up?
A: I've talked to other head coaches about this, but the end of every season you are tired and exhausted because of the hours, and the ups and downs and just the emotional anxiety of week to week and what you go through. It was certainly compounded this year, but the season always ends in an unfulfilling way unless you win the national championship. Certainly finishing with a loss the way we ended in that game, it takes me a while to get over that and I'm not over that yet. When you look back as a whole I think I take a lot of pride in how we started the year and finished the year and we played our fifth consecutive bowl game….The season was just so disjointed in so many ways.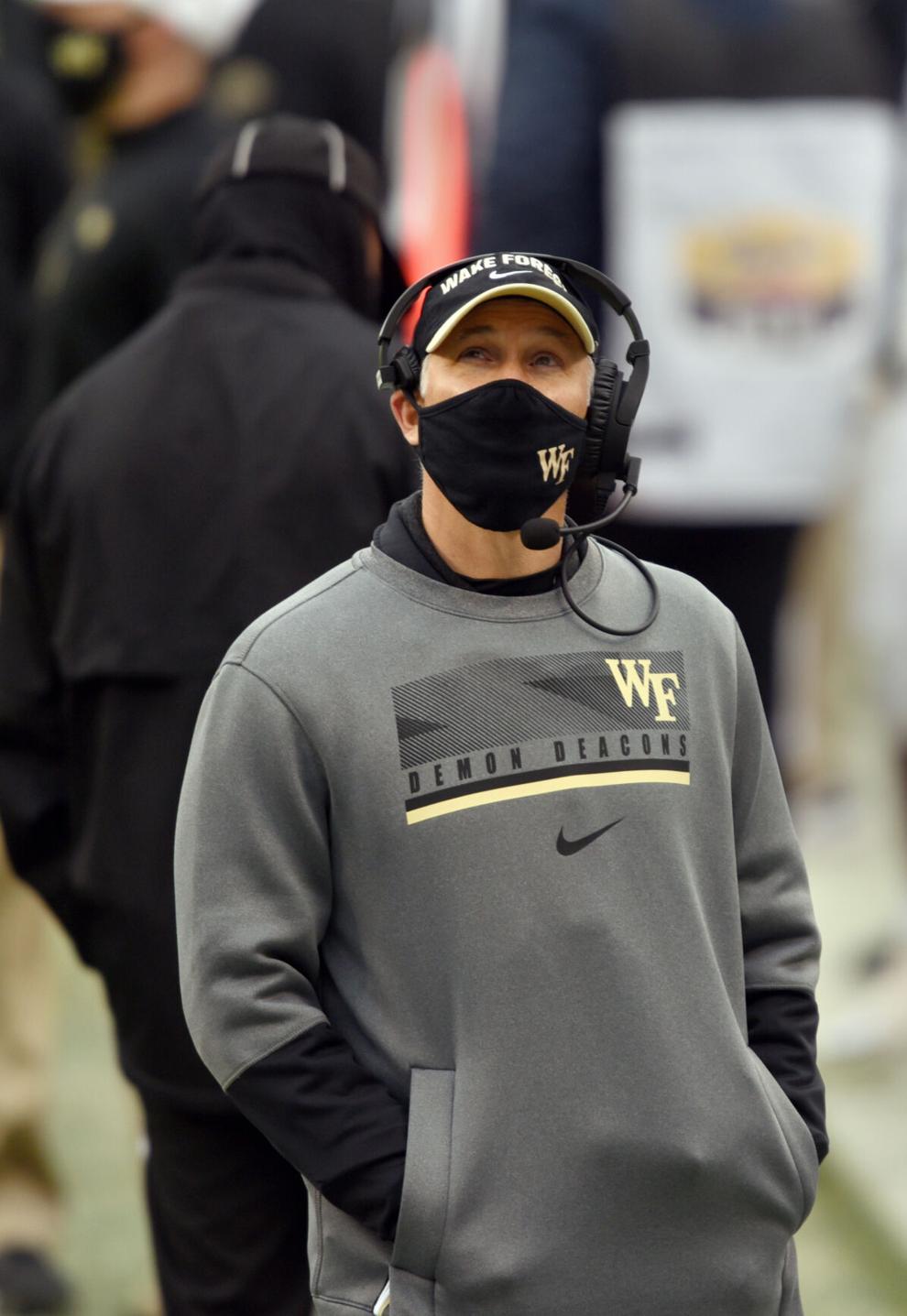 Is there anything about the process or the way things played out during COVID-19 that you would have switched from a Wake Forest perspective or ACC perspective?
A: A lot of these things were out of control, but I wish we would have brought our players back earlier (in the summer). We are a developmental program, and I say that again and again. We become a football program and a team in the spring in the weight room and in practice, especially in a season where we graduated so many of our players. We were never as strong or physically conditioned as we normally are. The other logistics that would have helped us is have all the players in single rooms, but when this (pandemic) started we didn't know what contact tracing was going to look like or what the CDC was going to recommend. We don't have an athletic dorm or athletic cafeteria, and our athletes are treated like every student in the classes they take, the dining facilities, but in a year with COVID and contact tracing, if our players may have had single rooms we might not have had to stop. Now, we didn't know that in June or July, and that's nobody's fault. We had seven or eight players contract COVID, and that put us down 27 or 28 players because of the contact tracing.
What plans are in place for spring football practice?
A: The (dates) are all very tentative right now. I start out every year with a yearly calendar, and that's shot to hell now. The one thing is we got in so many practices this year and so usually I like to start spring practice early and be done early. I think this year I'm going to delay it. I also don't know what COVID is going to look like in February and March. I usually like to spread out our spring practice over like five weeks. The concern now, after going through a season, is if we have our team at full strength and can practice and we are COVID-free, I may not spread out the practices as much, and we'll just do it in three weeks. Let's not take a chance that we have a positive test and contact tracing and now we have to start and stop again. It was challenging to keep our players to follow protocols when we had games to look forward to, but it's going to be even more challenging in the spring.
Has there been any movement from the NCAA to allow college football teams to scrimmage other programs in the spring?
A: Every now and then it's been brought up, but I think during COVID we are going to create our own bubble and let's not risk going into another program's bubble that we have no control over.
What's the biggest obstacle going into spring practices, and what are you most excited about?
A: Every year and every team has a new challenge. And heading into this (past) season we were going to have nine new starters on offense and I thought I had an older, veteran defense coming back. But that older, veteran defense was never healthy…. Now I come back with that same optimism that we were going to have 11 seniors in their last season of eligibility coming back again except for Boogie Basham. So people talk about recruiting rankings but we'll have 10 four or five grad transfers coming back and none of them had to change their address. You add these 10 men who are 23 or 24 years old, and I can't wait. I'm probably as excited about this football team than I've ever been but that's not to say we don't have challenges or holes.
Have you counted up how many players will actually be there for spring practices?
A: We are going to be well over 100 players for spring. This is going to be a lot of fun and just our depth, our ability to practice and the amount of reps we are going to be able to give people. There are always going to be guys going into the portal and all that, but what a narrative where you have these 10 players that choose to spend a fifth or a sixth year at Wake Forest. What a great building block for our 2021 team.
What do you see from the eight freshman early enrollees who will go through spring practice?
A: We have a quarterback coming in, three offensive linemen coming in and we have a kicker and a linebacker, defensive end and a safety. Those guys have the ability to add to our depth, to compete and if we can get 15 practices in with them there's a lot of positive things that can happen over the next two or three months.
What's your macro-level project for the program going into this season?
A: I'm doing that now and this is my folder here and I'm reviewing the season with injuries and the missed games that we had. Where did we finish statistically in the ACC? Where are the areas that we clearly have to improve? The one thing is we didn't make a defensive improvement that I expected. Now, there's certainly reasons for that and I expected to have Luke Masterson and Nasir Greer out there but didn't have them for a majority of the season. We didn't have our top five safeties for the majority of the season but even without them our defensive performance was uneven. When we were good, we were really good, but when we were bad, we were really bad…. So you go back and analyze what you can do to get better.
Where do you project the quarterback room to be heading into 2021?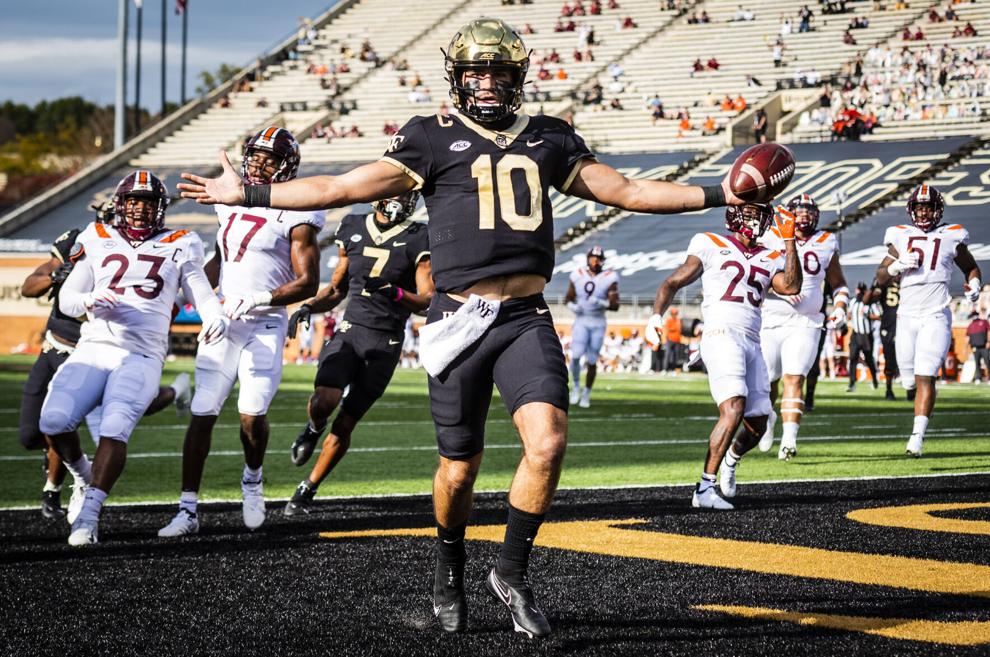 A: Overall Sam (Hartman) had a really good year. It's just really unfortunate that Sam had one interception (in the regular season) then had four interceptions in 12 plays (in the loss to Wisconsin). We want to run a football program that's always internally competitive. I don't want anybody in the quarterback room or any position to think that what they do doesn't matter. Certainly Sam will come in spring as the No. 1 quarterback, and I think he had a really good year and overall played really well. But we certainly want Michael Kern and Mitch Griffis and Santino Marucci to come in and compete and try to push him and try to press him. Sam's job is to keep the job and it's those guys jobs to push him and if Sam gets hurt they are ready to go.
Have you had the chance to catch up with Sam after the loss to Wisconsin?
A: I've texted with him and went back and forth a lot. Hey, the sun came up, you had a good year, don't lose sight of the season. He's hard on himself and that's a positive trait. It's competitive football and good quarterbacks have had bad games. I certainly was worried about his mental state and blaming himself, but, hey, he didn't play well and he knows that. I didn't have to tell him that, and hopefully that becomes fuel and motivation to become better.
Hartman will be a redshirt sophomore again next year with 22 games of experience. How valuable is that?
A: I think it's great this year, too, that we had a lot of games where we were able to get Kearns and Mitch in there, and those guys got so many practice reps. Again, it was hard for our team to be there six months and play nine games. The benefit was how much practice we did get and how many reps our young players got.
With Kenneth Walker in the transfer portal and committing to Michigan State, what will the running backs position look like?
A: When a guy goes into the transfer portal I never think they are coming back other than Kendall Hinton. Kendall was a complete unique situation. Almost every player who opted out went into the portal. That was a warning sign that they were leaving when they opted out. I thought Justice Ellison played really well. The Louisville game he played hard and in the Wisconsin game he played and he's a competitor and works hard at it. That's one of the silver linings of the pandemic and when Ken opted out we were able to get Justice a ton of work and he was ready to play. We are also excited about Quinton Cooley and Ahmanti Marshall as well.
How do you feel about the transfer portal and what it's used for?
A: The joke in the ACC room is that sometimes we call it almost like the transfer toilet. There are players that go in there, and you never see or hear from them again. This whole idea there's a portal and a one-time transfer (rule) and isn't this freedom great? But you are still only allowed to have 85 scholarships, and you can still sign only 25 players a year. So you have all these players going in there thinking they can go anywhere and play. There are still scholarship limits…. A lot of those players go into the portal not being informed of the national dynamics of that portal, that there are 65 Power Five programs who have 85 scholarships and they can sign only 25 players a year. And signing a transfer counts toward your 25 a year.
Nick Andersen, a walk-on freshman safety, is getting a scholarship this spring. Will you do a ceremony in front of the team?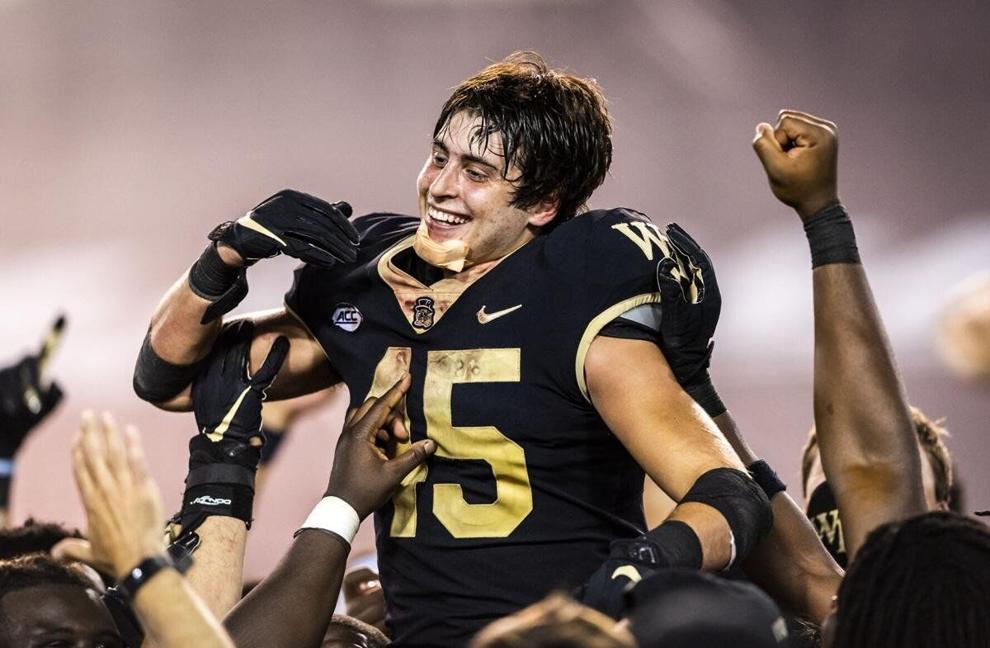 A: I don't do that. He'll go on scholarship this spring. I don't do (the big production) of getting on scholarship because as good as you make that player feel who gets it, sometimes some of the players in a similar position who don't get it, you make them feel bad. To me, if I can bring a player into my office and get his parents on speaker phone or Zoom and share with them that their son, who they have raised and has worked very hard, has earned a scholarship. The joy on that players face and the joy on the parents face, that's enough for me.
Will Wake Forest coaches be looking into the transfer portal?
A: Yeah, we are always looking. Anytime a player goes into the portal we have a system that evaluates them. And if we think there's a player that can make us better and fit our program, we'll look. It's not as easy here as 'we like the film.' Why are they leaving? What does their transcript look like? How many credits will transfer? Can we get him into grad school? By the time you go through that checklist, the list gets really small.
With the 2021 recruiting class, how many more players are you looking at?
A: With Ken leaving, we'd have a spot open at running back if we can find one. There are certain positions you never pass on. We'll look at who is out there and is this somebody that fits our program? If not, we are just not going to fill spot because we have a scholarship open. That's one of the good things about having all those fifth and sixth guys return. We don't have depth issues so we're looking to sign quality over quantity. And part of that is we don't over sign, so we don't have 90 players on scholarship and hope and pray that five guys leave.
Just how much did Jordan Jarry, your director of football operations, help you during this COVID-19 season?

A: Jordan's office and desk is right next to mine, and I love that but he probably hates it. There are certain people you hire and you give them a job description and they do their job. He's one of those people who does his job and then he finds a hundred other things that need to be done that aren't in his job description and he does them. That was never more evident during COVID and the number of things that popped up and that we had to do that we didn't anticipate. And his ability to identify things before they became problems was terrific. He fixes things before they become problems and he's smart, bright, ethical and he's become a really great friend. There's nobody else I would have rather had in the country as our director of football operations to get us through the pandemic. He was incredible. And just put it this way, Wake Forest football could have made it through the 2020 season without Dave Clawson, but could not have made it through the 2020 season without Jordan Jarry.