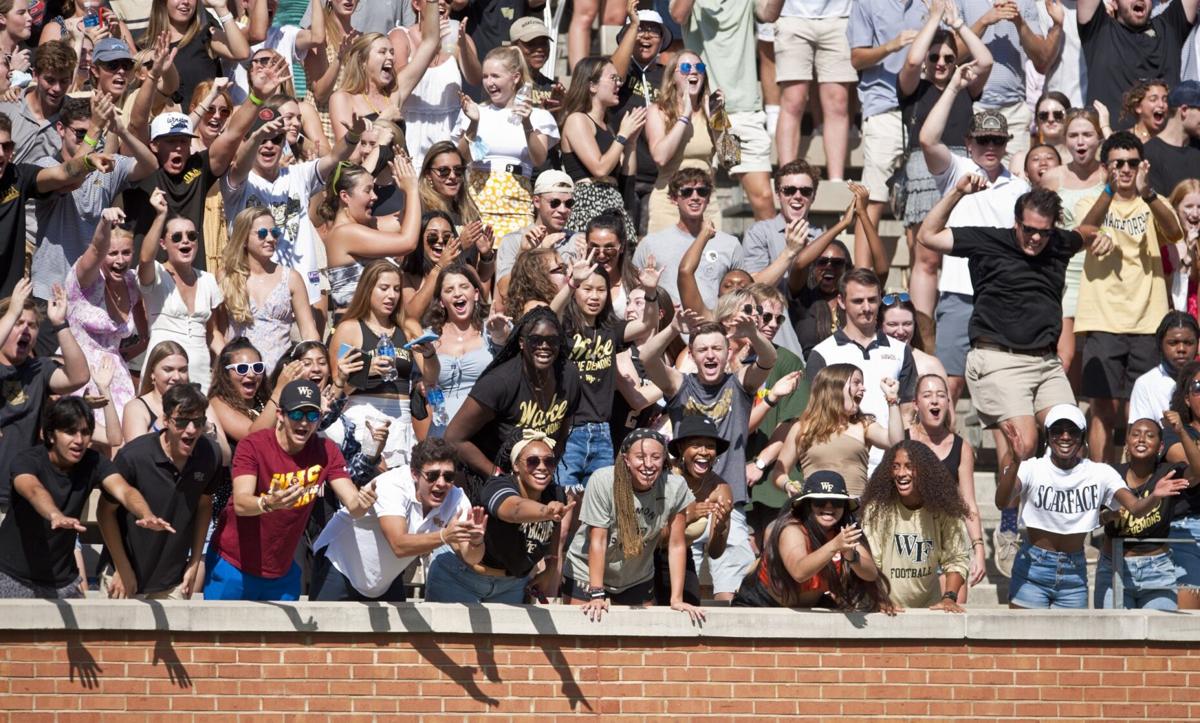 Times are good in Winston-Salem.
The Wake Forest football team has won its first four games, the program's fourth 4-0 record in six seasons. The Demon Deacons are also have national folks looking this way – they're ranked No. 24 in the nation.
The question now is how far these Deacons can go.
A quick look at their remaining schedule, ranking the matchups from the most difficult to the most winnable.
Boston College
When: Nov. 27, Chestnut Hill, Mass.
So far: 51-0 win vs. Colgate; 45-28 win at Massachusetts; 28-3 win at Temple; 41-34 OT win vs. Missouri.
Thought: The Eagles, with Dennis Grosel at quarterback behind the injured Phil Jurkovec, are coming off an overtime win against a Southeastern Conference opponent, their first over a team from that league since 2001. Their merit will be tested over the next two weeks with a game at Clemson and a home game against N.C. State. But Boston College's trend line is matching Wake Forest's right now, although the Eagles haven't been 4-0 since 2007.
Clemson
When: Nov. 20, Clemson, S.C.
So far: 10-3 loss to Georgia; 49-3 win vs. South Carolina State; 14-8 win vs. Georgia Tech; 27-21 2OT loss at N.C. State.
Thought: The Tigers are falling apart right now with injuries on the defense, including lineman Bryan Bresee being lost for the season at State and linebacker James Skalski also injured Saturday, and to leading rusher Will Shipley. The Tigers, now with questions about D.J. Uiagalelei's leadership at quarterback and the offense last in the ACC at 295.5 yards per game, are failing to match their standard of contending for the College Football Playoff, which they've made for six seasons in a row. But the Deacons haven't beaten Clemson since 2008, and they haven't won at Clemson since 1998.
N.C. State
When: Nov. 13, Winston-Salem
So far: 45-0 win vs. South Florida; 24-10 loss at Mississippi State; 45-7 win vs. Furman; 27-21 2OT win vs. Clemson.
Thought: The Wolfpack's league-leading defense held Clemson to 214 yards. But the Deacons have had N.C. State's number, winning three of the last four matchups.
Army
When: Oct. 23 in West Point, N.Y.
So far: 43-10 win vs. Georgia State; 38-35 win vs. Western Kentucky; 52-21 win vs. Connecticut; 23-10 win vs. Miami (Ohio)
Thought: This is such a wild-card game. The Deacons go on the road after an off week to take on a military school and their option offense. Army's strength of schedule is ranked 27th in the country, and ESPN's football power index projects nine wins for the Black Knights. This is not one to chalk up as an easy win.
Louisville
When: Saturday, Winston-Salem
So far: 43-24 loss to Mississippi; 30-3 win vs. Eastern Kentucky; 42-35 win vs. Central Florida; 31-23 win at Florida State.
Thought: The Cardinals at least have one signature win, against a Central Florida team flirting with top-25 consideration. Wake Forest's receivers and efficiency on third down and the number of turnovers forced by the defense have Cardinals coach Scott Satterfield's attention.
North Carolina
When: Nov. 6 in Chapel Hill
So far: 17-10 loss to Virginia Tech; 59-17 win vs. Georgia State; 59-39 win vs. Virginia; 45-22 loss to Georgia Tech
Thought: Since the return of Mack Brown, Wake Forest and UNC have won their home games against each other (the Deacons winning in 2019, and the Tar Heels taking the 2020 matchup). But Carolina's offensive line can't keep former Heisman Trophy candidate Sam Howell protected, and in turn he has fumbled four times and thrown four interceptions.
Syracuse
When: Oct. 9 in Syracuse, N.Y.
So far: 29-9 win at Ohio; 17-7 loss vs. Rutgers; 62-24 loss vs. Albany; 24-21 win vs. Liberty
Thought: Syracuse has won three conference games in the last two seasons. One of those victories was hosting Wake Forest in 2019. The one thing the Orange has going for it right now is it beat a Liberty team with a potentially high first-round pick Saturday.
Duke
When: Oct. 30, Winston-Salem
So far: 31-28 loss at Charlotte; 45-17 win at N.C. A&T; 30-23 win vs. Northwestern; 52-33 win vs. Kansas.
Thought: This is the most winnable game the Deacons have left. Although the firepower exhibited by the Blue Devils last week was a surprising revelation, it came against a floundering program, Kansas. Upcoming games against UNC, Georgia Tech and Virginia will help define Duke before it meets the Deacons.