They are the unsung stars of any college football program, but maybe even more so this season during such a tumultuous time caused by COVID-19.
The handful of walk-ons and a few young scholarship players who fill up the Wake Forest scout team make sure the first- and second-string Deacons get a full view of what each opponent is expected to do on the field.
The rewards are few and far between. In a normal year, they can hang out with teammates during non-football days and be a big part of campus life.
Not during COVID-19, however.
"I like to spend time with the guys on the weekends and we'd watch games during bye weeks or do something together on Sundays after games," said junior Goran Jovanovic, an offensive lineman. "But we can't do that this year, and it's kind of changed as to how we interact with our teammates. Now, we can only really see them during practices."
When Wake Forest players reported to campus in July, several rules were in place inside the program to protect players from each other and the virus. Players were not allowed to go home on weekends, meaning they've been on campus for nearly six months straight.
Because more players could dress for games and be on the sidelines since they were already in the team's bubble, they could at least enjoy the games more than usual. Because three defensive line starters were out in Saturday's loss to Louisville, defensive lineman Connor Hebbeler got on the field for several plays.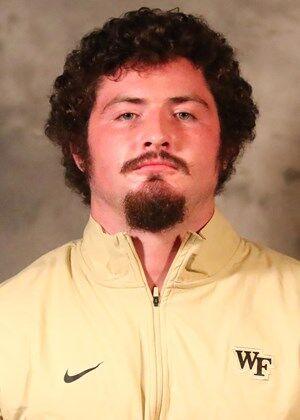 Hebbeler also has played tight end and has competed in goal-line situations.
"It's definitely a difference," Jovanovic said of this season's scout team compared to his previous three seasons.
Coach Dave Clawson heaped praise on the entire scout team, about 20 players, and their dedication during a season that has had six weekends off in 14 weeks.
"They are so valuable to our program," Clawson said. "They don't have Saturdays to look forward to. So for those guys to hang in here and be a part of the team and live their commitment, and it's easy to say in June but harder to live it in December but they (the scout team) is doing it and I'm so proud of them. ...
"Twenty years from now there will be guys on this team who are incredibly successful and they are going to look back and say, 'I learned what commitment meant and what sacrifice meant during that 2020 pandemic,'" Clawson said. "They'll say 'it wasn't easy and I thought about quitting or opting out or whatever but I'm glad I did that.' It's college football and we keep score, but if we are doing our jobs correctly our players get more from it than just football."
Jovanovic, who will graduate with a degree in engineering and computer science in May, says he takes pride in making sure he's doing his job on a daily basis. As an offensive lineman, he learns the opponents' plays and tendencies so the Wake Forest defense can go against him each week.
"We are sort of unspoken heroes, but without our look in practice it would be hard for our defense to know what's coming on Saturdays," Jovanovic said.
The players have been isolated from the rest of the student body this fall.
"It's pretty important, and I make sure myself and our other scout team O-linemen are in good spirits," Jovanovic said, "because some weeks it's tough because you keep doing it and keep doing it but you have to bring the energy each day."
Jaquarii Robeson, an All-ACC candidate at wide receiver, has noticed the scout team's hard work.
"I'm sure it's been hard," Roberson said. "I know when I was freshmen (on the scout team) I wanted to go home to get away and they've been stuck here a long time so I know it's tough on them. But they are putting the team first and it's not easy dealing with the COVID protocols and all of that but they are still here."
Offensive coordinator Warren Ruggiero says walk-ons are a critical part of why the Deacons, who will play Florida State at home Saturday, have been to four straight bowl games. Ruggiero has seen the development of Jovanovic since he arrived as a preferred walk-on from Ashburn, Va.
"He can play every position on our offensive line and has done anything we have asked of him," Ruggiero said. "He is incredibly unselfish and is an amazing teammate. It has been our pleasure to have him with us, and I am sure he will be very successful in life beyond football."
Jovanovic's real life will begin in May after graduation. He hopes to land a job in his field but says he'll miss everything about Wake Forest.
"I'm looking into going into construction management or project engineering," Jovanovic said. "I've got to find something after graduation, so that's kind of the goal after May comes around."
Jovanovic has played in seven games in his career, mostly in mop-up duties in blowouts.
"There are so many memories that I'll take away and those times I did get on the field stand out," he said. "Those times that I did get out there and play are one of the most valuable things a scout player can do."
5 difference makers who made headlines in and around Winston-Salem in 2020