As the 14 seniors came together for a picture with Coach Dave Clawson of Wake Forest, they started to walk slowly off the field as the school fight song blared from the public address speakers.
They seemed to want the moment to last a little longer, since their proper senior day was squashed with Saturday's cancellation of the Florida State game at Truist Field.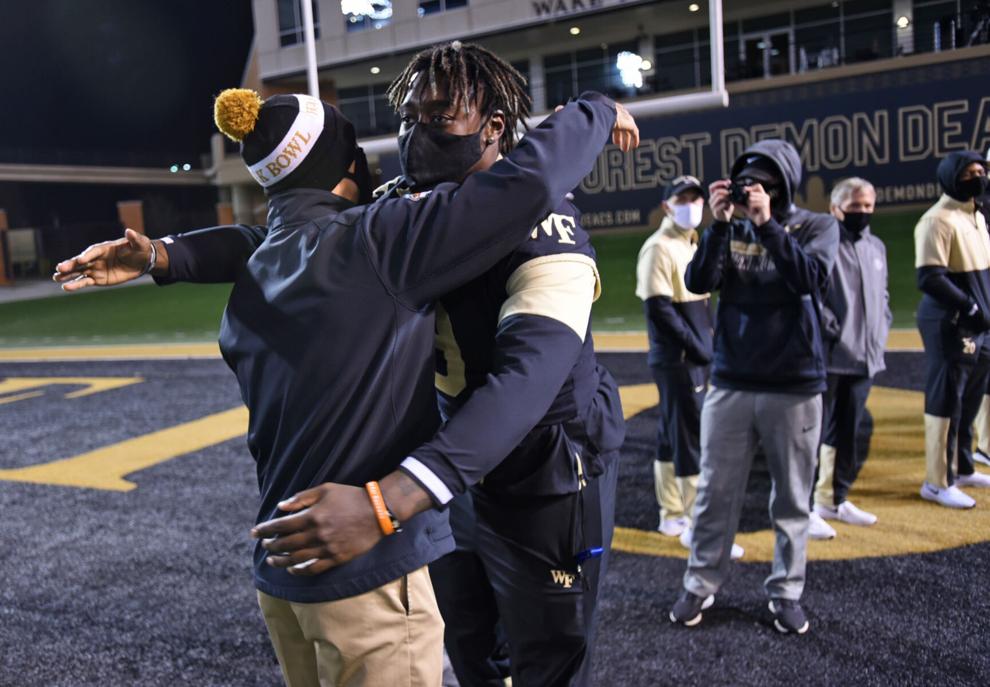 It wasn't a normal way to recognize one of the best senior classes in school history, but in the season 2020, it was the best they could do.
"Just another way of doing things," Clawson said on Friday night.
On Friday afternoon once Florida State had pulled the plug on the game because of a positive COVID-19 test in its program, the school decided to put together something to honor a class that has 34 wins over the last five seasons and have gone to four bowl games in a row. This senior class also won three of those bowl games and last year claimed the Big Four Championship by beating N.C. State, North Carolina and Duke in the same season.
While only a few of the senior parents were able to make it for the ceremony, maybe what was more satisfying was the seniors were surrounded by their fellow teammates. With all the isolation that's gone on this season in trying to keep COVID-19 away, any team function is a good function.
Friday night was one of those functions.
"I think it was great that we did something and in some ways these guys might remember their senior day more than other classes because of how unique it was and how different it was," Clawson said.
None of the seniors were made available to journalists after the ceremony.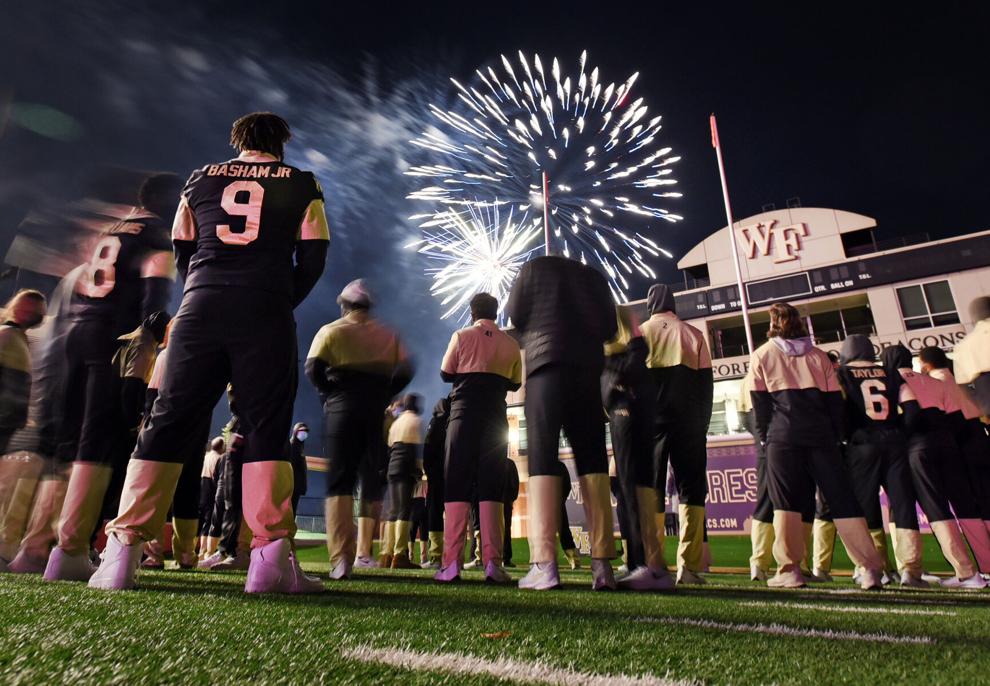 After a video board tribute was played with each senior talking about their experience in the program, each senior was then introduced as the smoke machine rolled on. Each player ran through their teammates who were lined up on both sides as they cheered each one of them.
The ceremony didn't last long on a cold night. It concluded with a short fireworks show that rang out pretty loudly because of the emptiness of the stadium.
Clawson said they tried to make the best of it, something they've had to do all season long.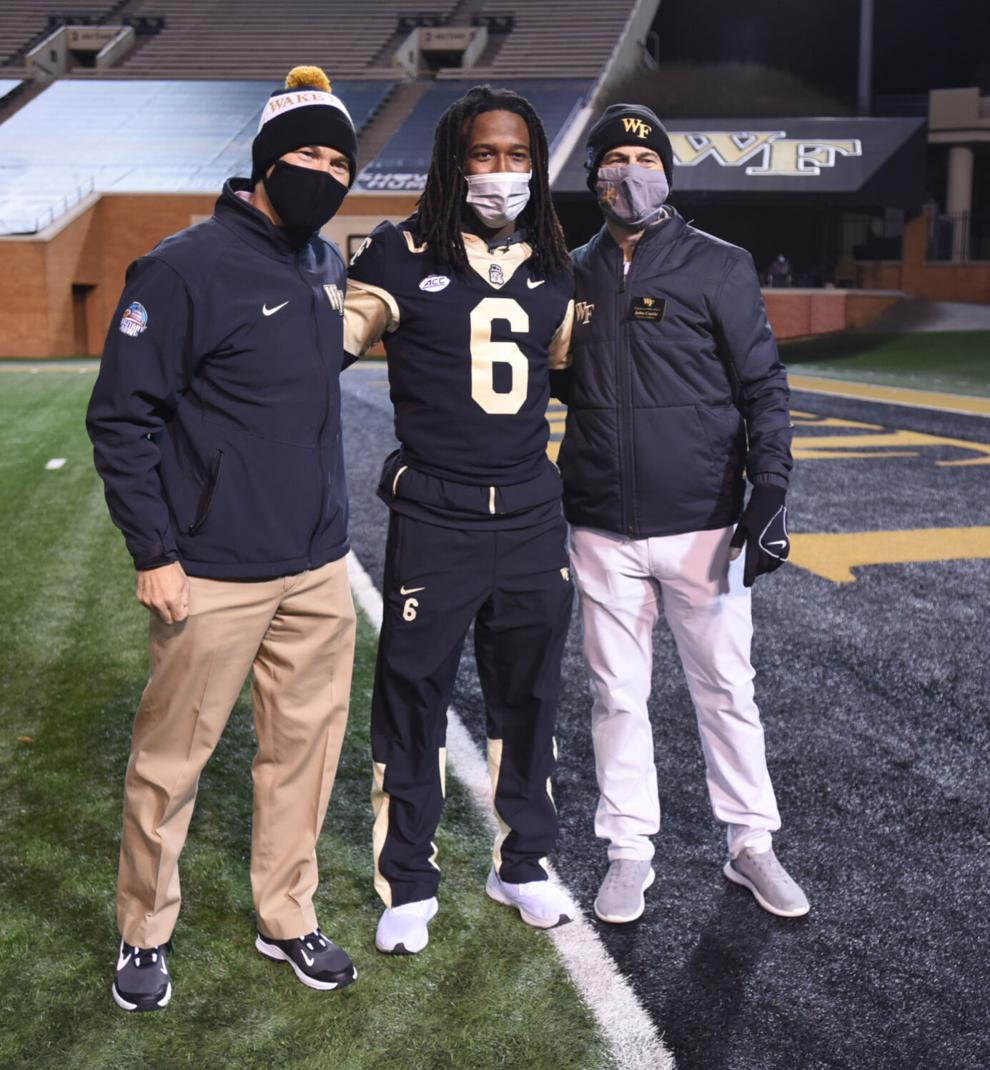 While it was about the best way to send out the seniors, Clawson couldn't help but relay what the team was feeling on Friday afternoon when they were told there would be no game.
Clawson said they were midway through their walk-through when he was told Florida State wasn't coming.
"Our director of football operations Jordan Jarry came up to me and said they weren't coming," Clawson said. "It was like 'no way' and there was no easy way to say it (to his team) and I ripped the band-aide off and I just told them."
But the senior night at least gave the Deacons some positive vibes before they went back to their hotels and their single rooms. They've been staying off campus for a few days and will stay there until the bowl game.
When Clawson was asked if his players had anything left with all the emotional tugs this season has provided, he didn't pull any punches.
"It's the roll of the dice every single week this year," Clawson said. "There's not a week that's gone by and we wondered about that dark cloud and if it's raining and you wouldn't be able to play."
The only certainly now is that the Deacons, who won't get to go home for Christmas, only have a few days left together. They've been together since July and none of them have been home at all as they've tried to keep the football bubble from popping.
"We're going to see it through and we can take pride that we've done that," Clawson said. "We know there is a possibility of one more game and that's it."
5 difference makers who made headlines in and around Winston-Salem in 2020