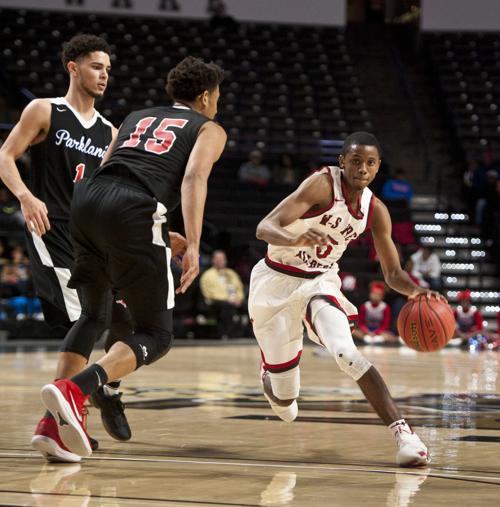 Daivien Williamson remembers standing at the back of the steps after an open gym at Winston-Salem Prep, listening to a pitch.
Williamson, then a star for the Phoenix, spent about an hour there with his mom and Steve Forbes, then the men's basketball coach of East Tennessee State.
Forbes talked about the importance of education and a few other components of playing college basketball before eventually bringing up the Buccaneers' roster situation. ETSU had a slew of seniors, setting the soon-to-graduate Williamson up to play early as he joined Forbes in Johnson City, Tenn.
"Any high school recruit wants to hear something like that – they have the opportunity to play," Williamson said in a phone interview. "You've got to understand nothing is handed to you, though, but hearing you have the opportunity to come in and make your mark, that's something you were looking forward to working toward.
"That was something that really pulled me in."
Two years and 50 starts later, Williamson is back in Winston-Salem with Forbes again. The guard, now a junior, has joined the Deacons with their first-year coach. Williamson is the de facto Forbes translator for a team still learning its coach with roughly a month left before the season starts.
"He's been kind of like that player's coach," Isaiah Mucius said last week, "the guy who bridges that gap between us and Forbes, and us understanding how Forbes runs things."
It's a role Williamson has relished, along with the responsibility to take care of the ball and have friendly competitions with fellow point guard Jahcobi Neath.
He'll get to play immediately as a transfer, the end result of a long waiver process he said was nerve-wracking. He watched other players receive immediate eligibility much quicker, including teammate and fellow Winston-Salem native Isaiah Wilkins, and prepping for the idea to be a practice player all season.
"I was going to take this year and just grow as a player, get my grades right, and just continue to grow on and off the court," Williamson said. "I was going to make the most of it even if I didn't get it."
Forbes' development plan for Williamson drew the guard to ETSU. The execution of that plan made the decision to follow Forbes to Wake Forest easy.
Williamson said that Forbes loved the guard's ability to score coming out of high school. He knew he needed to improve defensively, but Forbes continued to stress that Williamson play his style.
"He likes me to pick up the ball 94 feet," Williamson said. "One thing he did like about me was my speed, my explosion in the lane and stuff like that. He even gets with me sometimes when he feels like I'm not aggressive and not putting enough pressure on the defense."
Williamson felt that shined through the first time during a freshman-year game at Illinois. Forbes put Williamson in ETSU's starting lineup. The guard hit eight of nine shots for 19 points.
He went on to start 16 games in 2018-19, then started all 34 games last year for a 30-4 ETSU program that won the Southern Conference and earned a berth in the NCAA Tournament that was undercut by COVID-19.
To Williamson, it's pretty clear that his career with Forbes has panned out.
"His energy matches mine," Williamson said. "He's really passionate, really fiery, and we love to win. And I think he's a coach that really gets the best out of his players, and he's definitely done that my first two years at ETSU.
"I know for sure he'll do the same here at Wake Forest."