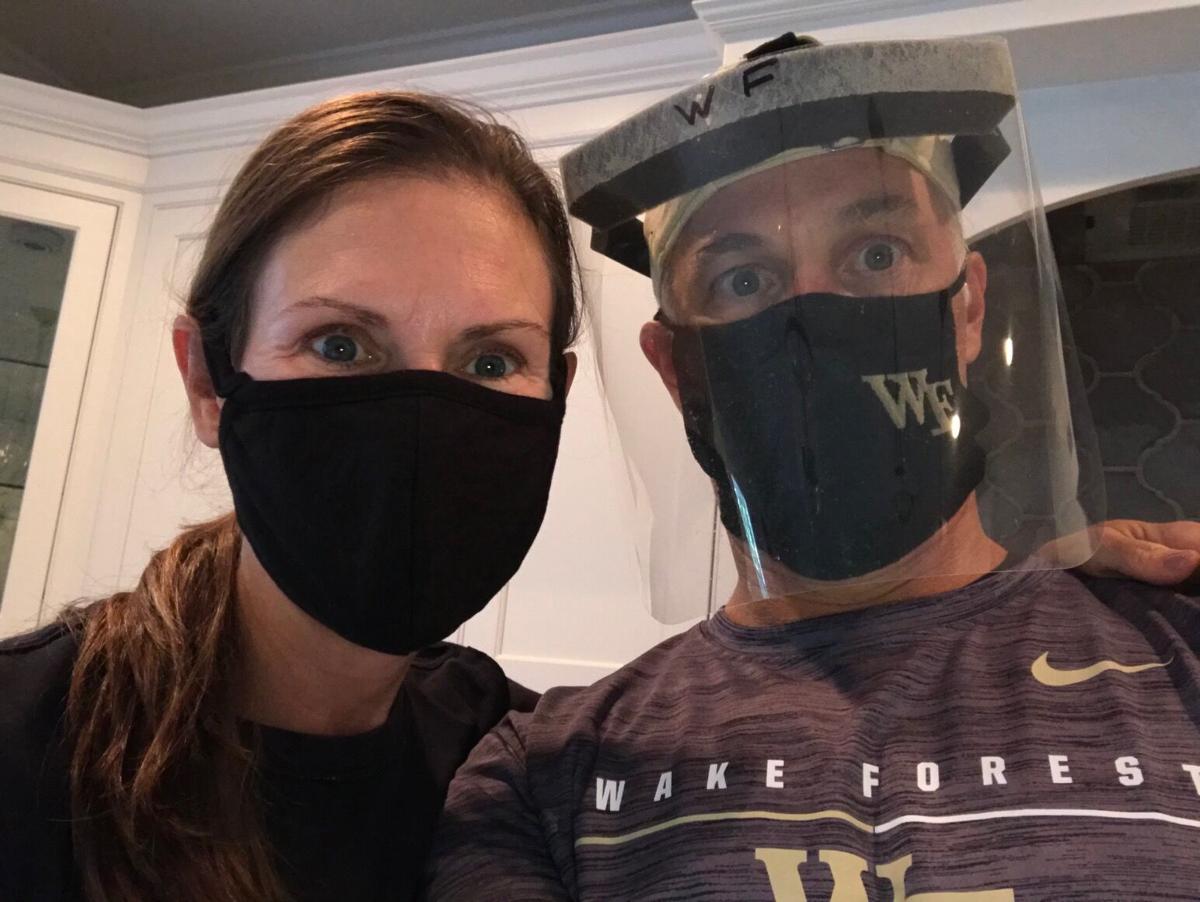 When Dave Clawson finally winds down after putting in long days as Wake Forest's head football coach, he pulls into his driveway and finds a sense of normalcy.
"I get to see my family," Clawson says, "and that's really a great part of my day — especially now. Every day when I park the car and go into the kitchen, they are there now and it's great."
It wasn't been that way for the Clawsons for all of 2020.
Families all over the world have been forced to deal with the pandemic in myriad ways, and the Clawsons are no different. Except that Dave Clawson is the CEO of a college football program.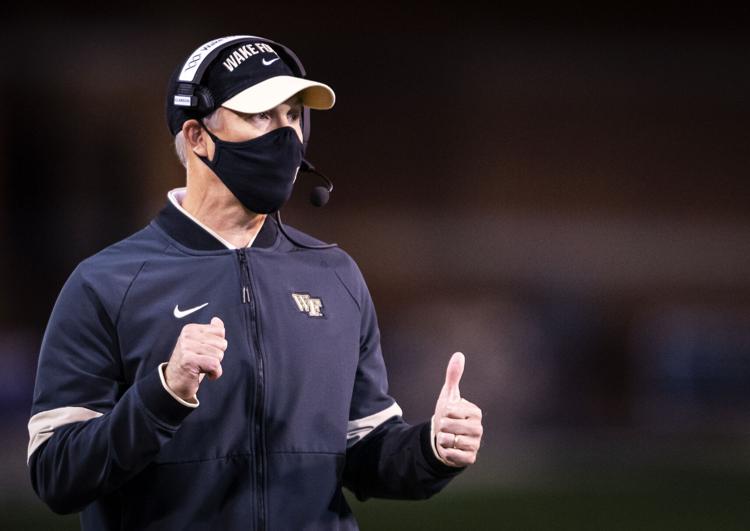 "It's been a challenge," he says, "but I don't second-guess doing this at all. I'm the head coach at Wake Forest and I have an obligation to our school, to our players and their families and I believe our players are better off here with us because they are getting an education and they are getting tested three times a week."
But Clawson's first obligation, of course, is to his family — to his wife, Catherine, and to daughter Courtney and son Eric. Catherine is a breast-cancer survivor, but her low white-blood-cell count puts her at higher risk to contract the coronavirus. So to make it all work, this family managed the first few months of the pandemic together before having to make an uncomfortable decision.
"We had to do it for the safety of Catherine," Clawson says.
The best way for Clawson to focus on his job and at the same time keep his wife and children safe from the virus meant that, for a few months of 2020, even a close family would have to create its own distance.
Early 'silver linings'
Once the pandemic hit and the Clawsons realized everything would be shut down, they headed for their beach house. They were all together, keeping Catherine safe, and really didn't come in contact with anybody starting in mid-March.
Clawson says those were special times because, like most families, they made the best of it.
Catherine, who celebrated four years of being cancer-free this year, says the challenges their family has faced pale in comparison to others.
"We are extremely fortunate and blessed, so we can't complain," Catherine says, "and for us there have been some silver linings."
Board games and long walks on the beach wove them even tighter.
"The way we've looked at that early in the pandemic was we were so fortunate to have each other," says Courtney Clawson, a senior at Davidson. "We were staying healthy and keeping each other company for sure."
Dave, who admits to not being much of a cook, stepped up in a big way as the family took turns preparing meals at the beach.
"He actually got a lot better at it, and I would give him the recipe and he'd take care of it," Catherine says.
Clawson says he thinks back often to those days of March, April, May and most of June.
"Early in the pandemic, we were all together the whole day, every day," Clawson says. "And that brought our family closer together. We didn't get on each other's nerves and we got along great."
The NCAA, meanwhile, lifted its moratorium on activities in late May, saying that athletes could begin returning to campuses in early June. And that's when the Clawsons had to come up with their new game plan.
'I don't get to see my wife and family at all?'
Though Clawson worked remotely for a majority of the time from their beach house, the couple was able to celebrate their 23rd wedding anniversary in June. Catherine remembers Dave correcting her a few years ago about their anniversary.
"I had it written on the calendar as our 18th anniversary," she says, "and he looks at it and says, 'You know, it's actually 19 years.' He was right, so he's never missed one."
But then, following the NCAA's and Wake Forest's decisions, the coach realized he would have to get back to Winston-Salem for the return of his players and for July camp.
"I think so much of it was we really didn't know what we were getting into," Clawson says. "There was just so much uncertainty and Catherine and I were extremely cautious, so we just said as soon as I go back with my players (in July), we are going to have to live in different places."
Catherine, Courtney and Eric, a senior at New Garden Friends School in Greensboro where his mother teaches, would remain at the beach.
"I'm very into my job, and one of my main responsibilities is keeping our program healthy and COVID-free," Dave Clawson says. "So I'm pretty intense and wired to begin with and throw in the challenge of managing a team in this COVID season, and now I don't get to see my wife and family at all?"
He returned to Winston-Salem in June and quarantined for two weeks before camp began.
With his family out of the house, Clawson says, he struggled to maintain a balance because he found himself doing more at Wake Forest. Instead of going home when many of the other coaches left campus, Clawson went into his Joe Gibbs mode and stayed longer at his office watching film or going over scouting reports. Gibbs, the former Washington Redskins coach, was famous for sleeping in his office during game weeks.
"There was no balance," Clawson says. "I didn't want to go home because there was nothing to go home to. ...
"During the season you get on that hamster wheel where you pedal and pedal, and there were just no breaks. So I would stay here later and watch more film, because I didn't want to go home to an empty house."
Though they'd decided this was best, the distance weighed on the family.
"It was hard being away from Dad for so long," Courtney says.
FaceTime calls at all hours of the day bridged the gap for the family. Clawson says Courtney called him at least three times a day because she knew his schedule so well. He also heard regularly from Catherine and Eric through much-needed calls, texts and FaceTime.
"Right before a staff meeting around noon, I could count on Courtney face-timing me, and I'd call her on my way home from Wake," Clawson says.
Clawson says he marvels at his wife dealing with all that's been thrown at her since the pandemic started.
"She's fine," Clawson says. "I'm the one that's struggled. I'm way more dependent on her than she is on me."
August arrived, but before Courtney would return to college at Davidson and put the Clawsons under three roofs, another celebration was in order. For the coach's 53rd birthday on Aug. 16, the family went back to its home in Winston-Salem to help Courtney prepare to go back to Davidson, although Clawson moved into a hotel for three days.
"Basically he came over to the house from his hotel room fully masked and said 'hi' to the three of us, then left to go back to his hotel," Catherine says.
And after Courtney left, the Clawsons found another silver lining.
"It's funny, but Eric started calling me a lot once I got back to Davidson," Courtney says. "When I talked to my mom, I said, 'Hey, thanks for making Eric call me.' And she didn't have any idea he was calling, so that tells you how close we had become. Because before the pandemic, we didn't talk as much when I was in school."
Because New Garden offered online classes, Eric could learn, and Catherine could teach remotely as summer turned to fall. But in early November, New Garden said it would welcome students back on its campus, and Eric would be one of them.
Eric and Catherine, though she'd continue to teach remotely, would return to Winston-Salem as the family began to come back together.
But life still wouldn't be normal.
Safe at home
Clawson admits he stopped counting how many COVID-19 tests he has taken. But he makes sure the results are good before he even comes close to interacting with his family. Even then, he's a little skittish.
Now that they are all home under one roof, with Courtney joining them with Davidson's semester over, they wear masks inside the house most of the time. With Eric's school being in-person, there's more of a chance of the virus entering the house.
"I keep the mask on until I know where Eric is because he's in school, so he keeps a mask on all the time," Dave Clawson says. "Last night at dinner, Eric was 6 feet apart from us, and we don't go into his room. And I'll do the same thing when we start playing games again."
When Catherine drives Eric to school, he sits in the back seat wearing a mask and shield.
"It's kind of our normal way of doing things now, so we're used to it," Clawson says. "Whenever we are in the house together now, we are following the guidelines."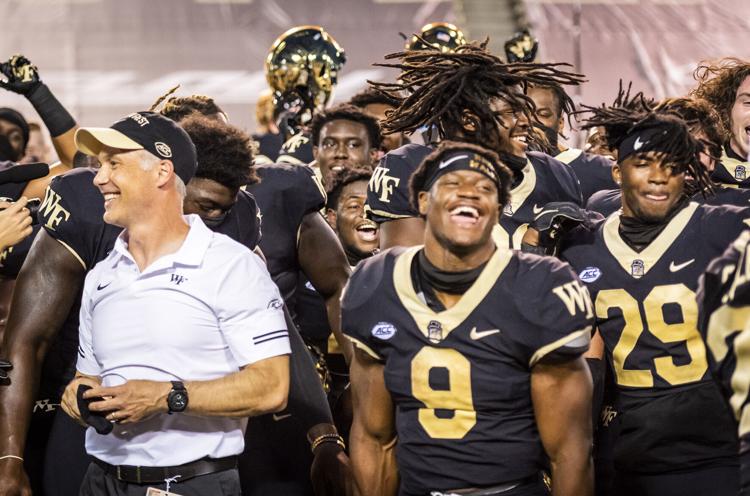 Cases in North Carolina continue to rise, and his own program has had issues of late that caused the cancellation of two games and a major reshuffling of the schedule. Wake Forest is scheduled to visit Louisville on Dec. 12 in its next game. 
"When we start playing games again," Clawson says, "I'll be in the guest bedroom because we don't want to take that chance."
"That's just one of our realities to get through this thing," Catherine adds.
Clawson also has missed his family waiting for him in the back of the room after post-game interviews with journalists.
"At the beginning there were no family members allowed, but Courtney came to a couple of home games later, and Catherine and Eric stayed at the beach," Clawson says. "Usually after every game, Courtney, Catherine and Eric are in the press conference behind you guys and then when I'm done, I give them a hug."
The family also has not been to mass at St. Leo Catholic Church since March, even though St. Leo restarted in-person church in September. The Clawsons, once chosen as family of the year at St. Leo School when Eric was in middle school, would often attend a 5:30 mass on Saturday nights during the off-season, then head out to dinner.
School and church have been a big part of the Clawsons' lives, and he can't wait to go back with his family. But Clawson says he doesn't want to risk being in church, despite St. Leo's protocols, and he's mindful of what he has asked of his football players.
"Courtney and I were talking about it the other day," Clawson says. "I go to mass every week, and I haven't been since March. Part of it was we are telling our team, 'Don't be in large groups, don't be in public gatherings,' so I felt like if I went to mass I was a hypocrite."
'We'll get through it'
Clawson says being away from his family for such an extended time was necessary. He had to do his job at Wake Forest, and he had to make sure his family remained safe.
"The way I approached it is there are so many people during this pandemic who are making huge sacrifices," Clawson says. "If you signed up to be a nurse or health-care worker, you are on the front lines of this thing…. If you signed up to be a coach and especially a head coach, you sign up for everything. This was going to be a six or seven months in our lives where it would be challenging, and we'll get through it."
Getting through to the other side of a pandemic will be different for everybody. Clawson has been intent on keeping his wife away from possible exposure, from the time the virus began to surge in March through today.
Always the optimist, Clawson says he's seeing the other side of the pandemic with vaccines around the corner and a return to normal.
"I really viewed this as six or seven months where it's not going to be easy," he says of quarantining from his family, "but you can do something like this and get through it, and there'll be a backside of this where we will be fine."
5 difference makers who made headlines in and around Winston-Salem in 2020