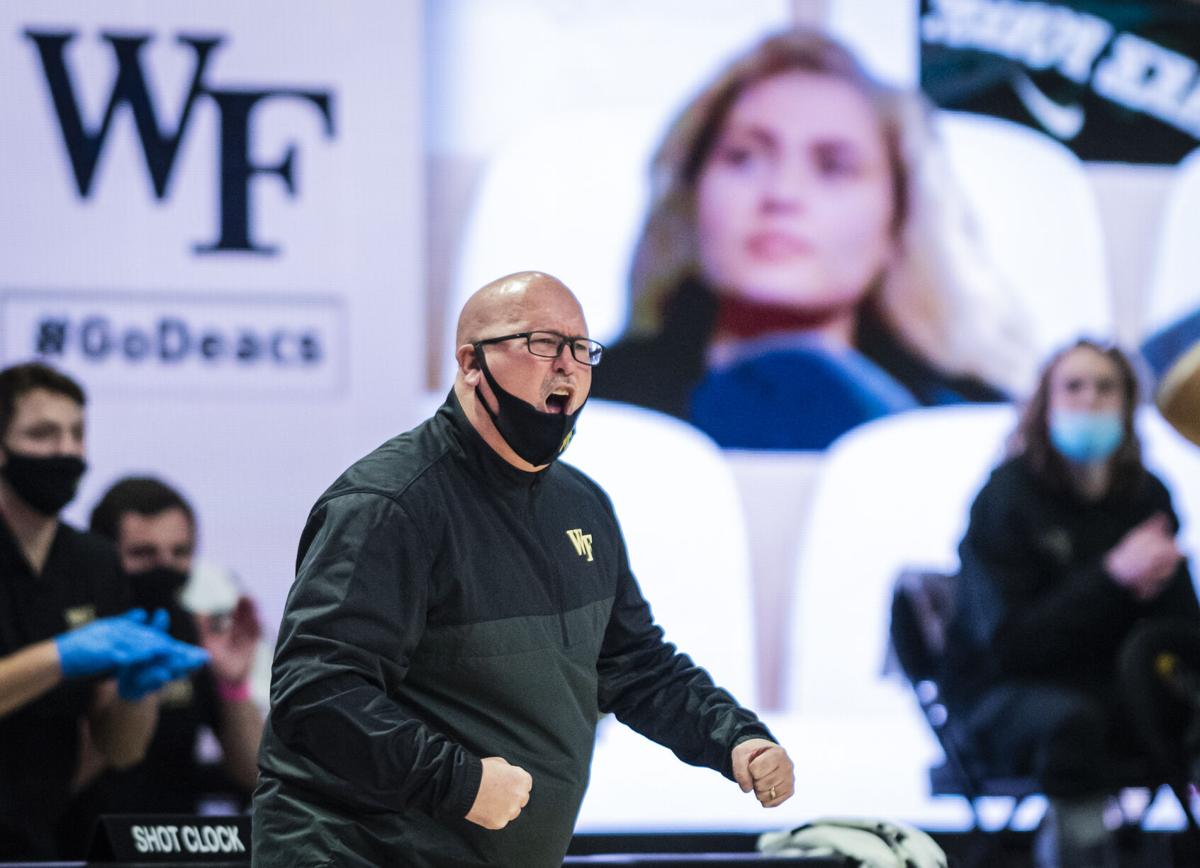 Sunday night will bring a Southern Conference feeling to an ACC basketball matchup in Joel Coliseum.
Wake Forest coach Steve Forbes and his team will square up with No. 20 Virginia Tech, led by Mike Young. The two coached against each other often when Forbes was the head coach of East Tennessee State and Young led the Wofford program.
Three observations ahead of the game:
The best year for Wake Forest to be rebuilding?
Sure, this hasn't not been the best season for a coach to take over a program.
Steve Forbes mentioned a few times, both before and during this season, that the team building that typically takes place in an offseason was stripped down to a minimum because of the pandemic.
But even though the Demon Deacons (0-4 ACC, 3-4 overall) were expected to finish last ACC this season, the league's general lack of separation might make this a more optimal season for Wake Forest to start rebuilding.
Louisville and Virginia are the only two programs without a loss in the ACC. Louisville lost by 30-plus to Wisconsin this season, and Virginia was upset by a hot-shooting San Francisco team in its second game. Both of those were early-season matchups but still surprising blips.
No. 12 Clemson is the highest-ranked conference team in the AP top — joined by No. 16 Louisville, No. 18 Virginia, No. 19 Duke and the Hokies — and lost to the Hokies in Blacksburg. North Carolina and Duke are still figuring themselves out, and an N.C. State team that seemed as if it could maybe become a conference contender has now lost three straight to Clemson, Miami and Florida State. The Seminoles beat the Wolfpack 105-73 Wednesday after going 15 days without a game.
This isn't to say that Wake Forest could find a rhythm and end up in the middle of the table at all. But after starting out hot and playing tight in losses to Virginia and Duke, then coming to within a point against Louisville on Wednesday in a 77-65 defeat, it does feel like the Deacons could catch a win eventually, especially when freshman guard Carter Whitt returns to the floor from after rolling his right ankle in shootaround before the game.
"The ACC is a beast," Wake Forest guard Jonah Antonio said. "Every night you're got to play a good competitor, and we know that.
"But I've been around a lot of programs ... It's just going to take a little time. Hopefully it happens sooner or later, and we can maybe flip the switch, but it's just a matter of time before we get to it."
Welcome home again, Jalen Cone
The Hokies' Young fielded a question this week about Jalen Cone, his sophomore guard from Walkertown. Mainly, it was about the impact he's made for the Hokies (4-1, 10-2) off the bench. Cone has scored at least 18 points in four of the team's last six games, including a 23-point effort in a 73-71 loss to Louisville on Jan. 6.
"I love the punch he gives us off the bench," Young said when asked about the potential of Cone joining the starting lineup. "So no, I have no intention anytime soon.
"I consider him a starter. But to see that little rat come flying onto the floor, running off several screens there when he first comes into the game, he offers a lot, needless to say."
Young, now in his second season at Virginia Tech, thinks highly of Cone's offensive game. The guard was the Journal's Frank Spencer Award winner in 2019 as the best boys basketball player in the Northwest.
"I sometimes think to myself how in the world you would guard him," Young said. "This guy is so elusive and so fast off screens. And he can catch it and get square, on balance, and when he gets to the top of his jumper, he jumps.
"I don't know what he is, probably listed at 5-10. He's no more than 5-7 probably and when he jumps, that is a true jump shot."
Mucius' impact on the glass
Lost in his 2-for-9 shooting night, Isaiah Mucius pulled down eight total rebounds for the Deacons against Louisville. That's an area in which Forbes has pressed for improvement, especially on the offensive glass.
Mucius grabbed seven of his rebounds in the second half, and a tenacious streak he put together helped set up Wake Forest's charge to within a point — the Deacons trailed 53-52 with 12:14 remaining — before the team's offense dried up.
Mucius grabbed four rebounds (three defensive and one offensive) in 59 seconds that helped establish more urgency as the team started to claw back. Wake Forest forced three turnovers in four defensive series shorting after that and pull back within striking distance.
The the Deacons went nearly 10 minutes without a field goal, allowing the Cardinals to pull away.