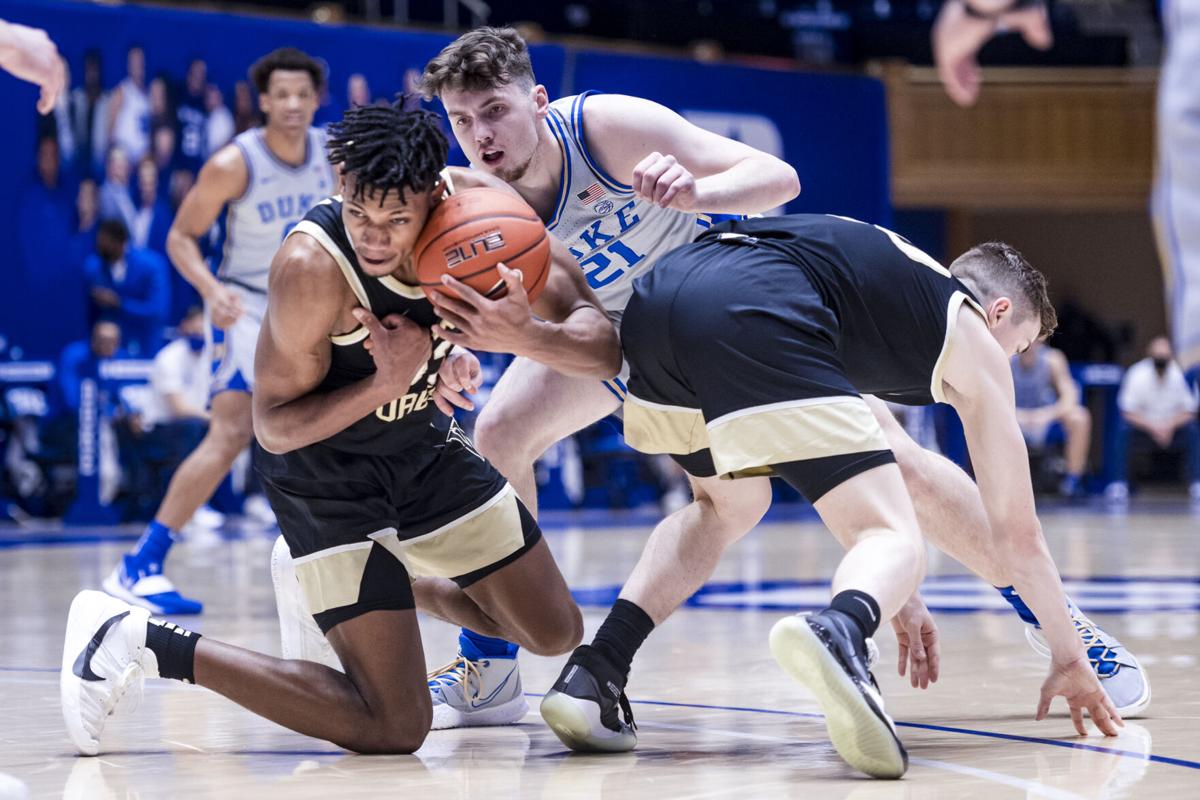 Wake Forest returns to Winston-Salem for a three-game home stretch, starting with a matchup Wednesday night against Duke.
The Demon Deacons (3-9 ACC, 6-9 overall) are coming off a 92-85 overtime loss to Florida State, now ranked No. 16, in which Wake Forest led with five seconds remaining in regulation.
Three thoughts going into the Duke game:
One Jalen Johnson short
News broke Monday night that Duke's Jalen Johnson opted out for the rest of the season.
The freshman, who's expected to be a lottery pick in the upcoming NBA Draft, was hampered by a foot injury throughout the season but was facing dwindling minutes in Duke's last three games. He's not to be confused with Wake Forest's Jalen Johnson, a grad transfer forward who joined the program ahead of the 2020-21 season.
Duke's Jalen Johnson missed three games near the start of ACC play, one being the initial matchup with Wake Forest. In that 79-68 Blue Devils victory in Durham on Jan. 9, Matthew Hurt scored 26 points on 10-of-15 shooting — Wake Forest coach Steve Forbes dubbed it "playing horse out there."
That game featured a couple of second-half ties, most notably 55-55 with 11:45 remaining, before Duke pulled away by scoring inside. The game was the second straight in which Wake Forest tangled in the second half against a ranked team. At the time, the Blue Devils were in the top 25.
Forbes said the team prepared by looking at film from the previous game, and at practice on Monday, he spoke with players about the type of impact Duke's Johnson could have in the game. With his decision made, Forbes can lean back even more on what he said regarding that earlier matchup.
"Come on, they've got really good players," Forbes quipped. "They didn't need him to beat us the first time."
Better attempts at hustle plays
Forbes after that first matchup pointed to the big obvious factor: rebounding, especially on the offensive end.
Duke outrebounded Wake Forest, 35-25, with a 15-8 advantage on offensive rebounds, and that included an eight-rebound performance by Wendell Moore and six rebounds for 6-foot-2 guard D.J. Steward.
That expands on a point Forbes has made regarding rebounding: It's about hustle and not height. And he's actually seeing more promising results in that category for a team that plays relatively small on defense.
"Honest truth is, guys, looking at the numbers, I'm pleased with our team rebounding-wise in this league," Forbes said. "We're about even. Now you'd like to obviously be plus, but due to our lack of size inside with some of these teams that we're playing, it means our guys are battling really hard, and I'm proud of them for that."
There's proof to that notion, too. According to KenPom.com, the Deacons are giving up an offensive rebound 25.2% of the time in ACC play, the fifth-best mark in the league. The teams above them? Virginia (21%), Virginia Tech (22.8%), UNC (23.2%) and Louisville (23.6%). Three of those four are certain NCAA Tournament teams, and all are blessed with more size than Wake Forest.
But again, hustle over height.
Growth of the young center
When asked about Duke's Mark Williams, Forbes eventually pivoted to talking about his own big man, Emmanuel Okpomo.
Neither player had much significance in the first matchup — Williams played all of four minutes and Okpomo didn't play — but Forbes mentioned that transition.
"Bigs take time," Forbes said. "You never know when they're going to blossom, and that's why you've got to continue to work for them."
Okpomo got his first career start against Boston College as a way to help normal starter Ody Oguama avoid early foul trouble. Okpomo went from a project heading into the season to someone who needed to provide minutes once Tariq Ingraham was ruled out for the season to recover from COVID-19.
Okpomo played roughly eight minutes in the team's last two games — he fouled out against Florida State after notching four first-half fouls — but had played nearly 12 or more in the previous five.
"He kept showing it at practice," Forbes said. "And for the maturation of our team, we needed to get away from small ball. I didn't want to play small ball, but it was kind of the hand I was dealt at the beginning when Ody was out and then Tariq's out, and it's like we've got to play some way. But I think having Emmanuel come on defensively has really helped our team."