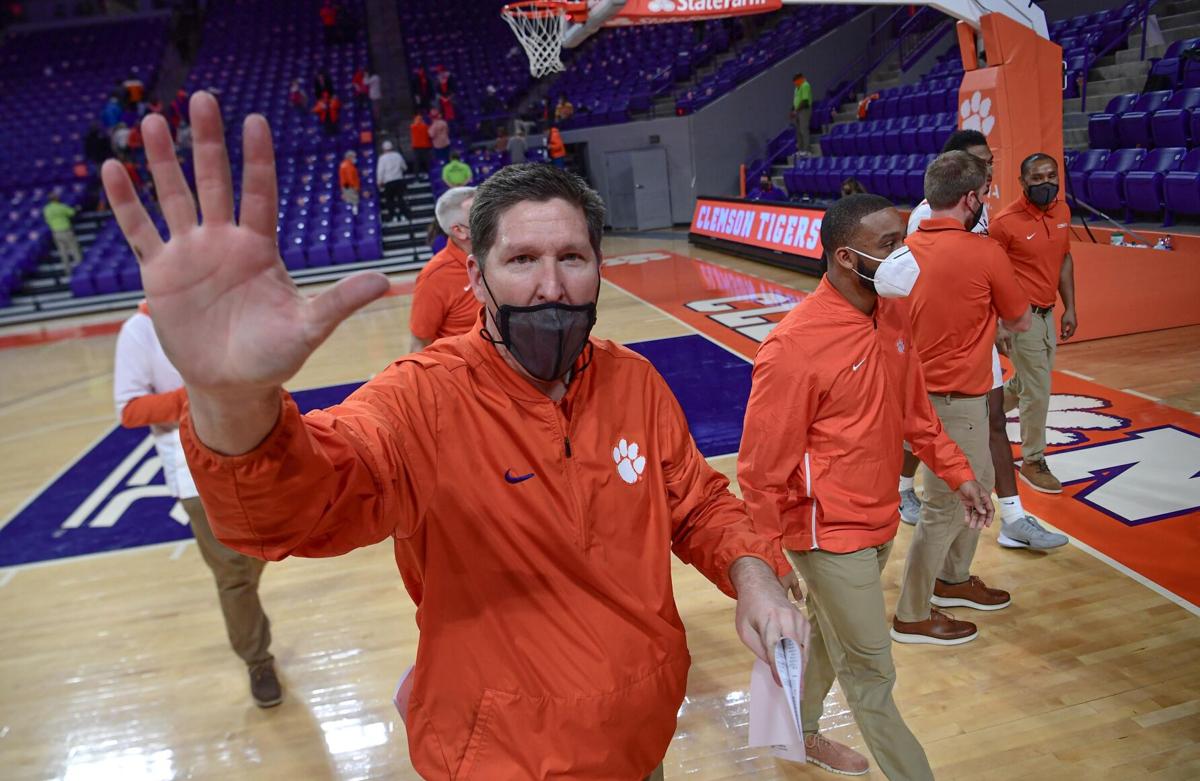 The Wake Forest men's basketball team will try to shake off a two-game losing streak with a home game against Clemson on Wednesday.
The Demon Deacons (3-11 ACC, 6-11 overall) have four games left in the regular season, starting with the Tigers (7-5, 13-5).
Here are three thoughts ahead of the game:
Focused on themselves
Wake Forest coach Steve Forbes opened his Tuesday news conference by reiterating the ideals he wants his teams to emulate. All were points made throughout the season — the overall improvement of toughness and physical play, the need to get more 50-50 balls, and the ability to not let bad plays linger. They are energy plays and game-winning plays, Forbes said, and the Deacons need to make more of them.
Turnovers need to happen less, sharing the ball needs to happen more. Again, all things that Forbes has said since he was hired. And now he's got both positive and negative examples from wins and losses.
"We all have to look in the mirror, me included, and I do it every day," Forbes said. "I tell my players that every day. I tell my team all the time that the man in the glass, he never lies — that person looking back to you."
Forbes felt the need to reiterate all of that after back-to-back losses against Duke (by 24 points) and N.C. State (by 18 points) after nearly upsetting Florida State.
The coach used those moments as proof for the team that it shouldn't stray from its identity.
"Sometimes when you come through a tough time, you look for a magic potion or a magic play or a different motivational speech, and those things are all great, but the reality of it is you've got to go back to the basics and be who you are," Forbes said. "That's the winning formula."
Clemson's side
Tigers coach Brad Brownell mentioned the disappointment his team feels that, for the second time in a row, a COVID break stalled a streak of quality play. Clemson rose to a No. 12 national ranking earlier in the season and won its first three ACC games before their first pause. The Tigers took a while to recover, but rattled off three straight wins again before this second stoppage that caused games against Notre Dame and Pittsburgh to be postponed.
When asked about evaluating the Deacons, Brownell pointed to the struggles with consistency across the league.
"I think that's most teams," Brownell said. "You look at us during the year, there are periods where we look like everybody's playing well, and then there are other periods when you don't look like the same team. We've certainly shown that on several occasions.
"Steve's doing a really good job trying to take over a new situation, trying to play a different style. They really move the ball, share the ball, when I've seen them play."
A matchup of interest
Since the return of Ian DuBose, and up until the State game, Wake Forest improved its ball security. A team averaging just more than 14 turnovers had only nine against Duke where the offense struggled.
Brownell is known for defense, and it's no different in a season that's rattled the continuity of their schedule. Clemson is forcing turnovers 22.3% of the time this season, according to KenPom.com, a mark that's 34th in the nation.
The only team better in that category is State (23%). The Wolfpack forced a combined 39 turnovers in two games against Wake Forest, including 19 on Saturday.
And Wake Forest will have to contend with Clemson's 6-foot-8 forward Aamir Sims. The senior is an efficient scorer who is hitting 53.9% of his shots and 35% from three-point range.