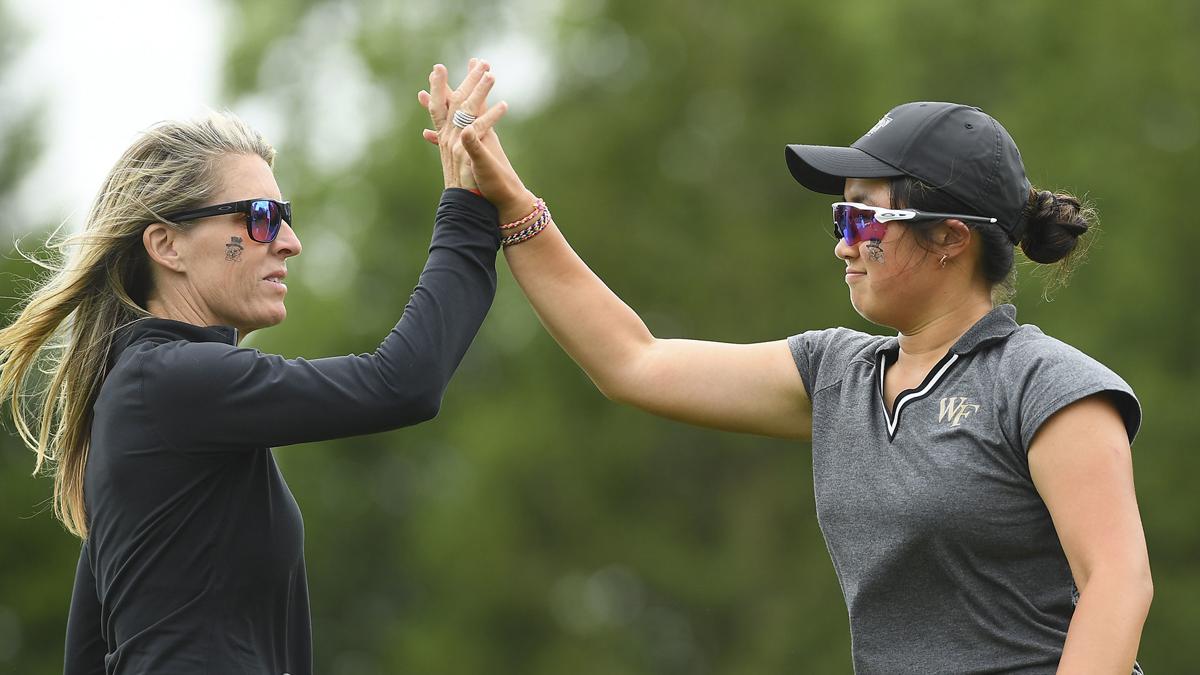 Everything changed in what seemed like only an hour for Wake Forest's women's golf team.
The Deacons were playing a practice round for the Clover Cup in Mesa, Ariz., two weeks ago when they were pulled off the course. That was March 12, the day that the NCAA canceled its spring championships and the ACC suspended all spring sports to stem the spread of the coronavirus.
"After the turn, we learned that the tournament we were having the practice round at got canceled, and then we were on our way to get lunch when we heard that (the) ACC suspended our tournament," senior Siyun Liu said. "And then after lunch, we heard that the NCAA canceled its championships. It was just like, information overload within an hour.
"All of a sudden, I couldn't stop thinking like, 'Oh my God, my college career is over.'"
In the midst of it all, the Deacons found time for a spur-of-the-moment year-end dinner, complete with a senior sendoff for Liu, and celebrated with balloons and tiaras.
"Just a lot of things that you're dealing with every 10 minutes. What-ifs, what do we need to do?" Coach Kim Lewellen said. "I think we're fortunate that we spend a lot of time together and we were stuck in Arizona together and we had to find a way to get back here. Just a lot of time together to hash out some really serious questions.
"I think everyone is where they need to be right now."
Easy decisions
The diversity of this Wake Forest roster plays an interesting factor here: Half of the eight-player team is from the United States, and three of those four are from North Carolina. But then the other half comes from China, Italy, Switzerland and Ireland.
There wasn't much of a decision process for Liu, who is from Shanghai, or sophomore Letizia Bagnoli, of Florence. Bagnoli is in Boca Raton, Fla., staying with family.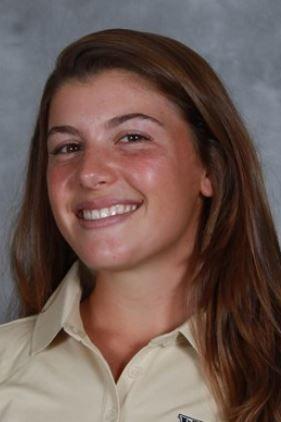 "I'm very close to them," Bagnoli said of her family in Florida. "So they were like, 'Oh, come here, the situation is so crazy for you right now, you don't have to stay in Winston-Salem, there's no point. Here it's warm, you can do whatever you want.'
"So I called my mom and my mom was like, 'No, I don't want you to come to Italy, that's the last thing I want you to do.'"
Bagnoli is from Florence, and the entire nation is on lockdown because of the virus. She wouldn't be able to leave the house if she was there; where she is now, she can hang by the pool or visit one of the golf courses that's still open around south Florida.
Liu opted to remain in Winston-Salem, where she was planning on being at this time of year anyway and citing concerns about traveling back to China.
She got a similar message from her parents warning her against coming home.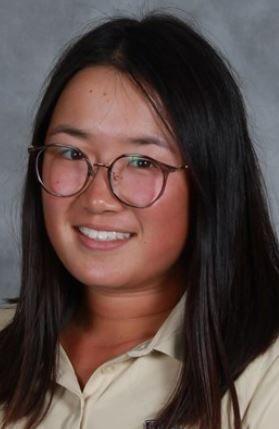 "My dad thinks it's not worth it and I agree," Liu said. "I have the whole practice facility pretty much to myself right now, so I might as well stay here and utilize this time to get better with golf.
"I mean, I miss my family. But it's not like I was supposed to go home during this time anyway."
It's not a guarantee that Liu's time as a Deacon is finished. The NCAA plans on granting an extra year of eligibility for spring athletes to make up for their lost season, and that applies to Liu.
But she has a litany of factors to consider, and there's an ongoing conversation with Lewellen about Liu's potential return. Liu planned on turning professional after graduating; now she's looking at retaining amateur status into the summer.
She qualified for a coveted spot in the Augusta National Women's Amateur, the second-year tournament that was won by former Deacon Jennifer Kupcho last year. The Amateur has been postponed — Liu said the ideal scenario is for the tournament to be rescheduled for this summer and for the travel ban from China to the United States to be lifted so that her father can caddie for her.
If she turns pro, she won't be able to play — of course, in this climate, there's not an active professional tour.
"I'm still trying to make a decision on when I'm going to turn pro. Before I make a decision, I can't really say anything about that," Liu said. "Is the Q-School even going to be on time? That's my question.
"So, I really don't know yet. I might just wait and see what happens with the official announcements and then try to figure out what I'm going to do."
Finishing early but at the top
Liu is the lone senior on the eight-player roster, and the Deacons found an Italian restaurant — Bagnoli said it was even good Italian food, too — in Arizona to celebrate with an impromptu senior dinner.
"We shared all of our favorite memories, what we love about Swing (their name for Liu), and that was really cute," Bagnoli said. "That was a great ending to a bad day."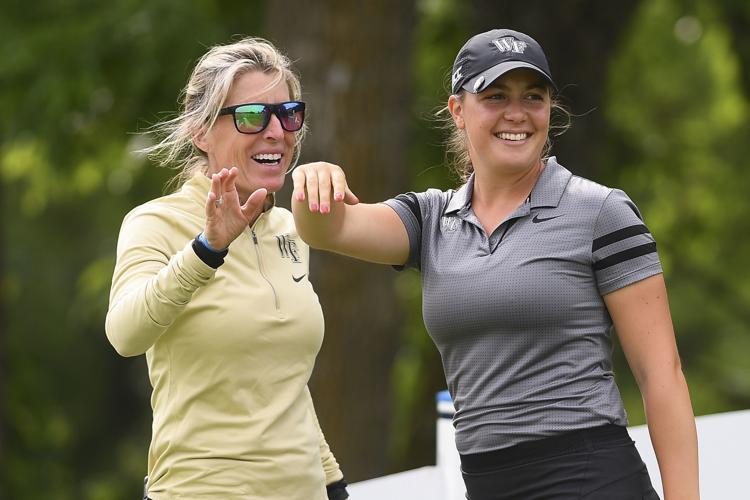 Also discussed at that dinner was the team's standing in the national rankings for women's golf.
Per golfstat.com, the Deacons were the No. 1 team in the country. After a runner-up finish to Duke in the national championship last season, Wake Forest appeared well on its way to another deep run through ACC, regional and national championships.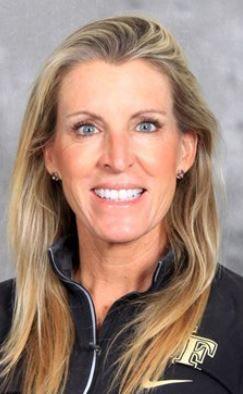 "I said, 'You're the No. 1-ranked team in the country, and so in my mind, you're national champions. So realize that, even though you don't have the championship, that's how we're viewing this,'" Lewellen said. "And so we had a celebration and they went on to wherever they are now."
Now the Deacons train on their own. Golf, in more ways than one, is the perfect social distancing sport. You can practice by yourself. You can play by yourself. And even if you play in a group, you can walk or ride separately and just meet your playing partners on the tee box and on the green 18 times in a round.
"There's a lot of solitude there within the practicing. You're outside, especially now that the weather's nice," Lewellen said. "The sun's out, the birds are singing. If you don't have allergies, it's a great place to be right now."
That's about all that's left now for spring athletes. If players can get to courses that are open, they're working toward the fall season — and at this point, who knows what that looks like. Next spring offers more promise that some normalcy will be restored.
And the Deacons look to have plenty of promise for next season, too.
"The only thing we can do is try to work out and work on the game as much as we can right now and wait for it to pass and play in the fall, and then play in the fall and play in the spring, 2021," Bagnoli said. "We were sure that when we got to the national championships, we would've won. We wanted to win really bad."
Be the first to know
Get local news delivered to your inbox!