He swept past us like a Caribbean breeze, silent and mysterious and destined for somewhere else.
Tim Duncan was indeed here for four long years, unlike anything we'd ever seen at Wake Forest, or anywhere else for that matter. A perfectly complete basketball player who showed up out of nowhere, put his school back on the map and then was gone with the wind.
He reached his destiny today. Duncan has been named to the 2020 class of the Naismith Memorial Basketball Hall of Fame.
We watched him become an NBA superstar, the first pick of the 1997 NBA Draft, rookie of the year, two-time player of the year and five-time NBA champion.
It's almost too good to be true. Duncan was almost too good to be true.
But we saw it happen. We watched it here for four years before he burst onto the scene as one of the best basketball players the game had ever seen.
Duncan was a long way from that when he arrived in Winston-Salem in 1993. He was almost redshirted, and then even after the wild string of events that would eventually lead recruit Makhtar N'Diaye into transferring and Wake onto probation, Duncan was held scoreless in his first game.
He would develop slowly, eventually showing the ability to block shots and make these curious mid-range bank shots, never showing emotion, never drawing attention to himself.
It was a style and an attitude born of the island he came from and the unique story that landed him in America. His story was like a fairy tale.
Duncan came from St. Croix in the U.S. Virgin Islands, a working island unlike the many resort islands scattered throughout the Caribbean. Laid-back, lanky and allergic to dust mites, he was a mother's boy. It was her story and her memory that inspired him and influenced him for his entire life.
She died the day he turned 14. He never got over it.
He wasn't a basketball player then. Duncan was a swimmer. And he was good. His mom, Delyfia Duncan, took him to meets all over the windward and leeward islands. He was so good, even the Olympics seemed possible.
"He would've made it," his father told me in a tiny restaurant in Christiansted one afternoon. "He was a great swimmer. He certainly was."
And then his mom died. And then Hugo hit the island, taking the pool and his fledgling career as a swimmer with it.
Duncan was cast adrift. He took up basketball because he was tall. And one day, a man from America came and watched him play.
Dave Odom ran into former Wake player Chris King one day after King had been on a basketball tour of the Caribbean. Odom asked him if he'd seen anyone who could play.
"Well," King said. "There was this one kid…"
Odom went to see the kid play and never forgot the first time he saw him.
"I was sitting on this bench waiting to watch him play when he came and sat down beside me," the former Wake coach said.
Odom was confused at first. Duncan wasn't impatient, not yelling "I got next!"
Odom said Duncan was teaching him a lesson. He was waiting for the old men to tire before he took over.
"That was the first lesson with the real Tim Duncan," Odom said. "It said so much about who he was as a person. That he cared enough about me, having traveled so far to see him, then to sit down and speak with me while he waited out the older guys. I knew in the first seconds of meeting him what he was made of."
Duncan was made of different stuff. He gave us four years because he promised his mother he would get a degree.
There's never been anyone quite like him, and there never will be again.
Now a Hall of Famer, his name is etched into the history of basketball. That we were able to ride along the breeze with him for four years at Wake Forest was something we'll never do again.
Tim Duncan was one of a kind.
Blown in by a hurricane, he floated past us with grace and few words.
There were no words that could've captured it anyway.
Photos: Tim Duncan, Naismith Memorial Basketball Hall of Fame class of 2020
Tim Duncan 1994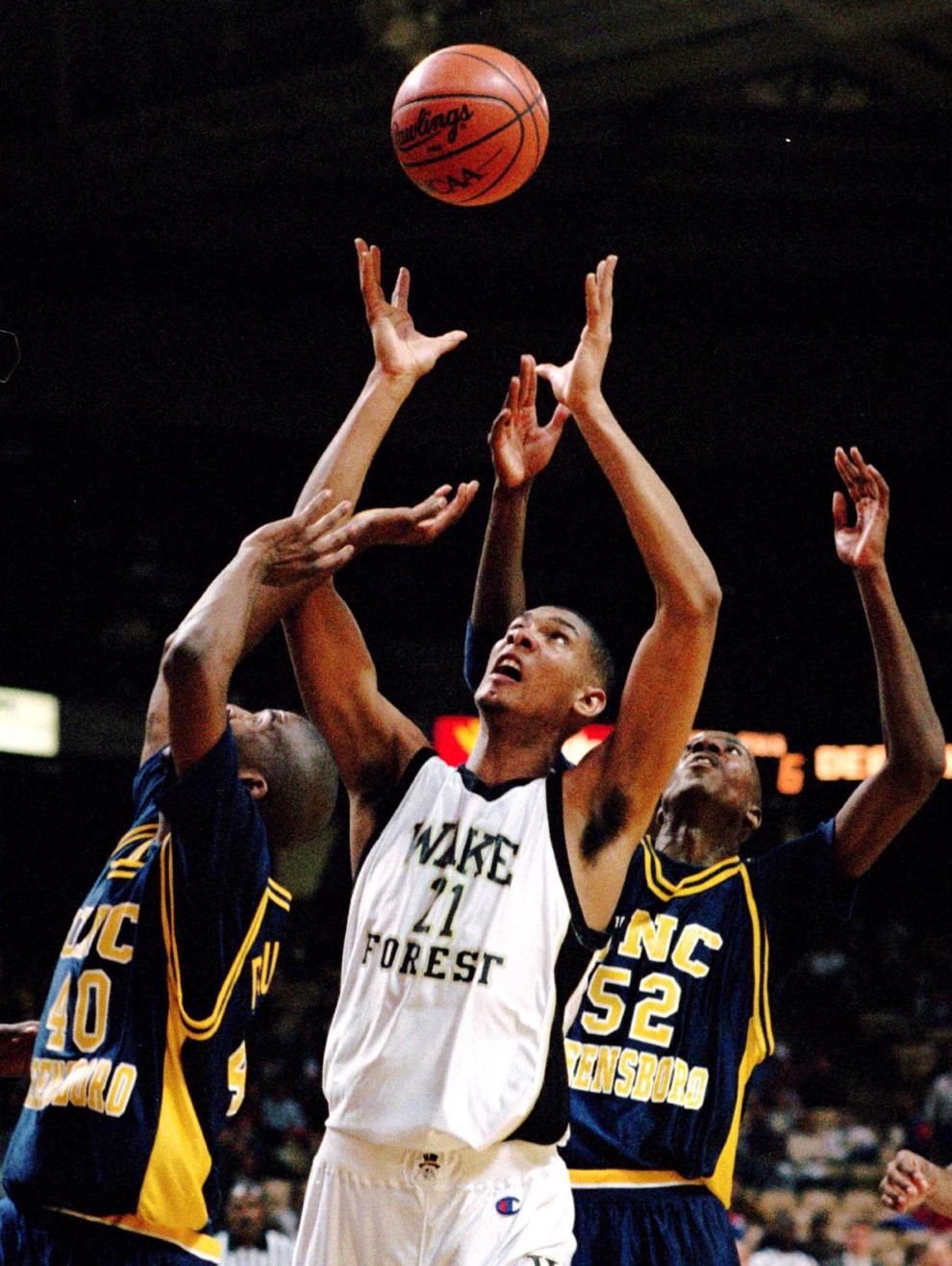 x.JRN SPT 02/16 WAKE /MA/JPEG 2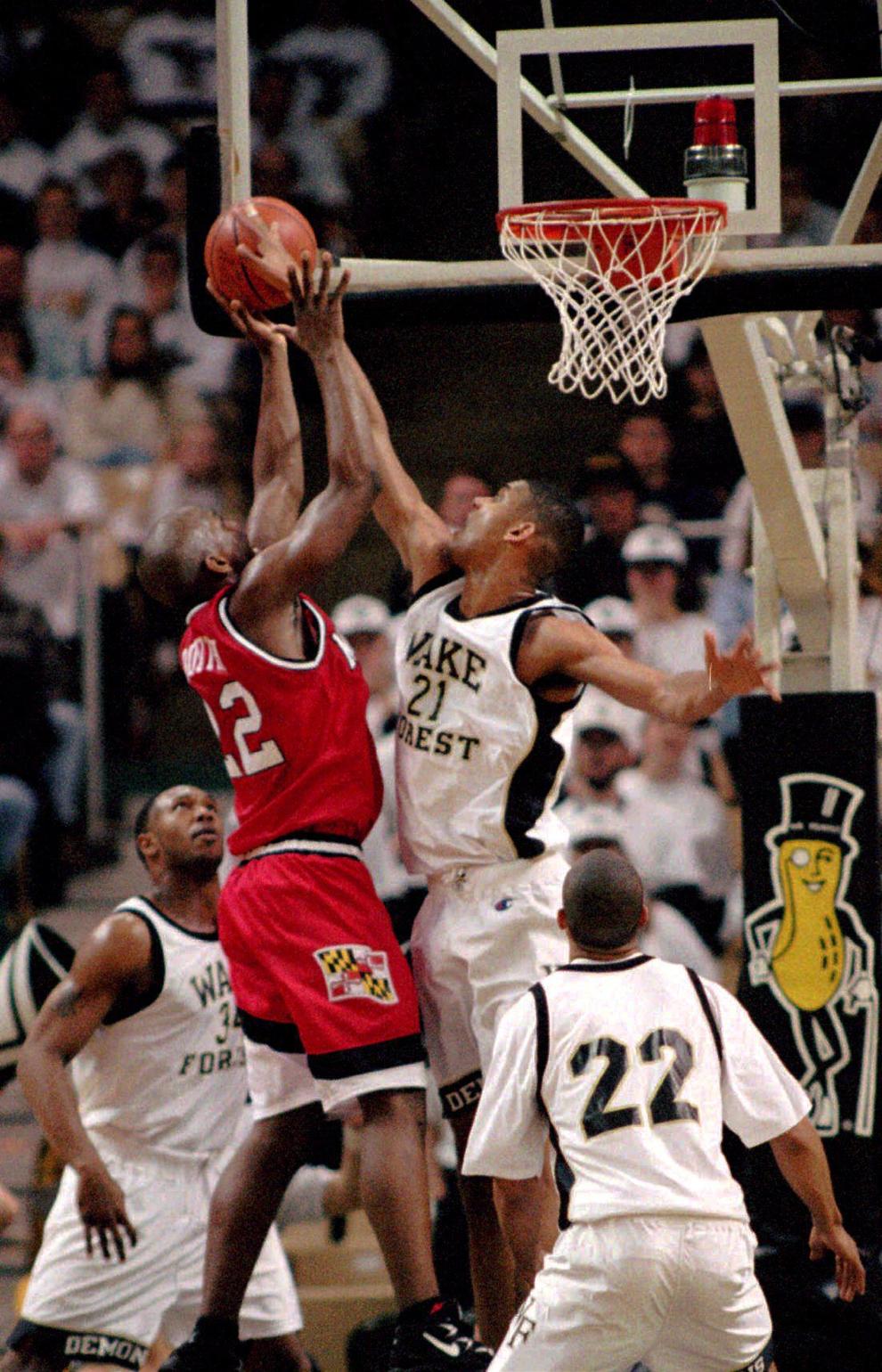 Tim Duncan 1995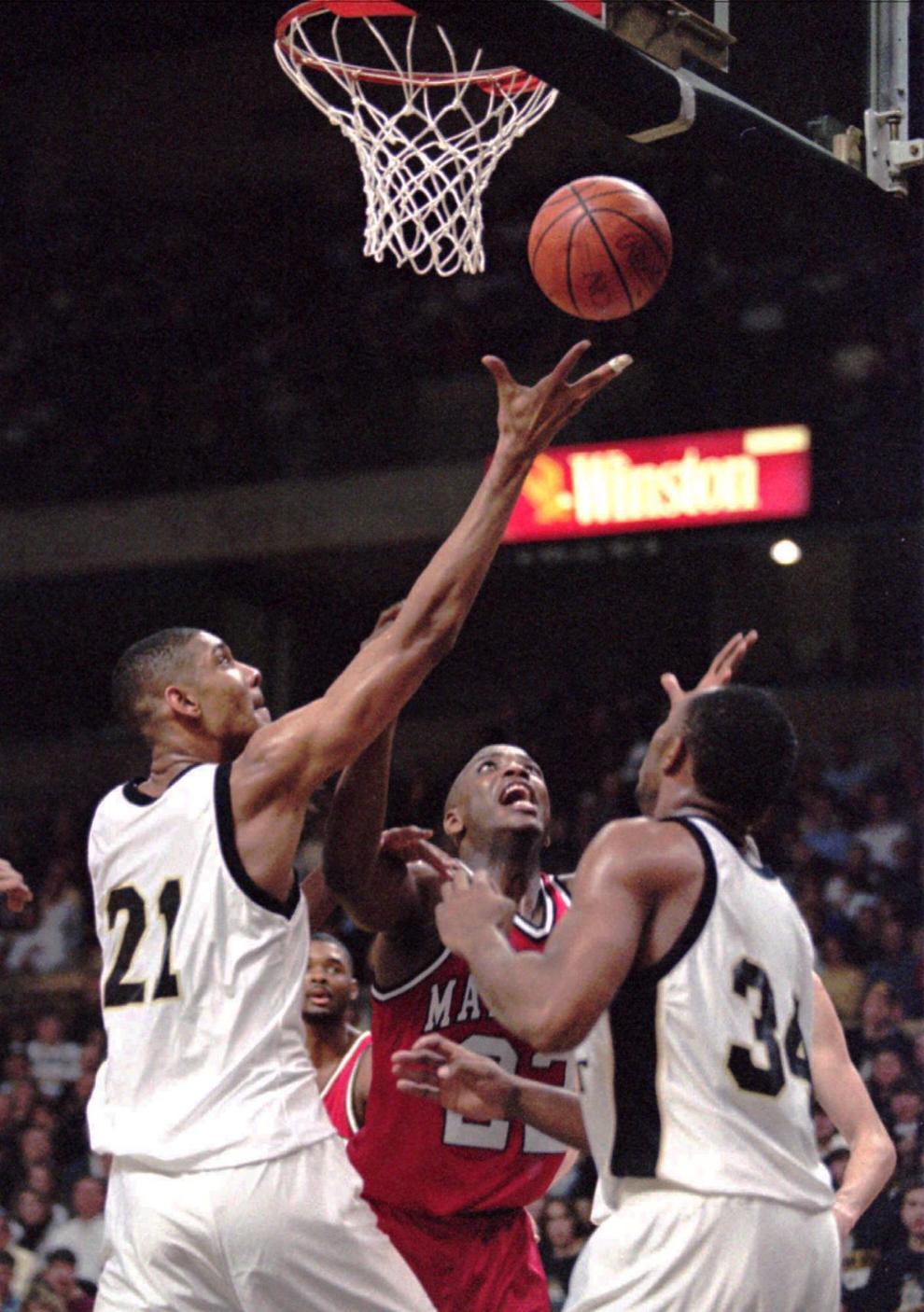 Tim Duncan 1995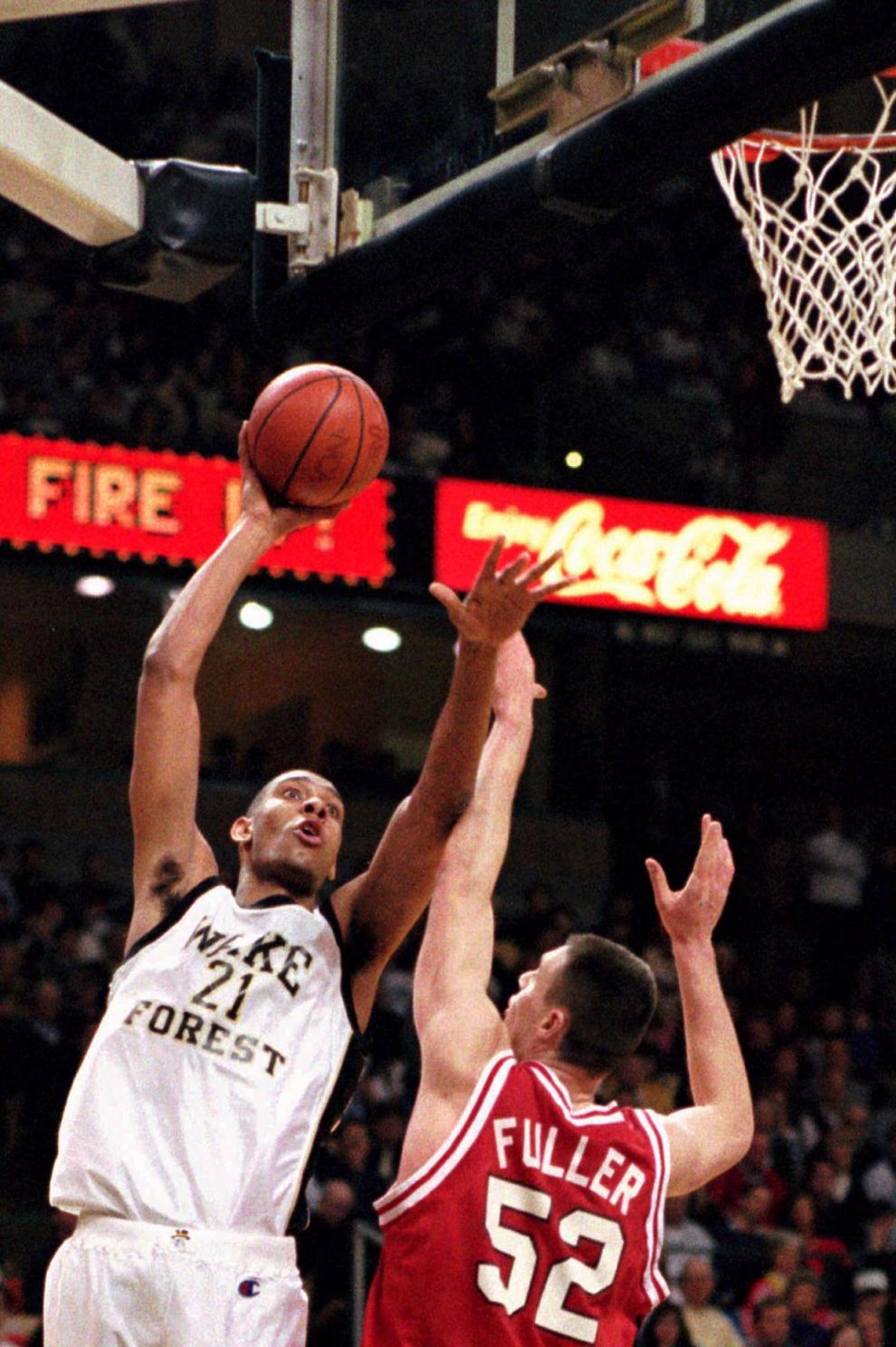 X.ACCT DUNCAN JAM1 (V.VA.A/JPEG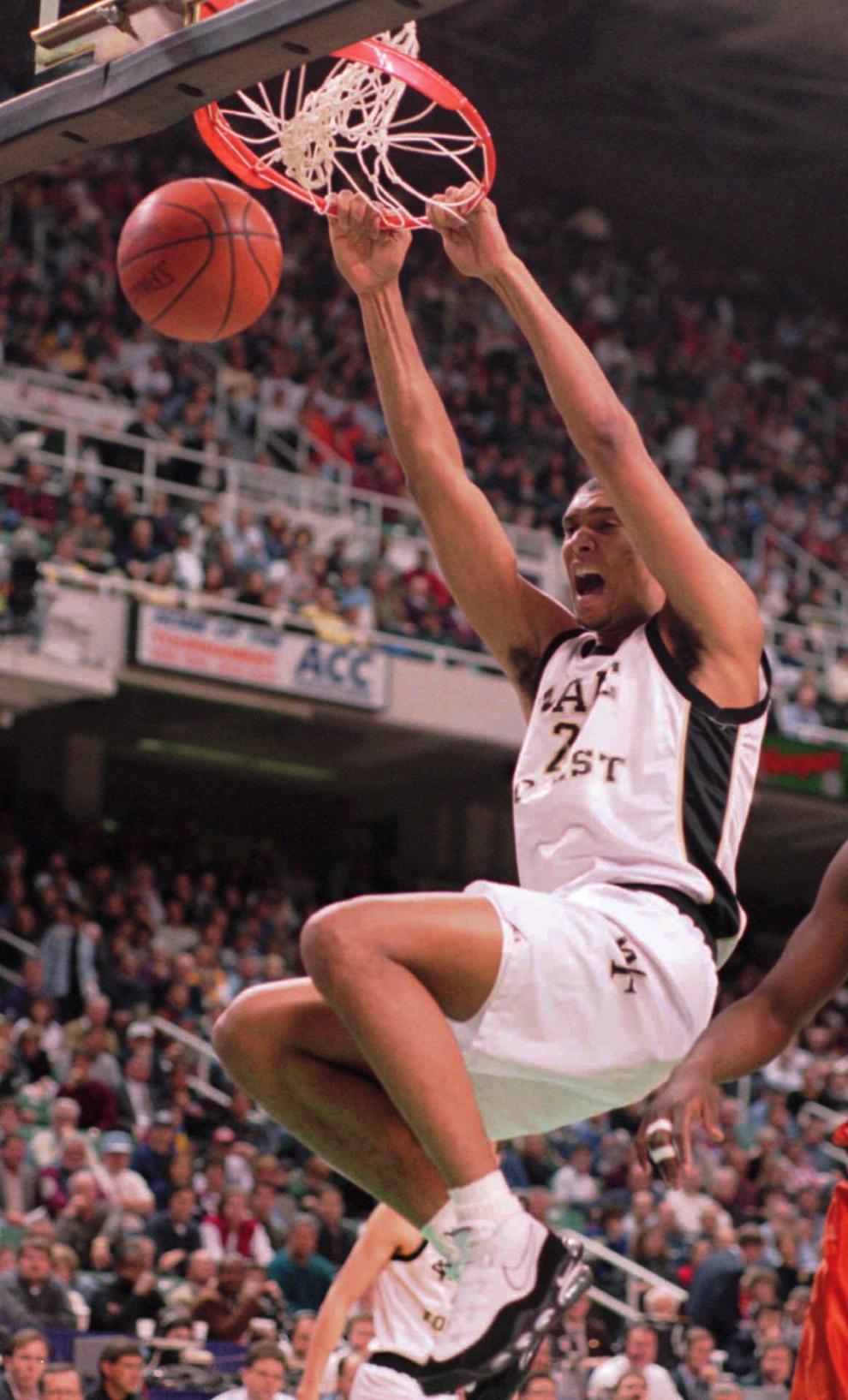 x.BKC HARDER/DUNCAN.B0088/JPEG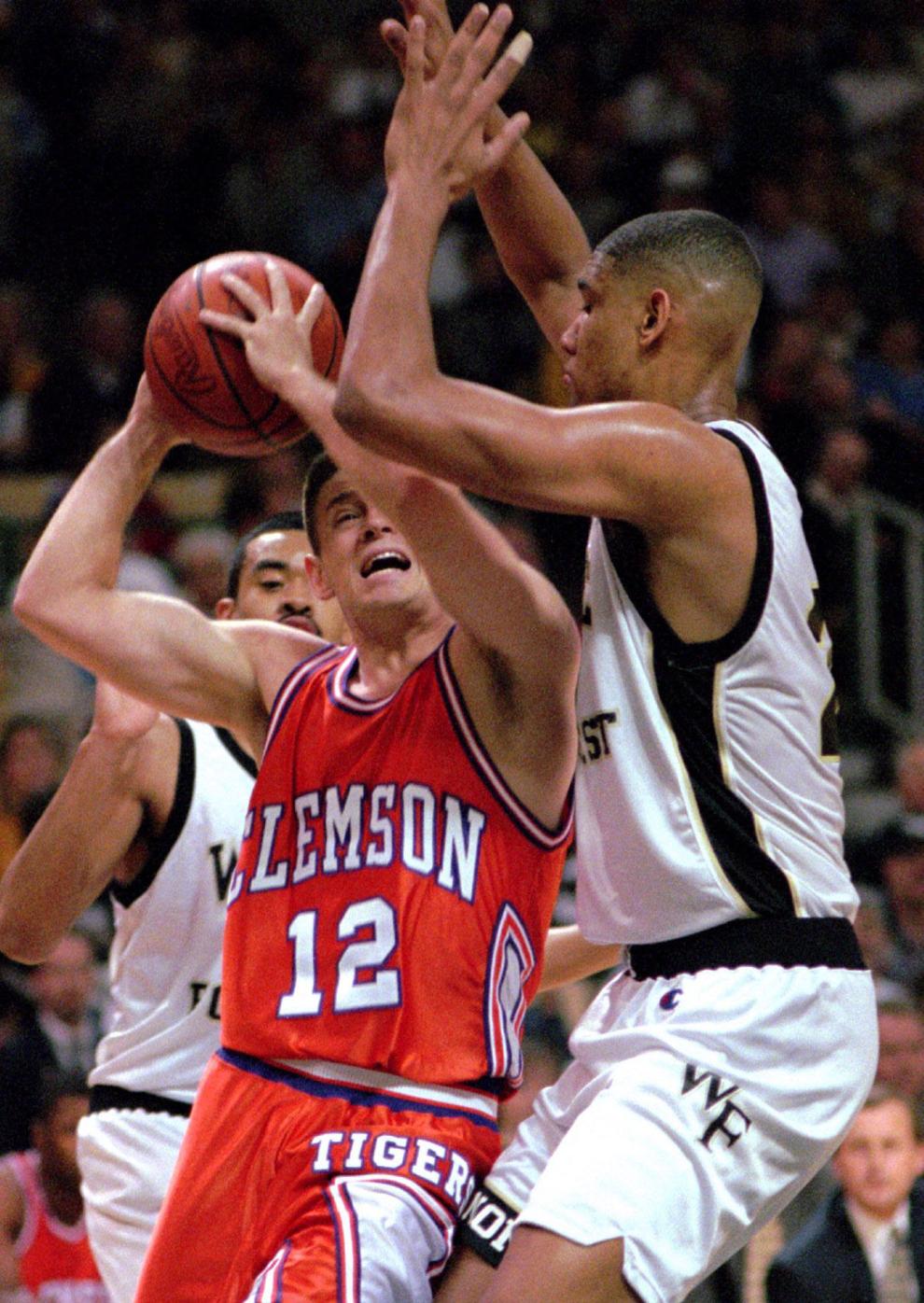 Tim Duncan 1996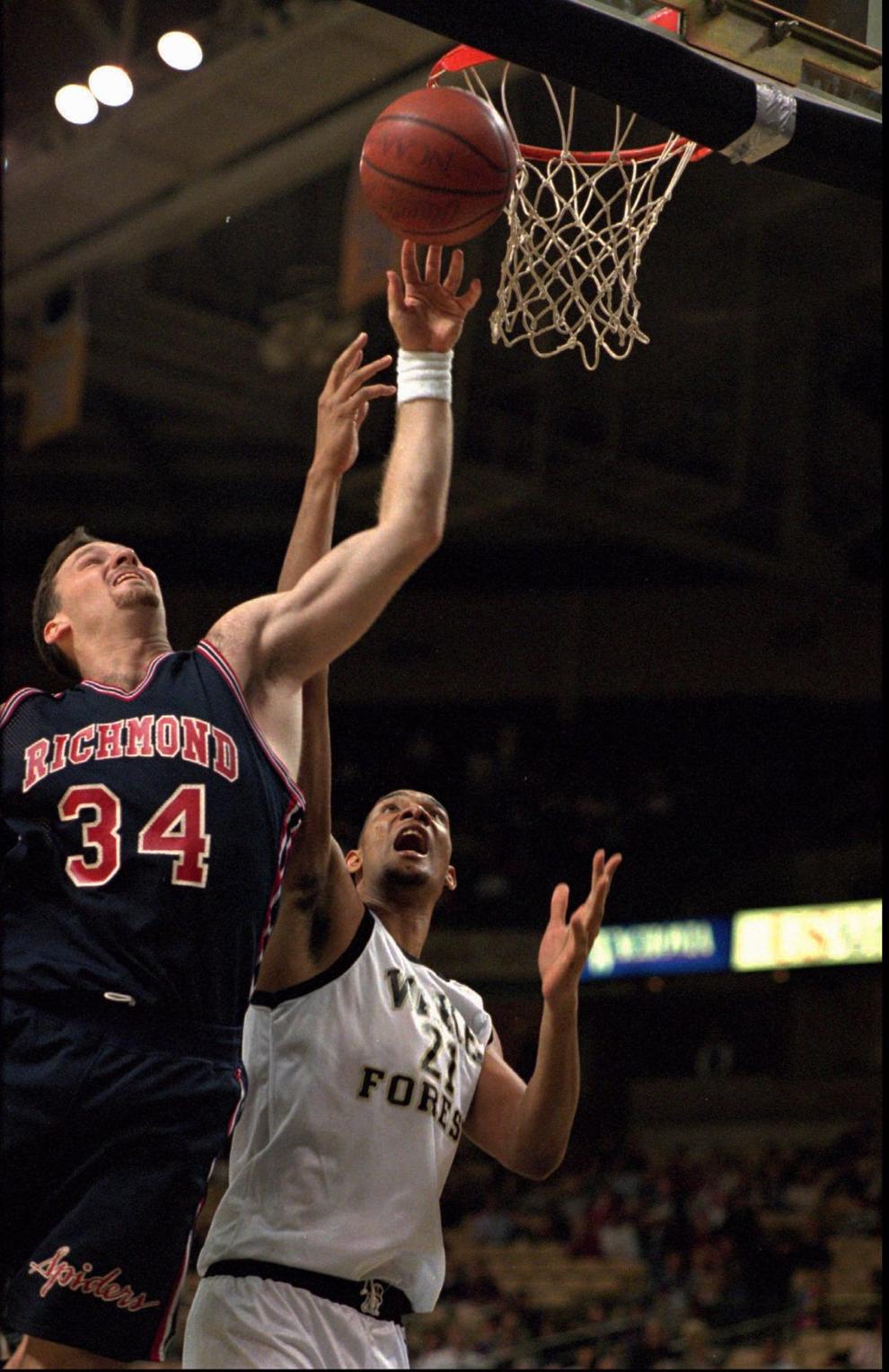 BKC WFU V UNC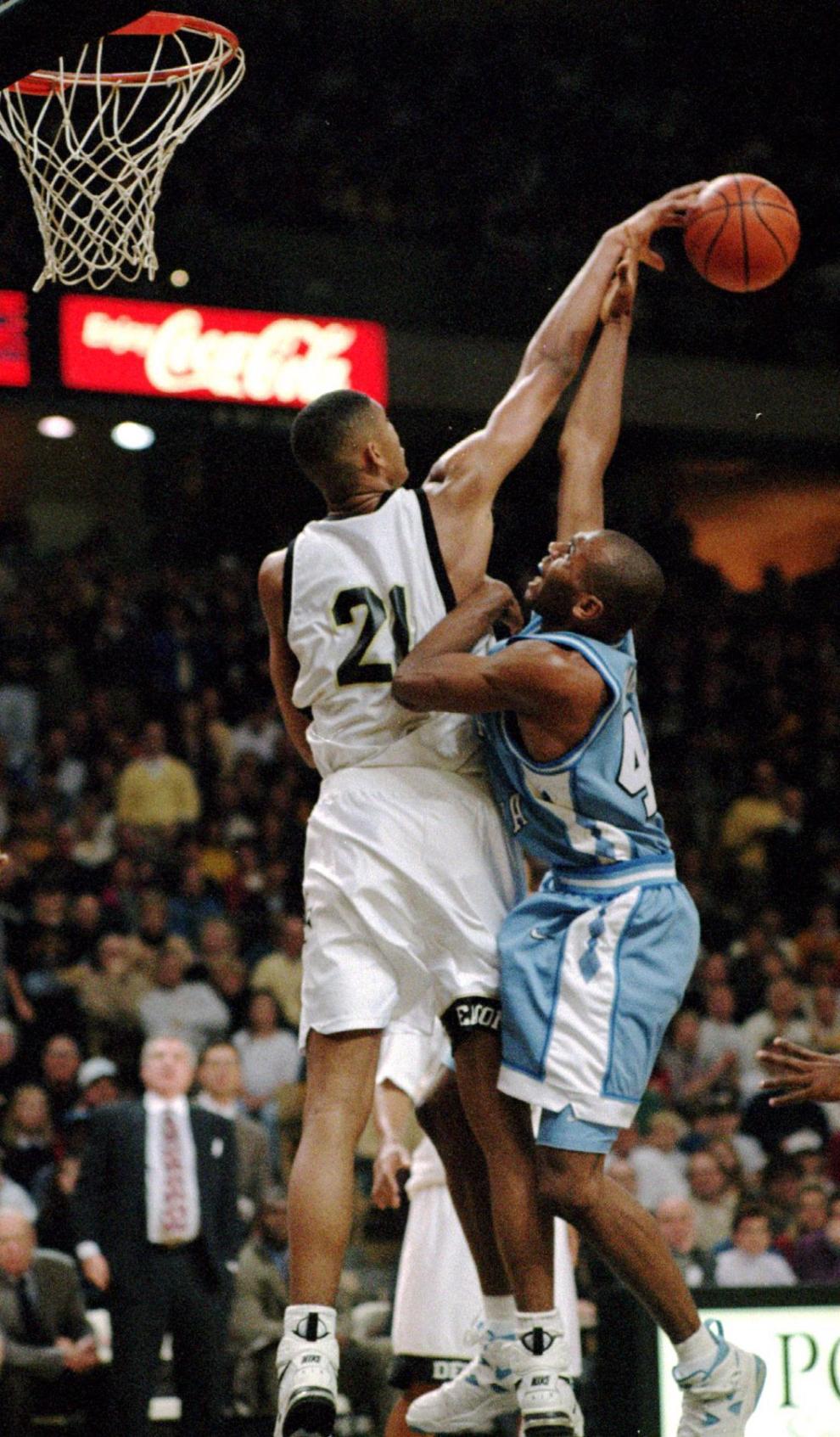 Tim Duncan 1996
Tim Duncan 1997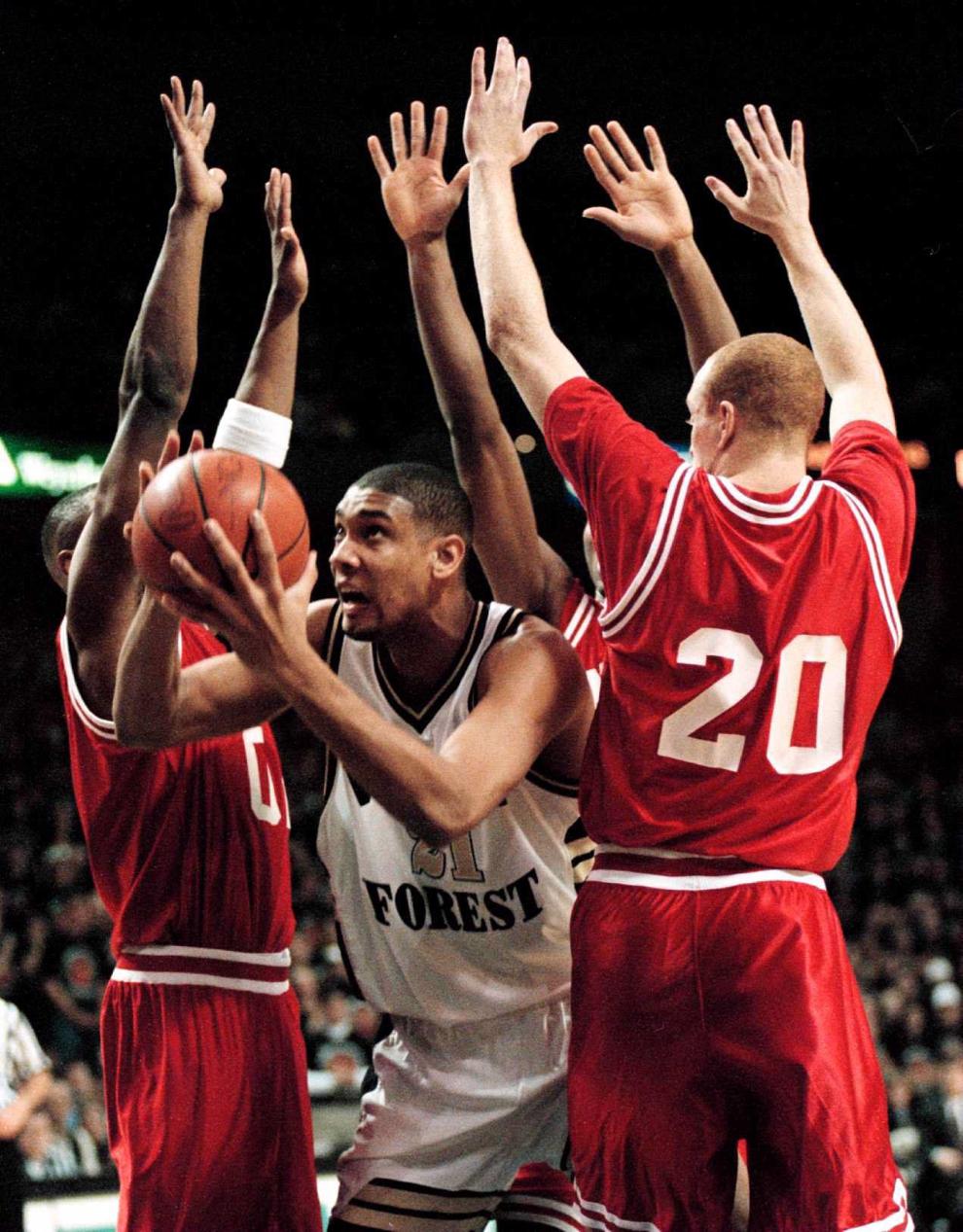 Tim Duncan 1997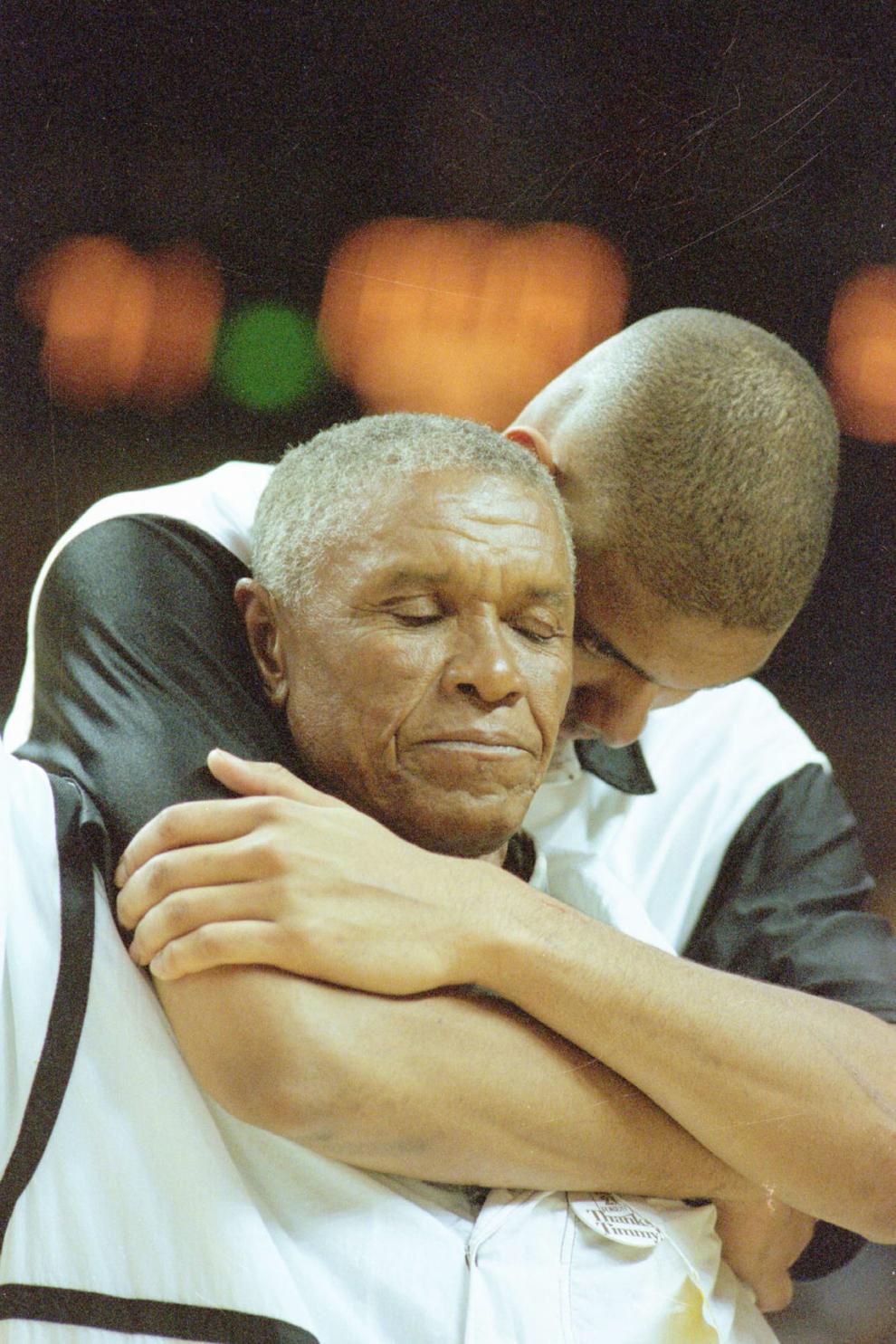 Tim Duncan graduation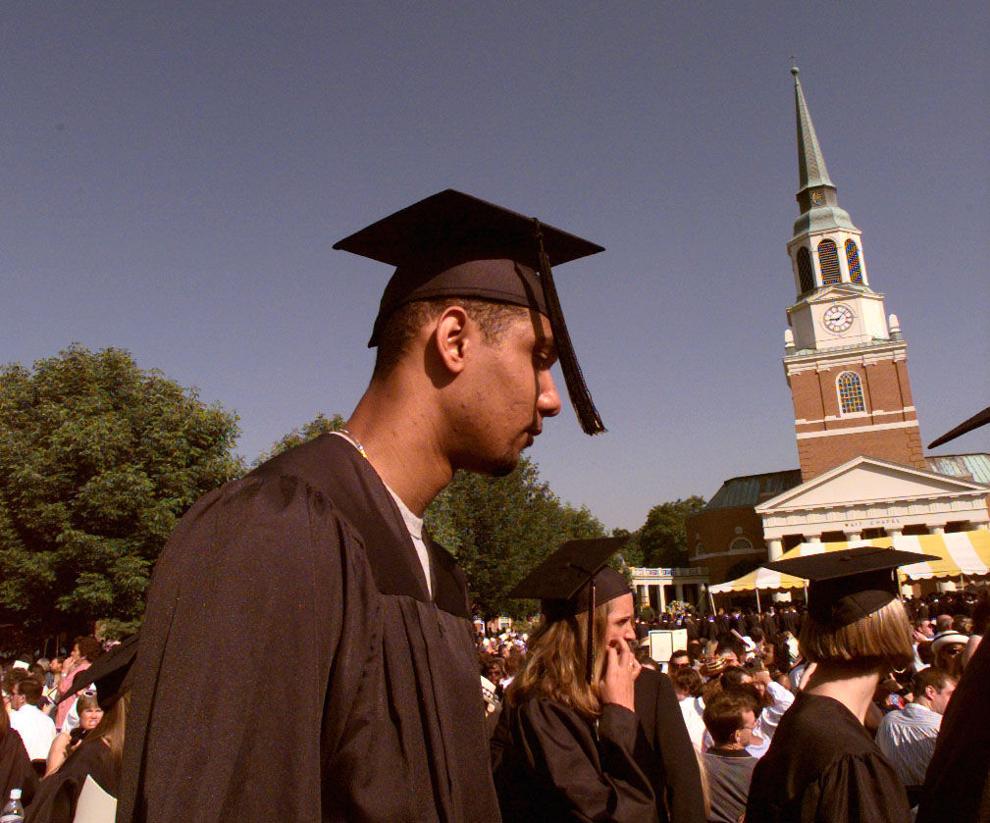 Tim Duncan 2020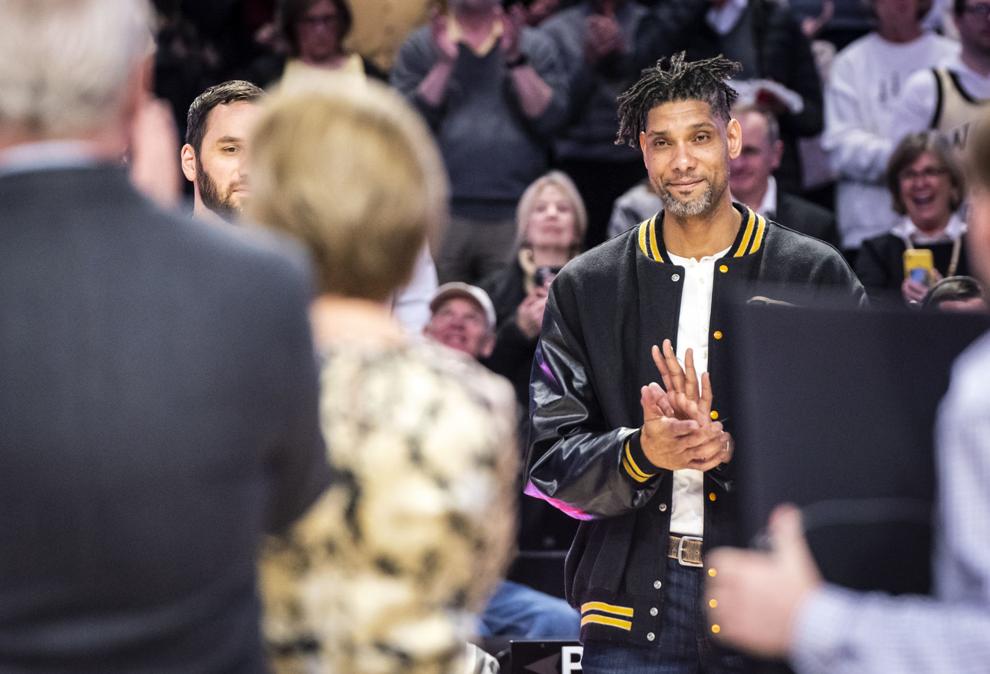 -- VERTICAL GALLERY: HIDE TITLES, UP FONT SIZE --
Contact Ed Hardin at 336-373-7069, and follow @Ed_Hardin on Twitter.