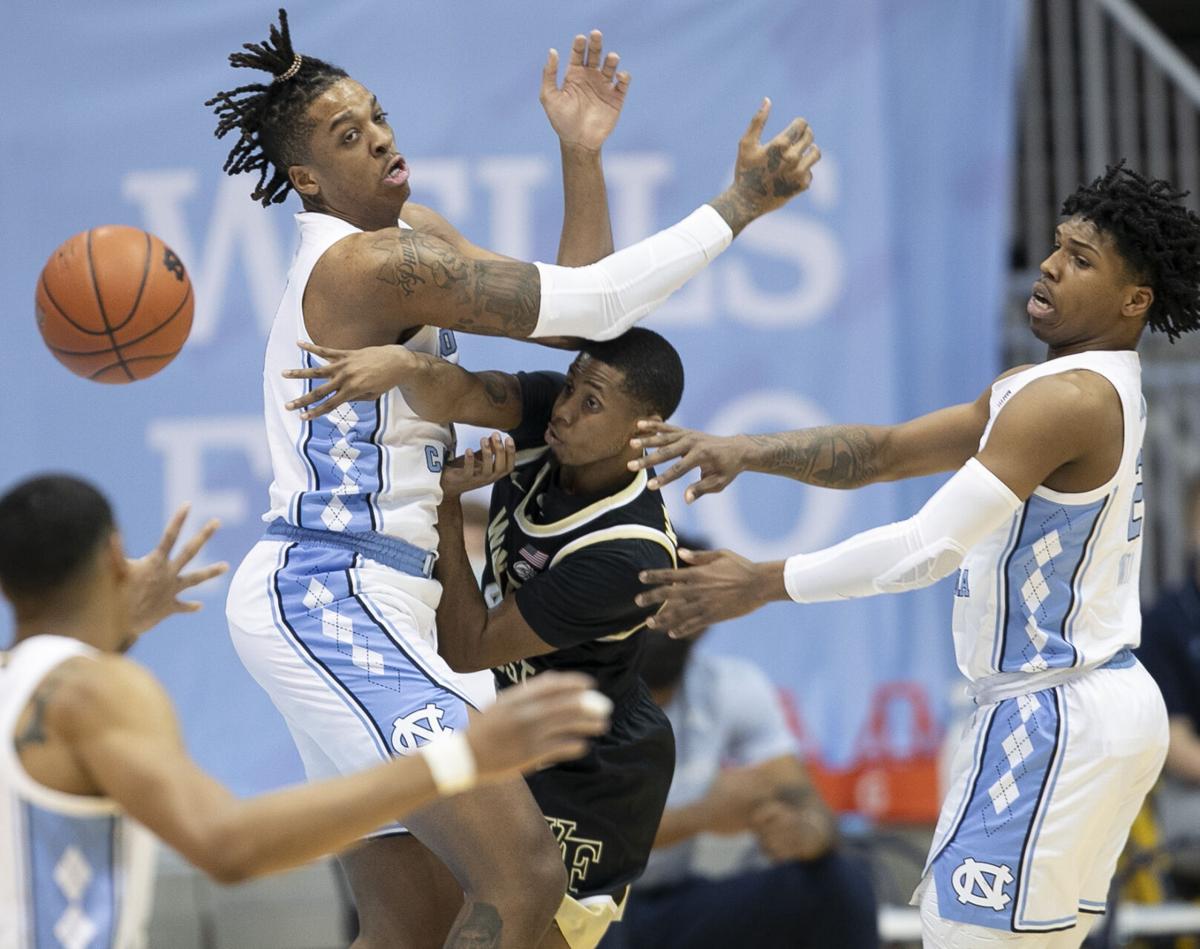 Wake Forest's basketball team saw a first-half lead turn into its sixth straight ACC defeat, an 80-73 loss at North Carolina on Wednesday night. The Deacons got career scoring highs out of both Isaiah Mucius and Daivien Williamson, but the Tar Heels pulled away late in the second half. 
Stars
Daivien Williamson: 27 points, 8-of-15 shooting (3-of-6 on 3-pointers, 8-of-10 on free throws), five assists and three rebounds
Isaiah Mucius: 27 points, 9-of-16 shooting (7-of-12 on 3-pointers), seven rebounds.
Caleb Love: 20 points, 7-of-12 shooting, four rebounds, three assists.
Armando Bacot: 18 points, 8-of-10 shooting, six rebounds, three assists.
Observations
• UNC tried to break away at the start of the second half. Trailing 33-31 at halftime, the Tar Heels uncorked a 10-2 run. Half of that came from Bacot inside, his final basket of that stretch turning into a three-point play in which he barreled in for a layup. 
The game might have run away from Wake Forest had it not been for the hot shooting of Mucius. He hit three of his 3-pointers in less than two minutes. Then he added another to beat the shot clock out of the under-12 media timeout. That shot was followed by a 3 apiece from Williamson and Jalen Johnson for a 53-53 tie.
Mucius credited the work he's put in lately with assistant coach Randolph Childress as the main reason he found his stroke sooner.
"I've been really in the gym with him, working on my footwork, taking time, slowing down and make sure I'm reading the game," Mucius said. "My teammates got me the ball, and I was making shots."
That would be the last tie Wake Forest would see, though, with Bacot scoring 14 of his 18 points in the second half and Love scoring nine of his in the last six minutes.
• It became clear early that Daivien Williamson would have to carry Wake Forest. And even with UNC's tall interior combination of Bacot, Garrison Brooks and Day'Ron Sharpe, he showed no hesitation to test the Tar Heels inside.
Williamson said the Deacons felt like could be successful in neutralizing UNC's bigs with high screens. He had 14 of the Deacons' 33 first-half points.
The junior would play a total of 38 minutes, the fourth consecutive time he's hit that amount of playing time. Wake Forest's two other primary point guards, Jahcobi Neath and Carter Whitt, had a combined nine turnovers. 
"At the end of the day, I'm going to do whatever I need to do to help my team win," Williamson said. "Whether that's handling the ball, whether that's not handling the ball, whether that's being the 1, being the 2, whatever I have to do to help my team win, that's what I'm going to do.
"And taking the responsibility to be the primary ball handler if I need to do that, then that's what I'm going to do at the end of the day."
• UNC started off by testing Wake Forest inside.
The Tar Heels went inside on four of their first five possessions, but those looks turned into one made basket, two misses and a turnover. That opening spelled the entire first half for both teams, where the teams nearly had as many combined turnovers (20) as combined made field goals (23).
Wake Forest finished the game with 20 turnovers, its highest total of the season. 
"I think it's just lack of confidence in playing against pressure," Wake Forest coach Steve Forbes said. "You're not going to play North Carolina or Duke and just play a pretty pass-pass-pass game. It's got to be beat them off the dribble, and then make the right play. 
"And sometimes that's a play for yourself, a lot of times it's drive, kick, swing it and make the open shot. And we've got some guys that don't handle pressure very well, and that's a problem."
Statistics
Records
Wake Forest: 0-6 ACC, 3-6 overall.
North Carolina: 4-3, 9-5.
Up next
Wake Forest: Pittsburgh, 6 p.m. Saturday (ACC).
North Carolina: N.C. State, 2 p.m. Saturday (ESPN).