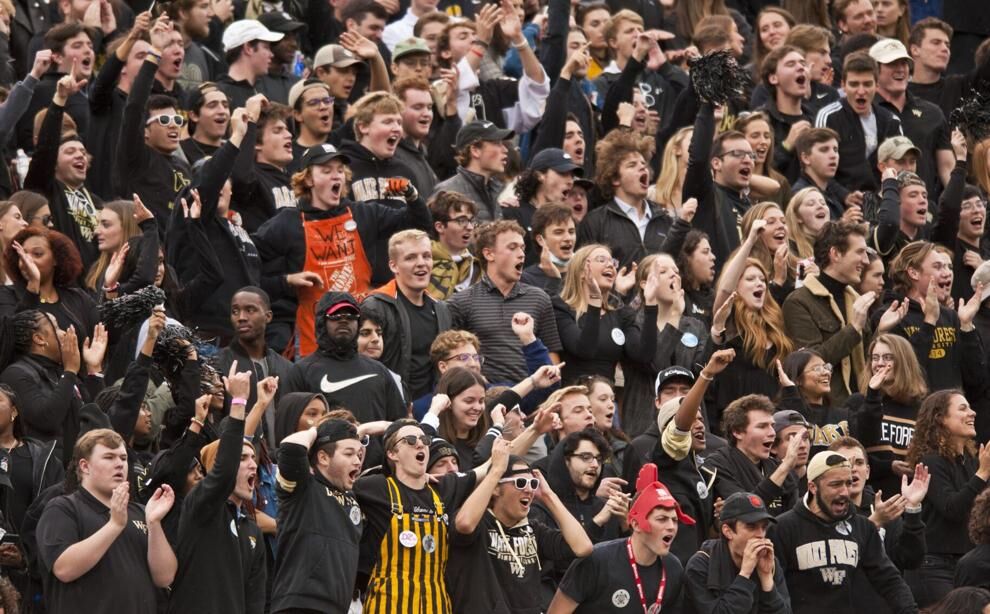 Will Farrell, a Wake Forest freshman from Richmond, Va., was right in the middle of the mass of students who showed up for Wake Forest's 45-7 victory over Duke two weeks ago at Truist Field.
When told he was part of the 80% of the student body that attended the game, he couldn't believe it.
"There were that many students there?" he asked. "That's pretty impressive, and we all had a great time and I know all my friends here at Wake were there so that's cool."
Wake Forest says it enrolled 5,441 undergraduates this fall, and some 4,200 of those students, a school record, attended the Duke game on Oct. 30. When you add the Demon Deacons football team and band, that's close to 85%.
The 13th-ranked Deacons were unbeaten at the time. Even after a 58-55 loss at North Carolina in a non-conference game on Saturday and after hope of reaching the College Football Playoff appears lost, Wake Forest will have plenty to play for when the Deacons host N.C. State at 7:30 p.m. Saturday at Truist Field. The game at the 31,500-seat stadium is a sellout, Wake Forest's second straight.
Wake Forest, the Atlantic Division leader at 5-0 in the ACC and 8-1 overall, can move one step closer to a berth in the ACC championship game with a victory. The league champion on Dec. 4 in Charlotte is guaranteed a berth in a New Year's Six bowl game, which would be the Peach Bowl in Atlanta on Dec. 30 or the Fiesta Bowl in Glendale, Ariz., on Jan. 1.
"That N.C. State game will be huge, so I'm expecting the students to show up again," Farrell said. "This has been an incredible season, and we want to make sure to be there for that final home game."
Deacons coach Dave Clawson has raved all season about student support. Wake is the smallest Power Five school in terms of enrollment. Pulling no punches, Clawson has asked for another full house at Saturday's game, where Wake fans are again being asked to wear black.
"We need our fans," Clawson said. "Let's create a home-field advantage because this is going to be the biggest game that's been played in Winston-Salem in a long, long time."
Deacons wide receiver Ke'Shawn Williams said there's no question that student support each game has meant something.
"We love it because it's a big energy booster," Williams said. "It's an adrenaline booster for sure."
Williams, a freshman, remembers going to Truist Field and seeing a game in 2019 on a recruiting visit when the student support was not so good.
"It was empty," Williams said. "It's a big drastic change, and we are all happy to see it. We can look up and see all those students in the stands, and it definitely makes an impact."
The university and athletics director John Currie have worked to make home games more inviting for students, hiring Rhett Hobart in 2020 to oversee fan experience and brand development.
"We are on pace to have the most students to ever attend our football games in a season," Hobart said.
The opener against Old Dominion on Sept. 3, was the most well-attended by Wake Forest students in history.
"The Duke game was the most ever for students at one game," Hobart said, "so we are excited that the students are making an effort, and we have done some things differently this year to make it an event for each of our home games."
The school has set up a student tailgating section, with 20-foot-by-20-foot tents on the tennis courts adjacent to Truist Field. Student organizations reserve them, and students show their IDs for entrance. Wake Forest also offers shuttles to and from campus for students.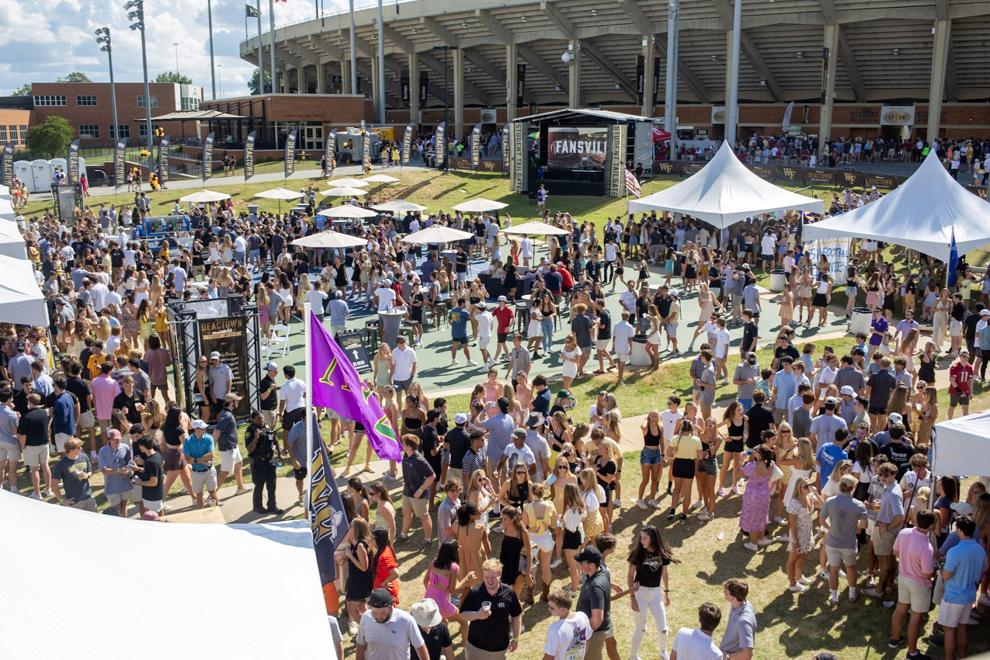 "The reality is they are the future season ticket holders, so we want to make sure they have a good experience at the games and make it to where they come before the game and even stay afterward," Hobart said.
Wake Forest sent emails to all students in the summer inviting participation in a rewards program for attending as many sporting events on campus as they could, Hobart said. Points are accumulated, and students can win prizes for showing their loyalty to Wake Forest athletics.
"It's really exceeded our expectations," Hobart said. "But we think our students are getting the most out of their college experience."
Clawson said that because fan attendance was limited last season, Wake Forest might be seeing a boost this season.
"Part of the reason you have college football is for student engagement," Clawson said. "And I'd like to think how we're playing and with the magnitude of the games has a little something to do with that. But I think clearly after a COVID year and not having student activities, our school probably been more proactive than any other and are saying that we have to create a campus life."
Clawson said football games can be a big part of that student life.
"What else is Wake Forest ever going to do that's going to draw 85% of the student body to one place?" he asked.
Hobart didn't want to predict whether the record for undergraduates at one game would be broken Saturday.
"It's certainly a big game, so you never know," he said.
Last week Clawson didn't have to be prompted to thank the students for their support at the Duke game.
"How about that student crowd?" Clawson said that day. "… When you start the game and the coin flip goes and you look over at the student crowd, that's a goose-bumper. That is such a great feeling and the energy that they bring. And you see the guys when they make a play over near that section where the students are, you can see them acknowledging them."