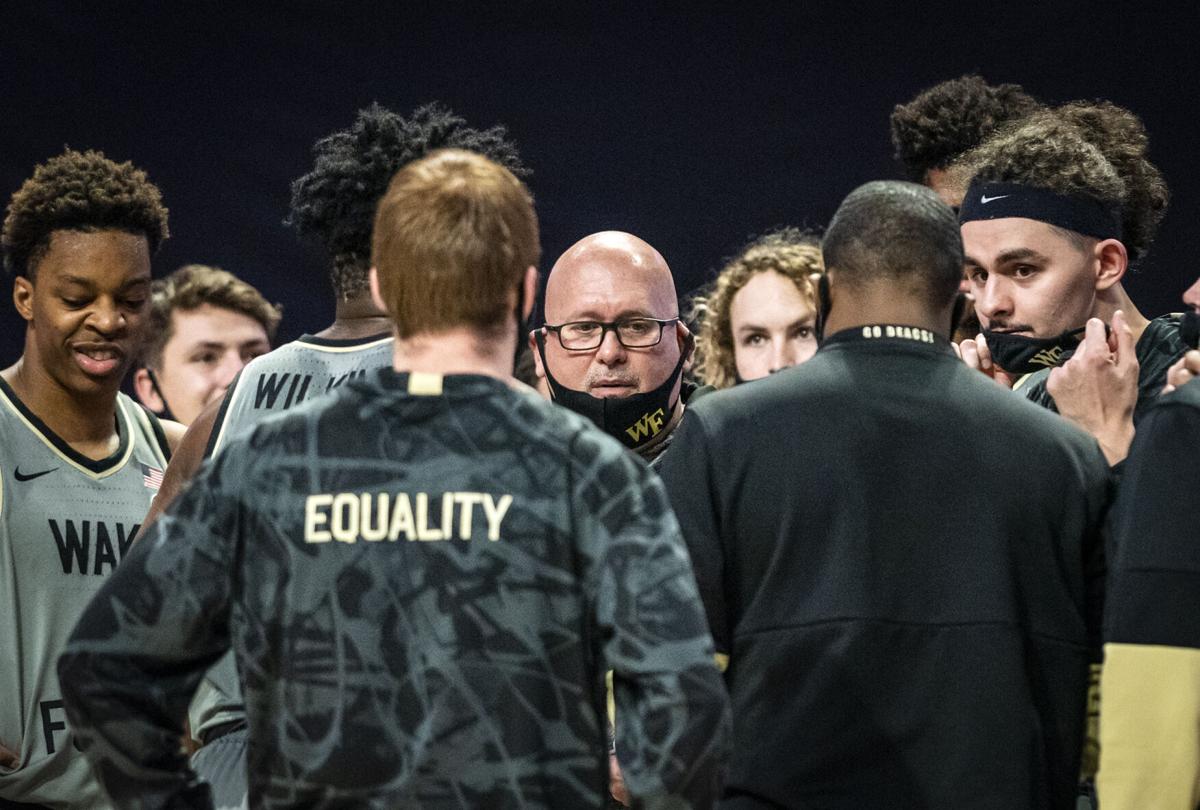 Steve Forbes is trying to "Get Right." Mainly, that's the truth for Wake Forest men's basketball program in general right now.
That's the go-to phrase for this offseason workout program for the Deacons, and it's yielding results for the players still around campus. The mantra is about the changing bodies but also making up for the lack of team building that 2020-21 could have with COVID-19 restrictions.
"I knew I had to put a term on what we needed to do to move forward," said Forbes, who's admittedly working himself into better shape, too. "And all I could come with in my simple mind was 'we've got to get right.'"
That consists of added strength. Point guard and Winston-Salem native Daivien Williamson is up 11 pounds, and fellow backcourt mate Carter Whitt is up nine. Big bodies Ody Oguama and Isaiah Mucius are up seven and six, respectively.
But it also is trying to increase some team bonds. The seven weeks of strength training and four weeks of individual work have included team meals, putting phones away for conversations with different team members and things to finally get around some of the road blocks supplied by strict health and safety protocols.
"It takes time but I think it's really important," Forbes said of the team building and workouts that started in March. "I have all those guys in a group chat together so they're getting to know each other.
"Every day I try to text them in the morning, the whole group."
Forbes touched on a few items during a roughly 40-minute conversation with journalists Thursday. Among the other topics he covered:
Size and strength, size and skill
Working with a smaller roster in his debut season with the Deacons, size became an important factor in this recruiting class. Size and skill on the perimeter and size and strength in the post were the two combinations Forbes looked for to help the Deacons become a bigger group.
The turnover in players resulted in the signing of three transfers – Jake LaRavia (6-foot-9 guard/forward) from Indiana State, Dallas Walton (7-foot center) from Colorado and Damari Monsanto (6-foot-5 guard) from East Tennessee State – and with the addition of 2021 recruits Cam Hildreth, Robert McCray and Lucas Taylor, who are 6-3 and taller, Forbes thinks he's done that.
His debut class had to lean more on grad transfers – three total – but this features a heavy number of players who'll be factors in his long-term vision.
"I do find that recruiting the player with multiple years of eligibility, as you can imagine, is going to be a lot more competitive," Forbes said. "... Grad transfers, you're a little bit more of a stop gap, are trying to help your team win next year, but these others guys are guys that you're building with and they're going to be in the program in a while."
Eligibility abounds
Because last season didn't count against player eligibility, Forbes pointed out a unique side effect: experienced players with young designations.
Eight players qualify as sophomores or younger on the 2021-22 roster. LarRavia and Oguama are sophomores with two years of playing experience. Whitt will be a freshman with a year of time as a starter. Monsanto and Tariq Ingraham will be third-year freshmen. Add in the three freshmen coming in, and this is a nucleus that can be together for a while.
"Those are eight guys that are really good pillars for this program moving forward."
Difficulty of the dead period
The NCAA Division I Council is expected to provide an end date for the recruiting dead period that has spanned more than a year. The council will bring it to a close on June 1, according to national reports.
Forbes brought up a difficult side effect of the dead period: It has prevented coaches from visiting the players they are no longer recruiting but have already signed.
"I'm very disappointed in the NCAA that I'm not allowed to go visit the players that I've signed," he said. "It's asking way too much of these parents to not allow me to go to their home and meet them before they send their son to school. I just don't see the logic in that. That's not recruiting. We've already recruited them, we've already signed them.
"Cameron Hildreth's parents are in London, England, and they're going to put him on a plane in June to come play for a coach they've never met. That's asking a lot of a parent. Robert McCray, same deal. Never met him. Never met his parents. Lucas Taylor, same deal. Jake LaRavia, Dallas. All these kids that we have, we haven't met. I don't see the harm in us being able to get on a plane, get in a car to go meet the kids that we've signed. We don't have to go in through school. I just want to go in their home."
Notable
Forbes said the Deacons have two scholarship spots left. He plans to use one for another perimeter play "with size and skill." The other, he said, will go to the best available player he finds or will potentially be held to use for next year's class.
Tariq Ingraham, who missed most of the season as he recovered from COVID-19, is on a positive track, according to the coach. Forbes called Ingraham's progress "unbelievable" when it comes to conditioning.
"Three months of inactivity, but did complete discipline to his diet, his nurtirion," Forbes said of Ingraham. "And that's really hard for somebody that's young to do that. I've been very very encouraged by what he has done."
Forbes said he'd like to fill out his coaching staff by June. Randolph Childress stepped down from his assistant coaching role last week. Forbes declined to comment on the candidacy of Jason Shay, a former assistant of Forbes who stepped down as East Tennessee State coach last week, but his hope would be to bring someone in to start getting to know the players in the summer and be around for recruiting also.
"I need to really think about what we need, what's going to be best for us," Forbes said. "And I need time to do that and I just don't feel like I have the time right now to do that because I have so many other things on my plate."