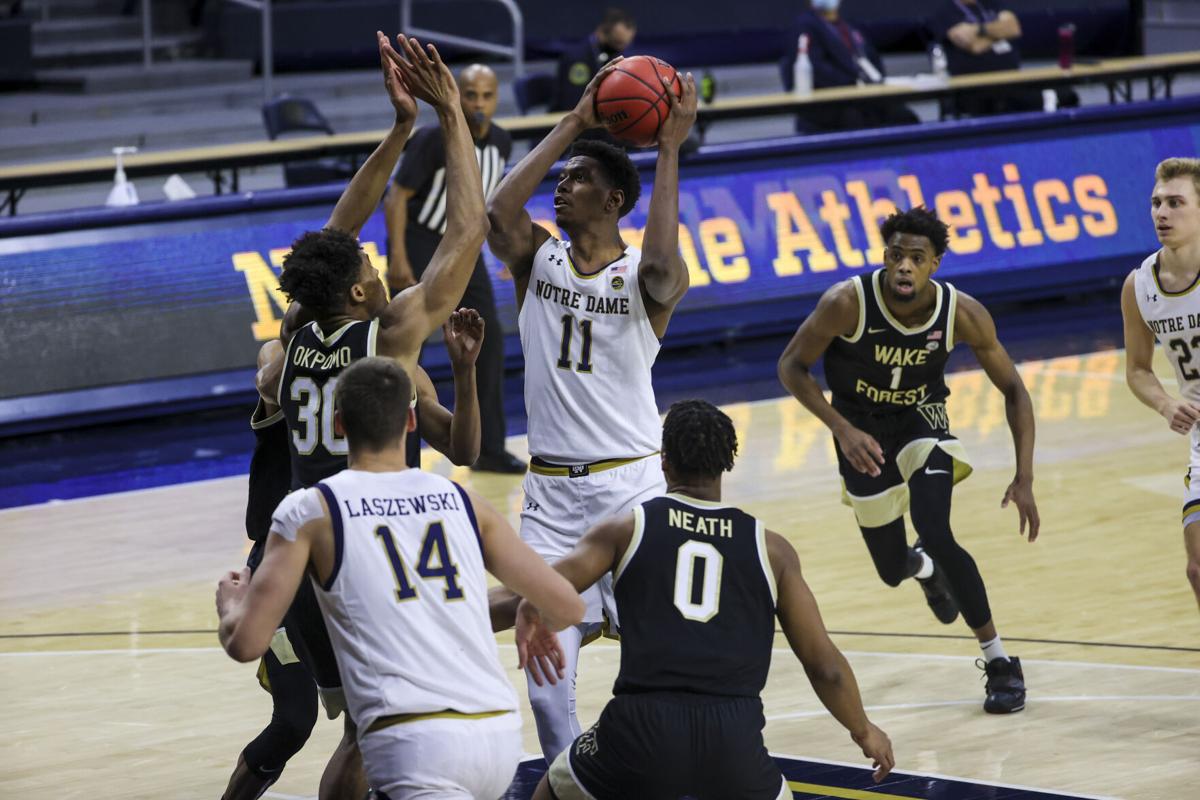 The Wake Forest men's basketball team started a three-game road swing on Tuesday with a 79-58 loss to Notre Dame. The Demon Deacons were coming off wins in two of their last three games but saw a tight contest at halftime turn into domination by the Irish. 
Stars‌ ‌
Isaiah Mucius: 14 points, 5-of-11 shooting, five rebounds
Ody Oguama: 13 points, 6-of-12 shooting, six rebounds
Juwan Durham: 18 points, 7-of-9 shooting, nine rebounds, four blocks
Cormac Ryan: 13 points, 5-of-9 shooting (3-of-5 3-pointers), three assists, three steals
Observations‌ ‌
• Notre Dame pounced at the start of the second half, an onslaught that forced Wake Forest to call a timeout less than three minutes in. The Irish sprinkled in a pair of 3-pointers among their cluster of quick baskets, and they added on to their growing lead when play resumed. Wake Forest finally scored its first field goal of the second half when Oguama scored inside with 14:47 in the game. That put an end to a 16-0 Notre Dame run. 
• Notre Dame's defense forced Wake Forest to be precise. And the Deacons for the most part avoided sloppy ball handling that ha plagued them. Wake Forest registered six turnovers, by far a season low (previous was 11, which Wake registered in both the Louisville and Miami games). The Irish managed to keep Wake Forest's offense from establishing any rhythm, and the allowed little opportunity for second-scoring chances before the lead expanded. Notre Dame outrebounded Wake Forest, 44-31, while the Deacons shot 34% from the field. 
• Oguama committed two fouls in the first five minutes. That helped in what became a banner performance for Notre Dame's Durham. His strength inside became a menacing factor for an Irish offense that found little success from long range early. He had 11 points in the game's first 20 minutes, stifling Wake Forest inside with three of his blocks coming in the first half. Durham was one of the main factors in a quiet night for Daivien Williamson, who was held to eight points on 3-of-11 shooting and four assists. 
Records‌ ‌
Wake Forest: 2-8 ACC, 5-8 overall
Up‌ ‌next‌ ‌
Wake Forest: At Boston College, 7 p.m. Feb. 10 (ACC)
Notre Dame: At Georgia Tech, 8 p.m. Saturday (ACC)
Photos: Notre Dame 79, Wake Forest 58
4M5A8807.JPG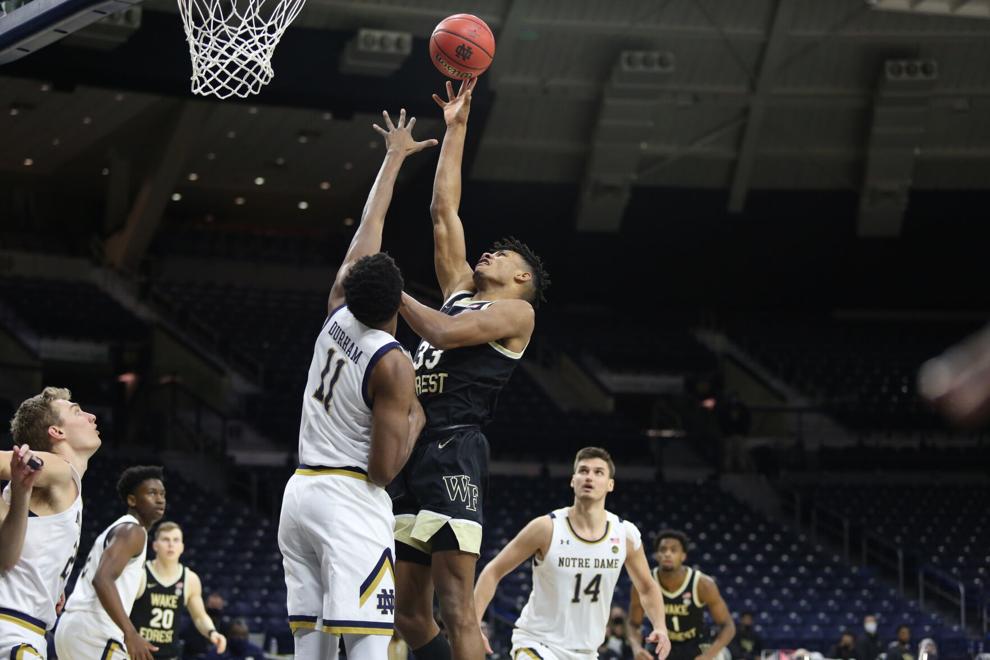 4M5A8815.JPG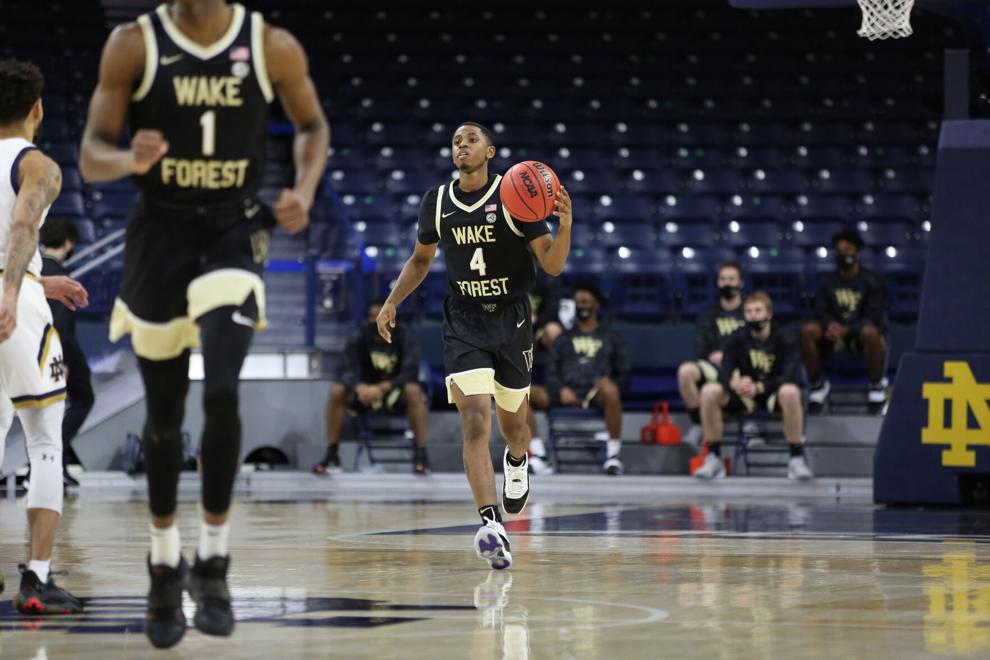 4M5A8817.JPG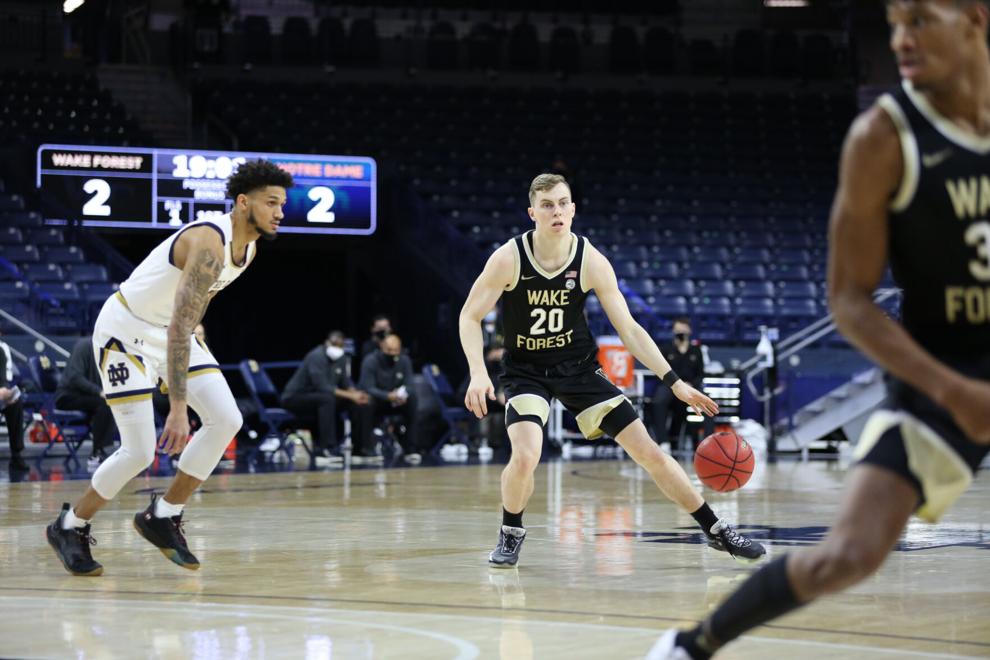 4M5A8819.JPG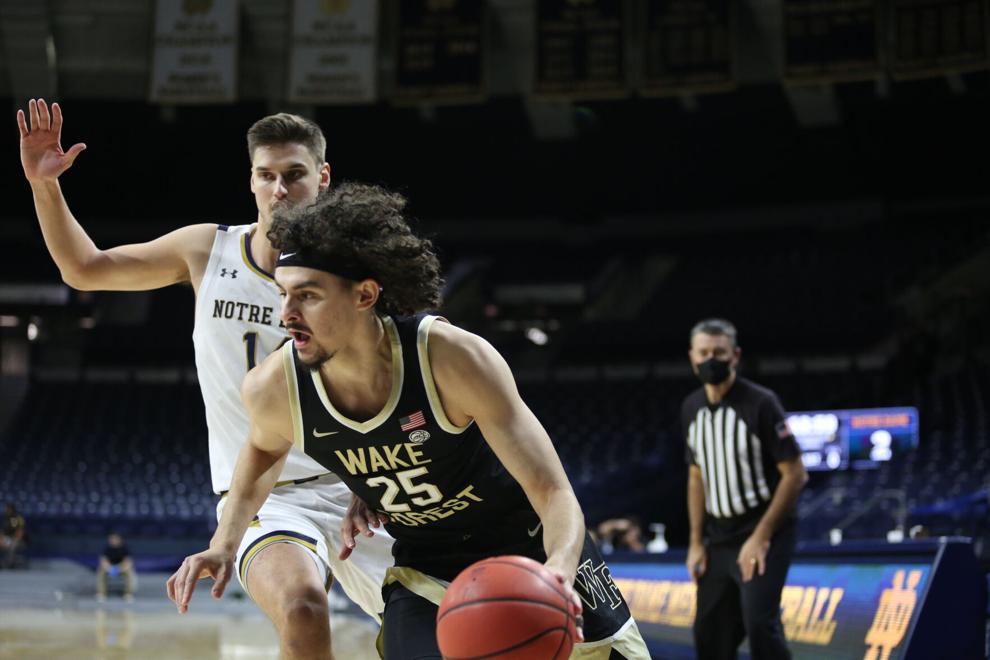 4M5A8820.JPG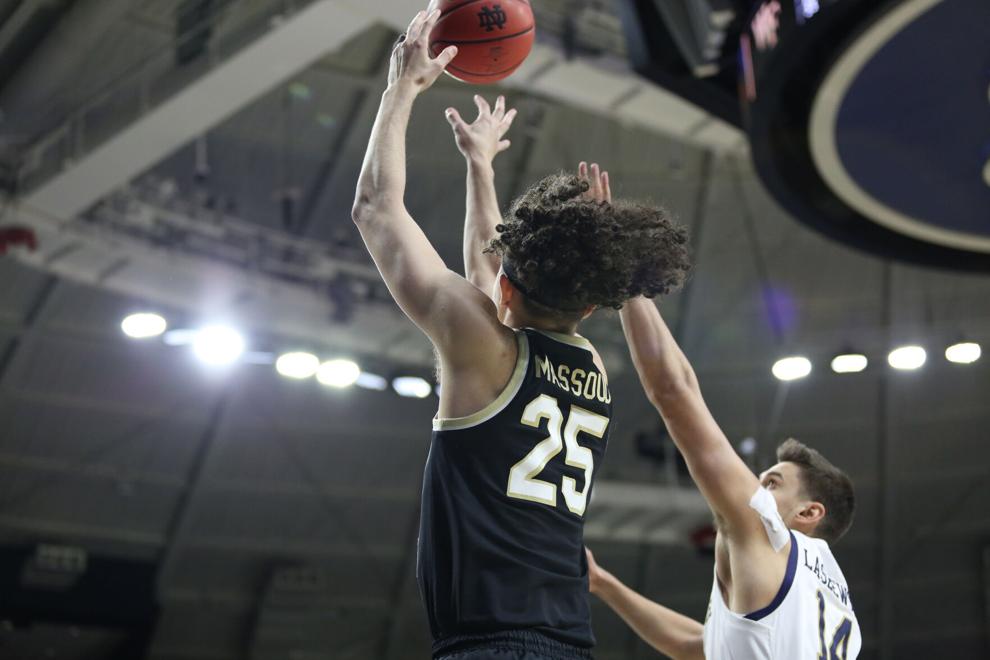 4M5A8824.JPG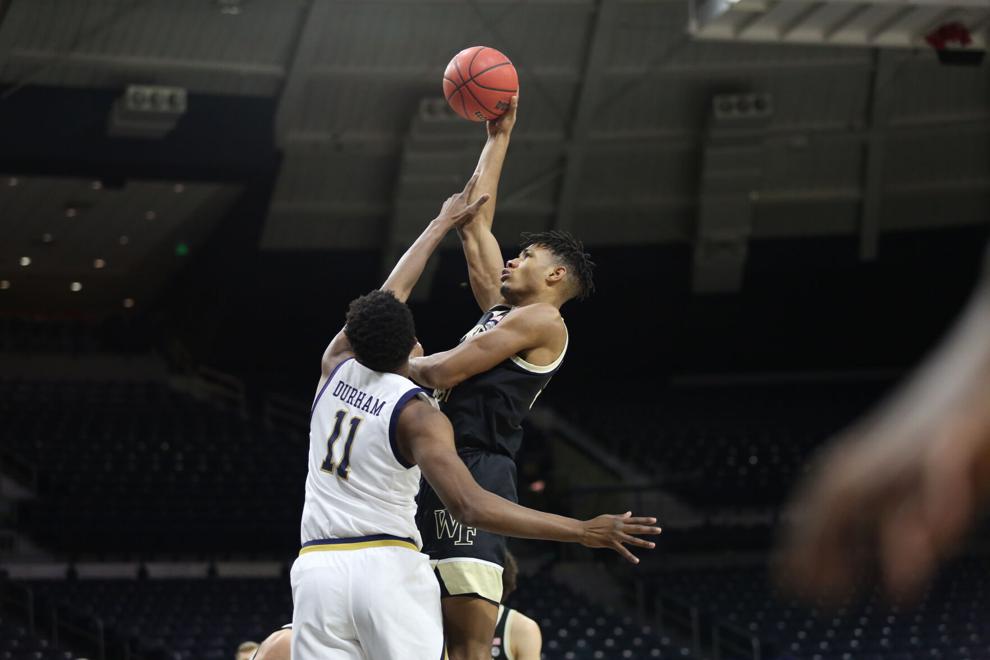 4M5A8825.JPG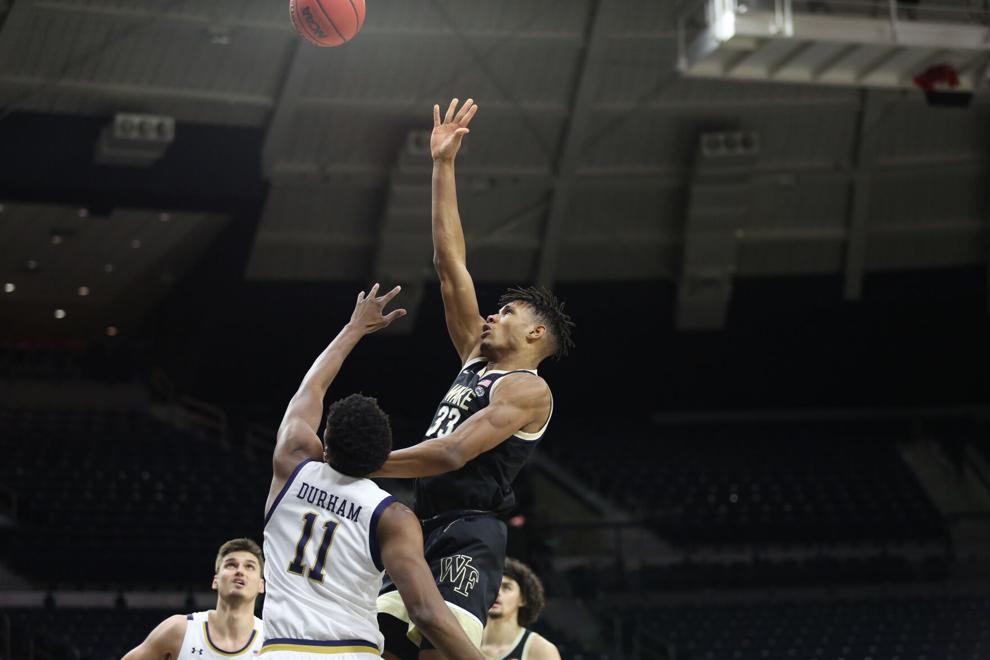 4M5A8928.JPG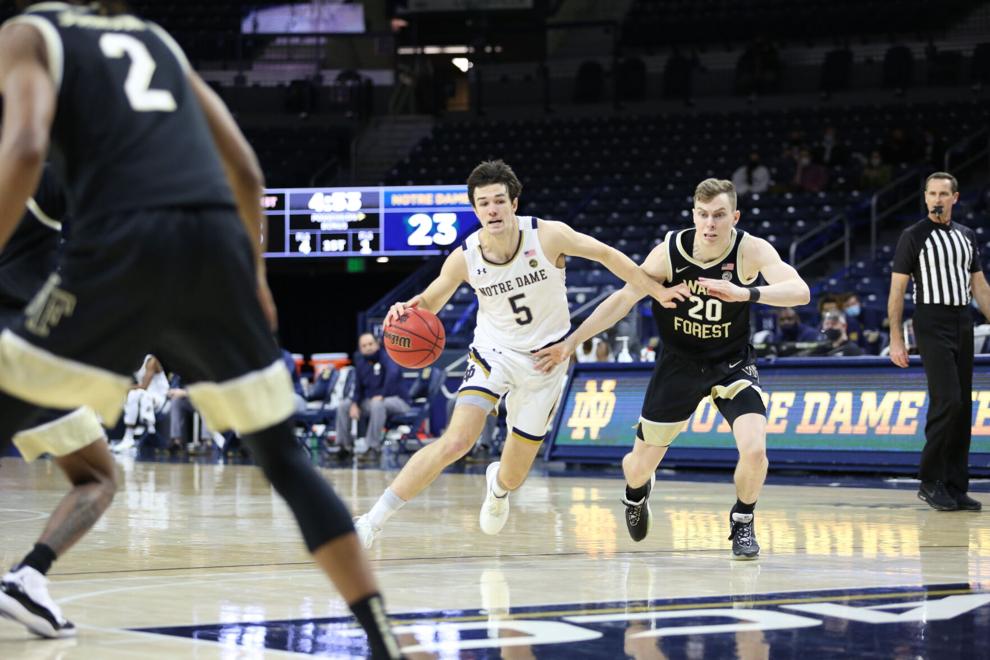 4M5A8936.JPG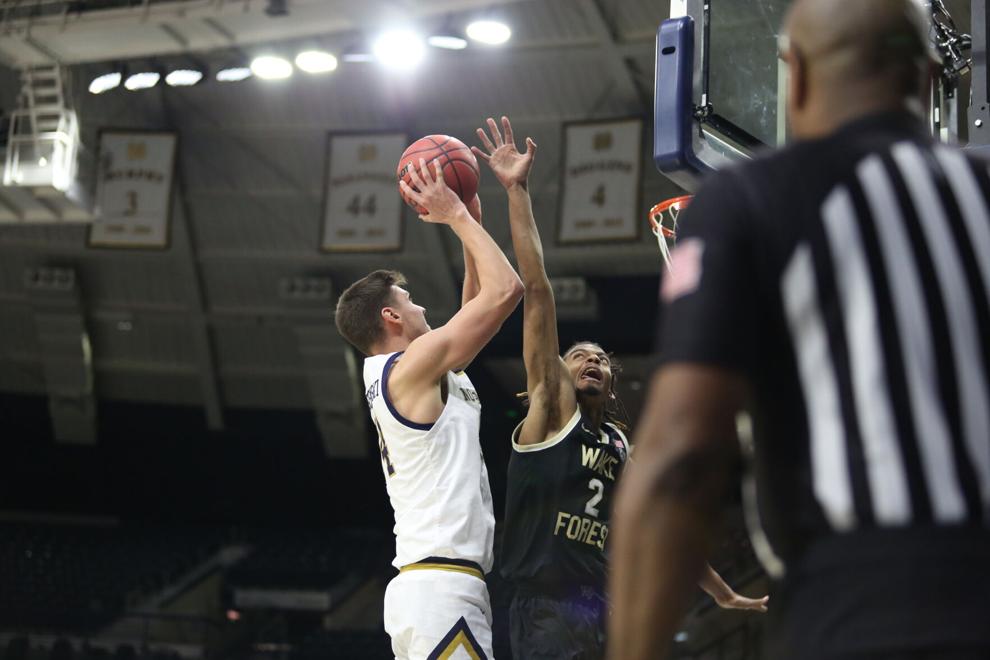 ND_WF_00002.jpg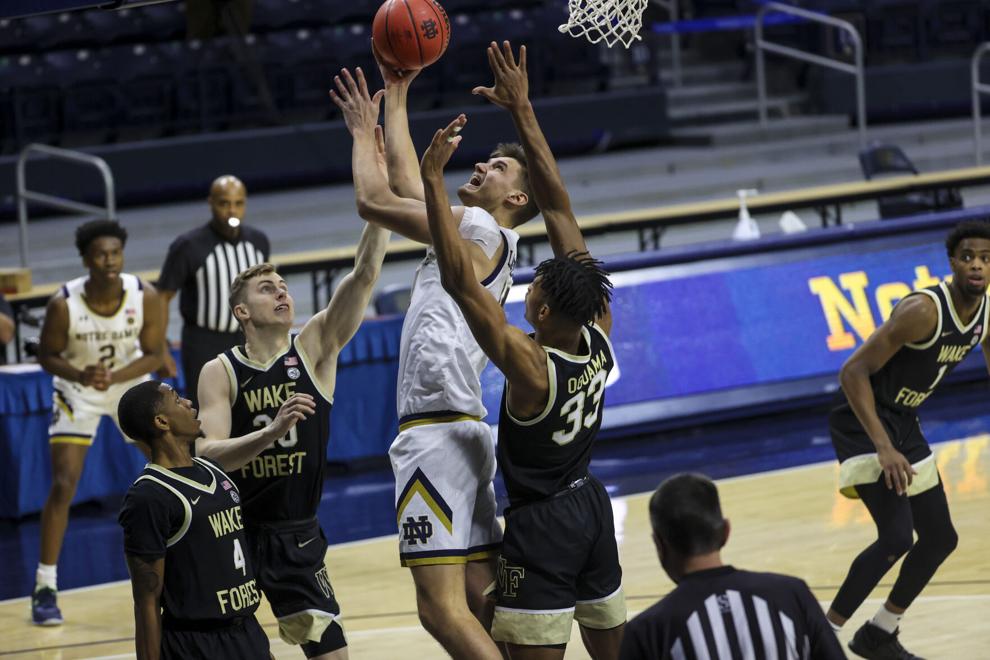 ND_WF_00005.jpg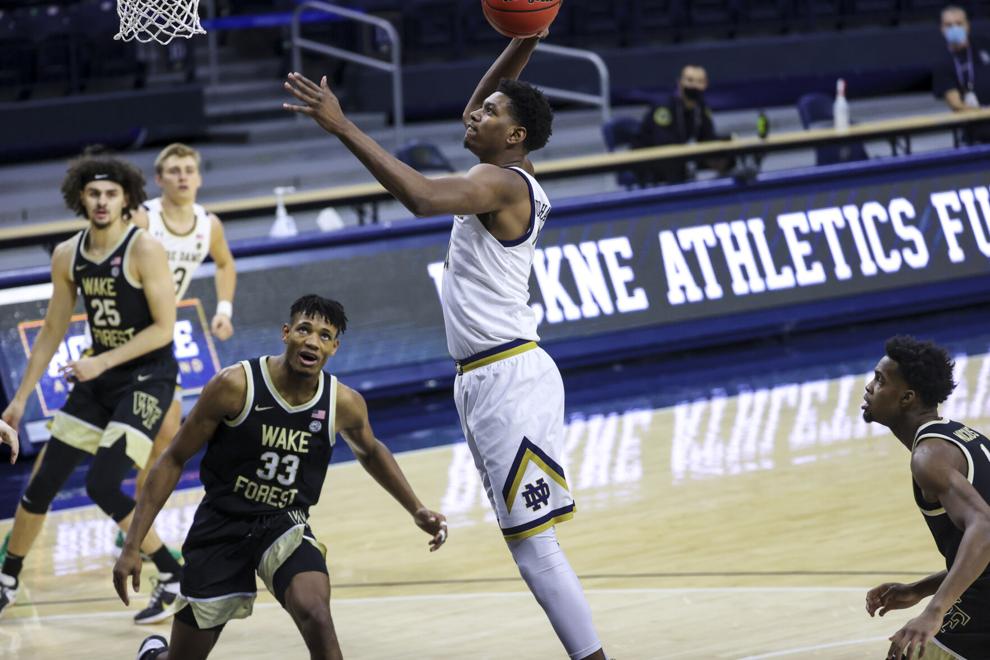 ND_WF_00029.jpg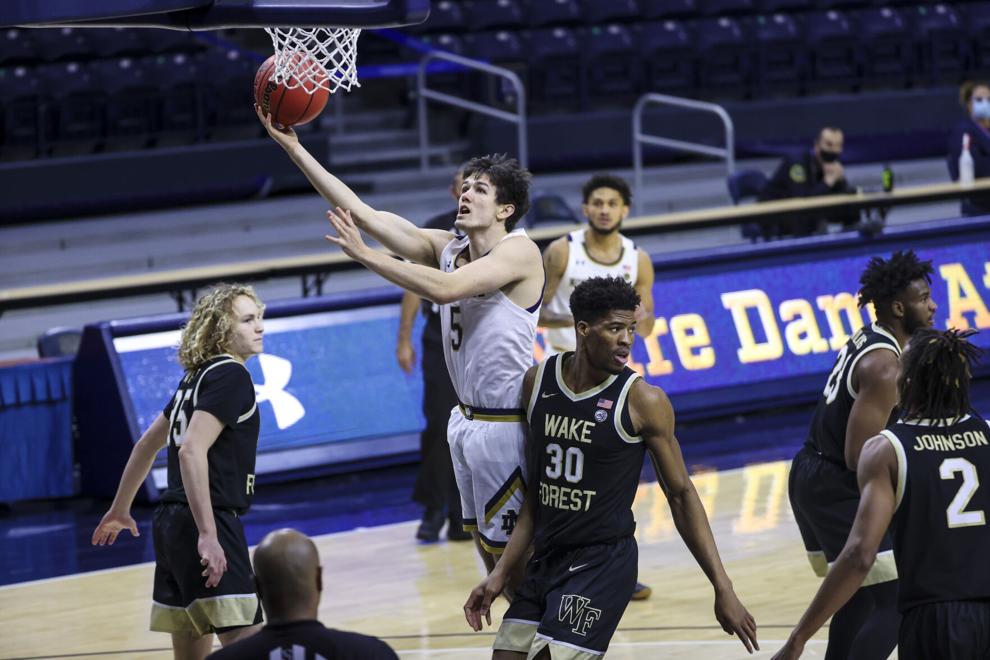 ND_WF_00037.jpg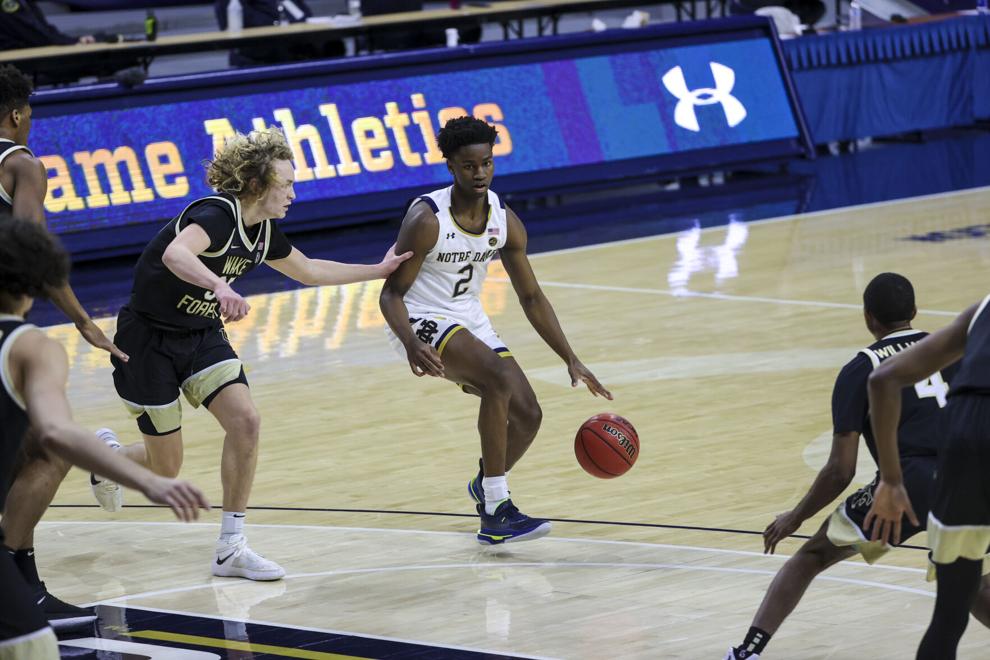 ND_WF_00038.jpg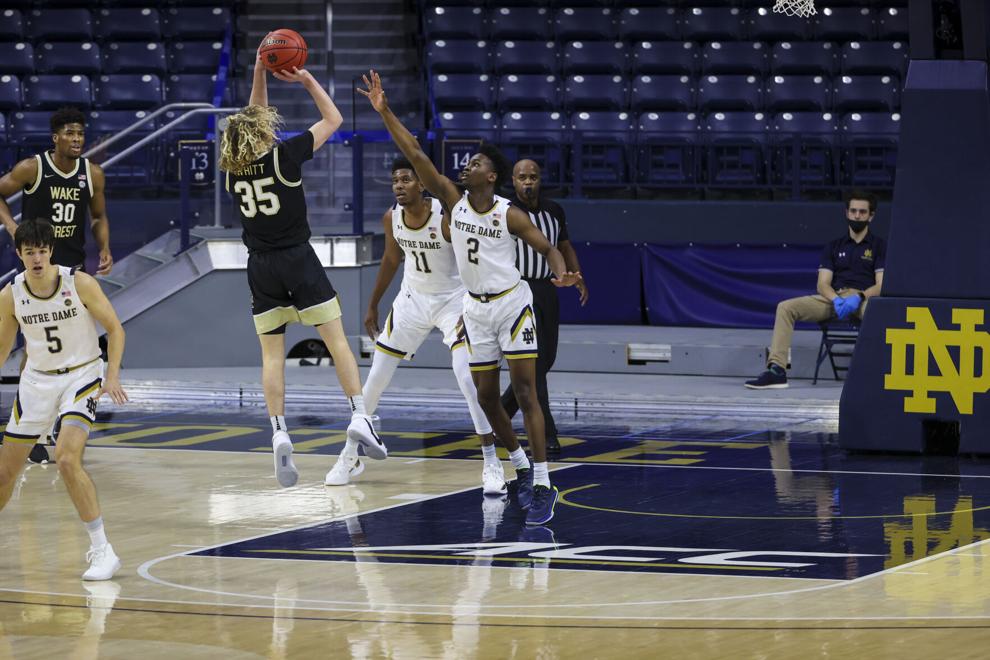 ND_WF_00039.jpg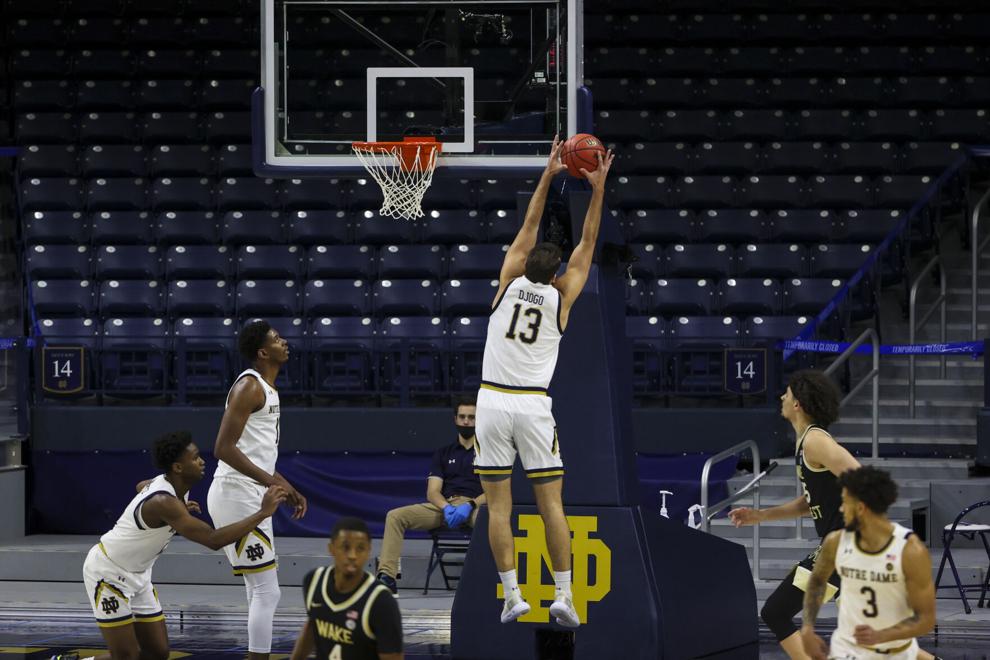 ND_WF_00043.jpg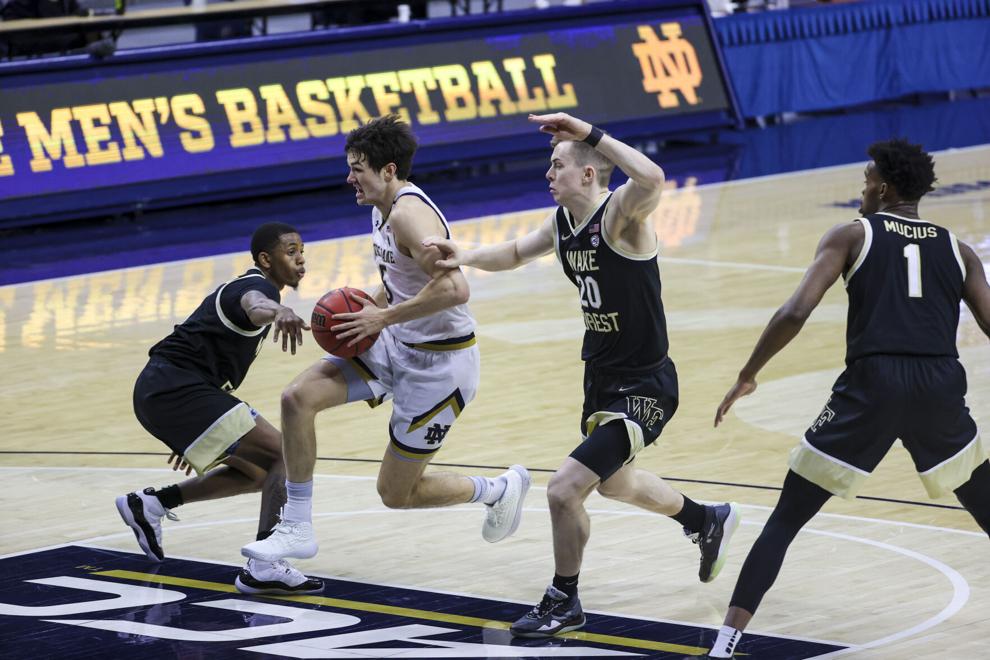 ND_WF_00044.jpg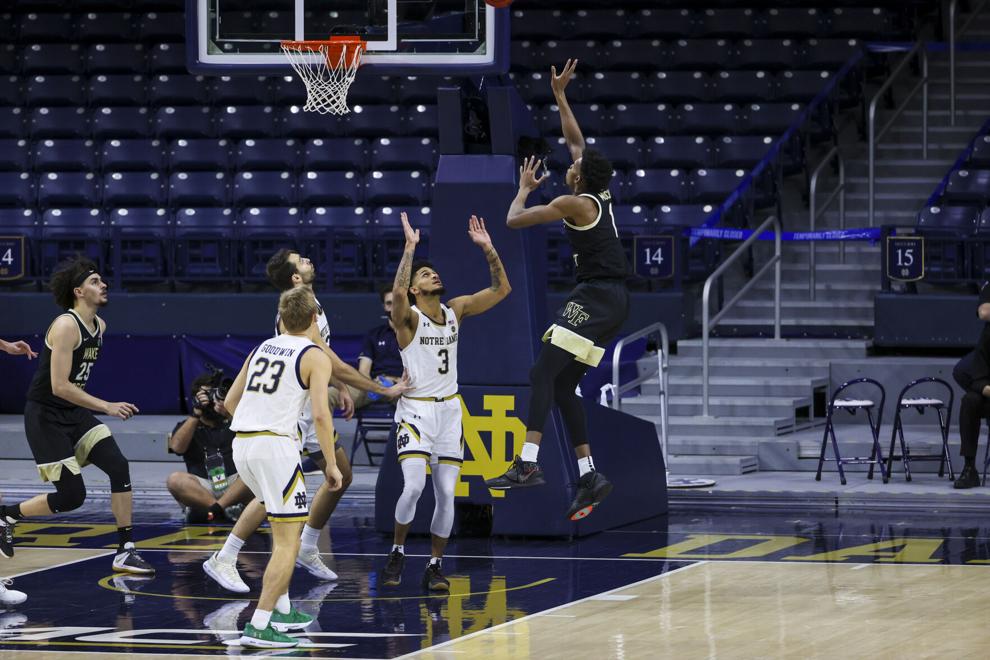 ND_WF_00047.jpg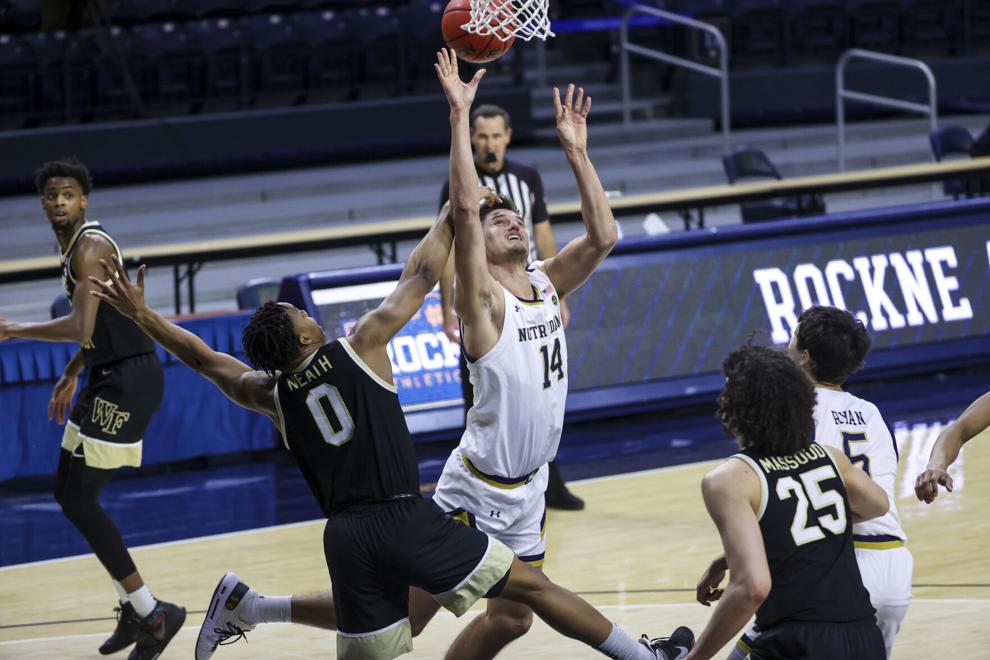 ND_WF_00050.jpg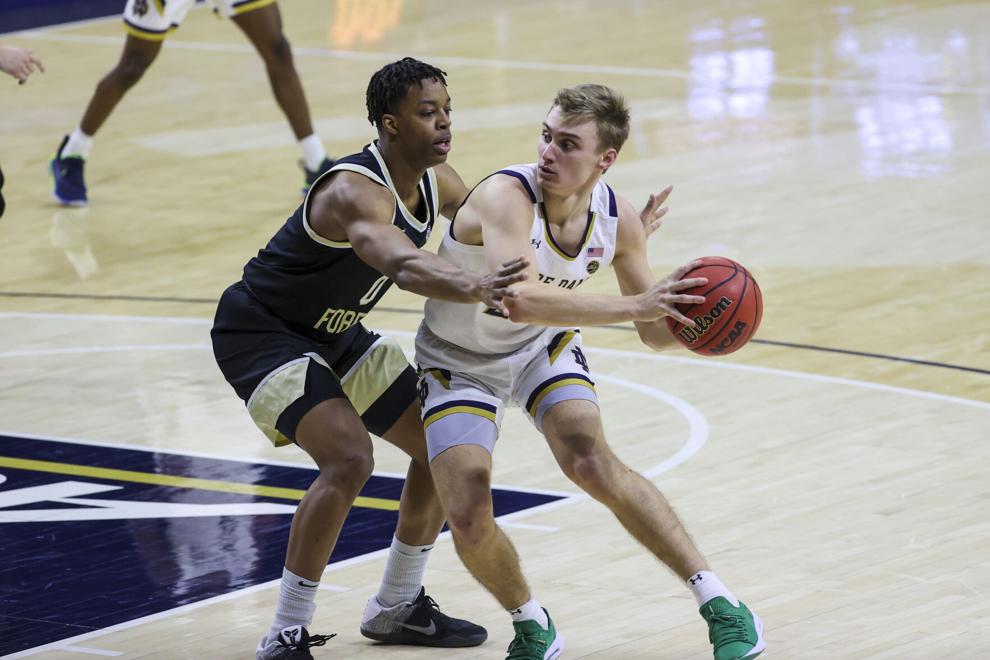 ND_WF_00052.jpg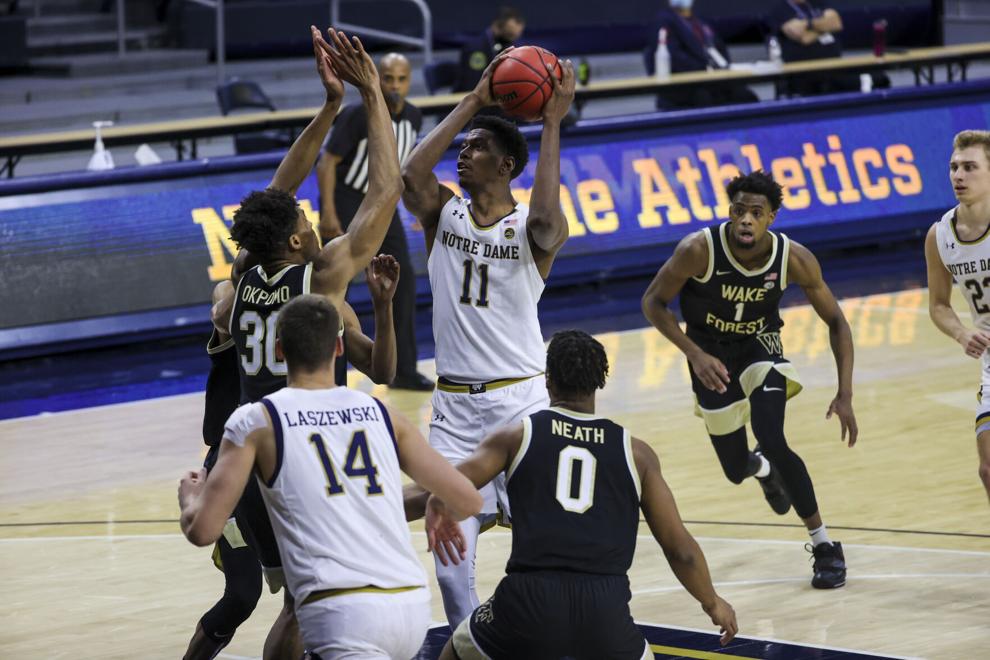 ND_WF_00053.jpg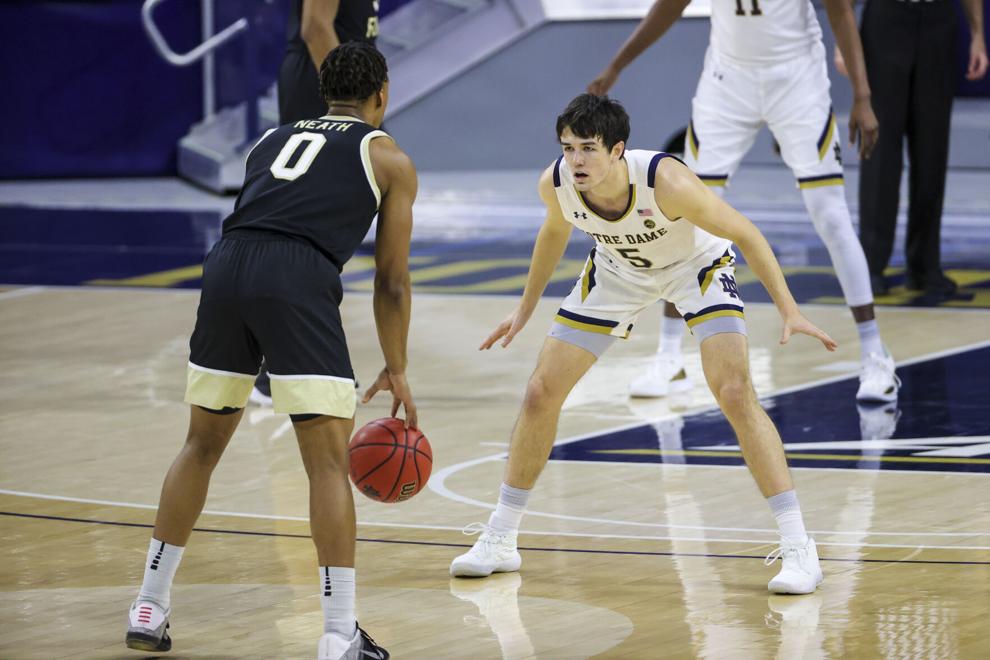 HIDE VERTICAL GALLERY ASSET TITLES