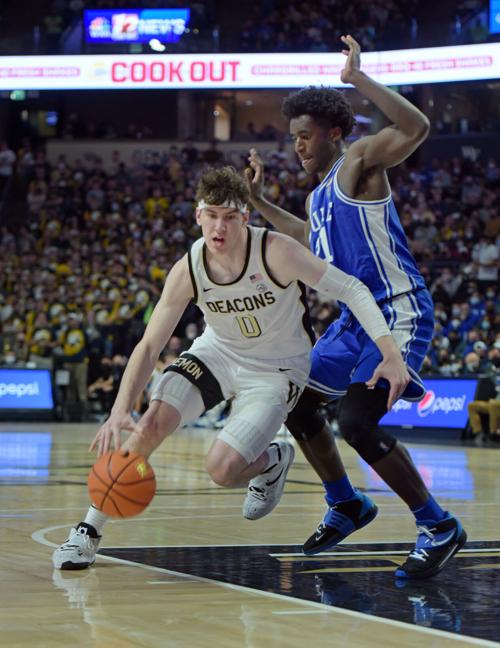 The Wake Forest Demon Deacons were almost ready for primetime on Wednesday night against eighth-ranked Duke.
Everything was set up nicely thanks to a near sellout crowd of more than 14,000 at Joel Coliseum as Tye Dye Nation was brought out of hibernation.
The Blue Devils, however, didn't care about any of that as they won 76-64 even as their legendary coach, Mike Krzyzewski, was back in Durham with a non-COVID illness.
The best player on the floor, freshman Paolo Banchero, looked every bit like a top-5 NBA draft pick and his teammates also helped carry the load. It was too much for the Deacons to handle who lost for the first time at home this season.
"We wanted to win it for coach," Banchero said. "He didn't come to practice (on Tuesday) so we figured he wouldn't be at our game."
The Deacons stood toe-to-toe with the Blue Devils in the first half but it was a 3-pointer by A.J. Griffin, who made his first career start, with a second left in the half that gave them a three-point lead at the break. The Blue Devils then stormed out of the gates in the second half and never looked back.
"That three they hit at the end (of the half) was a tough shot and then they went on a run to start the second," said forward Jake Laravia, who was in foul trouble most of the night. "That's never good for us to give that up and it's not like us either."
Laravia said they will get better.
"Duke's just another basketball team so I don't think any of us look at the rankings so we just went out there and played Duke like any other team," he said. "We had a lot of fans and that was great and that was a different atmosphere and hopefully that will continue."
Coach Steve Forbes pointed out the slow start to the second half was pivotal.
"I really thought those middle minutes were crucial," Forbes said about the Blue Devils seizing control.
Banchero and Griffin combined for 46 points as the Blue Devils shot an impressive 51% for the game.
In the first half the Deacons got enough offense to stay close but in the second half there was a lot of standing around as Alondes Williams, the leading scorer in the ACC, tried to create but ran into center Mark Williams a lot. Mark Williams ended up with three blocked shots but it seemed like a lot more as Alondes had to work hard for his 25 points.
Despite the loss, however, the Joel Coliseum did have a pulse for the first time in a long time. A masked-up crowd that did have its share of Duke fans is something Forbes was happy with.
"It was great," Forbes said. "It was exciting to see that and that's why we came here to get that going again. Hopefully they'll stay with us and hopefully they saw a team that didn't play it's best but that had something to do with the opponent. We have to learn from this and move on because we got Virginia on Saturday."
Forbes said he didn't think there was extra incentive for the Blue Devils with their coach back home.
"I don't think so," Forbes said. "Obviously they are concerned with their coach and we send him our thoughts and prayers but (acting head coach) Jon (Scheyer) and (assistant coaches) Nolan (Smith) and Chris (Carrawell) have been there. And when the ball goes up you are who you are. And I'm sure they would have liked to have had their hall of fame coach there, but I would imagine it was business as usual."
Students make some noise
An estimated 3,000 students filled out the four student sections behind one of the baskets.
It was the return of Tye Dye Nation, and just like the football home games, the students didn't disappoint.
The Wake Forest players and coaches were definitely excited about the support.
It didn't take long for the students' first chant. When Banchero drew his first foul in the game the students screamed "DUI, DUI, DUI" referring to Banchero's brush with the law when he was a passenger in his own car while teammate Michael Savarino, who is Krzyzewski's grandson, was cited for a DWI in November.
Also making an appearance was Noel Shepherd who was a main-stay during the height of Tye Dye Nation as he danced to "Jump Around" after a timeout late in the half. Shepherd, who is known as NazTDeac, still had some nifty moves some 10 years later.
Jim Caldwell sitting at courtside
Jim Caldwell, a former Wake Forest football coach who was coaching during the Rodney Rogers-Tim Duncan-Randolph Childress era, said he was excited to see a full arena again.
Caldwell, who with his wife Cheryl live in Clemmons and have four grandchildren in the area, sat next to Charles and Robin Paul, who are the parents of Chris Paul.
"I saw the game against VMI and they are really playing well," Caldwell said before the game.
Caldwell, whose name has been linked with vacant head coaching jobs in the NFL, smiled through his mask about coaching in the NFL again.
"We'll see how it goes," said Caldwell, who last was a head coach for the Detroit Lions in 2017.
Charles Paul says being back at sold-out Joel Coliseum brings back some great memories.
"You see all the students here right behind us so you know this is a big deal to play Duke," Charles said.
Coming to see Coach K
Jessie Martin, who is from Conway, North Carolina, travelled to Winston-Salem to see Krzyzewski for the first time in person. He's retiring after this season but didn't make it to the game.
"I'm disappointed," Martin said. "We learned about it once we got to the hotel. My grandma and I are the biggest Duke fans, and we've always wanted to see Duke play so this is our first time."
Martin and her grandmother, Shirley Askew, wanted to see the legendary coach on the bench.
"It's still going to a hyped game so we're excited," said Martin, who is in college and is majoring in nursing.
Wake Forest season ticket holders
Wearing their Tye Dye shirts, Kippy and Jacky Anderson, couldn't wait to get to their seats for the game.
The couple from Winston-Salem have been season-ticket holders since 1971.
"This is a big game and there's a big crowd here," Jacky said. "It hasn't been like this in a long time so we're glad things have finally turned around. We've had some down years, obviously, but this year is different."
Yes, Joel Coliseum was alive again, and you could feel it.