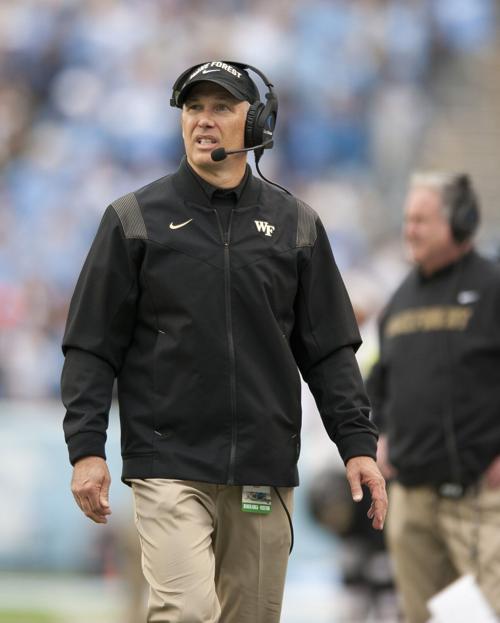 Part of Wake Forest football coach Dave Clawson's success means he gets asked about vacant coaching jobs.
Clawson, in his eighth season at Wake Forest, has the Demon Deacons within one win, either at Clemson on Saturday (noon, ESPN) or at Boston College on Nov. 27, of winning the ACC's Atlantic Division title and a berth in the league championship game at Charlotte on Dec. 4.
The Deacons (9-1) will play in their sixth consecutive bowl game, and with a league championship they'd likely play in the Peach or Fiesta bowls.
"We're trying to get ready to play Clemson," Clawson said of the open jobs. "So that's enough of a challenge without complicating things."
Virginia Tech and Justin Fuente announced a separation this week, and other vacancies can be found at LSU, Southern Cal, Texas Christian, Texas Tech, Washington and Washington State.
"Those are things I don't really concern myself with," he said. "I'm pretty locked in with what we are doing now."
Clemson's strength is defense
One of the best offenses in the ACC will go up against one of the best defenses in Death Valley. The Deacons lead the ACC in scoring at 44.7 points per game, and the Tigers lead the ACC with just 15.3 points allowed.
Defensive coordinator Brent Venables has kept the Tigers in the hunt for another ACC title despite Clemson's fall from the national spotlight.
"For them, it starts on defense," Clawson said. "They have one of the best defensive coordinators in all of football. They've got great players and that combination of being well-coached and having talent, they are the best defense in the ACC."
The Deacons are second in the nation in scoring in FBS behind only Ohio State, which averages 46.3 points.
Going through Clemson to win it
The Tigers must beat Wake Forest and then hope the Deacons lose to Boston College to win a seventh straight Atlantic Division title.
"Obviously Clemson's a great team," said the Deacons' Luke Masterson, a linebacker in his super senior season and a former defensive back. "They've had their success in the ACC, so it's not really a surprise that they are in the position that they are in and still in the talk with the ACC. We kind of knew we would have to go through Clemson, but they are usually always in contention."
Let the moment sink in
After most games, Clawson likes to get his players in the locker room as soon as possible. But Saturday night's win over N.C. State was different. He let the players and his coaches linger to enjoy the moment of the 45-42 win as students and fans emptied onto the turf at Truist Field.
The public-address announcer called the players to the locker room, but they weren't listening.
"It was awesome," Masterson said. "I was just taking it all in and enjoying the moment. I was looking around and seeing that my teammates were still out there because I didn't want to get in trouble for not going to the locker room. Coach Clawson just told us to enjoy it and embrace that moment because you don't get that too often."
Coaches association honors Faircloth
Bill Faircloth, who dedicated his career to Wake Forest athletics and helping student-athletes grow and develop on and off the field, has been named the 2021 American Football Coaches Association's Outstanding Achievement Award recipient.
"Coach Fair is a Wake Forest living legend," Clawson said. "Having played, coached and worked here over the past five decades, he understands this community and our football program better than anyone. He is truly loved by all our former players and there is no one more deserving of this award than Bill Faircloth."
Faircloth, who was an AFCA 35-year member and long-time athletics administrator and coach, won the Wake Forest's Gene Hooks Lifetime Achievement Award in 2012. He was a three-year letter winner at Wake Forest as an offensive lineman from 1961 to '63. He was team captain in his senior year and earned Academic All-ACC honors. Faircloth earned his master's degree from Alabama in 1965.