Back in his youthful days as a graduate assistant coach at Albany in upstate New York in 1989 and '90, Dave Clawson did whatever he could to earn a little extra money.
At night, he worked as a bouncer at a bar. In the mornings, he'd open the pool on campus.
"I was trying to make ends meet those two years," the Wake Forest football coach said, "and I think I would have qualified for food stamps."
Clawson said the graduate assistants on the football staff would take turns as a bouncer at Across the Street Pub, which is still there near campus.
"The key thing was you got to order off the menu half-price, so you would get a cheap meal and you were getting paid," Clawson said. 
He said he earned $5 an hour as a bouncer, and for $15 a day he'd open the pool at 5:45 a.m.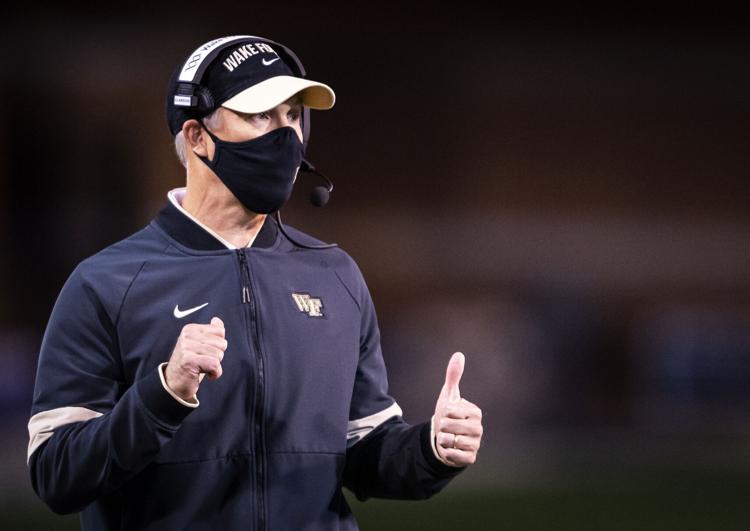 "It was hard if you had to bounce and get back at 1:30 in the morning, then turn around and open the pool at 5:45," Clawson said.
Offensive line rounding into shape
The Deacons had a weekend off after their 66-14 domination of Campbell on Oct. 2, but offensive lineman Loic Ngassam Nya says there was plenty of work to do.
The challenge for the line is to continue the good play on Saturday against Virginia.
"Virginia's defense is a really good defense and they have a lot of starters back," Nya said. "They play hard and know what they are doing, and watching the N.C. State game you could tell this is a team that we will be able to block but it's not going to be an easy game because it's going to be a hard game."
Virginia coach praises Wake defense
Virginia coach Bronco Mendenhall will be facing the Deacons for the first time since he arrived in Charlottesville, Va., to begin coaching in the 2016 season. He's impressed with the Deacons' defense.
"I like the design," Mendenhall said. "I like seeing coaches that are intentional about what they're doing and why they're doing it and the different traps they lay. And I just think that, again, Dave Clawson and the staff at Wake Forest, they've designed great systems for their school and their players that complement defense, to offense to special teams that gives them their best chance to win."
Morin gives update after three games
After the weekend off, the Deacons will head into the Virginia game with a 1-2 record but 0-2 in the ACC.
"I think it was just getting a lot of younger guys they were getting their feet wet," receiver Taylor Morin said. "There were a lot of guys playing in their first collegiate games against Clemson, N.C. State and Campbell, so we could reflect on what we've done and what we need to do for our upcoming ACC games."
The Deacons are scheduled to play eight conference games over the next nine weeks.
"ACC play is not easy, so we have to make sure we are ready and head in the right direction," Morin said.
Be the first to know
Get local news delivered to your inbox!