Saturday will mark a significant date in Wake Forest history.
On Oct. 24, 1970, in Winston-Salem, the Deacons scored two fourth-quarter touchdowns to rally to beat North Carolina 14-13 on their way to the ACC title.
Larry Russell, the quarterback, also held for extra-point attempts. When the Deacons took the lead 14-13 late on an extra point by All-ACC kicker Tracy Lounsbury, Russell remembers doing something odd.
"I actually picked up the referee who had his arms raised and was shaking him because I was so excited," said Russell, also an All-ACC player.
The Deacons had to go 93 yards in three minutes to score and did just that.
Russell, who lives in Auburn, Mass., said that team, coached by Cal Stoll, was special.
The Deacons were 5-1 in the ACC, good enough to win the league title, but they went 6-5 overall and didn't play in a bowl game. Carolina had the league's best overall record at 8-3 (5-2 ACC), and the Tar Heels played in the Peach Bowl.
Before the pandemic hit, Wake Forest planned to have a celebration for that 1970 team.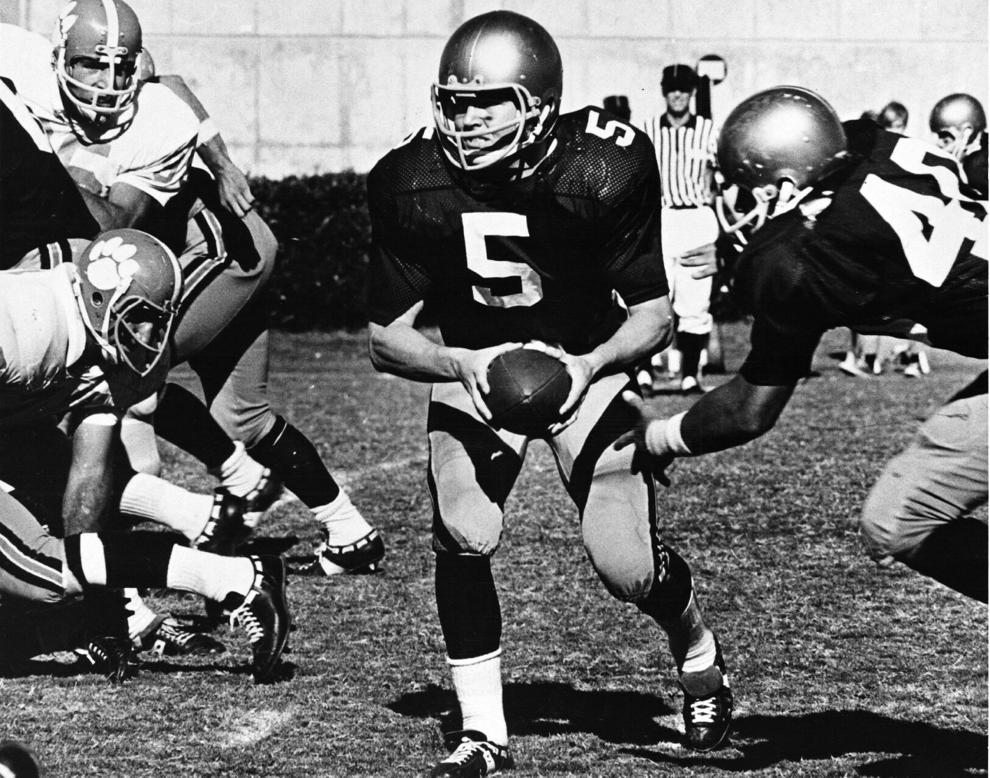 "We are going to do something virtual, but it won't be the same," Russell said.
What does Russell remember the most from that season?
"Nobody expected us to do anything, but we fooled them pretty good," Russell said, laughing.
Wake Forest, which had finished in seventh place a season earlier, beat Virginia, Clemson, Carolina, Duke and N.C. State, losing only to South Carolina 43-7 in its ACC opener. Also making first-team All-ACC were running back Larry Hopkins, guard Bill Bobbora, linebacker Ed Stetz and defensive lineman Win Headley.
Lots of video games
Wake Forest players have been on campus since July, so there's been plenty of time for video games. There hasn't been as much gaming since the season started, but players have figured out who is the best on the team.
Ja'Sir Taylor, asked who the best video game player was, without hesitation said: "Me."
When pressed on the matter, however, he gave the title to kicker Jack Crane, a graduate transfer.
"I'm a close second," Taylor said.
During various times when the team has been in quarantine inside their bubble, they would arrange for 15 to 20 players to compete in "Call of Duty."
As for Crane, a graduate transfer from Washington State, Taylor said he's ranked No. 1 on the Deacons.
"He's really good," Taylor said. "And I think at his old school, he used to make money streaming it somehow and by winning tournaments."
Penalties stand out
If there's one trait that Coach Dave Clawson and his staff have instilled into the program over seven seasons, it's don't beat yourself with penalties.
The Deacons, who will play Virginia Tech on Saturday, have traditionally been one of the least penalized teams in the ACC since Clawson arrived.
On Saturday against Virginia, the Deacons committed 12 penalties totaling 119 yards, the most flags against Wake under Clawson.
"We've just got to be more disciplined," Clawson said. "Again, it's some younger guys on defense, some freshmen and sophomores that get excited in the heat of the moment, and they don't know where they are on the field."
Clawson acknowledges there will be growing pains, especially on defense.
"I don't think they are malicious or dirty plays," Clawson said. "It's just a lack of awareness, and obviously we will address it."
The Deacons committed seven penalties in their first three games, fewest in the ACC, but now they are ranked fourth in the league.
"The one late hit after the kickoff really gave them a field goal," Clawson said. "Again, I'm disappointed in that but, heck, we've had games that we were penalty-free and we lose, so I'll take the tradeoff."
Short kicks
Kicker Nick Sciba has been named the Lou Groza Star of the Week after his four field goals against Virginia. Last season Sciba was a semifinalist for the Lou Groza Award, given to the top kicker in Division I. ... Virginia Tech has four players from the Triad: Quarterback Hendon Hooker, receiver Tre Turner and linebacker Alan Tisdale of Greensboro and safety Divine Deablo of Winston-Salem... Wake receiver Jaquarii Roberson is fast becoming quarterback Sam Hartman's favorite target. In his previous two seasons Roberson had a total of 13 catches. Through four games, Roberson has 20 catches to lead the Deacons and ranks sixth in the ACC. He is averaging 15.7 yards per catch. ... Taylor Morin ranks first in the ACC in punt returns, averaging 14 yards. ... Virginia Tech, which is ranked 19th in the country, leads the all-time series with Wake Forest 24-12-2. The Hokies won 36-17 last season.