Wake Forest's football team is getting a sliver of good news from its four-week absence from playing games. Luke Masterson, a fifth-year safety, has recovered from his early-season foot injury and is expected to start on Saturday at Louisville.
Masterson warmed up to play against North Carolina on Nov. 14 but didn't feel right and never got on the field.
"For the past month and with the guys having to shift schedules every week it's been tough, but it's important to get back out there and compete," Masterson said.
Masterson, a team captain, says he missed a lot of things about not being on the field.
"I missed the daily practices with the guys and with the games I missed competing with my brothers out there," he said.
Masterson said that he intends to play again next season thanks to the NCAA not counting this season as far as eligibility is concerned.
"It's something I'm considering right now," he said. "I'm leaning toward coming back and that's a decision a lot of guys will have to make…."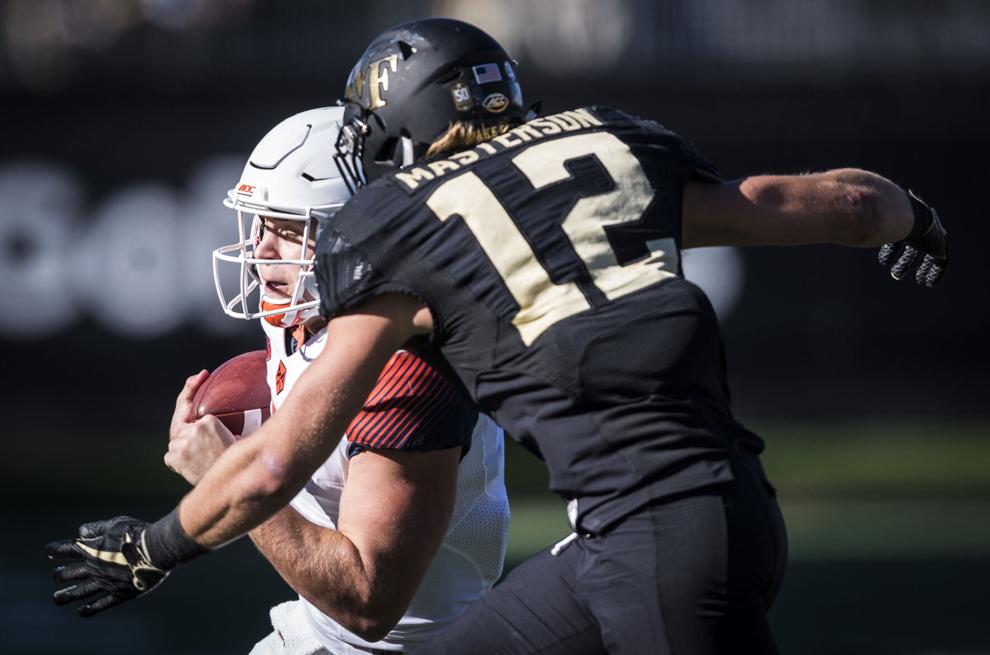 Part of the reason walk-on freshman Nick Anderson has seen so much playing time is Masterson's injury. Now, they are both slated to start in Saturday's game.
Hartman appreciates being out there
Deacons quarterback Sam Hartman said it's been a long four weeks between games. While the team wasn't able to practice for several days over the last four weeks because of COVID-19 issues, they missed playing football.
"I think guys with the time off they reassessed how much it means to be out there and how special it is to play this game and how quickly it can be taken away," Hartman said. "So there's an appreciation."
Hartman was asked about the timing with the offense after 28 days between games but he says conditioning will be more of a factor on Saturday.
"I know I felt a little winded here and there," Hartman said about recent practices.
East Forsyth graduates moves up depth chart
When Coach Dave Clawson confirmed that running back Kenneth Walker III would miss the rest of the season after opting out because of COVID-19 issues, the depth chart was adjusted.
Christian Beal-Smith, an East Forsyth graduate, will get a majority of the carries and is having an outstanding season. Freshman Justice Ellison moves to No. 2 behind Beal-Smith, and another freshman, Ahmani Marshall, could get some carries as well, according to Clawson.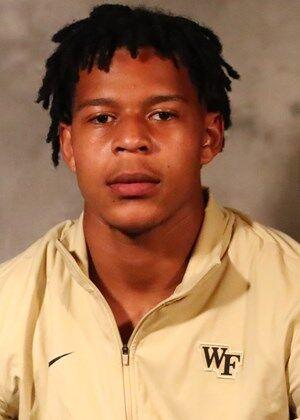 Marshall, who is 6 feet 2 and 210 pounds, is also an East Forysth graduate.
"Christian has had a really good year, but we're excited to see what Justice and Ahmani can also do," Clawson said.
Marshall and Beal-Smith were teammates at East Forsyth, and Marshall's father, Malcolm, played at North Carolina from 1991 to 1994.
Marshall's only action this season was two carries for 10 yards in the win over Campbell.
Clawson says it's all been worth it
Several times this season Clawson has been asked if playing through a pandemic has been worth it. The Deacons have shuffled their schedule around so much they had six weekends off in a span of 13 weeks.
"It's been worth it because what would our players be doing if they weren't here at school?" Clawson said. "This has been far from ideal, and it's challenging but it beats the alternative of all of them being at home and not able to do anything."
Clawson said he's often addressed with the players the mental toll of the pandemic has had on everybody.
"People say that it was all about the money, but that's not true at all, especially at Wake Forest," Clawson said. "We gave our players the option if they wanted to play or not. I think from a mental health standpoint, football has been the one somewhat normal thing in their life."
Drama in the Louisville program
It hasn't been a great few days for Coach Scott Satterfield at Louisville, who admitted to having conversations with South Carolina about its coaching vacancy. Shane Beamer ended up getting the job but Satterfield, who is just in his second season at Louisville, talking to South Carolina did not go over too well with Louisville fans.
Satterfield told The Courier-Journal in Louisville that he had no intention of leaving, but he "owed an obligation just to listen because of where it's at."
Clawson was asked about Satterfield, a former Appalachian State head football coach.
"I know Scott and I have a lot of respect for him and I think he's a really, really good football coach," Clawson said. "And I'm sure a lot of coaches in the ACC would have liked him to leave because he does a good job. So, again, what that did to their program I have no idea. I know Scott's a good football coach and I enjoy him as a person and I think he's got a good staff, and I think they are doing a really good job up there."
Short kicks
Kendall Hinton, a former Wake Forest star, was thrust into the starting quarterback position for the Denver Broncos late last month. Much was made of the fact that Hinton, who was a practice squad player as a wide receiver, was given 24-hour notice that he would play. His wrist band from that game with the plays will be displayed at the Pro Football Hall of Fame in Canton, Ohio. "I would not say this is how I planned it out in my dreams, but it usually doesn't work out how you want it," Hinton told the Denver Broncos website. ...
Deacons kicker Nick Sciba is a semifinalist for the Lou Groza Award for the second straight season. Sciba, a junior, needs 45 points to break Sam Swank's Wake Forest scoring record. "He's one of the best kickers in college football," Clawson said. "As good of a kicker as he is and has been, he's even a better person and teammate."…
Wake Forest's Dave Cohen has been nominated for the Broyles Award, which goes to the top assistant in college football. Cohen is the assistant head coach for defense and the defensive line coach….
Clawson said he expects about half of his redshirt juniors and seniors to elect to come back and play next season. If several key players do return, Clawson said it's a boon for recruiting. "Everyone talks about recruiting rankings and all of that," he said. "If we get some of these fifth-year guys to come back, in my mind, those are six-star recruits."
5 difference makers who made headlines in and around Winston-Salem in 2020