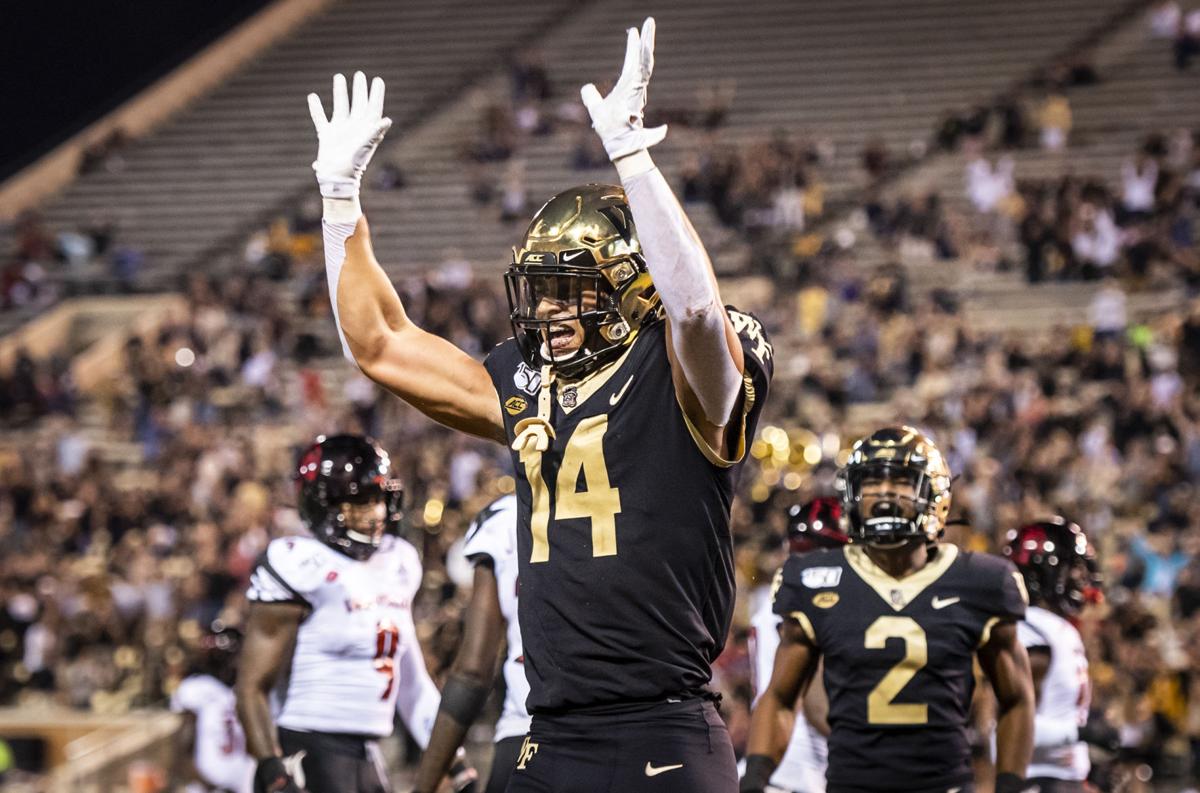 Wake Forest's football team won't leave the state until Halloween and is scheduled to end its season with four of five games on the road.
Last week's introduction of a revamped schedule, with dates announced today, removed regular opponents Boston College and Florida State while adding North Carolina, Virginia and Virginia Tech and retroactively making the game against Notre Dame an ACC matchup.
Here is Wake Forest's new schedule, with quick reactions on each game:
Sept. 12: Clemson
Series: Clemson leads 67-17-1 | Last meeting: Clemson won 52-3 in 2019.
Reaction: You're going to have play them every year anyway, so why not make it the first game of the season?
Clemson is coming off a national championship loss to LSU and is a title contender every season. The Tigers haven't lost an ACC game since 2017 — a winning streak of 22 if you include three straight ACC championship games.
Wake Forest will theoretically be the healthiest it's been all season for this game — a reversal from last year, when the Deacons traveled to Death Valley in mid-November hobbled by injuries.
Sept. 19: At N.C. State
Series: N.C. State leads 66-41-6 | Last meeting: Wake Forest won 41-10 in 2019.
Reaction: This game was originally was scheduled for Halloween, which would've made for a raucous environment under normal circumstances.
Wake Forest has beaten the Wolfpack each of the last three seasons — two nail-biters and then last season's blowout. The Deacons are the better team on paper for this one, too.
Sept. 26: Notre Dame (Charlotte)
Series: Notre Dame leads 5-0 | Last meeting: Notre Dame won 56-27 in 2018.
Reaction: Notre Dame will likely start the season in the top 10, giving the ACC (!) two top-10 teams and giving the Deacons both of them in the first three weeks of the season.
Having the Irish in the ACC is great, right Dave Clawson?
Notre Dame quarterback Ian Book made his first start in that blowout in Winston-Salem two years ago and now leads an offense that needs to remake itself after losing its top rusher and top three receivers.
Oct. 9: Old Dominion
Reaction: Wake Forest's one non-conference game, on a Friday night, is against an ODU team coming off a 1-11 season with a new coach, Ricky Rahne.
This comes after Wake Forest's first off week and is the Deacons' only non-Saturday game.
Oct. 17: Virginia
Series: Virginia leads 34-15 | Last meeting: Wake Forest won 27-20 in 2016.
Reaction: The first of the three added ACC opponents are the reigning Coastal Division champions — and it seems they'll retain that title through the season, since the ACC won't use divisions this season.
Virginia lost the single most important player from last season's Orange Bowl team — Bryce Perkins is battling John Wolford to be the Rams' backup QB. But Virginia returns six of its top seven tacklers and its top running back (Wayne Taulapapa, 12 touchdowns).
Oct. 24: Virginia Tech
Series: Virginia Tech leads 25-12-1 | Last meeting: Virginia Tech won 36-17 in 2019.
Reaction: Virginia Tech laid a bruising on Wake Forest in Blacksburg last season, and now the Deacons have a chance to return the favor several years earlier than they would have under the ACC's regular scheduling model.
This opponent became slightly more favorable for the Deacons with last week's announcement that All-ACC cornerback Caleb Farley will not play this season and is preparing for the NFL draft. But it still brings Greensboro native Hendon Hooker, the Hokies' QB, back to the Triad. 
Oct. 31: At Syracuse
Series: Syracuse leads 6-3 | Last meeting: Syracuse won 39-30 in OT in 2019.
Reaction: Maybe the biggest revenge-factor matchup for the Deacons.
Wake Forest started horribly against the Orange last season and mounted a comeback, only to lose in excruciating fashion.
This figures to be another high-octane version of the Orange, with seven returning starters on offense and only four on defense. Wake Forest and Syracuse typically are near the top of the ACC in plays per game — this could be another shootout.
Nov. 14: At North Carolina
Series: North Carolina leads 69-36-2 | Last meeting: Wake Forest won 24-18 in 2019.
Reaction: A bonus addition to Wake Forest's schedule means these in-state rivals are slated to play four seasons in a row — with last season's and next season's meeting as non-conference matchups.
This one counts in the ACC standings, though, and features a matchup of quarterbacks both named Sam and both from the greater Charlotte area — Hartman for Wake Forest, Howell for North Carolina.
Nov. 21: At Duke
Series: Duke leads 58-40-2 | Last meeting: Wake Forest won 39-27 in 2019.
Reaction: The Deacons have won back-to-back games against Duke and three of the last four — last season's win was Wake Forest's only victory in its last five games.
The last time Wake Forest traveled to Durham, the Deacons won 59-7 against a quarterback who was later picked sixth in the following NFL draft.
Nov. 28: Miami
Series: Miami leads 8-3 | Last meeting: Miami won 24-21 in 2013.
Reaction: Wake Forest's schedule is back-loaded with road games, but at least the Deacons' only home game in the final five falls on the week of Thanksgiving.
Miami is led by transfer quarterback D'Eriq King, who played four games at Houston last season as an early dark horse candidate in Heisman conversations.
Gregory Rousseau headlines the defense after leading the ACC with 15½ sacks last season. The Hurricanes added an impact transfer on that side of the ball, too — Quincy Roche transferred in after recording 13 sacks at Temple last season.
Dec. 5: At Louisville
Series: Louisville leads 5-2 | Last meeting: Louisville won 62-59 in 2019.
Reaction: An intriguing end to the season for these teams, and will be quite the finale if they're able to repeat the fireworks of last season's meeting.
The Cardinals were a surprising 8-5 under first-year coach Scott Satterfield last season and bring back plenty of pieces to build with — mainly quarterback Micale Cunningham (2,547 total yards, 28 touchdowns last season), running back Javian Hawkins (1,525 yards, nine touchdowns) and receiver Tutu Atwell (70 catches, 1,276 yards, 12 touchdowns).
Be the first to know
Get local news delivered to your inbox!