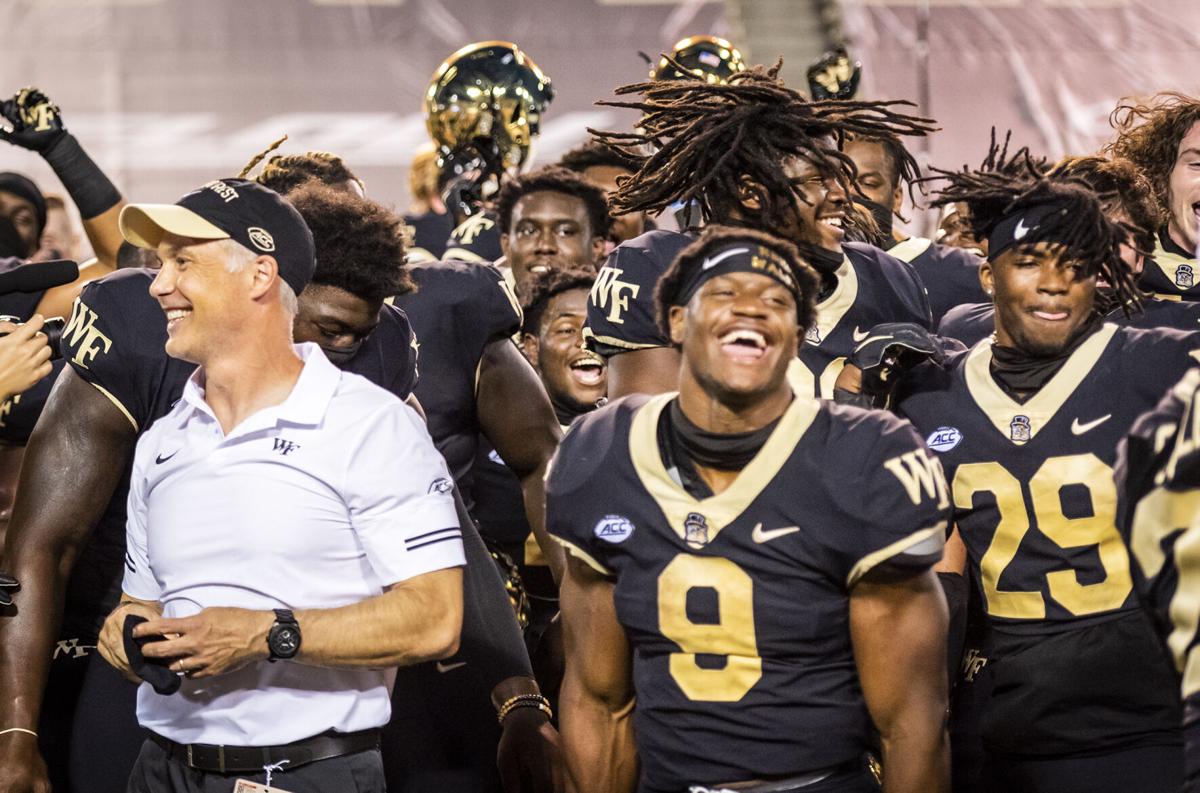 Wake Forest's fifth straight bowl game under Coach Dave Clawson didn't come without plenty of uncertainty during 2020.
The Demon Deacons will take on Wisconsin on Dec. 30 at the Duke's Mayo Bowl at Bank of America Stadium in Charlotte. During a long season in which their schedule seemingly changed by the hour because of COVID-19, the Deacons only have one goal - and one game - left on their schedule.
"With 2020, it's a very unique season," Clawson said last week before its Florida State game was canceled. "There was a point there where our team was at a breaking point. When those two or three games (in November) were cancelled in a row, I think some of our players thought they weren't going to play again."
Deacons senior Keegan Good going to another bowl game is what they expect.
"I would say that people outside of the program are shocked, but everyone inside this facility isn't shocked and we know what we are capable," Good said. "To us it's not a shock, it's an expectation."
Wisconsin (3-3) and Wake Forest (4-4) will play each other for the first time. The Deacons are 4-11 all-time against Big Ten opponents with their last win in 2016 against Indiana.
Here are three things to know about the Badgers:
Quarterback issues
The Badgers (2-3 in the Big Ten) started redshirt freshman Graham Mertz in all six of their games. But in Saturday's 20-17 win over Minnesota, Mertz went out with an ankle injury and sophomore Chase Wolf guided the Badgers to the victory.
In his six games as starter, Mertz completed 61% of his passes for 1,108 yards with six touchdowns and five interceptions.
A found running back
In their final game of the regular season, the Badgers were without several top players, including leading rushers Jalen Berger and Nakia Watson.
Coach Paul Chryst, whose brother is former ACC assistant commissioner Rick Chryst, turned to a walk-on at running back Saturday. Garrett Groshek, a fifth-year player who started his career as a quarterback, started and carried 24 times for a career-high 154 yards. Heading into the game, Groshek had only 105 career rushing yards.
The Badgers were also missing starting wide receivers Danny Davis III and Kendric Pryor and starting offensive lineman Cole Van Lanen.
Local flavor in Madison
The Badgers have two assistant coaches will ties to North Carolina, starting with John Settle, a Reidsville native who starred at running back for Appalachian State in the 1983-86 seasons. Also on Chryst's staff is Alvis Whitted, a Durham native who starred at N.C. State at wide receiver and on the track and field team.
Settle and Whitted both played in the NFL.
Also on the Wisconsin roster is senior safety Madison Cone, a Kernersville native who starred at East Forsyth.
Cone has played in just two games this season and didn't record a tackle. In 2019 Cone, who has already graduated, played in 10 games and in 2018 had his best season when he played in 12 games with 19 tackles and two interceptions
5 difference makers who made headlines in and around Winston-Salem in 2020