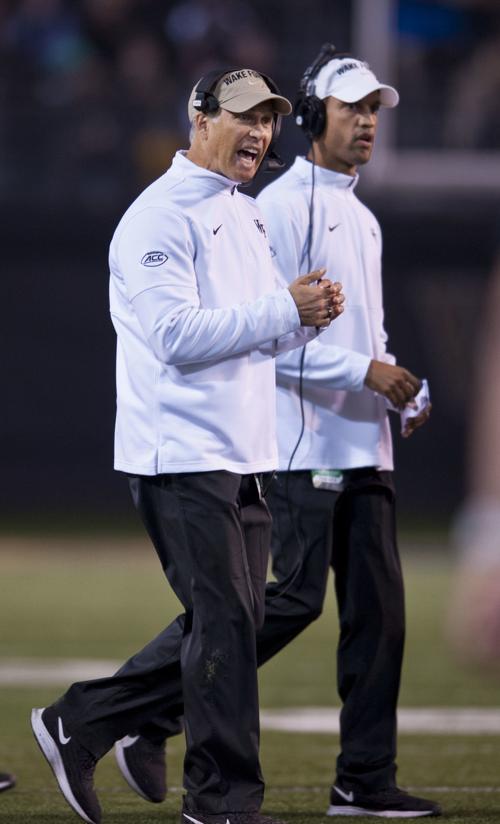 Wake Forest has made its first appearance in the College Football Playoff rankings.
The Deacons are No. 19 in the first rankings of the season, which were released Tuesday night. Clemson, at No. 5, is the only other ACC team ranked.
Wake Forest (7-1, 3-1 ACC) is ranked 22nd in The Associated Press poll. It's the first time since 2008 that the Deacons have cracked the rankings. (The CFP ranking only began in 2014.)
"At the ACC Media Days, when people were saying our ceiling is 6-6 or 7-5, I don't think anybody in our program buys into that," Wake Forest Coach Dave Clawson said. "I don't know what our ceiling is, but I still don't think we have hit it. We want to play in games like this.
"But the only way to stay in that conversation is to keep playing well and keep winning," he said
Reactions from a couple of players to Wake Forest's likely inclusion in the rankings varied earlier Tuesday.
"Probably some of the guys on the team know about it, but nobody's talking about it because that's — obviously that's a good goal to have as a team, but we can't worry about that," said defensive tackle Sulaiman Kamara, a junior.
"That was always a goal since I've been here," said offensive tackle Jake Benzinger, a redshirt senior, "and to finally get in the rankings my fifth year — I mean, my redshirt year we were 3-9 (in 2015) and in November none of the games mattered.
"Now in November, we're in the College Football Playoff rankings, and every game matters a ton."
Be the first to know
Get local news delivered to your inbox!