Just because there's not as much electricity at Spry Stadium because of COVID-19 crowd restrictions doesn't mean the Wake Forest men's soccer team couldn't find a spark.
The top-ranked Deacons found it in overtime Sunday night in the form of a Kyle Holcomb goal for a 1-0 win over the third-ranked North Carolina Tar Heels. About the only question afterward was which part was better: Holcomb's goal or the pass from Omar Hernandez?
"It has definitely the pass because he made it easy for me," said Holcomb, who headed the cross just past goalie Alec Smir in the 97th minute.
Both teams make their living off defense, so neither was willing to concede a goal. When Holcomb did score, it was the first goal the Tar Heels (2-1 ACC, 2-1 overall) had given up all season.
Deacons coach Bobby Muuss loved the way his team (2-1, 4-1) bounced back after last week's 2-1 loss at Clemson. And while they had their chances in the first half, the Tar Heels' press had the Deacons frustrated on offense in the second half.
When the overtime started, Muuss said, he offered just a little advice.
"All I said to them before the overtime was we had to play with confidence and not arrogance," Muuss said. "And when we did that, it was a good team goal."
The Tar Heels dominated possession for much of the second half.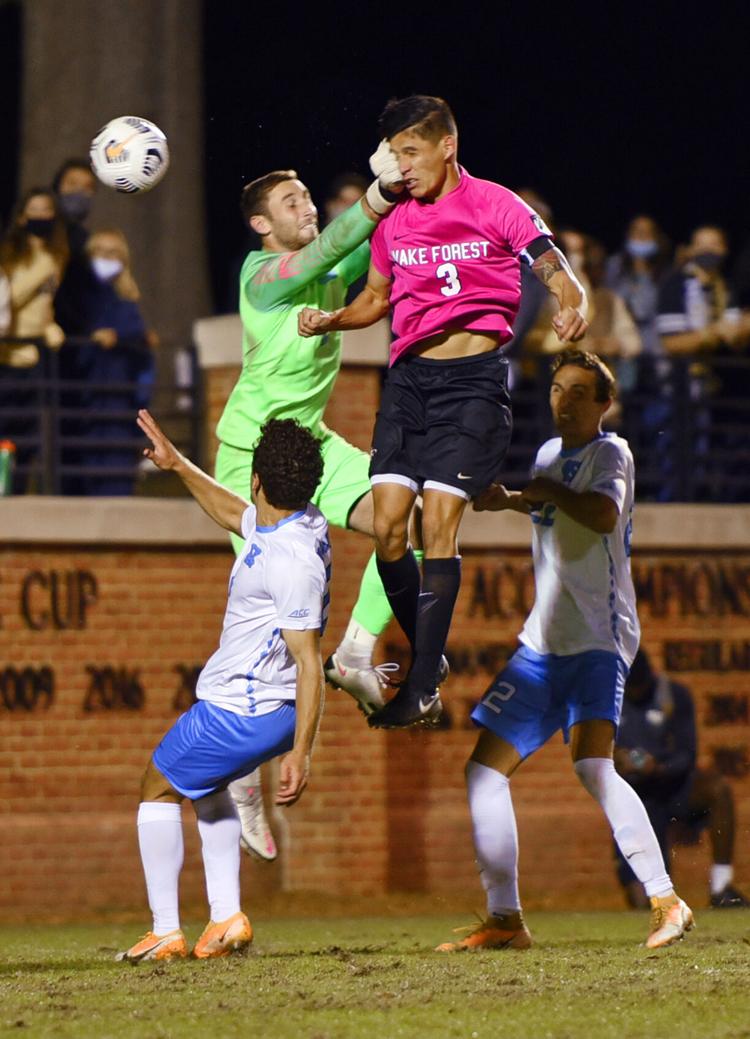 "We had to regroup after the second half, but it was 0-0 so we still had a chance," Holcomb said. 
The game was nearly decided with 50 seconds left when Santiago Herrera converted a turnover and had a clean 18-yard shot on which goalie Andrew Pannenberg made his only save, an outstanding one.
"In a game like this it kind of overshadows some things, but Andrew Pannenberg makes a big-time save at the end of regulation because we had a silly turnover from one of our young guys and he'll learn from that," Muuss said.
Finally, with 3:38 left in the first 10-minute overtime period, Hernandez got a pass from Holland Rula that started the game-winning play.
"I saw Kyle because the outside back left me plenty of space," Hernandez said. "Then the center back pinched over so, if I could put it perfectly I knew Kyle would score."
Holcomb said he made eye contact with Hernandez.
"He looked up and we both knew what he was going to do because we work on that in training all the time," Holcomb said of his fourth goal of the season. "They got a little tired and I think it showed in the overtime."
With a condensed ACC schedule that will follow with a tournament this fall, Muuss said every game is tough because of how good the conference has become.
"These games are always so close, and I told them this is why you come to the ACC to play in these games," Muuss said. "We just needed to have a little more urgency in our attacking play when we had possession. We didn't have a lot of chances, but that's a very organized Carolina defense.
"It took a long time to do it, but I'm happy."
Notable: Justin McMaster, a senior midfielder, made his first appearance of the season. McMaster missed the end of last season with a knee injury that required surgery. "He's been out nine and half months so to see him back was great," Muuss said. "He's worked really hard to get back on the field and I know the guys were excited to see him get some minutes."…. The Deacons will play at Duke at 6 p.m. Friday (ACC). ... Goalie Alec Smir of North Carolina is a former Greensboro Day star. Smir, a junior, is in his second season as the starter…. ACC teams hold four of the five spots in the United Soccer Coaches national rankings this week: No. 1 Wake Forest 1, No. 2 Pitt, No. 3 Clemson and No. 5 Virginia. The poll is ranking only the top five schools each week instead of a top 20.
Be the first to know
Get local news delivered to your inbox!