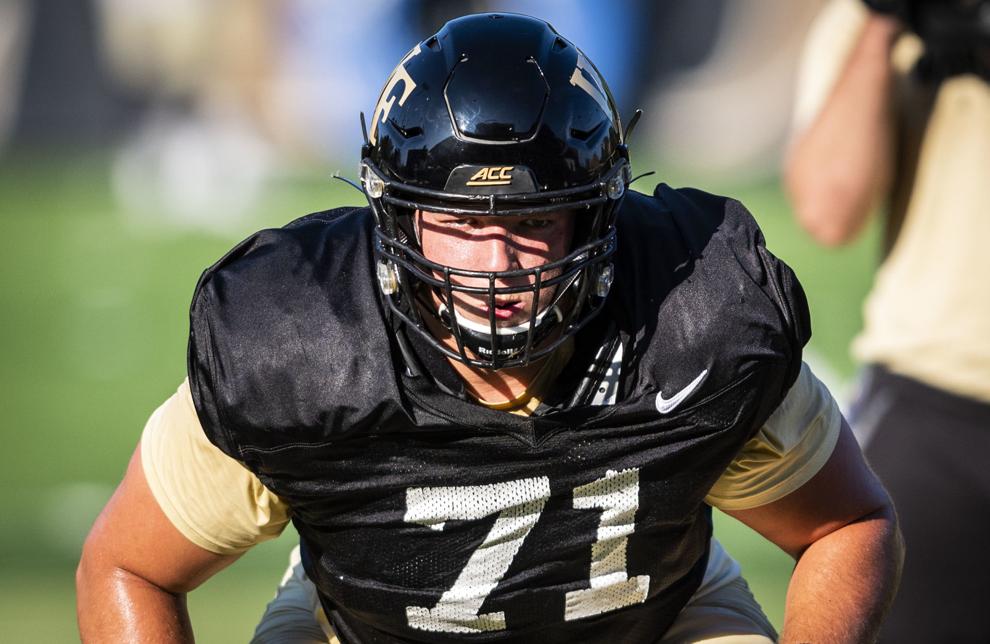 Justin Herron is the last remaining member of Coach Dave Clawson's first recruiting class at Wake Forest. Jake Benzinger and Nathan Gilliam arrived the following year, and they've been part of the position group that became the perfect example for the Deacons as a developmental program.
Their task was a daunting one: take the offensive line from program weakness to program strength.
For a group that doesn't pay much attention to statistical achievements, maybe it's best to say this: Wake Forest has recorded the top two offensive seasons in school history in the past two seasons. The offensive line has paved the way for all 11,902 yards and most of the 886 points.
So, for the three players remaining who have had the most integral part of that explosion, what's next? Now that they've reached their goal, do they feel pressure to maintain that level of success instead of regressing?
"Not pressure to take a step backward, but push even further. To really start to dominate," Benzinger said after Friday morning's practice.
Early in this building process, Wake Forest's offensive linemen acquired a moniker they could gravitate toward. In the 2016 season, they became the Beef Boys. Herron, a sixth-year senior, and Benzinger and Gilliam, both fifth-year seniors, are the last of the original group.
Just as the term stuck through the departures of original Beef Boys leaders Ty Hayworth, Josh Harris and A'Lique Terry, and just as it's sticking through the departures of Ryan Anderson, Phil Haynes and Patrick Osterhage, the nickname will live on following the departures of Herron, Benzinger and Gilliam.
"Justin brought that up, and just, realizing that we're the last original part of it and we want to leave it exactly how it was started," Gilliam said of being a last original Beef Boy. "And that was being excellent every freaking day."
If there is one number on offense that the Beef Boys can use as a symbol of that excellence, it's 1,005. That's how many rushing yards running back Cade Carney had last season, the first time a Wake Forest player has had more than 1,000 yards rushing since Chris Barclay in 2005.
The problem was Carney didn't reach the 1,000-yard plateau until the last 10 minutes of the Birmingham Bowl — and there were obviously a few other things to worry about in those moments. Appreciation didn't come until well after the dust had settled at Legion Field.
"It didn't hit me until after the season," Gilliam said. "The guys that made it happen, the three redshirt seniors who left (Anderson, Haynes and Osterhage), that paved the way for that to even happen, I just think we all just took a grin and a smile after the Birmingham Bowl.
"We don't look for so-called numbers, but when we have a direct effect on how the running backs do every game, and we get to look back and say, 'Oh, he had a 180-yard rushing game,' or against Duke, a stellar game, we made that happen. So we enjoy that."
In the middle of fall camp, the Beef Boys can enjoy the process of their unit coming together. Herron and Benzinger will be the starting left and right tackles, respectively, as was the case for the 2017 season and before Herron's torn ACL last season. Gilliam will be the starting right guard, returning to his natural position.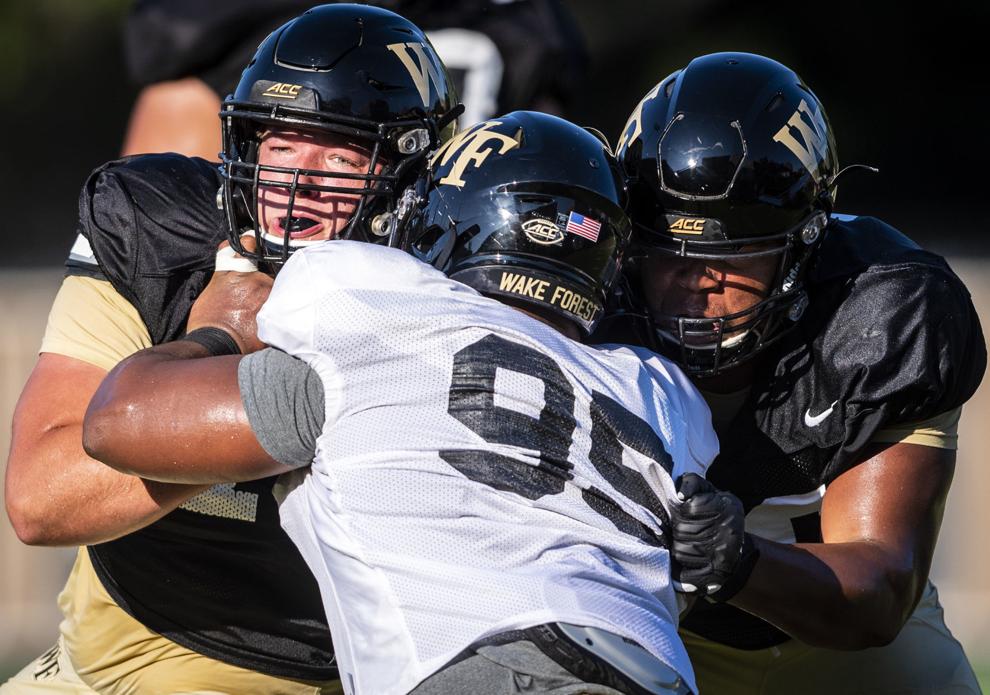 It leaves the Deacons with replacements at center and left guard — though they're only searching for a left guard, because redshirt sophomore Zach Tom has been impressive at center.
"Extremely cerebral player," Benzinger said of Tom. "(He) is one of those 4.0 GPA guys in school, and then he can take that onto the practice field and he can get our protection slid the right way, he gets all of our runs ID'd."
It leaves left guard, where the competition has seemingly been narrowed down to Sean Maginn or Loic Ngassam Nya.
Last season's fall camp was something of an outlier for the Beef Boys, in that there wasn't much competition. As the last members of the original Beef Boys head into their final seasons, the competition aspect qualifies as part of their legacy.
Benzinger won a competition for his spot before the 2017 season. Gilliam and Osterhage battled throughout that season, and the two wound up splitting reps. Herron was inserted earlier, as a redshirt freshman in 2015.
"I'm a firm believer in competition and I feel like it drove me to be a better player. So I'm happy that we have competition in the O-line right now," Benzinger said. "I feel like both guys, the number of guys that are competing, are going to come out better players for it."
And we know that that's how Beef Boys are molded.