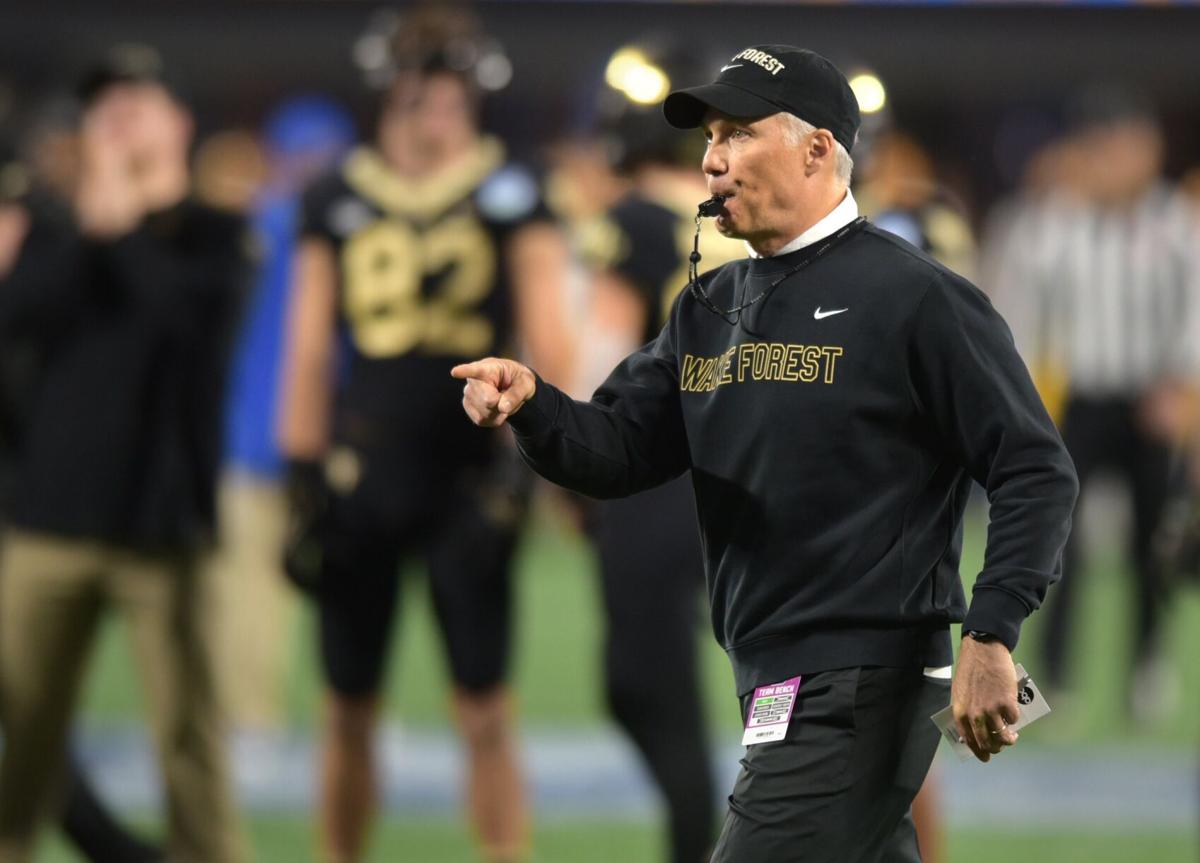 Maybe the best thing for the Wake Forest football team after falling apart deep into Saturday night in a 45-21 loss to Pittsburgh in the ACC championship game is a quick turnaround to what is next.
And what is next is the bowl season and a date with Texas A&M at 11 a.m. Dec. 31 in the Gator Bowl in Jacksonville, Fla. It will be rematch of the teams from the 2017 Belk Bowl in Charlotte, won 55-52 by the Demon Deacons.
Coach Dave Clawson has the Deacons in a bowl game for the sixth straight season, the longest streak in school history. The Deacons are 3-2 in bowl games under Clawson but have lost their last two.
About the bowl game
The TaxSlayer Gator Bowl, the official name of the New Year's Eve bowl game, will be played at TIAA Bank Field, home field of the Jacksonville Jaguars. This will be the 77th edition of the game.
The game, to be televised on ESPN, is the sixth-oldest bowl on the schedule. In that first Gator Bowl in 1946, 19th-ranked Wake Forest beat South Carolina, 26-14.
It's also the same field where the Deacons beat Georgia Tech 9-6 in 2006 to win the ACC Championship.
The Deacons' opponent
Texas A&M finished 4-4 in the SEC and 8-4 overall with losses to Arkansas, Mississippi, Mississippi State and LSU. One of their wins came against top-ranked Alabama at home on Oct. 9.
Another big win came at home against then-12th-ranked Auburn by a 20-3 score.
The Aggies' season
Coach Jimbo Fisher is in his fourth season at Texas A&M, and his defensive coordinator, Mike Elko, is a familiar name to Wake Forest fans. Elko was on the Wake staff for Clawson's first three seasons from 2014 to 2016 before leaving for one season at Notre Dame.
The Aggies have lost two of their last three games and average 29 points per game to 16 allowed.
Latest result
The Aggies are coming off a 27-24 road loss to LSU. In that game the Tigers got a 28-yard touchdown pass with 20 seconds left that was the difference.
Quarterback Zach Calzada was 20-for-35 passing for 242 yards and three touchdowns but was sacked four times. Defensively, Antonio Johnson had nine tackles and Aaron Hansford had eight for the Aggies.
Notable
*Wake Forest finished 17th in the final College Football Playoffs rankings, the first time the Deacons have finished among the top 25 in that poll....
*Clawson is the only active Power Five head coach in the country whose teams have won double-digits games in a season at four Division I schools. He also did it at Fordham, Richmond and Bowling Green....
*Lost in the shuffle of Saturday night was the play of the Deacons' Taylor Morin, who had a career-best 146 total yards. He had four catches for a team-high 83 receiving yards and a touchdown and also did a nice job with two punt returns for 62 yards....
*The only player on Texas A&M's roster from North Carolina is Moose Muhammad III, a son of former Carolina Panthers receiver Muhsin "Moose" Muhammad. Muhammad III, a receiver who played at Myers Park High School in Charlotte, has caught 10 passes for 153 yards and four touchdowns....
*Wake Forest was trying to win its 54th ACC team championship on Saturday night and a third football championship and first since 2006....
*The Deacons' Luke Masterson and Ja'Sir Taylor played in the 2017 Belk Bowl against Texas A&M. Masterson was in on two tackles, and Taylor had one tackle in that game....
*Wake Forest is 9-6 all-time in bowl games....
*Clawson is 50-48 in his eight seasons at Wake Forest.
John Dell: 6 sports stories that touched our hearts in 2021
Here are six stories from 2020 that cover a lot of ground in a year that was unusual because of COVID-19.