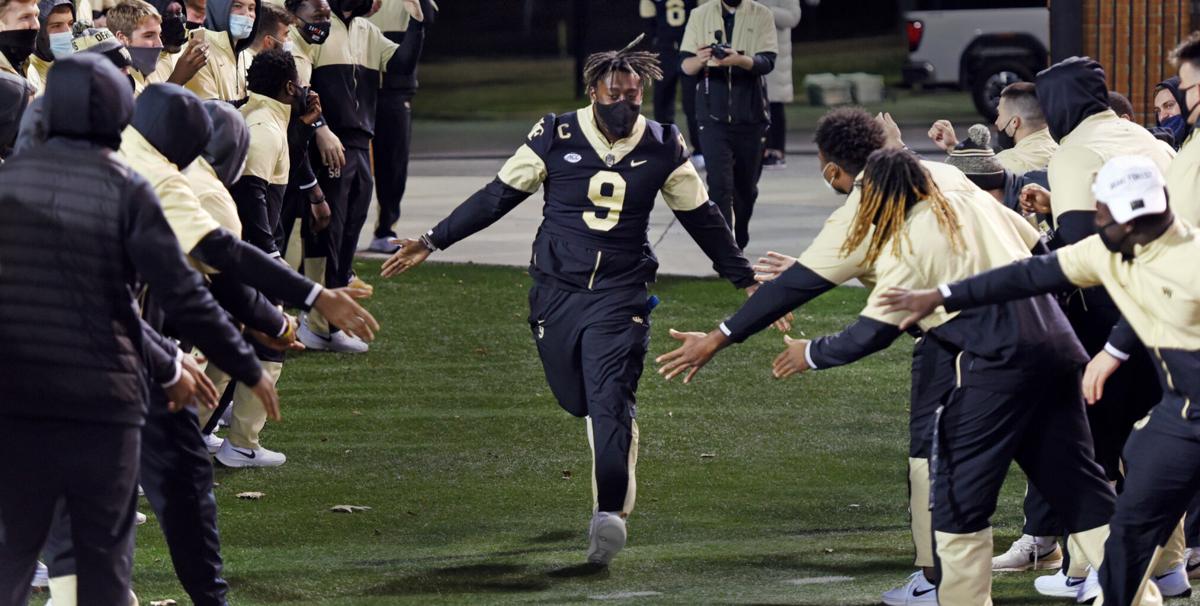 Carlos "Boogie" Basham has become the next Wake Forest alumnus to join the NFL.
The defensive end was picked by the Buffalo with the 29th pick (61st overall) in the second round of the draft on Friday night.
Basham is the highest pick for the Deacons since 2018, when Jessie Bates was selected in the second round by the Cincinnati Bengals. Bates is now considered one of the best safeties in the league.
Basham, a Roanoke, Va., native leaves Winston-Salem as one of the best pass rushers in school history. His 20.5 career sacks ranks fourth all-time for the program. Basham became a high-profile prospect after his junior season in 2019, where he registered 11 sacks.
In 2020, Basham appeared in seven games. He registered five sacks and 28 total tackles for Wake Forest (4-5).
Batham tested positive for COVID-19 on Nov. 24 and missed the team's Dec. 12 game at Louisville. He opted out of Wake's bowl game, a loss to Wisconsin in Charlotte.
Basham was invited last fall to play in the Senior Bowl — the top showcase game for NFL prospects. He did well in the practices leading up to the Jan. 30 game in Mobile, Ala., but chose not to play in the game itself.
Basham was invited to the NFL combine, but the combine did not feature in-person workouts or interviews because of the coronavirus pandemic. Basham did take part in the combine's in-person medical tests in Indianapolis.
NFL scouts saw Basham work out at Wake Forest's Pro Day in late March. He ran the 40-yard dash in just 4.59 seconds.
Basham was the sixth defensive end selected. Ahead of him:
Jaelan Phllips, Dolphins, from Miami, No. 18 in first round.
Kwity Paye, Colts, from Michigan, No. 21 in first round.
Payton Turner, Saints, from Houston, No. 28 in first round.
Gregory Rousseau, Bills, froim Miami, No. 30 in first round.
Dayo Deyingbo, Colts, from Vanderbilt, No. 22 in second round.
"Three-year starter at defensive end with burly frame, heavy hands and an ability to take on physical rigors of the NFL. His rush attack is more technical and explosive, using active hands, spin counters and a thoughtful approach. His lack of suddenness and edge speed could get him pegged as an early-down end while moving inside to become an interior rusher on passing downs. He needs to become comfortable handling the heavy lifting as a run defender as he's much more likely to be a worker bee than playmaker in that regard. He's strong and plays heavy at the point of attack with leverage to sit down and battle for his space of turf. He's unlikely to produce headline-making production, but should be a good pro."
Information from Mark Berman of the Roanoke (Va.) Times is included.